WANT A BRILLIANT CAMP OUT? WELL, YOU GOTTA TAKE STEPS!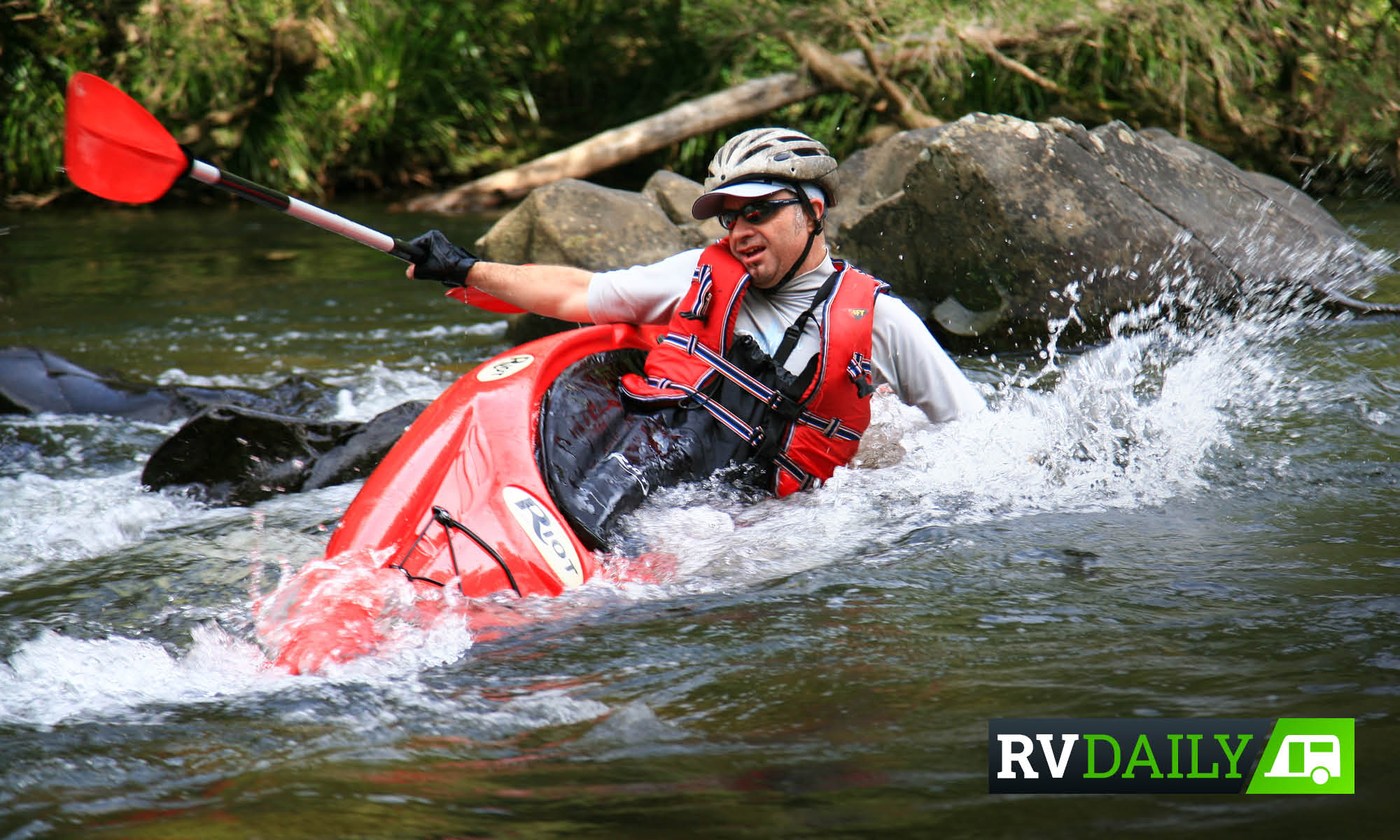 Dunkings, flips and a trip to the hospital… a perfect weekend away near Gloucester, NSW
WORDS & IMAGES MARK ALLEN
Want to camp right next to a crystal clear river, frolic in the calmer swimming holes with the family and tackle the rapids in tyre tubes, inflatable mattresses or kayaks during the day, then be lulled  to sleep by the rhythmic sounds of the river rapids at night?
Hell yeah!
Want to be free to have a camp fire to roast a few marshmallows on, pass your preferred brew around or cook a hunk of meat on to feed the masses?
You betcha I do!
Want huge green grassy campsites that don't have your fellow camping neighbours parked smack bang on top of you? Need plenty of space to throw up a couple of extra tents for the kids, have the family and friends along or some room for a few extra toys next to the van?  
I wish … is that actually possible?
Want plenty of bush-related activities such as swimming, kayaking, mountain-biking, walking tracks and just plain ol' kicking a ball around, that'll wear the kids out to help them sleep at night?
Yeah, of course we want all this, but is this all possible in a humble campground?
Of course it is if you take the right steps to find that perfect campsite. We've just returned from a brilliant four days' camping at the Steps of Girrba (The Steps) in the Barrington Tops, NSW. There was our mob of six (mum, dad and our four kids) plus our mates with their crew of three kids. That's four adults, seven kids, two inflatable boats, three air mattresses, four large camp tables, seven tyre tubes, 11 push bikes and 11 camp chairs, plus all the other camping paraphernalia that gets dragged along to all good camping adventures. Needless to say, our combined campsite was huge with all that gear spread out!
We pre-booked (which is essential) and stopped into the main office on the outskirts of Gloucester which is only a short drive away to pay the final amount. The whole complex is part of The Barrington Outdoor Adventure Centre, so they've got you covered if you'd like to hire canoes, kayaks, mountain bikes or any such outdoorsy gear.
The bitumen road and final gravel road into The Steps is relatively easy and can be negotiated by all vehicle types, but do remember your outback road courtesy and move over for oncoming vehicles so as not to toss gibbers into each other's windscreens. Watch out for cattle and 'roos on the road too. Without going into too many directions, once you've left Gloucester, trundled through the township of Barrington, tackled the winding gravel road into the private property, you should have landed at the campsite in a little under 30 minutes. There is a full list of directions to download on their website (see link at end of this story).
That aforementioned river, which is the centre of most fun out here, is the Barrington River, so expect it to be chilled from the nearby snow during winter months and slightly 'eyes-wide-open' when you first enter during other months. We manly adults relied on rashies and wetsuits to help maintain a little body heat, while the meek and mild kids managed to brave the cold water with boardies and budgie smugglers – how kids with little body fat can have fun in cold water is beyond me! Personally, once I had numbed a little, I was fine… so long as I didn't have to move too fast.
Seriously, our whole clan spent at least three quarters of each day lolling around in the water. Whether it was on one of the tyre tubes, an inflatable mattress or blow-up boat, we had a blast on the smaller and tamer rapids. Admittedly, we did tackle some of the more serious rapids in the two blow-up boats with a total lack of control and some pretty funny dunkings. The kids thought the dads were heroes at negotiating the rapids and begged for more, while we Super Dads figured we would quit while our inflatables were still in one piece from scraping over the rocks and bumping into protruding tree branches.
While the water levels were low during our visit, meaning the rapids were pretty easy, I'd suggest only taking all the rapids in kayaks for safety's sake. Incidentally, it's the larger of the rapids that gives the campsite its name of The Steps; yep, some of the rock steps in the rapids are pretty large.
If you've never taught your kids the fine art of skipping stones, you'll have plenty of ammunition to practice with near some of the rock-lined campsites. I had one five-year-old progress from a non-skipper to a five-skipper in just one afternoon – he was as happy as Larry and it was one of his highlights when talking to his mates back at preschool. Ahh, the simple things in life… and they are free!
Now, to mountain bike riding; the kids loved the seemingly endless tracks around the property and somehow found the energy to peddle, peddle and keep on peddling around the various obstacles on the 15-acre site. I, on the other hand, quickly learnt that downhill mountain biking is usually preceded and followed with lots of peddling up hill. Yep, my legs wore out quick smart. I put it down to… umm… I gave the kids a whole heap of reasons that I couldn't keep going… "but you go on ahead and have fun", I remember calling out many times. Perhaps a little bike riding practice should be on the cards before we head to The Steps next time. Notably, management are expanding the mountain bike experience by installing new and interesting adrenalin-inducing, heart-racing drops, berms, jumps and single tracks… great, can't wait!
Keep in mind there are no powered campsites, so camper-trailers, caravans and motorhomes, as well as tents, need to be self-sufficient. There is potable water on site and the gas hot water showers and flushing dunnies are pure luxury.
Having a huge supply of timber back home, we brought along our own supply of firewood, although it is for sale at the office. Sitting around the fire during evening meal, marshmallow toasting (or cremating), was yet another highlight for the kids, plus it provided us adults the perfect channel to watch after the exhausted kids fell into deep sleep seconds after hitting the sack. A few glasses of liquid bubbles, a Port or two, combined with a heap of stories and laughs saw our time spent at The Steps thoroughly enjoyed.
Funnily, from the instant we drove down the gravel entrance track into the main campground, there were plenty of grumbles from two of my kids about the lack of playground equipment, games rooms and the usual 'new age' camping environment generally found in caravan parks these days. Fair enough, as we had recently spent a few enjoyable days in one of the Big4 caravan parks that supplied the all-inclusive fun-park experience. While we did enjoy it, we also felt the need for both us and the kids to get away from that sort of holiday in favour of 'real' camping. By the end of our 'real' camping holiday, those same two complaining kids didn't want to leave and exclaimed they 'loved' their holiday. Yes, they got splinters, plus had that bike incident, but they got to play outside, get wet, dirty, cold, hot, made up games and, best of all, didn't keep asking me for their computer games. Somehow, they (temporarily) forgot all about their 21st century mod cons and just got on with each other face to face. Imagine that, playing face to face… I wonder if that'll ever catch on?
Sure, we had the comfortable facilities of hot showers and flushing toilets and, admittedly, that did make life easier for all of us… although I'm pretty sure we didn't shower too much because of all the time we spent in the river.
Will we go back to The Steps? Absolutely, it may just become our (and our friends) annual family-friendly camping spot.
FACT BOX
The Steps of Girrba is just under half an hour from Gloucester in the Barrington Tops, NSW. You'll get all supplies for your vehicle, caravan, camper-trailer, motorhome and yourselves at Gloucester. It's best to make your last phone calls while still in town as mobile coverage is zero at the camp site.
The Gloucester turn-off is a short drive north of Raymond Terrace, or alternatively further north at Nabiac. Both roads are slow and winding and steep in parts, so take care, especially if towing a caravan. There are scenic lookouts along the roads, so take the time to chill out.
For those heading in from the big smoke of Sydney, expect it to take a lazy three and a half to four hours to Gloucester. While you're in the area, if you have time, be sure to check out other parts of The Barrington Tops World Heritage area. There is a plethora of 4WD, mountain bike and walking tracks, plus canoe and kayak adventures abound.
For those that want to step it up a little in the luxury stakes, there is the self-contained Riverview Cottage available for rent at The Steps. It sleeps 11, but you do have to put up with having a phone, TV and regular comforts and tech features of home, so try to ignore those.