The truth about the council crackdown on Kenilworth Camping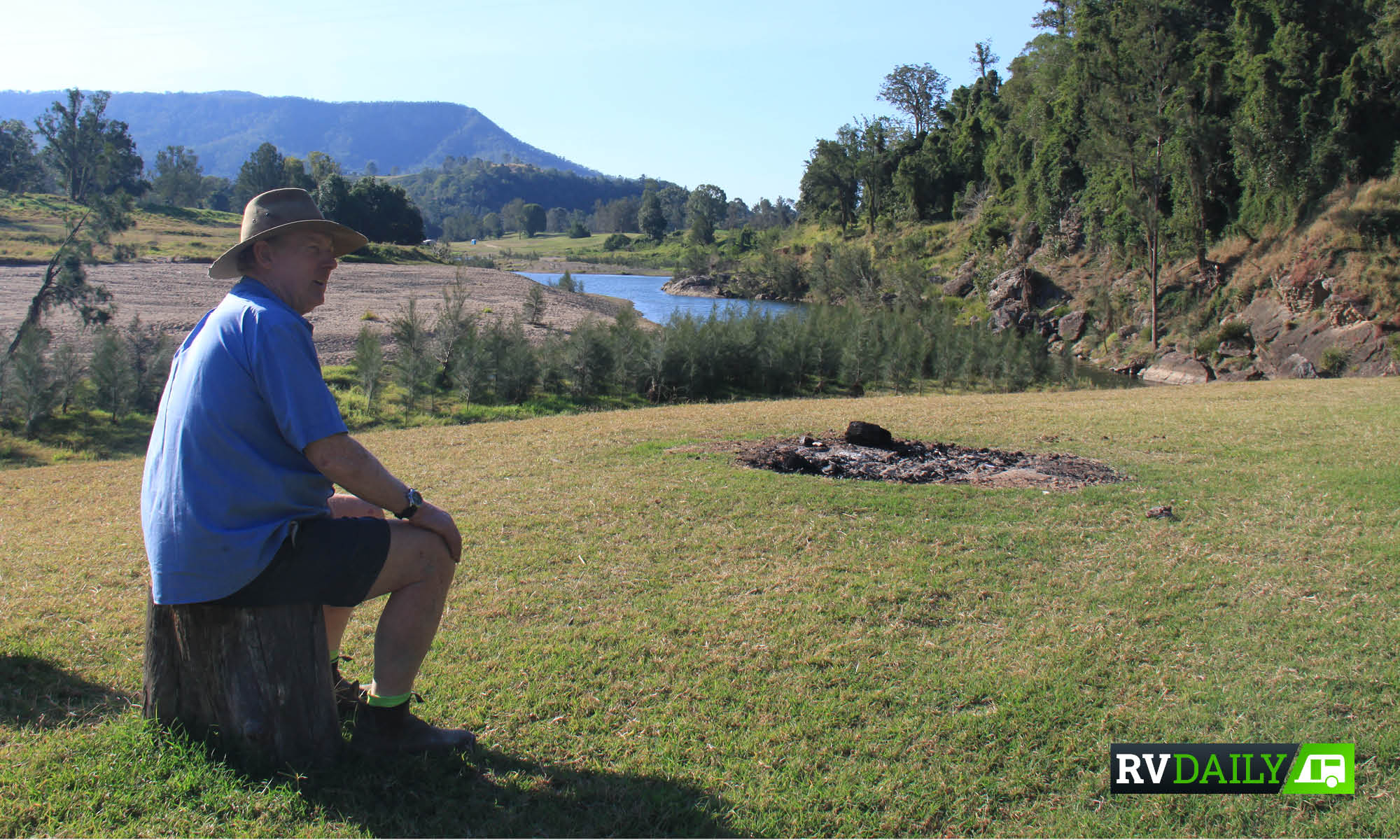 It's been all over social media as a David and Goliath-type situation – battling farmer struggling with red-tape bureaucracy, but what's really going on up on the Sunshine Coast? 
I'm visiting Shane Paulger's Adadale property to find out what is at the heart of the controversy in the close-knit community of Kenilworth. This small town located in the Sunshine Coast hinterland is receiving a great deal of media attention, thanks to the hornet's nest stirred up over farmer Shane operating a campground on his rural property allegedly without approval. For nearly 12 months the Paulger family and the Sunshine Coast Council have been having discussions over the scale of the campground operations. In June 2017, the council issued the Paulger family with a notice to comply or desist, requesting they lodge a Development Application to comply with council by-laws and pay a significant sum of money to support the application (in the vicinity of $300,000.) Failure to do so by Friday August 18, would result in a fine, mentioned as $183,150 in a petition orchestrated by the Paulgers (link, right). 
In any heated situation there is always two sides to the story, sometimes even three. I'm hoping to find the truth. 
HISTORY OF THE FARM
Shane Paulger recalls farming on a shared farm near Buderim. "I remember as a toddler rounding up the cows for milking, me sitting next to my two older sisters, my mum driving our only car, following my dad who was on horseback." 
When Shane was four and a half, his parents had saved enough money to put a deposit on their own land. His father, the youngest of 13 children, named the farm Adadale after his much beloved mother who was of German descent. In 1973 Shane's father had an unfortunate tractor accident, which meant at 15, Shane inherited the role of managing the property. What was once a small farm with only 30 cows has today grown to 700 (season dependent). When discussing Adadale, Shane invokes a strong sense of family and connection to the land. 
DIVERSIFICATION IN FARMING
The Mary River flows through the Adadale property for nearly five kilometres and is a valuable source of water. However, it is also a curse. The lower lying parts of Adadale are a flood plain. "The 2011 floods hammered us pretty hard," recalls Shane. "The farm went under water by eight metres and we lost all our corn crops and many of the trees lining the river banks were damaged." Two years later saw more damaging floods run through the property. Shane's family had to borrow half a million dollars to help restore the flood-damaged land.
For many years sand dredging from the river supplemented the farm income. "But the green movement against sand mining shut us down," says Shane. Dairy farming was their main source of income but they supplemented this by allowing parts of their property to be used as campgrounds. The government's decision to de-regulate the dairy industry on July 1, 2000 placed them under pressure. "After nine years of service in the dairy industry we were in a vulnerable state and with many other processes starting to shut shop, we sought an alternative," says Shane. "Trying to be innovative, we managed to find a New South Wales processor that exports to Japan." 
Although they're the only dairy producer 
in Queensland exporting cream to Japan, "we don't make any more than the locals do," says Shane. With financial pressure mounting from falling profits from the de-regulated dairy industry, the Paulgers considered their options. "We watched our neighbours at the Kenilworth Homestead grow from a very small campground to 1000s on the popular weekends," says Shane.
The Kenilworth Homestead dating back to the 1860s was once a 10,000-hectare cattle station but with ownership changes and sub-division over the years, it's now a 38-acre property which operates (per the website) as a privately run outdoor recreation, family camping and function centre. Taking a leaf from the Homestead's successful growth story, Shane felt it was time to ramp up their camping numbers. He removed the cardboard sign on the Eumundi-Kenilworth Road at the entrance of their property and replaced it with a commercial sign, and created a website.
BLUFF CAMPGROUNDS
The Johnson family originally from Brisbane were looking for a "tree change" with an opportunity to run a small-scale campground business from their new location. Mum Vicki, dad Carl along with son Lucas are passionate campers. They'd been searching for that "right" block of land in a radius stretching from Northern Rivers to north of Gympie. "We wanted the land to have water, be an interesting block and be within two hours from Brisbane," says Vicki. During a family camping weekend at the Kenilworth Homestead they discovered land for sale, 100 acres, which backed onto Shane Paulger's property. They bought the land in May 2015 and established the Bluff Creek Campgrounds building their home and moving in during Christmas the same year. The Johnsons chose to live off the grid, believing self-sufficiency is the sustainable way of the future. "We're solar powered, have rainwater tanks and our own sewerage treatment plant," says Vicki. "We're well set up for retirement." 
Hopeful of opening for trading in Christmas 2015, they gave the Sunshine Coast Council six months' notice for a planning application. "There were problems with the town planner we engaged, which delayed us opening." Through miss-communication their development application with the Sunshine Coast Council expired and an extension was sought. During this time, a complaint was received suggesting they were trading illegally, without proper paperwork. The family acted quickly engaging a new town planning company based in Nambour. At the time of interview Vicki was hopeful council will be approving their DA imminently. 
Originally the number of official campsites the Bluff applied for numbered 40, but when informed of the council's infrastructure charges of $2500 per campsite, the Johnsons revised their numbers. "When our town planner indicated the figure for 40 campsites and three cabins it was a shock and a lot of money to recoup at $12 per night, so we revised our application down to 20 sites and no cabins," says Vicki. "We want to be a boutique sized campground, with nice open spaces, not packed in," says Vicki. 
BUSH-STYLE CAMPING 
Kenilworth Camping's Facebook page is filled with positive comments about people's love "for the large spaces between groups." Shane Paulger admits his campgrounds are not for everyone. "We don't have kerb and channelling or provide fixed facilities, but we do provide portaloos which are cleaned regularly," says Shane. 
Places like Kenilworth Camping provide a point of difference over their competitors, with kilometres of wide open spaces, where it's unlikely you'll be on top of your neighbours. During Easter 2017, one of the most popular times at Kenilworth, resulted in a bumper number of campers at all four Kenilworth campgrounds: The Homestead, the Bluff, the Showgrounds 
(in town) and Kenilworth Camping. "We had record numbers thanks to receiving the overflow from the other campgrounds, which were full," says Shane.
A FEW COMPLAINTS
Whether it was the large numbers of patrons to the Kenilworth campgrounds over Easter or some other matters, a number of complaints (four in total) were made about Kenilworth Camping. When neighbours have complaints, they usually go to one of two places: the police or their local member. These complaints were made to the local council and they ended up with Greg Rogerson, the Sunshine Coast Regional Councillor for division 10 (includes Kenilworth.)
Councillor Rogerson or Rogo as he prefers to be known, is currently in his last term of office. Rogo was on a weekend motorbike joy ride with a few mates when he passed the Kenilworth Camping sign. "It was a bit of cardboard and my immediate thoughts at the time was there is going to be issues down the track on this." And he was right. 
It was only a few months later the complaints arrived at his office. "Rightly or wrongly we're largely a complaint driven organisation," says Rogo. "Personally, I don't go out into my region trying to find things that are going wrong." 
Rogo feels the situation between Shane Paulger and the council is being unfairly represented in the media and wants people to understand the council's perspective. Council planning officers had been trying for almost 12 months to assist Shane Paulger in lodging a development application (DA) for his property to allow him to legally operate a campground business. 
Together they've had a number of discussions, with Shane explaining the campground helps 'make ends meet.' 
"Shane's also indicated to me he's running a boutique very small campground, with half a dozen caravans," Rogo admits. 
Trying to be proactive, Rogo approached the council planning staff. "I wanted them to investigate ways to assist the struggling farmer to run a small-scale operation, with something that was going to be ancillary to their primary use, which in Shane's case was farming."
Rogo suggested Shane consider a DA for up to 10 sites, resulting in lower infrastructure charges. The current infrastructure trunk charges for larger sites are currently $2500 per site. This one of charge covers three specific areas: drainage; transport including roads and community facilities. "This figure only covers 65% of the actual infrastructure costs," Rogo explains. "The other 35% has to come from general revenue, usually paid by the constituent's rates."
However, since those initial discussions, Rogo has received information, the Paulger's are operating a much larger camping operation. "Over Easter there were several hundred campsites and actual people numbers well in excess of a thousand," states Rogo emphatically. And there are other factors to be considered during these busy times. "Over Easter traffic was backed up to a kilometre into Shane's property, raising a range of issues which council are obligated to investigate."
Rogo acknowledges any increase of population to the Mary Valley region is beneficial to the town. The sawmill was the backbone of the town, but with its closure nowadays the town relies largely on the tourist dollar generated by the campground businesses. But his role as local member means he must answer to his constituents and abide by council rules and regulations. "Approvals are required for any additional services or businesses on your property. You'd be pretty pissed off if you own the property adjacent to Mr Paulger knowing he doesn't have the approval to run a high-scale operation. People reading these media articles don't understand, we're obliged to the Bluff and the Homestead and others to make sure what happens on the Paulger farm is something we can all feel proud about."
THE ON-GOING DEBATE
Because Australians love the outdoors and adventure, we escape to campgrounds like the ones in the Kenilworth area seeking a unique and memorable experience. Whether city slickers or coastal dwellers, we need to be aware many of our rural cousins are doing it tough. But does this give them the right to operate outside council law? 
The council is trying to safeguard its constituents, respond to complaints and do what is deemed the right thing by environmental departments and consultants. Farmer Shane decided to supplement his farming income by sharing his much-loved land with campers (outsiders.) Should he choose to cease operations by choice or the council's hand, he will lose an additional source of income. But the other losers will be the future campers who will no longer have the opportunity to experience first-hand the unique Adadale beauty and serenity.
The truth behind the council crackdown on Kenilworth camping lies within what makes us do the jobs we choose to do and the choices we make. Will civil liberty prevail? Time will tell the outcome. 
FOOTNOTE: 
At time of writing, Shane Paulger on Friday August 18, (his final day to respond to the enforcement notice,) submitted a Development Application to the Sunshine Coast Council for 20 sites at Kenilworth Camping.