But what exactly does 'off-road' mean?
As a little tacker, mum would tell me to go outside and play in the dirt. The ensuing hour-long soak in the tub to get the dirt and mud off my whole body and the half a container of Omo to wash the muck from my clothes, was not what she had in mind.
I was given no instructions, no limits, no idea … so, naturally, I just went for it. Mum, on the other hand, thought I'd just go running around the yard, maybe get a little dusty and a simple hand wash would suffice before dinner.
So, when caravanners say they are taking their van 'off-road', what exactly does that mean? Simply towing at high speed on well-graded gravel highways, or low-range rock-rash inducing tracks that are more suited to a goat?
There is no single answer or type of 'off-roading', so before you hit the tracks, you need to ensure you're decked out with the correct knowledge and gear to see you back for a warm shower at the end of the day.
My opinion, given the sheer weight and size of any off-road caravan, is that they cannot and will never be able to be towed where an off-road camper-trailer can. Take a long, hard think about what you really hope to do 'off-road' with a caravan. I own both an off-road caravan and a camper-trailer. Both have their pros and cons.
The van weighs in at 2.5 tonnes, sports dual axles and is wider than my vehicle, while the single-axle camper tops a tonne fully loaded and runs in the same wheel tracks as my vehicle; that makes a huge difference to what a typical 4X4 can accomplish off-road.
I'm happy doing remote corrugated, rough, dirt tracks combined with a little low-range work with the van, but when the going gets tough, I'd hitch the camper up first choice every time.
For all those that drool over online videos of folk hauling full-sized vans through precarious tracks, I'll bet you've never seen the damage bill at the end!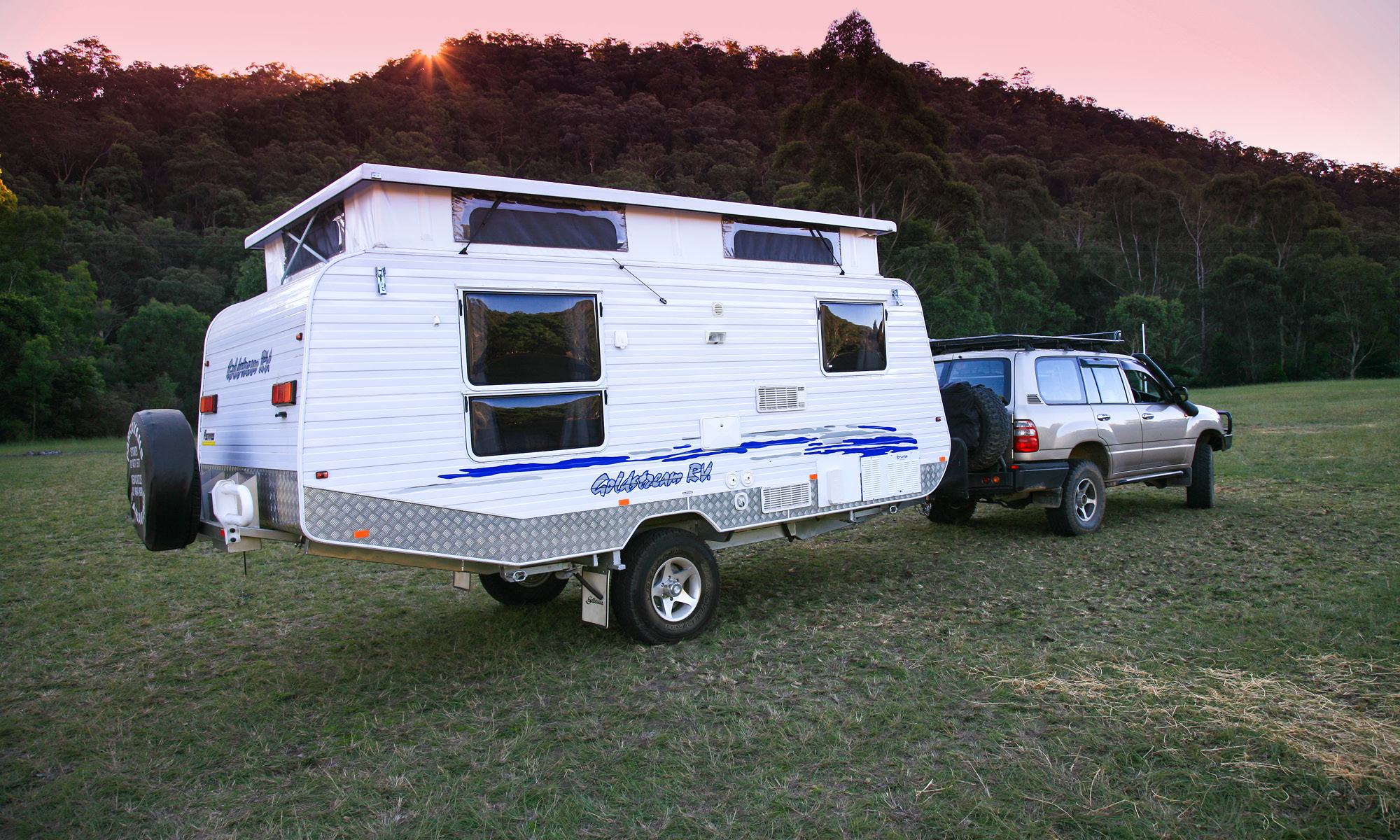 Van selection
The very first step of hitting anything other than the smooth, black bitumen roads is van selection. Getting this wrong will see you in all sorts of trouble, regardless of driving or tug ability, or any other accessory you may have fitted.
Forget about on-road caravans altogether – they won't cut the mustard off-road. Instead, look for at least a semi off-road van to tackle graded gravel roads, or a dedicated heavy duty off-road van that will see you negotiating low-range tracks, sand and all manner of harder 4X4 pursuits.
Do keep in mind though, no matter how well your van is suited to off-road travel, it is akin to towing a huge anchor and will see you bogged much faster than not towing anything. Sand will knock the wind out of your sails, as will long stretches of sloppy mud and boulder-strewn tracks. Watch for low hanging trees too, they do a hell of a lot of damage to protruding awnings and high-mounted air conditioners.
Ensure you choose an off-road suspension package; no, it doesn't have to be independent, trailing arm, coil-sprung or air-bagged set-ups. Good ol' leaf springs can do the trick, but be sure they are adequately rated and return enough underbody clearance.
Tyres
As much as there is plenty of conjecture as to whether you need mud tyres or if an all-terrain pattern is sufficient, at least make sure you use an LT (Light Truck) designated tyre. These will provide better resistance to punctures, are generally higher load rated and will see them far outlasting a P (Passenger) rated tyre. Do keep an eye on tyre pressures and remember to adjust up and down to suit the terrain, just like you do on your tow vehicle.
Choosing an off-road hitch should be high on your list too; specifically, one that not only returns maximum articulation, but is also easy to hitch and unhitch as well as being adequately rated to the weight of your van. If you intend to use load levelling bars, note not all off-road hitches cater for them.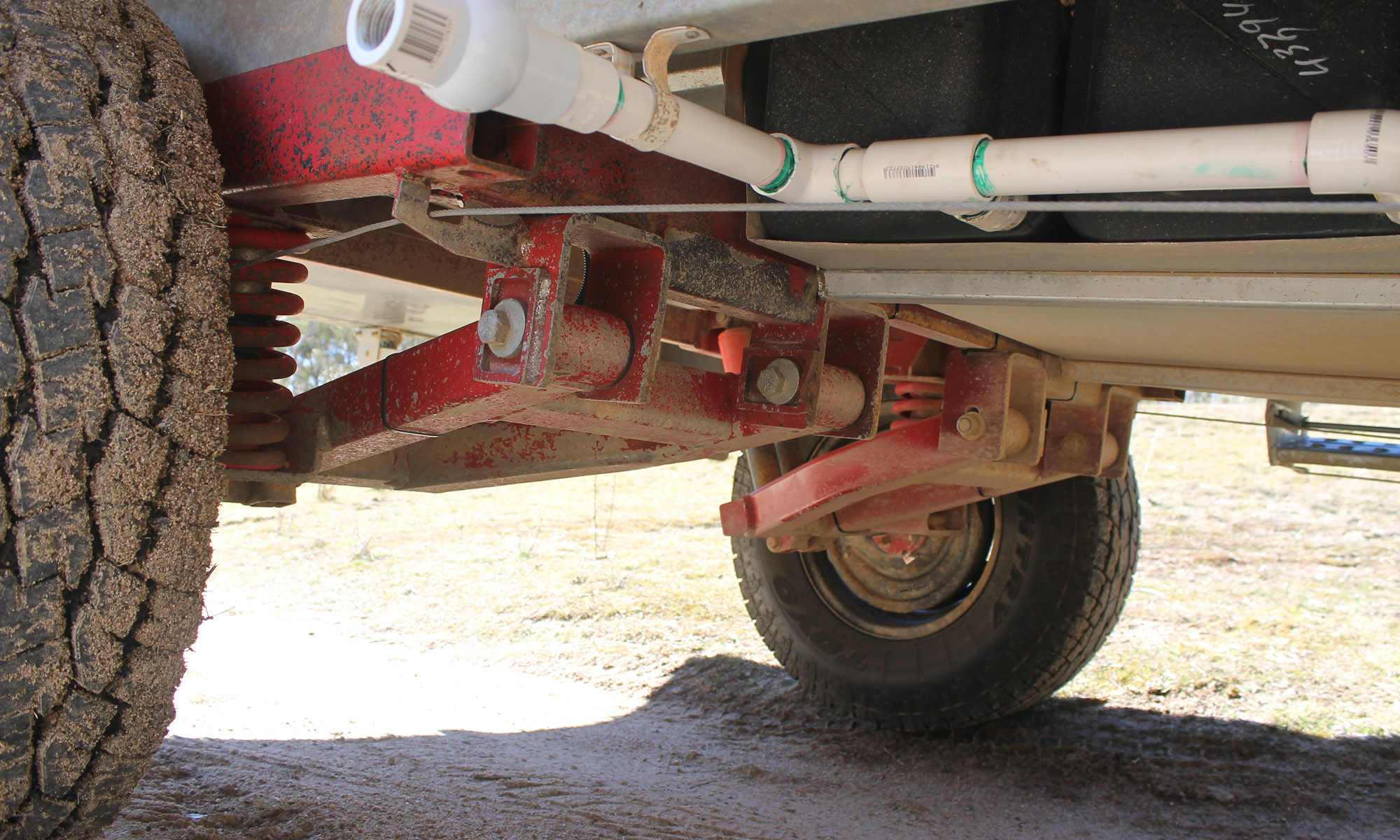 Preparation and protection
Once you've purchased your new van, there are plenty of smaller additions that can be made to keep it in tip top condition.
I wouldn't go off-road at all without a stone deflector fitted. Preventing stones, rocks and even being sandblasted by dirt from striking the front of your van should be considered high priority. Not only will you keep your van's nose looking good, you'll prevent stones bouncing back onto your tow vehicle and smashing a back window.
No matter how well sealed a van is, it pays to help prevent dust ingress. I liked the old-fashioned four season roof hatches, as you could leave the front-facing quarter open while driving to force fresh air into the van, which then pressurises the van body to help prevent dust being sucked in via rubber seals and smaller gaps. Alas, newer, rear-opening roof hatches can't do that.
Some folk have plucked up the courage to cut a hole in their van's roof to fit a forward-facing hatch or snorkel to help pressurise the van, but I'm not game enough to take to my roof with a saw yet!
I have, at times, stuck plastic film across some of my van's vents to help keep dust out, but be warned not to block vents that allow heat from appliances to escape. My efforts have worked reasonably well, but do take some time to apply and remove.
Keeping your distance from vehicles ahead returns clean air not only into your vehicle, but also around your van. Other than creating stunning photos for magazines, there is no reason to tailgate on dirt roads.
If you really need to overtake someone, best to jump onto the UHF radio and holla nicely to those ahead if they would mind pulling over to allow you to pass safely. Do keep in mind the rocks that both their and your vehicles are throwing up, and keep a good distance apart so as not to send one through a window.
While we're on the topic of stones being flung about, be sure your underbody water tanks, hoses, wiring and even shock absorbers (if you have them) are protected; it's amazing the amount of damage that can result from fast gravel roads. Also, be sure your spare wheel is easily reached if needed.
When it comes to rubber, some vans' tyres, including mine, are inflated from new with nitrogen – denoted by the green (instead of black) valve stem caps. While nitrogen offers some benefits, the chance of finding any out in the bush is akin to finding rocking horse poo, so best stick with plain ol' air – plus, it's free. You might consider fitting a tyre pressure monitoring system too. As soon as tyre pressures alter from a set amount, a warning goes off on your dash-mounted screen, letting you know to pull over to avoid a total blowout or further damage.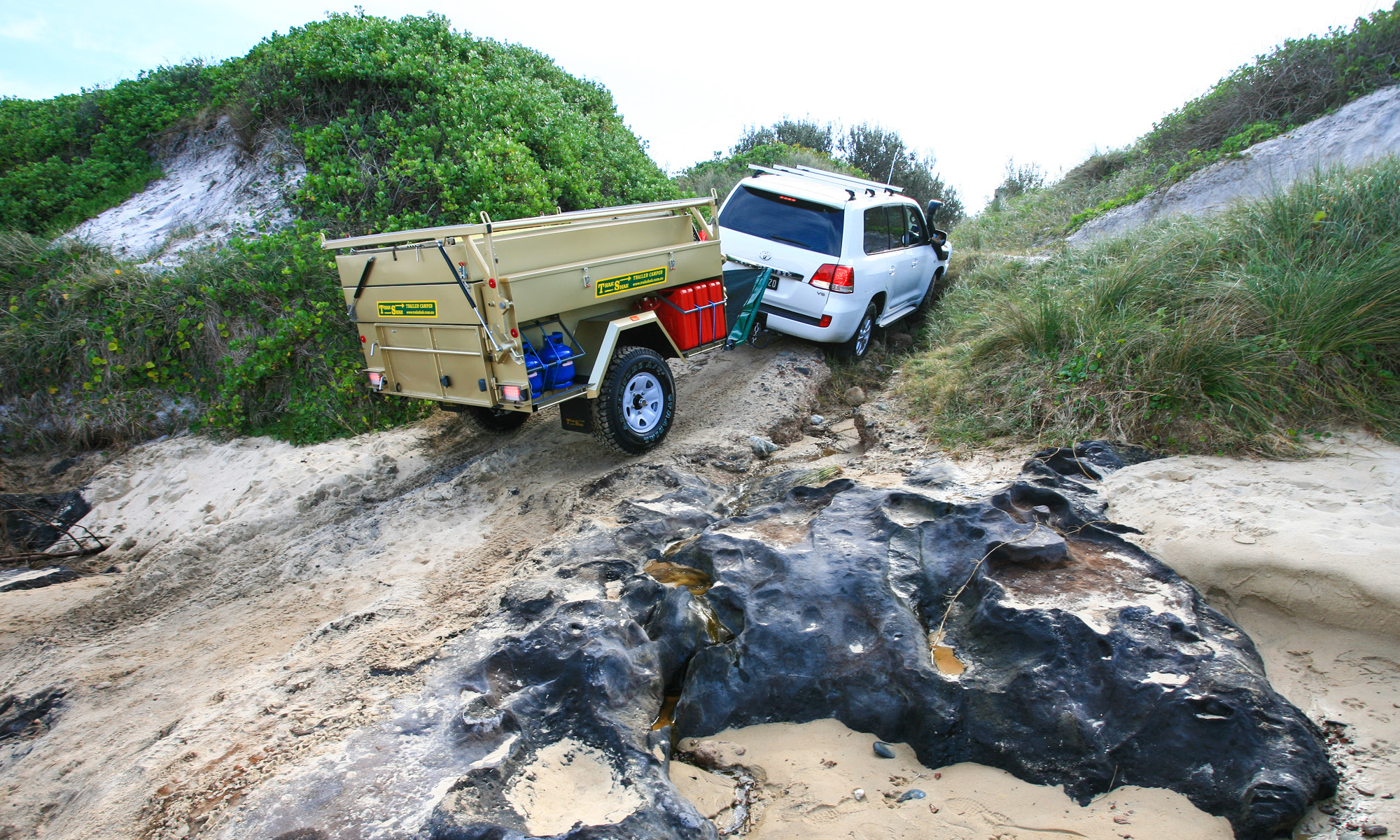 Recovery and skills
Sooner or later, you will get stuck, bogged or will be "no longer able to proceed" … call it what you will.
There is no shame in it, but every vehicle, with or without a caravan, should be equipped for self-recovery. 12V winches, recovery boards, jacks, bull bags and even a simple shovel should be carried. The more remote off-road you venture, the more gear you should carry; don't rely on potential passers-by to help out.
Safety while using recovery gear is paramount; don't chance injury or death by irresponsible use.
If you're not sure how to use a certain bit of recovery equipment, or not even sure about driving off-road with a van, book yourself into a course that is dedicated to off-road towing.
One of the main things that will put a stop to forward travel is lack of ground clearance. Check both approach angles (the longer the drawbar the more chance it'll scrape going over a mound) and departure angles (upward sloping rear ends offer much less chance of dragging or scraping over the mounds). Weight is the biggest drawback of towing off-road; hauling a couple of tonnes of square home on wheels is no easy feat through soft sand especially, so ensuring your tow vehicle has plenty of power and torque is vital. So too is knowing how to drive the vehicle in any given scenario with the van on. Losing momentum in the wrong spot will see plenty of use of our recovery gear!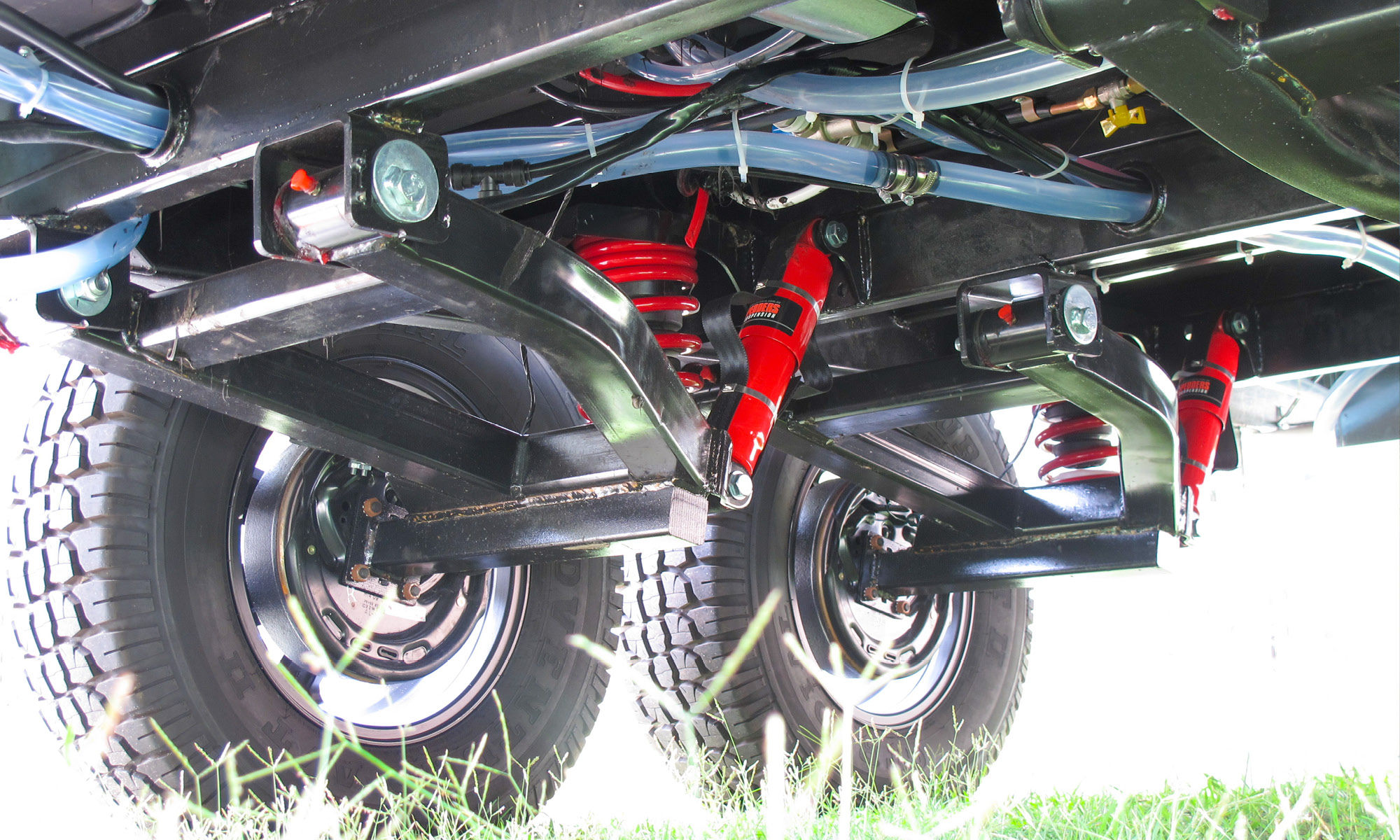 Using your aforementioned in-car UHF radio with a handheld unit makes for easy communication between driver and spotter to help in tricky off-road situations.
You will also want your caravan's braking system to be up to scratch. Appropriate electronic braking systems are great off-road and can be a huge help in the right circumstances. And forget about using override brakes on heavy vans; not only are they illegal for use over two tonnes, but you will find that the weight of your van has a terrifying ability to push you past your intended stopping point.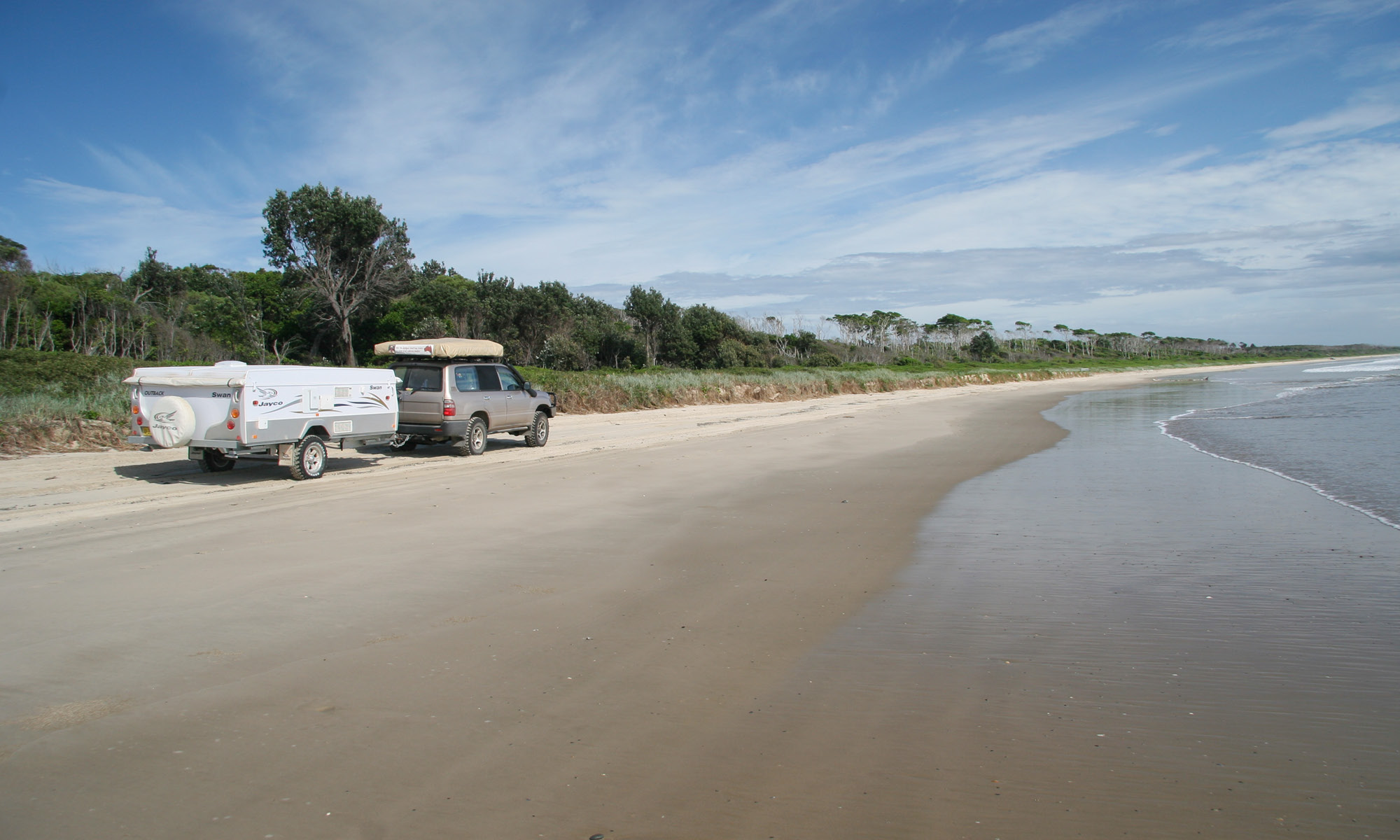 What's it all weigh?
The onus is on you, the owner/driver, to be sure your tow vehicle is up to the task of towing your caravan. Loading both vehicle and van up ready for a trip and taking it all over a weighbridge is worth the small outlay in time and money, just to be sure your set-up remains legal and will last the rigours of rough roads.
Obviously, if you're involved in some form of accident, you'll need to be within the letter of the law to have any hope of an insurance claim. Even consider a policy that will insure you off-road and a company that will retrieve both your vehicle and van should the worst happen.
Don't be put off taking your van off-road, but do be aware of the added dangers that come with towing off-road. Tagging along with others is always a safe bet; many hands make light work at recoveries.