This comprehensive guide will answer all your questions, to ensure you're armed with the truth about flat towing behind an RV. Here we look at the hardware you will need to tow behind an RV.
WHAT HARDWARE DO I NEED TO START FLAT TOWING?
There are several components you'll need to start flat towing. Before purchasing anything, talk to an expert about whether your proposed motorhome/bus and car combination will work. Companies such as Northcoach and Janer specialise in A-Frame towing and can advise you on what's available to you at different price points before pointing you to their resellers for certified installation.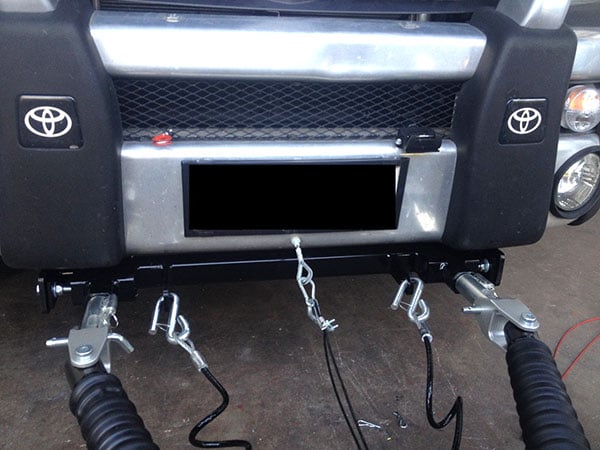 Most brands for sale on the Australian market can be used by one person, and most consist of the following components:
1. A towbar on the tow vehicle.
2. A drop receiver (if required). The A-Frame must be parallel with the road on a flat surface when hooking up the towed vehicle. If this is not the case, then a drop receiver is installed to bring the frame into the correct position.
3. The A-Frame itself.
4. The baseplate which stays permanently attached to the structural frame of the towed vehicle (typically the chassis or subframe, but sometimes the bullbar). Think of it as a front towbar.
5. Cable/manual override or electric brake pedal actuator on the towed vehicle (if required).
6. Tow wiring.
7. Safety chains/cables and an emergency breakaway system (if required, see below).
When under tow, the ignition must be on (engine not started) so that the steering lock is disengaged. It is recommended to start the towed vehicle every 300km or so and to keep it running for a few minutes to keep the battery charged, or install a charging system via an Anderson Plug. You must remove or fold the A-Frame out of the way when not in use to avoid any protrusions from either vehicle.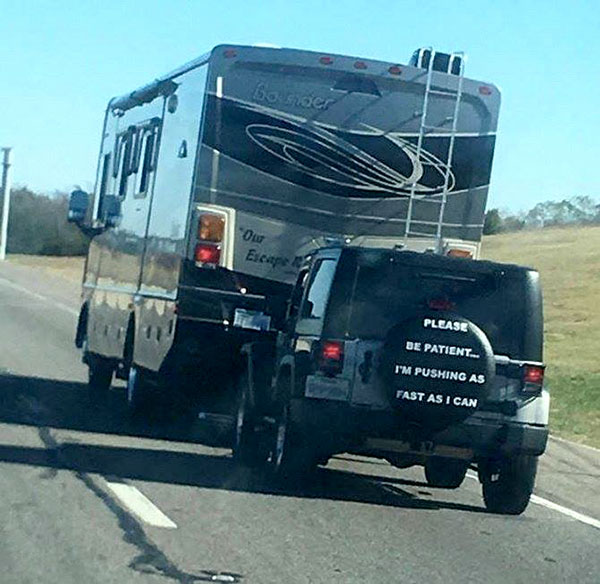 COMMONLY FLAT TOWED VEHICLES IN AUSTRALIA
Note: vehicles are manual unless otherwise noted, and not all year models will work. Consult the baseplate distributor and the owner's manual regarding suitability.
Second and third-generation Suzuki Grand Vitara (3- and 5-door, manual and auto) – by far the most common. As your resident Grand Vitara expert, I've included a guide to choosing the best third-generation Grand Vitara at the end.
Old and new Suzuki Vitara
Suzuki Jimny (with modifications)
Suzuki SX4
Suzuki Swift
Suzuki Ignis
Suzuki Alto (there's a definite Suzuki flavour)
Daihatsu Terios
Jeep Patriot
Jeep Wrangler
Toyota RAV4
Toyota Echo
Honda CRV
Hyundai Elantra
Hyundai Excel
Hyundai i20
Hyundai Getz
Kia Rio
Fiat 500 Pop
Various Four-Wheel-Drive utes including Colorado, HiLux, 70-79 Series LandCruiser and various others with steel bullbars (these are heavy and only towed behind the biggest rigs).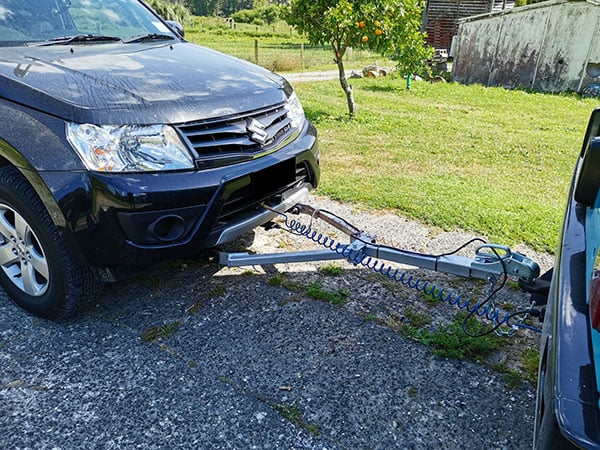 BRANDS
There are many brands of hardware on the market for flat towing , the majority from the USA where big RVs and flat towing are popular. The cheapest A-Frame systems use non-telescopic, non-adjustable arms which are often heavier and less user friendly to hitch and unhitch, and don't pack away as small when not in use. Another benefit of telescopic arms is the ability to hitch even when the car isn't straight on or is on uneven ground.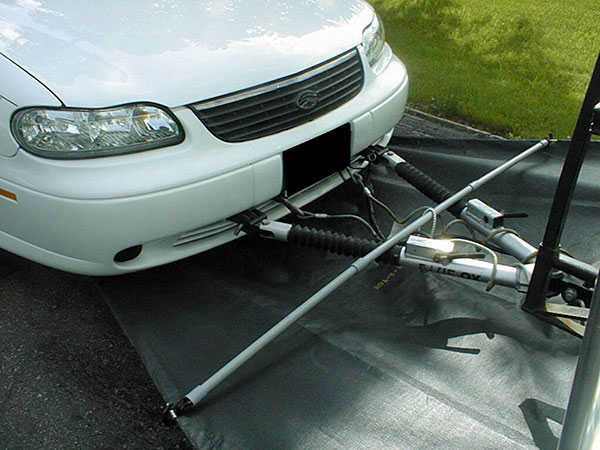 Brands commonly used in Australia include:
A-Frames and baseplates available through Northcoach; Ready Brute Elite, Blue Ox Avail, Predator. Braking systems and safety cables by Ready, Blue Ox and RVibrake3. These systems are available through certified installers only.
Roadmaster Towbars, A-Frames and baseplates available through Janer; Sterling, Blackhawk 2, Falcon, Falcon 2, Stowmaster, Tracker. Braking system by Invisbrake.
Hitch'N'Go: A-Frames and associated components available through Hitch'N'Go distributors
Hitch'N'Go will be releasing an Australian-made telescopic A-Frame in early 2020.
Other notable products: Demco braking system, Protect-A-Tow stoneguard.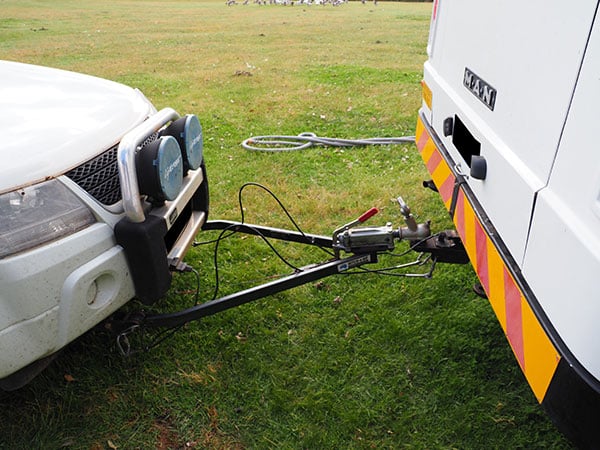 Watch Northcoach attach a Ready Brute Elite A-Frame to a second-generation Suzuki Grand Vitara: 
and disconnect it here:
QUICK TIPS
Remember to close the air vents so your towed vehicle doesn't fill with dust, just as you would on the motorhome/bus and invest in a stone guard to avoid spraying rocks into the front of the towed car. Mesh type guards seem to work better than the rubber mudflap type.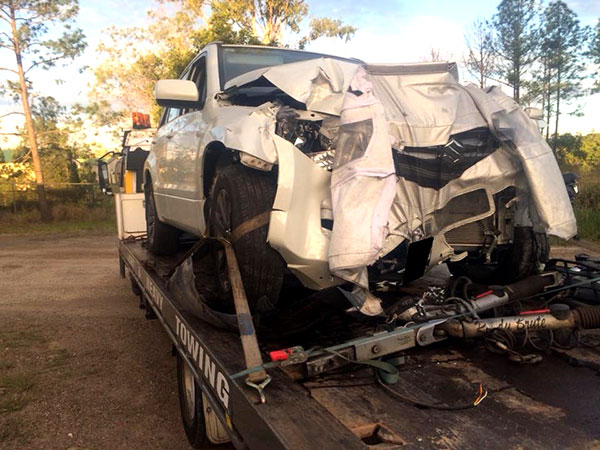 DOES INSURANCE COVER FLAT TOWING?
Specialist insurance exists for RVs from the likes of Ken Tame and CIL, and some car insurers such as Shannons cover a limited number of motorhomes along with cars. Whether you choose an insurance provider that covers both vehicles or separate insurance providers, you're up for two claims in the event of an accident that damages both vehicles.
This is a good example of where a breakaway system plus safety chains/cables and correct installation by a certified installer might have helped: The cost is so minimal you'd be crazy not to install a breakaway system!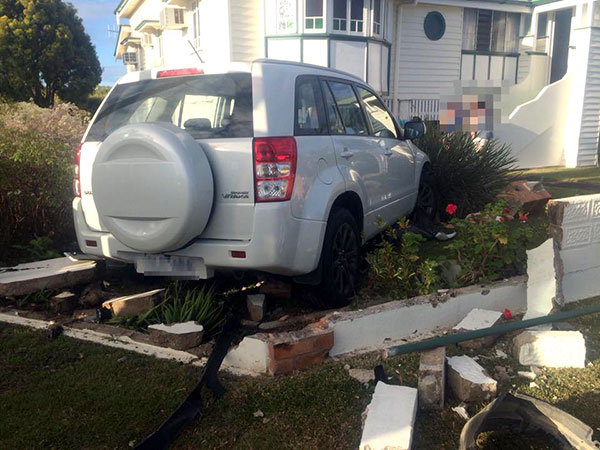 So that's the hardware you need for flat towing behind an RV. Next, we take a detailed look at the Suzuki Grand Vitara as the most popular vehicle that's flat towed.
If you missed part one, click here
Words Juliette Remfrey.
Images, RV Daily, and Clayton's Towing.