We all forget to do critical tasks before leaving the caravan park site. Here are the top 5 things caravanners forget plus our three pre-trip checklists.
Let's be honest. It doesn't matter whether you're an experienced caravanner or a newcomer to the lifestyle, we can all forget to do a critical task before driving off the site. I've done it more times than I care to remember or admit to. Having a pre-trip checklist is essential no matter how experienced you are. These are the top five things caravaners forget to do before driving off and at the end, you'll find three downloadable checklists to go through before you head off on the next stage of your trip.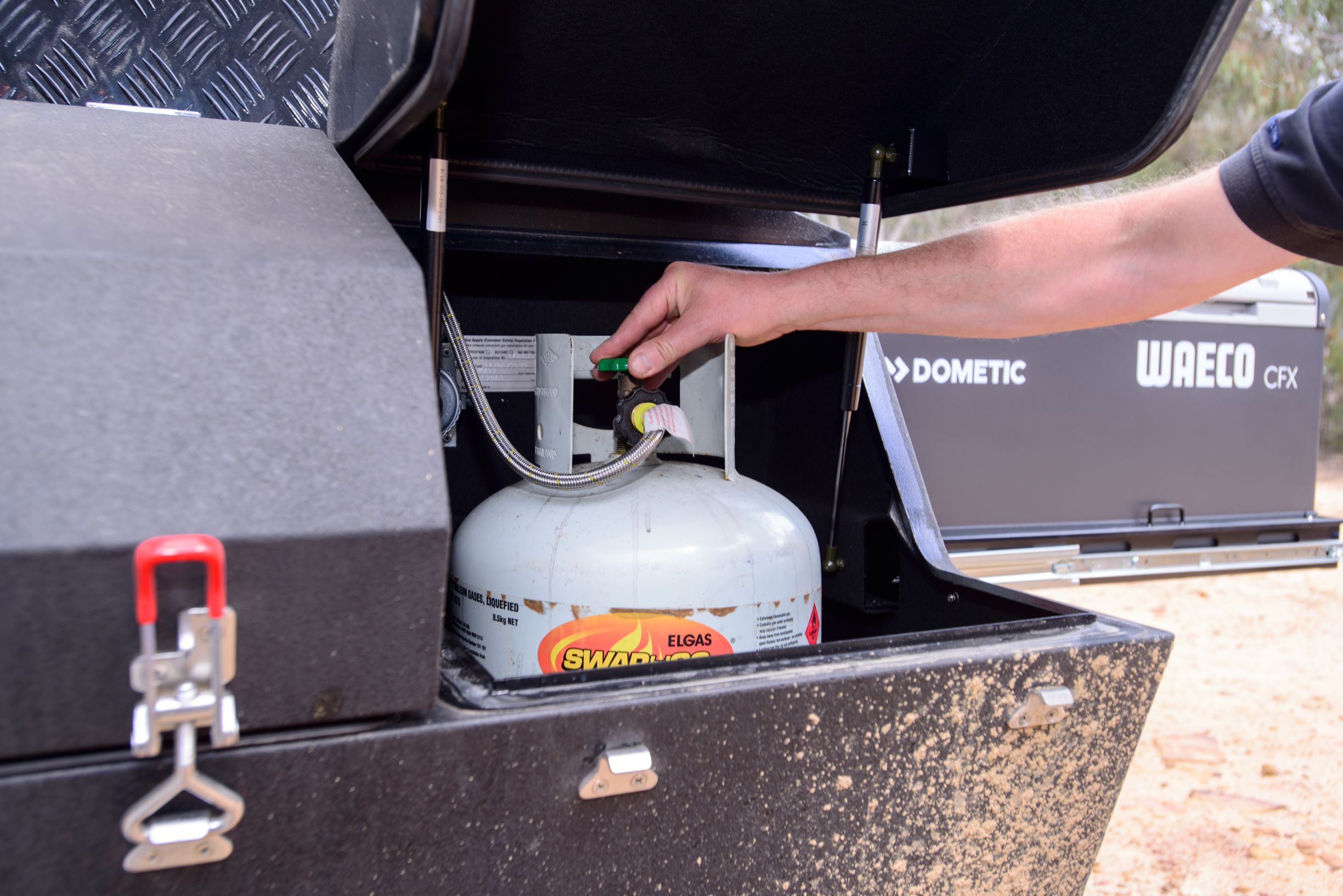 TURN OFF THE GAS
This is a big one, especially if you've got a three-way fridge on board. It's a big no-no to travel with the gas on. You carry a pilot light in there somewhere and that's the last thing you need, a naked flame in the van, unattended, particularly at the servo when there's fuel vapour around. Make sure all your gas cylinders are off at the bottle and any inline taps are closed too.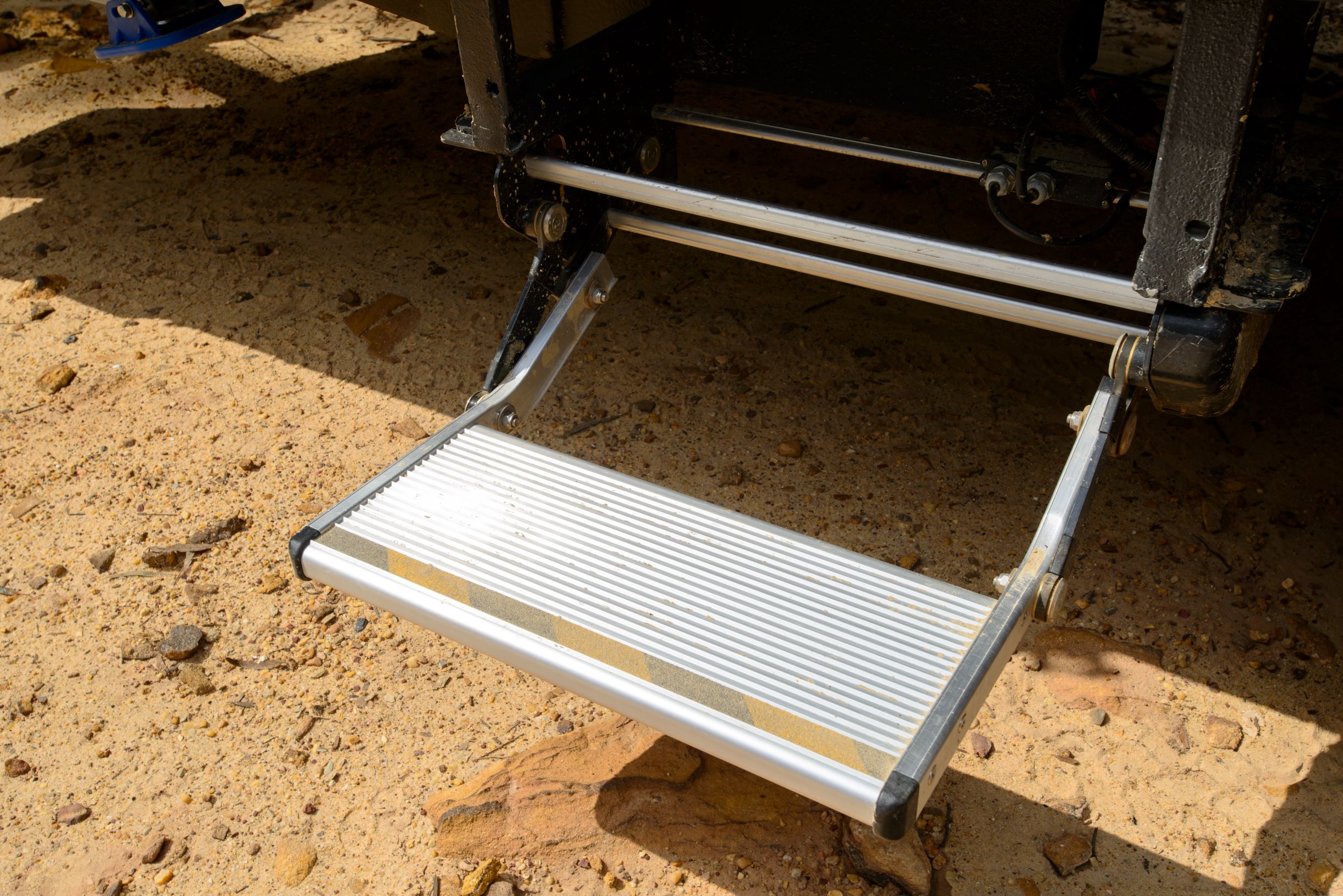 RETRACT THE ENTRY STEP
We've all done it. Maybe you've done the inside check and you're satisfied that it's all okay to head off. You use the step to exit the van, close the door and walk to the vehicle to drive away and the step just sits there, invitingly, in anticipation of snagging or dragging over something, especially if you're off-road somewhere. It's possibly an expensive oversight. Make sure you retract the step!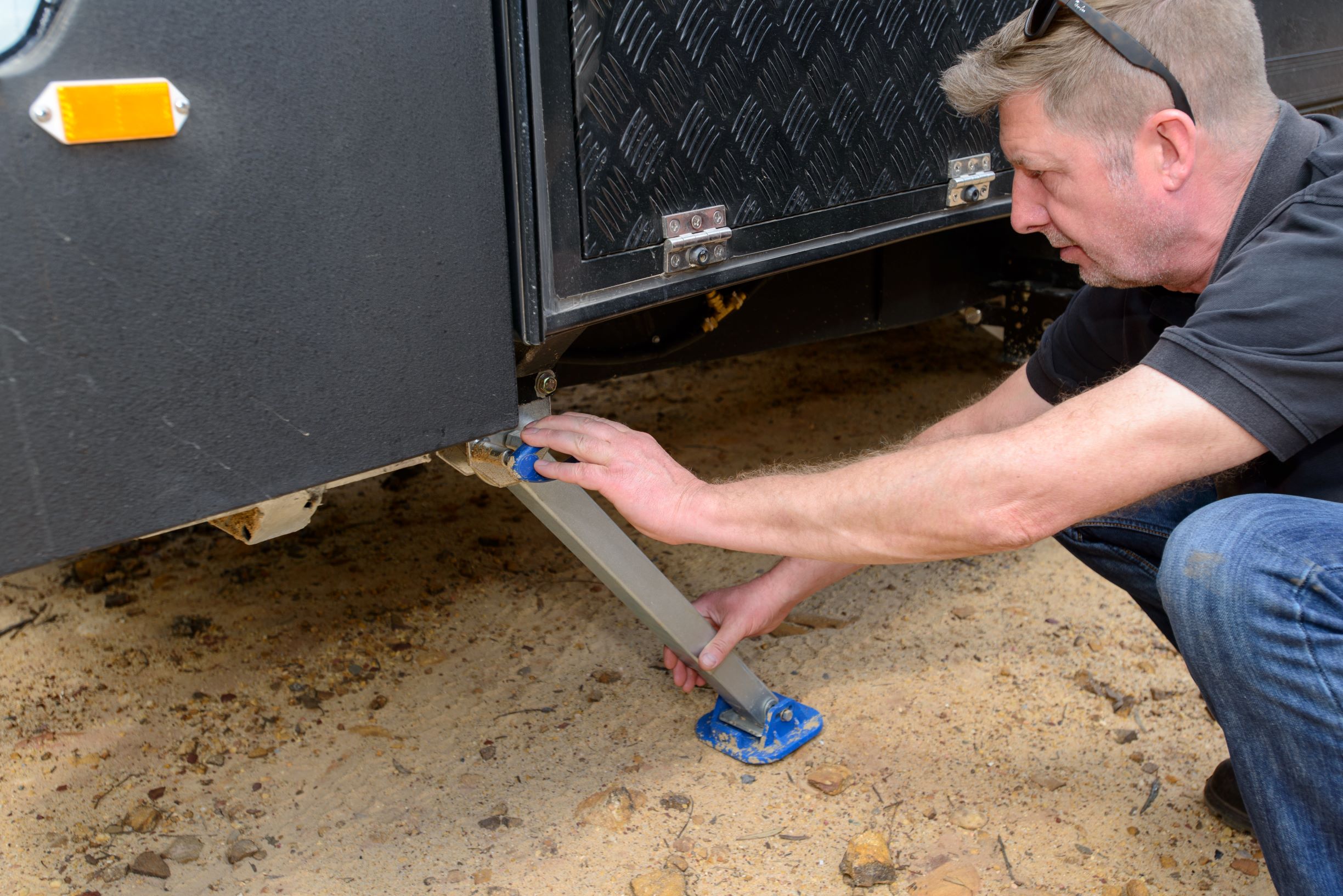 LIFT THE STABILISER LEGS
If you're someone who doesn't use these very often, they're more likely to be forgotten. Or if you're used to quick overnighters and then stopover somewhere for a few days and drop the legs to steady the van. The last thing you need is that scraping sound and a spark shower as you leave the caravan park (never mind broken welds) and your neighbours will certainly be aware of your early departure because you have got a 'long drive ahead'.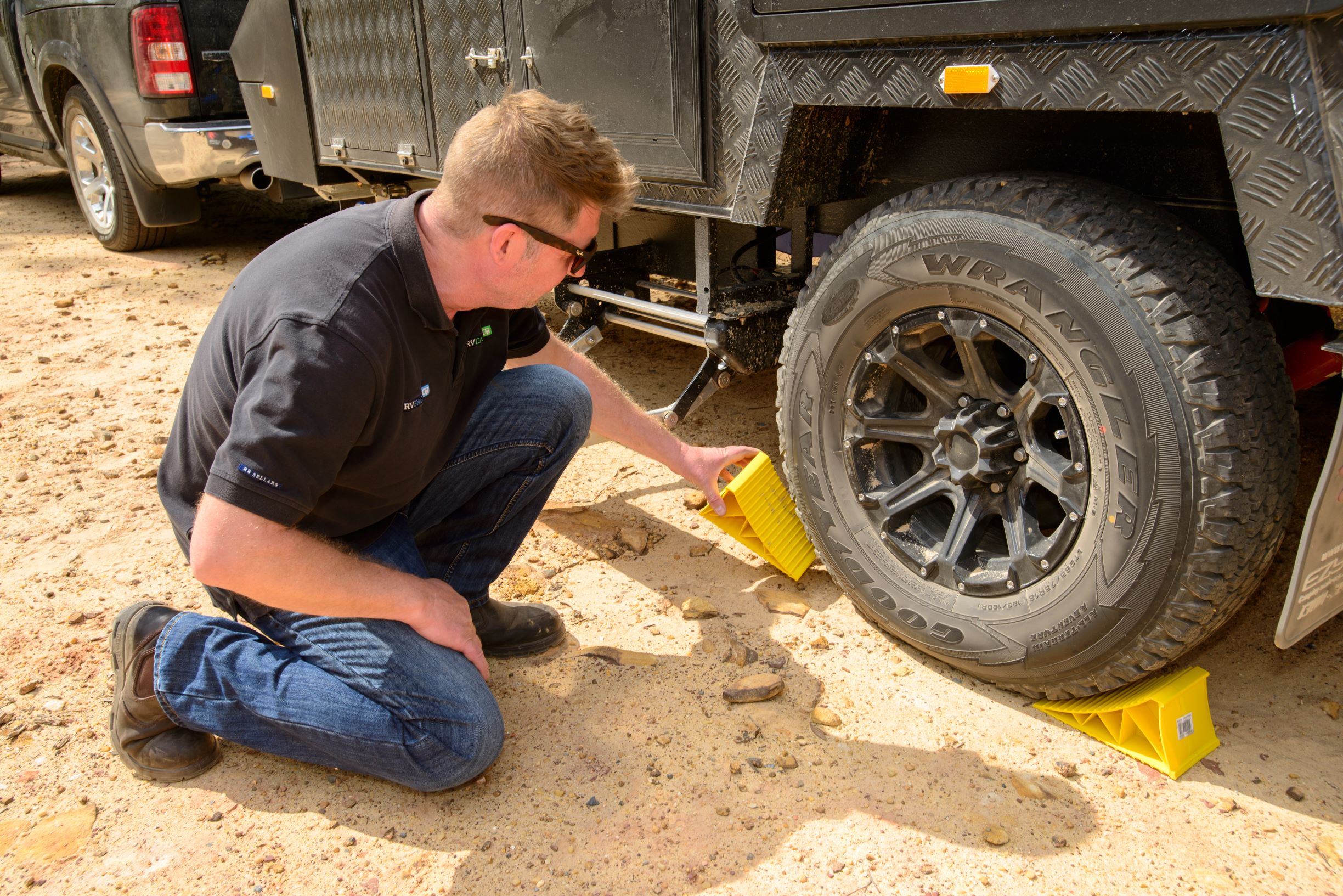 REMOVE CHOCKS AND LEVELLING RAMPS
Is the hitching operation not going to plan? Sluggish movement of the whole rig? Or perhaps you're driving off and feel a sudden bump from back there? "I don't recall speed humps here," you mutter. Maybe you've just driven off the levelling ramps! Or your chocks are conspiring against your efforts to leave your site. Like the stabilising legs, make sure you remember to check underneath … everywhere. Oh, and when you have hitched up and moved forward, re-check to make sure you haven't left a chock or two for the next occupant of your site.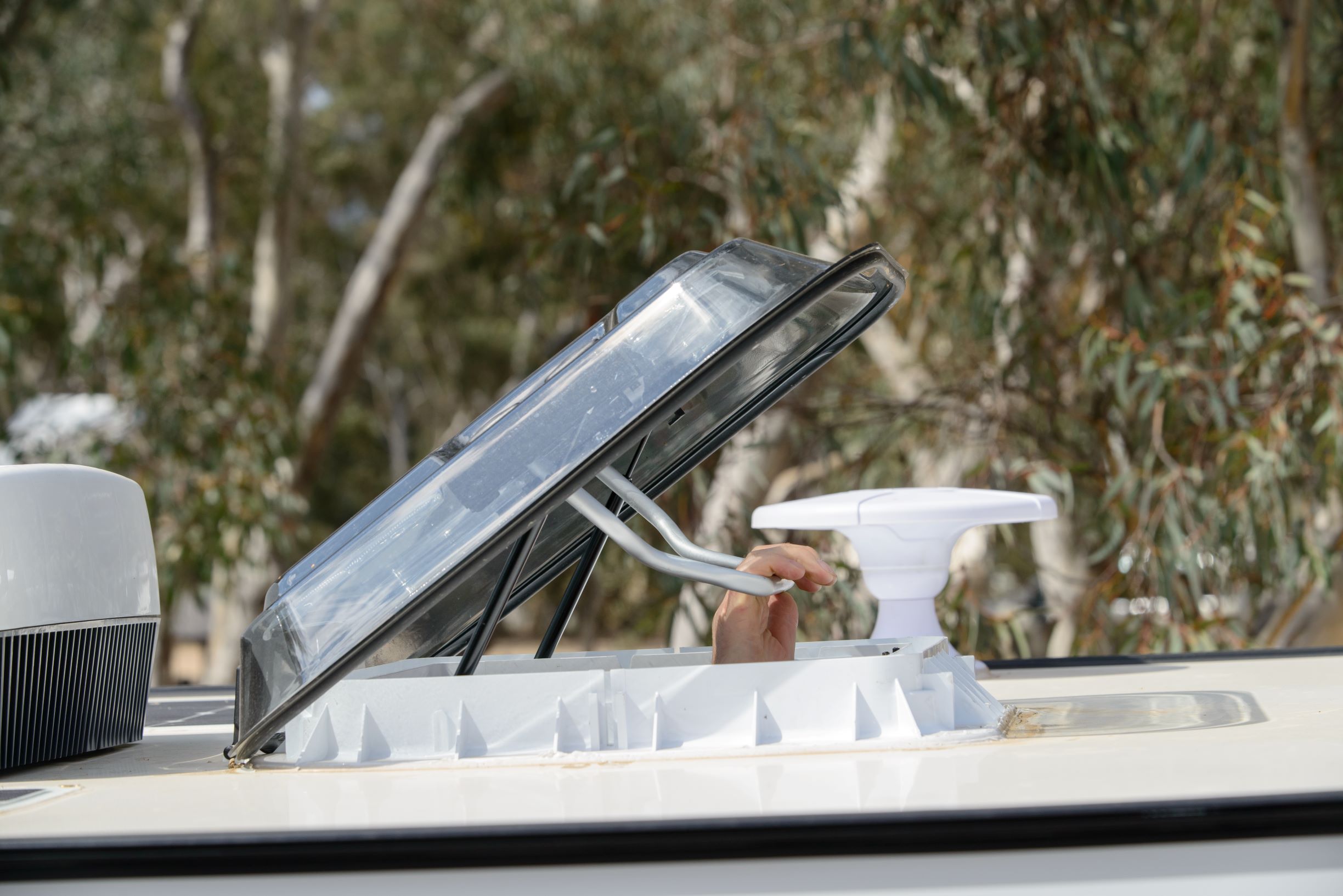 CLOSE ALL HATCHES
Are other travellers passing you and pointing to the roof of your van, arms waving and them mouthing warnings you can't understand? It's likely you've forgotten to close your roof hatch or hatches. They're standing up there, shaking in the breeze, waiting to be ripped off or to let dust and rain pour into your pristine interior. If you opened the hatch last night for ventilation but closed the blind, then this is easy to do; same in the bathroom if you'd had a shower. Make the roof level part of your visual sweep before you head off to the next destination, so you're equipped with hatches when you get there!
Checklists
We've developed these three pre-drive checklists of things you should remember to do every time you are about to leave the caravan park or campsite. We've included a download option at the end of each list so you can have them available on your smart device even if you're out of mobile phone range or print them out if you prefer hard copies.
PRE-DRIVE CHECKLIST INSIDE VAN
Washing machine water tap off
Shower rose removed from rail
Shower hatch closed
Toilet flap closed and lid down
Toilet paper removed from holder
Sliding door open and locked
Fridge repacked for travel
Fridge doors closed and locked
Fridge on 12-volt (for three-way fridge)
Water pumps off
Taps off
Window shades open
Roof hatches closed
Lights off
TV removed from arm and stored
Other electrical appliances stored
Table in folded position and strapped down
TV antenna retracted
TV signal booster off
Hot water system off
All cupboards closed securely
All windows closed and locked securely
PRE-DRIVE CHECKLIST OUTSIDE VAN
Door closed and locked
All external storage doors locked
Awning retracted and arms locked
240V power supply disconnected and cable stored
Water supply disconnected, and hose stored
Greywater hose emptied, washed and stored
Tap fitting removed and stored
Step retracted
Stabilising legs retracted and stored
Gas turned off
CHECKLIST ONCE HOOKED UP
Ensure hitch has connected properly and locked
Connect trailer plug, Anderson plugs and camera
Ensure hitch pin in gooseneck is in place and secured
Attach breakaway cable
Fit weight distribution bars (if you use them)
Check all lights for correct operation
Check brake controller for any errors
Remove and store wheel chocks and level ramps
Ensure the numberplate is secure and visible
Final look around van ensuring all hatches and doors are closed, all services disconnected and windows are closed
Release the van's handbrake
Test emergency manual brakes before leaving the caravan park
We know there will be some experienced caravaners reading all this and thinking these are obvious things to forget, but that's our point. Written down like this they seem obvious and that's why checklists are so useful no matter how long you've been caravanning for.
If you think we need to add anything on our checklists, please let us know by writing to us at SayHello@RVDaily.com.au
Safe travels.