Because, let's face it, not even the bravest among us can handle a cold shower in the middle of winter (except maybe that guy from Siberia)
Words and Images Chris Blakemore
In places where it rarely gets warmer than a Maccas soft serve, dipping a toe in nature's own slushie stream is nothing fancy I guess.
But for us inhabitants of somewhat warmer climes, that is, when you're camping pretty much anywhere in Oz, and experience ice-cold water trickling down your back, the blood-curdling screams can scare the wildlife out of the next mating season. The screams might be even worse if it's the wife who happens to cop the cold water treatment…
So when we found ourselves facing the choice of a few cold showers or trying to discreetly mingle among the locals while stinking like Bear Grylls after camping in a camel, we thought the better option might be to find a shower we can take with us to have wherever we like, whenever we like. Cue the Joolca.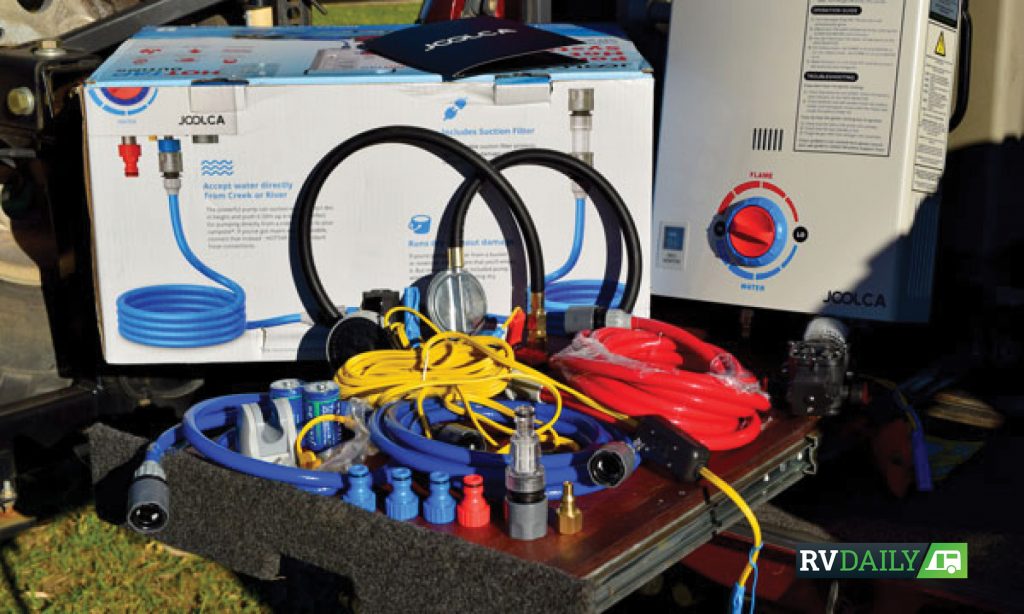 A bit of searching revealed these units had gotten rave reviews, so we had to check it out for ourselves. There are quite a few hot water systems around, but the endless shower capability and operating simplicity of the Joolca sounded too good to click past. And we weren't disappointed, although it wasn't without hiccups.
First up, here's a quick run down on the kit options for you. The basic Joolca kit is the Hottap, which has everything you need as long as there is a water pressure source nearby. The 'full package' Joolca kit is the Hottap Outing, a complete all-in-one set-up that allows you to draw your own water from any source and pump it through the Joolca system for a hot shower pretty much anywhere.
They also offer a range of accessories and extras to make your camping trip more convenient and comfy. So how did it all stack up when we unpacked it?
THE SET-UP
Straight out of the box it's a very simple set-up. There's loads of packing material and polystyrene, so unpack it before you go camping. Most of the fittings are up near the top of the box as you open it, so no searching through loose packaging to find them.
The unit itself has a carry handle that doubles as a means of suspending it over a pole or branch. There are also some slots in the back panel to allow a semi-permanent set-up for extended use.
Once the hose fittings are screwed on and with the gas hose tightened up, you're close to done. Simply hook up to a gas tank such as a 9kg bottle with normal POL fitting, and get the water connected. Tuning the water temp and flow is dead easy, with a turn of the dual-knob system either way. A digital display tells you everything you need to know.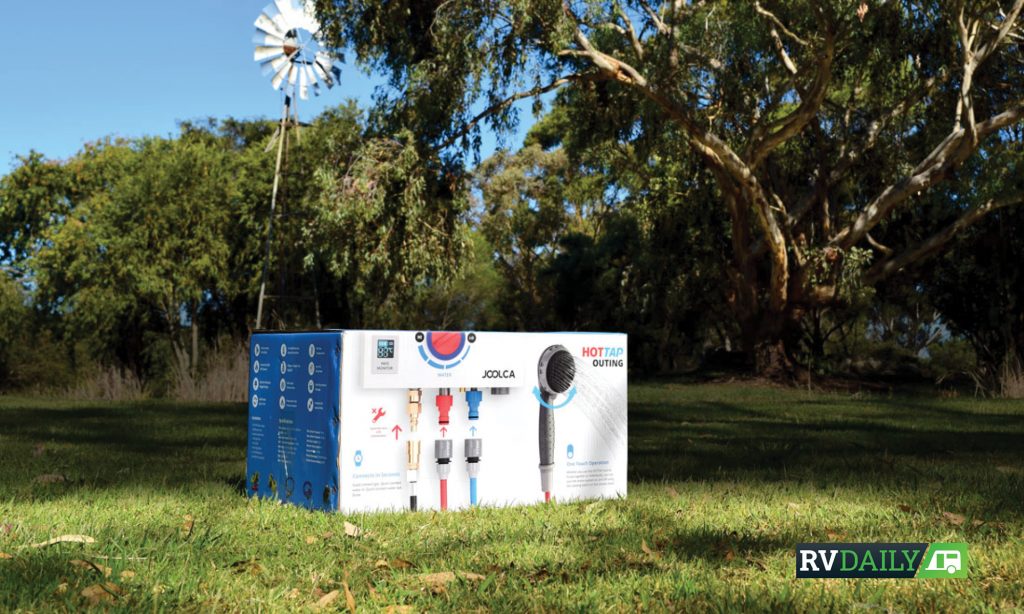 HELPFUL HINTS
Here's a tip for first-timers like us: buy a couple of spare 'D'-size batteries and put them aside. Our 'new' batteries only lasted a couple of test fires and then went flat. Of course, we looked at every other possible issue before finally swapping out the batteries, and then off she went again.
The other issue we encountered, and it seems lots of others do too, is the wind upsetting the gas flame. We spoke with the team at Joolca and I must say we were impressed with the helpful service we received. They advised us of a remedy and in the end a simple wind guard stopped our flame from blowing out from the wind gusts we were experiencing at the time. They did say they were working on a solution to the issue, so at least they're on the case.
SO WHAT'S THE VERDICT?
Is the water as hot as you'd get from your domestic or commercial unit on the wall? Well no, but it's not bad. The best part is that it's essentially endless. That doesn't mean having long water-wasting showers in the dry outback, but it does mean having a good scrub up before hitting the local establishments for a night on the town, and without drawing a cringe from the publican who's probably encountered a few ferals in his time. By the way, where is Macca??
Anyway, we'll be taking it with us whenever we venture into the bush. It's so damn convenient, and oh-so-nice to have a warm shower after a long, dusty day … especially in the cold seasons! Now that's camping in style.
Joolca Hottap 'basic kit' sells for $299 RRP
Joolca Hottap Outing sells for $429 RRP
Joolca offers a two-year warranty.
For more information, visit www.joolca.com.au