The million dollar camper…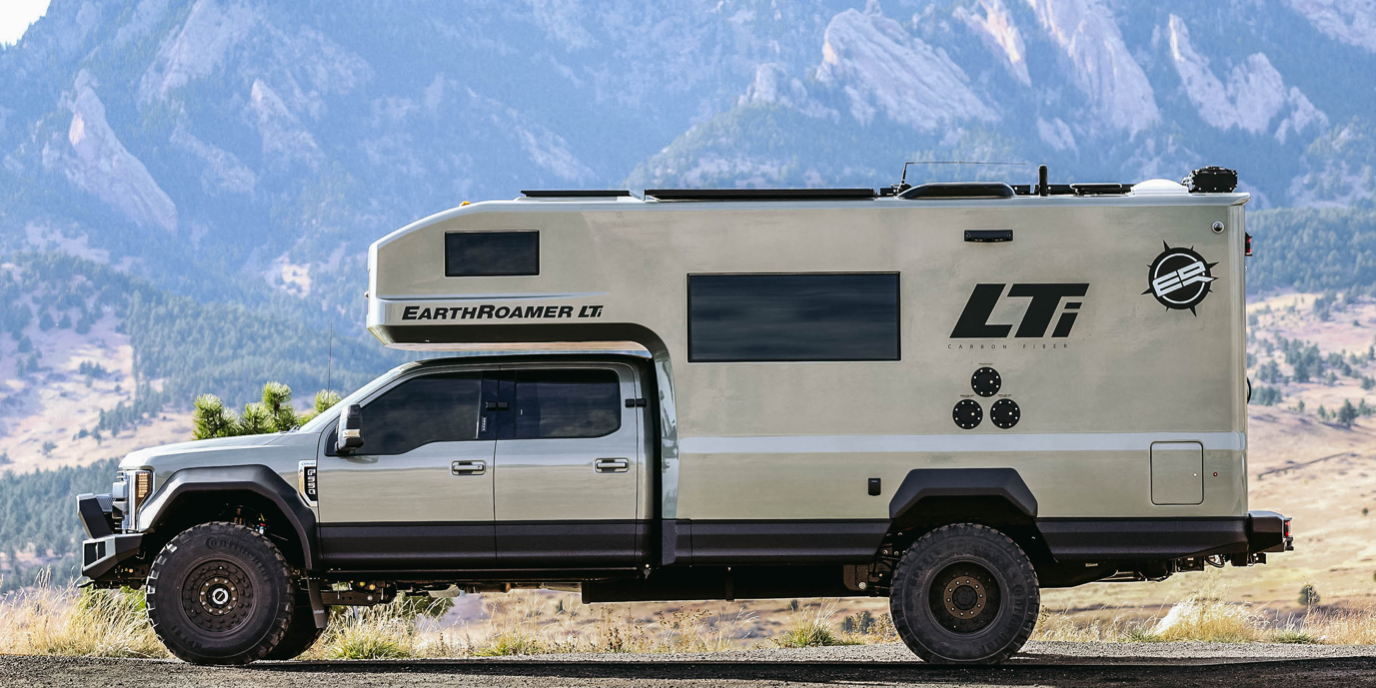 Ok, so I didn't win Powerball last night, but the EarthRoamer LTi is the height of luxury, and it's described as the most advanced expedition vehicle ever.
US-vehicle manufacturer EarthRoamer says its LTi is the most advanced expedition vehicle ever, but you'll need deep pockets to get into this million dollar camper. It has a base price of US$590,000 (A$860,000), but up to US$700K (A$1.02M) with options. So why does it cost so much?
Built on a Ford F-550 Lariat 4×4 platform, the EarthRoamer LTi has plenty of grunt to get going thanks to its 6.7L turbo-diesel V8 engine that makes a claimed 246kW of power and 1016Nm of torque. The TDV8 is mated to a 10-speed auto transmission, but that's not the advanced part…
The LTi is said to be the first camper of its kind to be manufactured from a lightweight one-piece vacuum-infused carbon-fibre body. It's a three-layer setup with carbon-fibre, an insulation core and another layer of carbon-fibre. It also features frameless flush-mounted glass windows.
Other innovative features in the million dollar camper include a massive 11,000Wh lithium-ion battery bank with a full digital electronic control system, an electronically controlled recessed awning, auto-drop camper steps, a 360L water tank, a 150L grey water tank, 1320W of solar panels, a 5000W inverter, an exterior shower, an optional security system with four cameras that record 24 hours a day, a forward looking infrared camera for spotting wildlife while driving, a chassis camera for spotting obstacles while off-road driving, a satellite dome for internet/TV access, a locker storage system out the back and an optional exterior kitchen setup. There's also a black water cassette which eliminates reliance on dump stations.
Off-road capability was a priority in the design process and the LTi is equipped with Hutchison double-beadlock wheels wearing massive 41-inch Continental MPT-81 rubber.  The standard F-500 suspension has been replaced with a four-corner air suspension system with custom-valved King adjustable shocks. This set up allows the vehicle to be raised for difficult off-road obstacles or lowered to squeeze under branches and the like. It also allows the vehicle to be levelled when you get to camp. And there's an onboard air system with four external quick-disconnect air chucks for easy tyre inflation.
The F-550 sports an EarthRoamer-designed front bar with an integrated Baja Designs LED light bar, driving lights and fog lights, and a 16,500lb Warn winch. There's another 16,500lb Warn winch out the back in case you need to perform a rearward recovery.
The lower guards feature a tough X-Guard treatment and, for those who really can't stand bush pinstripes, EarthRoamer says it can X-Guard the entire body of the vehicle if desired.
To ensure the EarthRoamer has plenty of range, it retains the F-550's standard 150L tank, and adds another 210L tank for a total fuel capacity of 360L. EarthRoamer says it'll do around 1600km between refills.
The camper section can be accessed from the F-550's cabin, a process aided by a lowered centre console between the front seats.
EarthRoamer describes the LTi's mission as "providing fully self-contained, luxury off-grid living in a robust overland vehicle". It's certainly 'mission accomplished' and we reckon it might even be up there with the Aussie-made Unidan Discovey X. What do you think of this million dollar camper?
Check out the video below: