The Big Trip – From the centre to the west via the back way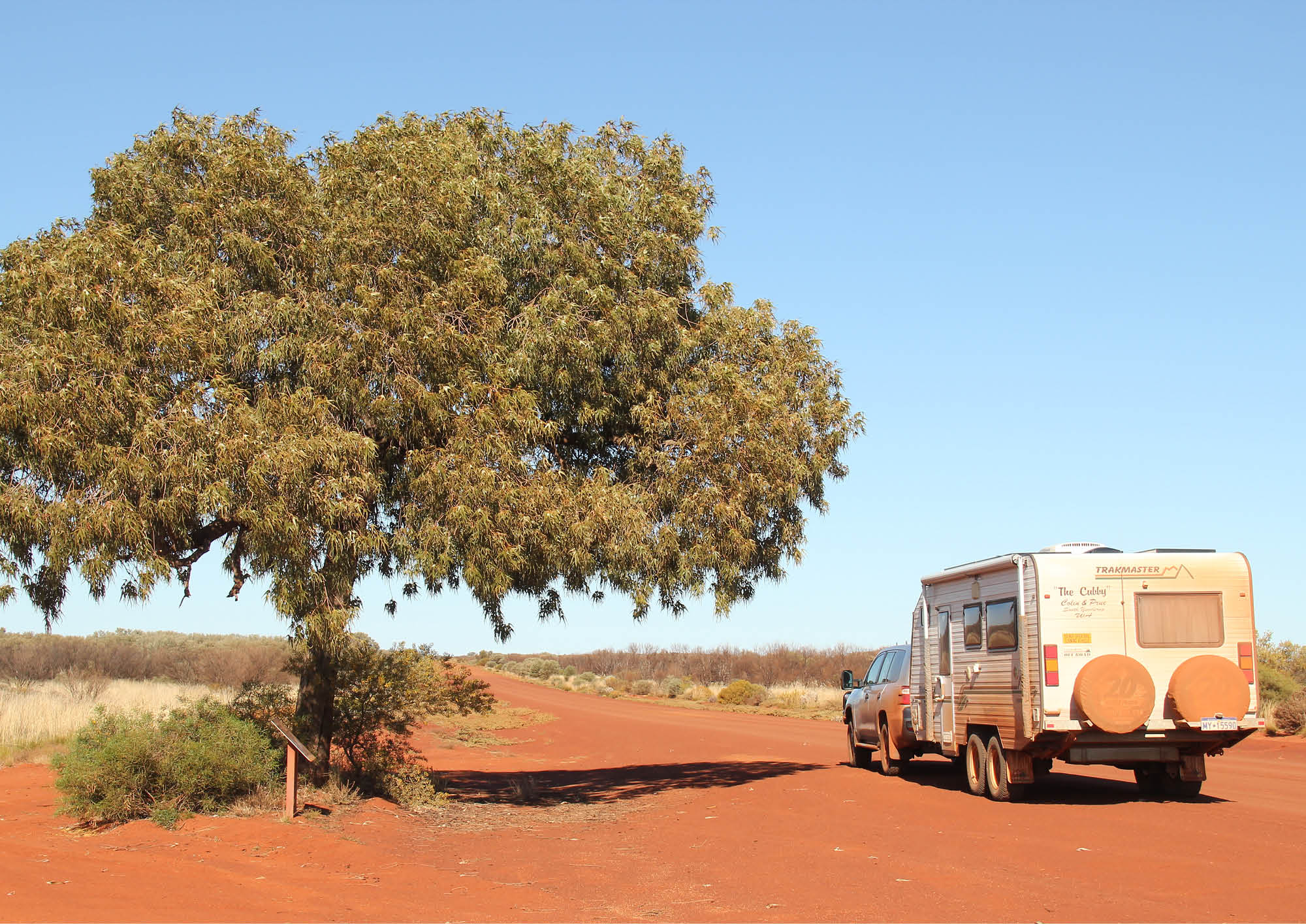 As it's destined to become a bitumen thoroughfare sometime in the future, you should take the Great Central Road while it's still a roughly-drawn red line.
By Colin Kerr
Carved out through sometimes fascinating desert country between Uluru in the Northern Territory and Laverton in Western Australia, this once quite lonely, poorly maintained outback trail has today become a popular alternative route from the Red Centre to all the attractions that await travellers in Western Australia.
For images, videos and the full RV Daily experience, read this in our online magazine.
Today, there is a (long-term) visionary plan to upgrade this link from Cairns in North Queensland through Winton, Alice Springs, Laverton to Perth, with an all-weather sealed road right across the centre of the country – a short-cut saving thousands of kilometres from today's bitumen road alternatives.
In this yarn, we travel from Alice Springs to Laverton checking out road conditions and what there is to see and do along the way. As part of this trail involves travelling through Aboriginal country, two separate permits are required – one for the NT and one for WA – both of which can be obtained in Alice Springs or online (see the additional information breakout).
THE DRIVE
The main link to WA basically starts at Yalata (Ayers Rock Resort) where there is accommodation and the last main centre for supplies and services until Laverton – three or four days' travel and just over 1100km away.
With your travel permits in hand and assuming you have explored the Rock and the Olgas (Kata Tjuta) already, it is not necessary to pay the National Park entry fee ($25 per adult) and you simply proceed directly to the signposted turn (near the Olgas) to Docker River/WA-NT Border. From here it's onto mostly wide, unsealed and in places quite rough and corrugated roads until you reach Laverton. Lowering tyre pressures to more easily and comfortably cope with the gravel and corrugations is advisable.
At first, with the iconic shape of the Olgas in your rear-vision mirror, the red sand earth road around 180km to the WA/NT border is generally in the worst condition you'll experience for the whole trip. On our journey in mid to late 2016, like elsewhere around the country there had been rain in the area and, because this poorly maintained section of the road is often slightly below the surrounding ground level, there were many muddy and pooled floodway water sections to negotiate.
This first section of the road, however, is very scenic with views of the Petermann Ranges, undulating sand dunes, lovely stands of desert oaks and (in spring) colourful myrtles, wild hops, acacias, grevilleas and other wildflowers. After 140km a visit to the signposted Lasseter's Cave is worthwhile… where you will learn the story of Harold Lasseter and the legendary mystery of his lost gold reef.
Just 8km east of the NT/WA border is the community of Docker River (Kaltukatjara) where fuel ($2.20 per litre in August 2016) and basic supplies are available. A kilometre west of the settlement there is a nice campground with toilets (but no other facilities) set among a small forest of desert oaks.
From the border (heading west into WA) the road conditions noticeably improve with much road development and maintenance making driving less stressful. There are some nice stands of grass trees near the border and around 20km further on is the colourful rocky outcrop of Rebecca Hill and some stately white-barked eucalypts.
Warakurna Roadhouse (fuel $2.40 per litre and basic supplies available) and the nearby Giles Meteorological Station are next. Here check out the crumpled remains of an old Blue Streak Rocket – fired from the Woomera Rocket Range in the 1960s – and an old Gunbarrel Highway grader. If you are able to time your visit you can see the release of weather balloons at 8.45am and 2.45pm (central time) each day – quite fascinating.
From Warakurna towards Warburton (226km) there are several nice sections of breakaway country – quite photogenic in early morning or late afternoon light.
At Warburton (the largest community along the road) there is fuel ($2.06 per litre), supplies, a variety of accommodation and a chemical toilet dump point. For art lovers you can check out the lovely paintings and woodcrafts at the Tjulyuru Art Centre here and indeed, at most of the other Aboriginal communities along the way there are art centres where visitors are welcome to call in.
Around 10km west of Warburton, there is a welcome 25km of sealed road (part of the overall upgrade of the road), but all too soon it is back to quite good condition gravel. Also west of Warburton there are more lovely breakaway outcrops, small caves and a series of rock pools (gnamma holes) that can be explored.
Another feature along this entire section of the Great Central Road is the hundreds of old wrecked and abandoned vehicles seen beside the route. Spotting and counting these 'roadside sculptures' is a game many travellers play along the way! There are also regular sightings of wild camels and even the occasional dingo.
Tjukayirla (generally pronounced chook-a-yer-la) Roadhouse is the next sign of civilisation where fuel ($2.00 per litre), basic supplies and a wide range of meals and takeaways are available including their famous 'chooky burger' – a legendary burger with the works. For those with time on their hands, pick up a mud map here which leads to some nearby caves and Aboriginal art; and 'the Zoo' breakaways opposite the roadhouse are also worth checking out.
A little further on is the 'White Cross' at the Beegull breakaway outcrop where you will find some more gnamma holes (hundreds of finches seen here on our visit) and some caves with Aboriginal art.
Further on, just 50km east of Laverton, was our favourite campsite for the entire trip. It is a very basic campsite (table/chairs only) about 400 metres off the road but it overlooks a spectacular valley of colourful cliffs which offer plenty of photographic and exploring opportunities.
Further on, Deba Rockhole and more breakaway country is worth checking out; and then just over 20km out of Laverton are quarantine bins for any fruit, vegetables, plants, etc not allowed further into WA.
The township of Laverton at the end of your 1100-plus kilometre Great Central Road experience from Central Australia has fuel ($1.69 per litre at time of our travel), a supermarket, a hotel, a splendid art centre and all essential supplies and services. In town also check out the Explorers' Hall of Fame. Then, with this section of your adventure over, you can look at a WA map and decide where you will next head off to explore.
Additional Information
• The Great Central Road is also home to the Outback Way Geocache Trail – the world's longest treasure hunt where, with GPS co-ordinates, travellers can locate 34 caches hidden at places of interest along the route.
• The longest distance between fuel stops is 300km between Tjukayirla Roadhouse and Laverton.
• Taken with care, this road can be negotiated with high-clearance vehicles (4WD preferable) and off-road camper-trailers/caravans. Make sure your vehicle is in good mechanical condition, take vehicle spares (including two spare tyres) and carry plenty of drinking water. Opal is available instead of unleaded (due to petrol sniffing problems in some areas).
Travel permits:
WA: Ngaanyatjarra Council
NT: Central Lands Council
Recommended maps and guides:
• Hema's Great Desert Tracks (western and central) and Outback Way Atlas and Guide.