Teardop Campers unveil the Maverick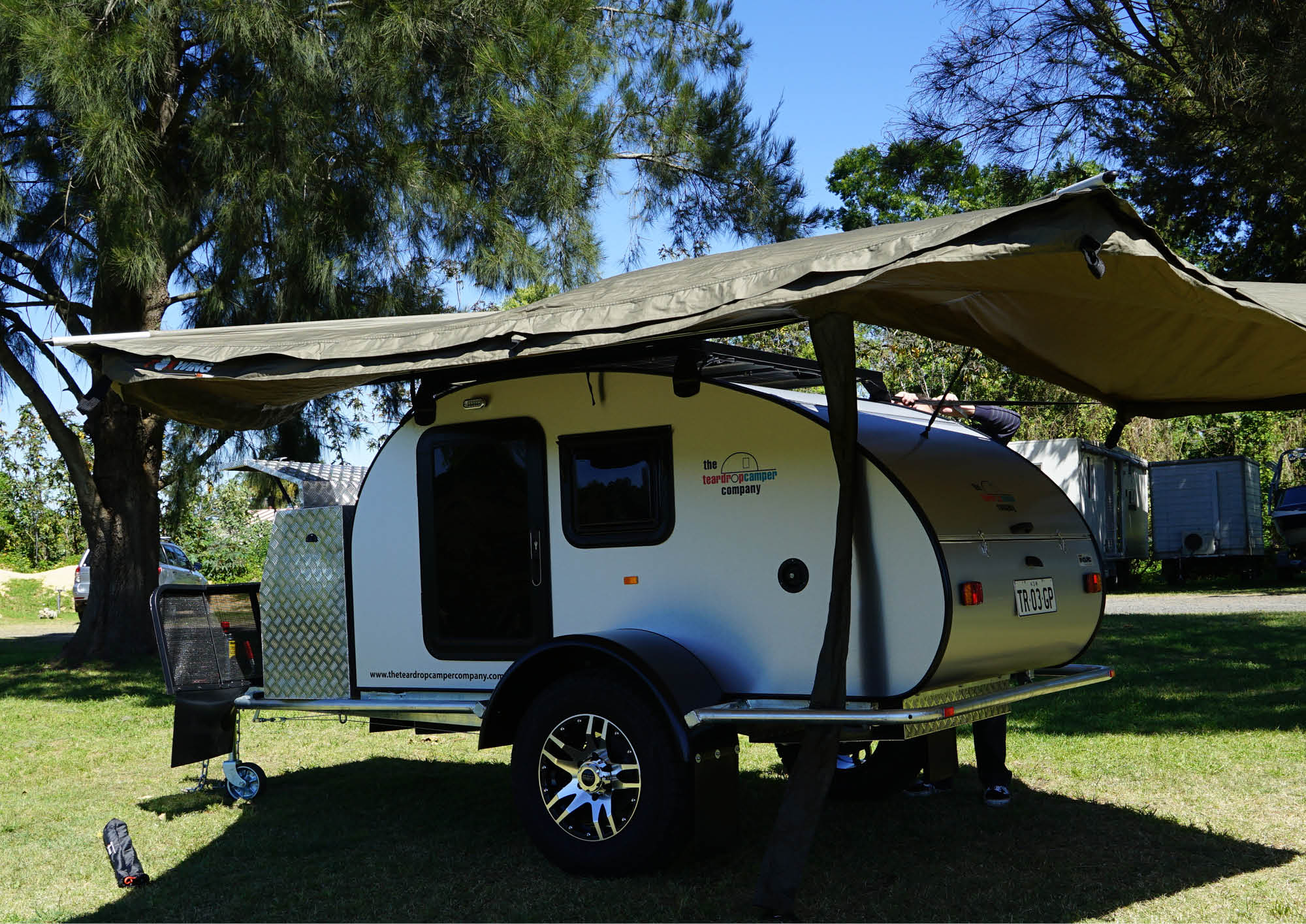 The new Teardrop Camper has serious off-road hardware to take it much further than you'd imagine.
Words by Tim Scott, photography by Sam Rees-Jones
Having a stylish profile leads to attention. And can lead to you being a victim of your own success. That's been the case with the Teardrop Camper Company's Frank Scenna and his girlfriend Olga, not that they're complaining. To explain: the Teardrop camper that they used to tour in was sold to a couple who wanted to buy it after seeing it in storage at the back of the workshop. They didn't want to order one and wait – they wanted Frank and Olga's personal camper right there and then. So it was sold. Frank has been promising to build a replacement for the last 18 months or so and now he has; this Maverick model.
For images, videos and the full RV Daily experience, read this in our online magazine.
However, this camper has taken a leap forward in development terms and satisfied a few aims, commercial and personal. I'll explain further. Essentially, the original Teardrop Camper has been a strictly on-road model, with a traditional beam axle and leaf-spring suspension and a lightweight unit with an on-road chassis. No pretentions, but a camper that certainly said a lot about your personality in choosing something so individual. And not least by going to a company that is willing to customise your camper between degrees of letting you paint it yourself or engineering a corporate publicity vehicle such as a mobile extendable bar unit for a vodka company.
The clue may be in the name, Maverick. This is the out-there, off-road model, born to satisfy the requests from potential purchasers who wanted to go further afield with a Teardrop style, and also to make sure that Frank and Olga had an escape machine for when their camping meant a withdrawl from constant enquiries about the camper they were in. Now, they can expect enquiries from off-road travellers who meet them in the Maverick when they're 'escaping'. Method. Madness.
Part of the delay in development was the wait for a suitable chassis and suspension package. This has arrived from AL-KO in a 1200kg Enduro Outback version that was in keeping with Frank's lightweight needs. The Teardrop camper has strict 2800 (l) x 1200 (h) x 1500mm (w) body dimensions to adhere to and the right chassis was vital to build upon. Of course it required an off-road suspension and the Maverick rides on an integral independent AL-KO unit with single shocks, though there are mounts for a twin-shock application in the 2400kg version of the Enduro with uprated springs. Electric drums with override handbrake provide the stopping power and are also AL-KO components. To suit the off-road use the chassis is 100 x 50 x 3mm hot dip galvanised steel, with heavy-duty cross members to support the main beam with rigidity in the independent set-up. All the fabrication work is handled by Frank's son, David, an accomplished vehicle body builder and who has been toiling for the family company since its inception a decade ago.
Standard tyres are 240/70 16 Achilles Desert Hawk All-Terrains on three alloys, with the spare up front on the drawbar, which features a stoneguard and a 360-degree articulation AL-KO hitch. The oversize jockey wheel stores in the substantial Rhino steel checker plate toolbox. Total trailer dry weight is 870kg – full water tanks take that to a ton and the chassis is rated to 1200kg.
The Teardrop's dynamic shape is constructed from a ply frame that's skinned in aluminium before the roof, hatch and the rear – termed beaver panel – are vinyl wrapped, this one in brushed aluminium. The vinyl is used to ensure the camper is very easy to clean and it protects the aluminium against oxidisation. The door and window units are all sealed with integral rubber from the supplier that is staying a secret with Frank. The rest of the sealing around the camper is proprietary moulding that Frank has had made to perfectly suit the gutter system and apertures so the unit is watertight and dustproof. The underside and 75mm up the walls is further sealed with rubberised bitumen coating to prevent water ingress that could lead to rot.
While the camper construction is applied across the Teardrop range, the Maverick has its off-road features as part of what's a one-model standard offering. There are a few options, such as a 30 litre freezer in the front checker plate toolbox, but everything we saw is standard for the $34,990 price tag.
One thing everyone wants when camping is a quick set-up time. The Foxwing awning is the main factor in the Maverick's deployment, once you've picked your site. The whole Foxwing pulls out quickly and is easy to set with poles and ropes but the real beauty is that this unit marries in with all OzTent products such as the 30-Second Tent to make a family camping option or zip-on walls for a fully-enclosed annexe just for the camper. If the full awning isn't needed, say, for a quick stop, then a sail track awning option can be slid on to use just over the galley area.
The galley, or kitchen, is fed by 65-litre water tank. The shower pumps at 6L/min (using the Smarttek6 instant hot water system). It's also fed by a separate 65-litre tank; both tanks can be upsized to 85 litres. The galley and shower tanks and plumbing were kept independent to prevent kitchen water becoming contaminated, as the shower water can be filled anywhere. All pipework has either been plumbed in the chassis rails or is protected by bash plates underneath the trailer. The kitchen is basic and provides just what's required. The swing-out sink, fed by a shower head, is a bowl to be emptied where suitable and adjacent is a covered area for the standard Waeco 50-litre fridge. A twin-burner Primus gas stove unit mirrors the sink's swing-out design. A set of drawers for utensils and cutlery forms the rear wall and a well under the sink swing holds larger items such as pots and pans.
The kitchen is lit by an LED strip and there's a Fusion Bluetooth stereo to take care of your music needs plus you can listen to the TV through the speakers outside, too. To supply the Maverick's power needs, two 120W solar panels on the roof link to a Power Tech 30-amp solar regulator which in turn keeps two 80 AH AGM batteries in a top state of charge.
The interior is kept cool with flow-through ventilation as the doors have security screens that can be locked from the inside with the 'door' part held open while a 12V Caframo Sirocco fan moves the air inside. Though the beds can be specified to your own choice of size the standard are custom-made 2000 x 1460 x 75mm Durafoam caravan mattresses. For bedtime there are twin reading lights and a 30-LED downlight for general illumination. The TV is portable in that it can be unclipped and positioned out in the galley if there's more of an audience or you just want to be outside.
Two small wardrobes take care of your clothes storage – the bulk of which may be stored in your vehicle. Some Teardrop customers have specified single beds that allow more internal storage or even for pet accommodation alongside their owners, however, Frank states that the Maverick off-road model is really aimed at being a one-style production unit. Vehicle production time is forecast at 8-10 weeks per camper.
VERDICT
There's no doubt this camper will attract a particular type of buyer, rather than offer mass-produced appeal but that's fine. It's typical these buyers would want to go that bit further away from the crowds anyway. Now with the full off-road kit supplied on the Maverick they can do as they please.
SPECIFICATIONS
Length: 4.6m
Width: 2.16m
Weight: 870kg dry
Price: $34,990 (with blue slip)
PROS  
Style
Light weight
Manoeuvrability
CONS 
Internal storage
Access issues for some