Suspension game on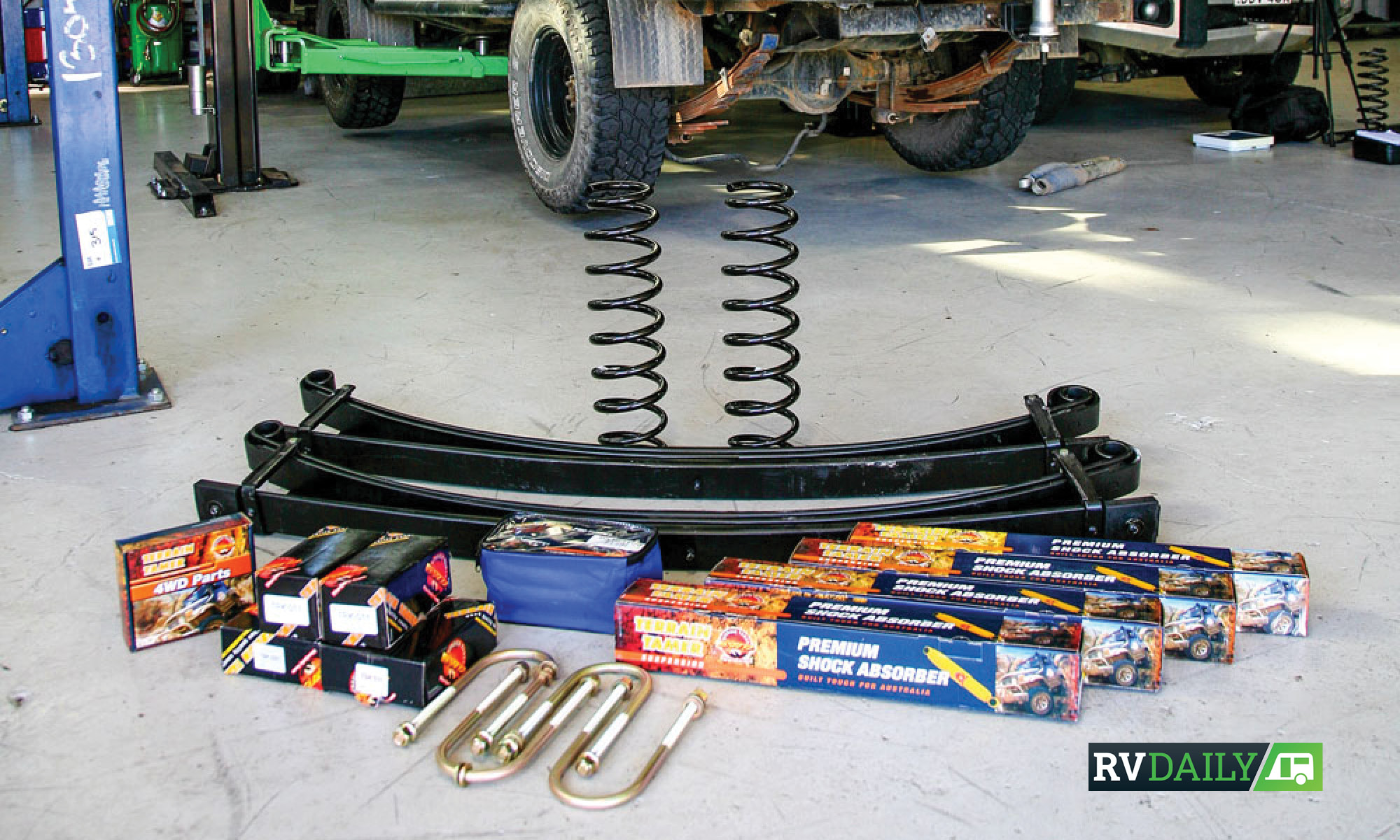 Do Terrain Tamer's new parabolic leaf springs give shockingly good results, or are they a jarring disappointment?
Terrain Tamer recently contacted me with an offer of a set of their newly-designed parabolic leaf springs for the rear end along with a matching set of front-end Smart Coils (progressive rated coils) and expanded body heavy-duty shocks to help make my Troopcarrier ride more comfortably, while still maintaining off-road flexibility and load/towing ability. A win-win all 'round … something I didn't think would be achievable!
I undertook my own research (as anyone should) and found conflicting information from both suppliers and users. My enquiries to spring manufacturers both in Australia and overseas found the only reason they are not made on home turf was that our local manufacturers simply don't have the machinery to make them, not because they don't think they're a good idea, although some people may suggest otherwise.
After a week of investigation and procrastination, the challenge was accepted. Now I know the big bus will never ride as soft as a Prado or 200 Series, but any comfort enhancements are much appreciated – provided the towing, load carrying and off-road ability can be maintained or improved.
Terrain Tamer claim their three-leaf packs are rated at 500kg – whoa! Most other parabolic packs I'd seen were rated closer to the 300kg mark. Surely Terrain Tamer had been leaning over a red-hot kiln for too long!
Sure, parabolics are still a leaf-spring design, but they're very different to the old horse-and-cart system. Currently they're available in some overseas markets, however in Australia they are primarily for the trucking industry with little available in the way of 4X4s. Terrain Tamer intend to change all that, initially with the introduction of LandCruiser 78 and 79 Series kits, followed soon by kits for other popular dual-cabs.
MEASURE EVERYTHING
Before removing the existing 300kg-rated kit, I measured every conceivable attribute so I could compare the Terrain Tamer parabolic leaves with the traditional set as well as the standard OEM (original equipment manufacturer) leaves that were originally fitted to my vehicle.
The OEM eight-leaf pack weighed in at 50kg, the aftermarket 11-leaf pack was 56kg, while the Terrain Tamer parabolic three-leaf pack tipped the scales at a lightweight 33kg – times two makes an overall weight saving of 46kg on the rear of my Troopy. Impressive!
I have thirty 25kg sandbags at my disposal and loaded them all into the rear of my Troopy prior to changing. Yep, that totals 750kg and way overloaded the 300kg pack! I measured shackle angles, clearances under the shock mount, U-bolts and towball, as well as overall suspension drop at the rear and the raising at the front.
Witness marks (rust and my texta lines) on the old springs showed very little interleaf movement within the leaf pack. Most movement was coming from the shackle pivoting. Not so with the parabolic leaves; the complete pack of three leaves can be seen (in the video) to separate and compress, plus flex up and down, together with the shackle movement providing far-improved workings.
Once I changed to the parabolic leaves, every measurement was redone … yes, even lifting 750kg of sandbags in and out of the Troopy!
RESULTS
It only took the initial 20km drive home to notice the comfort improvement to my Troopy. I was quite shocked (pun intended) as to how little jarring and harshness was being transmitted from the suspension, through the cabin up into my seat and aging back, just from driving over my local second-rate bitumen roads, let alone the latter corrugated dirt tracks.
Given all the measuring and load testing I'd done prior to changing out the old suspension, the same series of tests further impressed me with the ability of the Terrain Tamer parabolics to carry a load, return improved off-road flex, all with zero downsides. Essentially, the ability of parabolics relies on both the design and high-tech materials used compared to a standard elliptic design and standard spring steel.
The Terrain Tamer parabolic leaf springs have amazed me in all facets of comfort and load-carrying ability up to their designated limits. I would absolutely recommend them, with only a couple of scenarios where I'd give them a miss: if you are running your vehicle fully loaded, constantly near maximum GVM, want a GVM upgrade or are using a mining-spec leaf-spring pack to cart maximum load all the time, I'd say parabolics are not for you. Additionally, if you're after more than a 50mm lift, these parabolics are not able to supply that (legally).
If, however, you run your vehicle from near-empty up to general "let's go camping" type of gear, occasionally up to maximum GVM or even towing a suitable caravan or camper-trailer, then I can only see advantages in the swap, with the suggestion of perhaps throwing on a set of adjustable airbags for occasional extra-heavy loads. That's exactly what I'll consider in the future pending how towing duties and maximum loads pan out.
I'm sold on the parabolics and admit defeat – Terrain Tamer, you win this round.
THE PARABOLIC BENEFITS
-Parabolics offer lighter unsprung weight.
-Compliant and comfortable ride with any load.
-Improved flexibility off-road.
-Tapering of each leaf returns load-carrying ability combined with improved ride quality, both loaded and unladen.
-Interleaf friction is (largely) eliminated given the leaves don't touch each other.
-Silencer rubber pads on lowest helper leaf also help prevent leaves touching each other for a quieter operation.
-Reduces shock induced from road unevenness back into vehicle components.
-Double military wrap at the shackled end and one-and-a-half at the fixed end for safety.
-Less chance of rusting and wearing.
There is one negative though – if for some reason you manage to break or damage a leaf, other than buying a complete new one to replace it, no other suspension repairer will be able to help with a fix. Additionally, there are no options at this stage for higher or lower load ratings, or heights.
PRACTICALLY PUT TO THE TEST
Loading 750kg of sandbags, knocking up a 20° suspension flex travel ramp, towing a camper-trailer, hitching up a caravan, off-road low-range crawling, fast corrugated dirt tracks, measuring everything that moves and the seat-of-the-pants feeling – nothing has been left to chance to prove one way or another if the Terrain Tamer parabolic leaves are up to the task.
Aside from the improvements in load-carrying capacity and flexibility, check out the ground clearance gained via having a shallower leaf pack!
THIS COULD MAKE IT EVEN BETTER
Given the parabolic leaves are 'livelier' than a standard leaf pack, it stands to reason they will try to push and pull the shocks in and out faster. When my Troopy wallows into a road depression at speed, the shocks compress and do a superb job of soaking up the shock in combination with the parabolics. On rebound, the shock could be firmer to resist a second and sometimes third minor 'bounce' (which alters depending on the weight of your load). I'd be happy settling for the complete system as it is … but I'm being picky and on a mission to get the big white bus as comfortable as possible.
Here's the breaking news and potentially the perfect fix: Terrain Tamer will be offering an updated remote reservoir, adjustable monotube Pro Shock absorber range soon. I reckon being able to adjust the shock valving on such a flexible suspension system to help control the bounce via compression and/or rebound limiting will add a touch of finesse to the already impressive suspension system.
Stay tuned on these Pro Series shocks; there is still hope for achieving the passenger-style ride of a 200 Series.
MORE INFORMATION
Available from Terrain Tamer, or call 1300 888 444.
RRP $562 each, but come at no extra cost in a complete suspension kit.