Simply Clever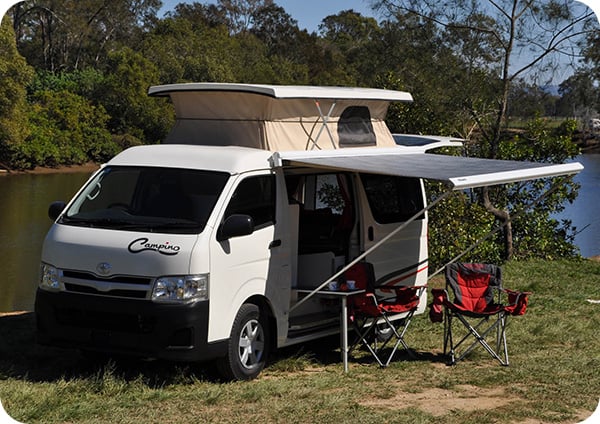 The new Southern Spirit Campino raises the bar (as well as its roof) in the entry-level campervan market.
By Richard Robertson 
Beats there a heart so jaded the thought of jumping into a little pop-top camper and heading into the sunset doesn't appeal? Campervans have come a long way since the 60s, at least as far as base vehicles go, but the conversions in some are little changed from the dawning of the age of Aquarius. Enter the new Campino from Southern Spirit Campervans; A cheeky, fresh-faced pop-top that's burst like a sugar-free breath mint into the stale bed-mouth of the Australian campervan scene.
For images, videos and the full RV Daily experience, read this in our online magazine.
Background
Southern Spirit is a Brisbane-based bespoke campervan and motorhome conversion company run by husband and wife team Ollie and Pia. Ollie is the meticulous German engineering side and Pia is the flamboyant Italian design side. Together they dreamed up the Campino (named after a popular German lolly) as an entry-level campervan filled with thoughtful design and a high level of standard equipment.
"Apart from the top end of the market, it seems Australian campervan design has been stuck for decades," Pia said. "Because there's so little competition there's been no need or desire to innovate, which is why we've designed and built the Campino".
If nothing else, the Campino should make the other manufacturers sit up and take notice. And perhaps sleep a little less soundly…
Foreground
Reflecting its entry level status the Campino uses a LWB Toyota HiAce. Can't-kill-it-with-an-axe reliable, the HiAce looks and largely drives like the box-on-wheels it is. Standard equipment includes dual front airbags, ABS, brake assist and electronic stability control; an impressive radio/CD system with voice recognition, Bluetooth phone connection and steering-wheel controls; cruise control, cab air-conditioning, electric windows and side mirrors; power steering, remote central locking, and a reversing camera with its camera in the internal rear-view mirror. While the cab can seat three, the centre seat has a low-height back and lap-only seat belt, but its back folds forward and becomes a centre console complete with cup holders and a mini desk.
The biggest surprise on the road was how quiet the camper conversion was. There wasn't a squeak or rattle throughout the day other than occasional harmonics between the engine and metho stove at idle. It was truly impressive and, I think, an indication of just how well designed and built the Campino is.
Pricing starts at a highly competitive $61,990 drive-away for a 2.7-litre petrol with a five-speed manual gearbox. I say highly competitive because the Campino has a high level of standard equipment, including a grey water tank and Porta Potti, making it eligible for self-contained status straight out of the showroom (unlike the opposition).
Better Buy Design
The HiAce's drawback as a camper is the lack of a walk-through cab. But this allows considerable kitchen and living space when coupled with clever design. And clever design is what the Campino has in spades. For example, while most other campervans have particleboard cabinetry the Campino uses lightweight, high-strength Euro-sourced ply, plus quality German Haefele and Hettich-brand hardware.
There are only so many ways you can arrange things inside a rectangular box so the layout isn't really new. There's an L-shaped kitchen that runs across the vehicle behind the cabs seats, then returns towards the rear, down the driver's side. There are also two single beds that can be made into a large double/queen and all that sits beneath a traditional pop-top roof. Hardly cutting edge on face value, but if the devil is in the detail, this time he's wearing a halo and is a fellow you really want to know.
The pop-top is their own deign and strong enough to walk on. It's fully insulated with an easy-clean ceiling and the gutters channel rain away from the side door, while its skirt has zippered and screened side windows. The roof is secured by simple webbing straps that loop through sprung buckles, while a fixed hi-top roof is optionally available.
Flush glass adds a streamlined look and security mesh screens have been added to the smallish sliding windows for increased ventilation. A three-metre awning is also standard and cleverly, the winder handle has been shortened to store in the gap between the entry step and floor.
The Campino is LPG-free and uses an Origo portable metho stove. A cold water shower at the rear is standard and an optional small electric hot water system for it and the kitchen sink is available. Fresh water is 52-litres and grey is 40-litres, and the fresh tank has a drain valve so you can empty or flush your potable water if desired. Nice.
More Clever Thinking
Solar (120W) is optional but as the Campino comes pre-wired, including the solar regulator, it's low-cost at $480. A sizeable 120 AH AGM deep-cycle house battery is standard and all wiring is heavy-duty 6mm, while dual 100 AH house batteries are optional. TV is also optional, but again the van comes prewired and includes a weatherproof external connector for both TV and satellite/cable aerial leads.
The L-shaped kitchen has a stack of four drawers while the cooker is portable and can be moved outside. To this end a fold-down table hinges off the kitchen end panel. The kitchen includes a round sink (with folding tap and glass lid) plus an 80-litre Waeco 12V compressor fridge. An impressive German Votronic-brand panel provides accurate voltage readouts for the house and vehicle batteries plus percentage readouts for the fresh and grey water tanks that are unaffected by incline. Lighting is 12V LED throughout and even includes a pair of downlights in the tailgate for when it's raised.
The lounge/bed is the final and perhaps most obvious innovation. In normal use it's U-shaped, but the rear centre section is removable to provide a long aisle for loading a bike for example. Dining is on a good-sized table that when removed becomes a base board that converts the single beds to queen size. The Port Potti – a terrific inclusion – stores in the driver's side rear corner but can also be moved to another cupboard inside for nighttime use.
Verdict
Entry level or not the Campino is a winner. The quality of workmanship and engineering is first class, while the thoughtfulness of design is apparent.
Take a long, close look at the Campino if you're after a versatile short-break machine that can also be a daily driver that's innovative, modern and very well made. It even comes with a choice of interior colours plus you can build and price it on the website and then email yourself the quote. Simply clever indeed.
Pros
Price
Quality workmanship
Standard inclusions
Self-contained
Layout
Practicality
Practical options
Payload
Cons
Bed length
Table support intrusion
Specs
Vehicle make/model: Toyota HiAce LWB
Weights
Tare Weight: 2095 kg
GVM: 2800 kg
Max Payload: 705 kg
Towing: 1400 kg max
Dimensions
Overall Length: 4.65 m (15' 3")
Overall  Width: 1.70 m (5' 7")
Overall  Height: 2.01 m (6' 7")
Internal Height: 1.35 m/1.95 m (4' 4"/6' 4") Roof down/up
Equipment
Awning: Dometic wind-out
Cooker: Origo OH3000 portable spirit stove
Fridge: Waeco 80 L compressor
Lighting: 12 V LED
Air Conditioner: No
Space Heater: No
Hot Water: Optional
Toilet: Porta Potti
Shower: External – cold
Capacities
Batteries: 1x 120 AH AGM
Solar: Opt
Fresh Water: 50 L
Grey Water: 40 L
Toilet: 10 L carry tank
Price – On Road
From: $61,990
As Tested: On used HiAce – $54,500