Should 200 Series owners be trading for a RAM 1500?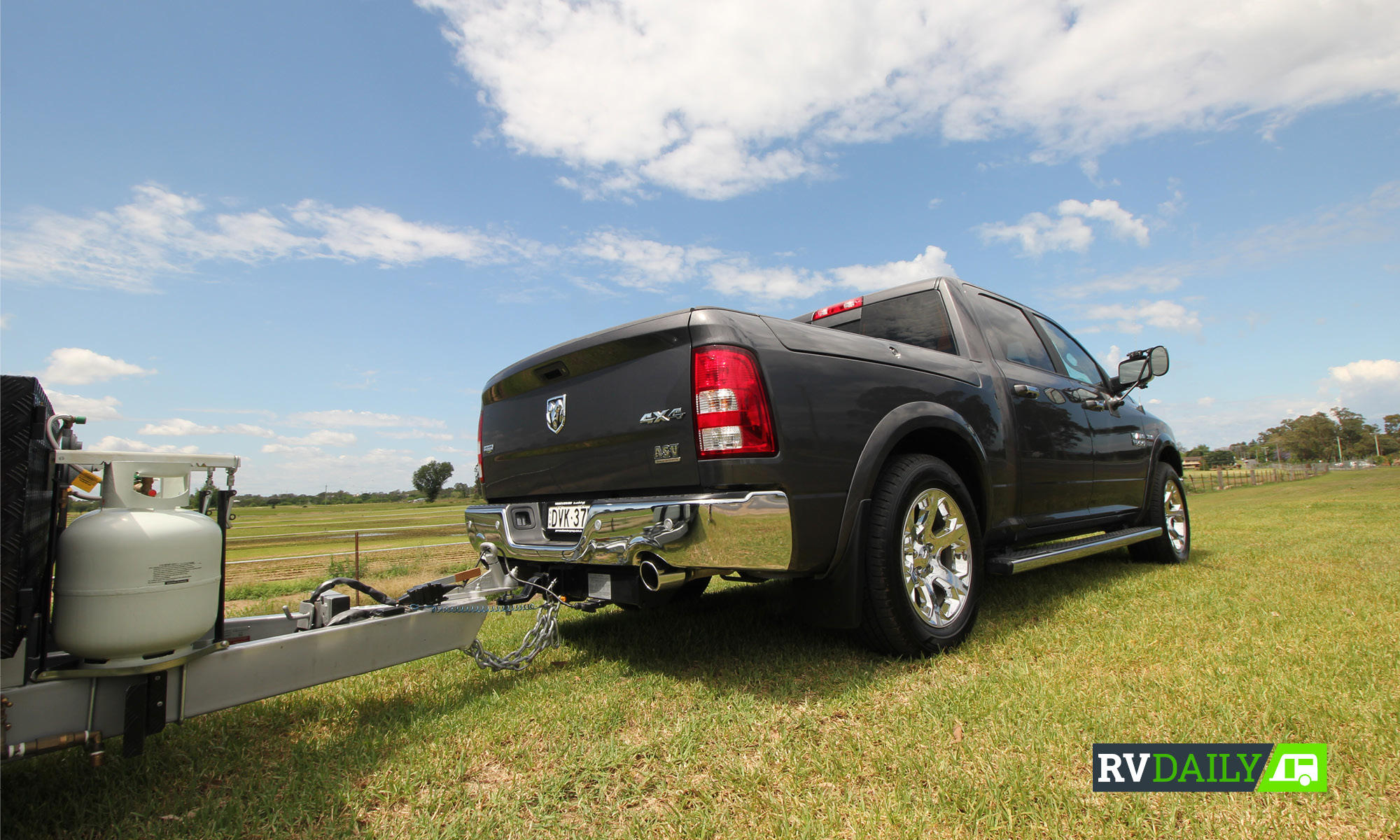 Bigger than a barn, the RAM 1500 should tow like a champion, but does it…
One-tonne utes are big business these days, but whether they are big enough when it comes to towing heavy trailers is another question. The latest ute to arrive on the market, RAM 1500, is of course from the US of A. This big petrol V8 ute (it's about half a metre longer than the rest of the one-tonne utes on the market) can tow 3500kg as tested – or 4500kg with no-cost optional shorter diff ratios. What we have here is the premium RAM 1500 model, the Laramie.
The Laramie starts at $99,950 (plus on-road costs) but tested here was the RamBox model. Treated as a stand-alone model (because it has to be factory ordered), the RamBox model's signature feature is the locking side compartments on the tub. The RamBox 1500 Laramie is $104,450, to which our test vehicle also has optional metallic paint ($850), making for an as-tested price of $105,300 (plus on-road costs).
There's also an entry-level model, the 1500 Express, which costs $79,950 drive-away and has gone on sale, while a 3.0-litre V6 turbo-diesel Laramie variant is due here at some point. Standard equipment for the Laramie includes heated/ventilated leather seats, keyless entry and start, digital instrument cluster, 8.4-inch centre touch-screen with navigation and Android Auto and Apple CarPlay mirroring, 20-inch chrome-look alloy wheels, and a locking tailgate. There are front and rear parking sensors and a rear-view camera.
While there's none of the advanced electronic safety and convenience features you'd expect from a top-shelf ute (such as autonomous emergency braking, active cruise control or lane departure warning), there is some standard gear you'll appreciate for towing.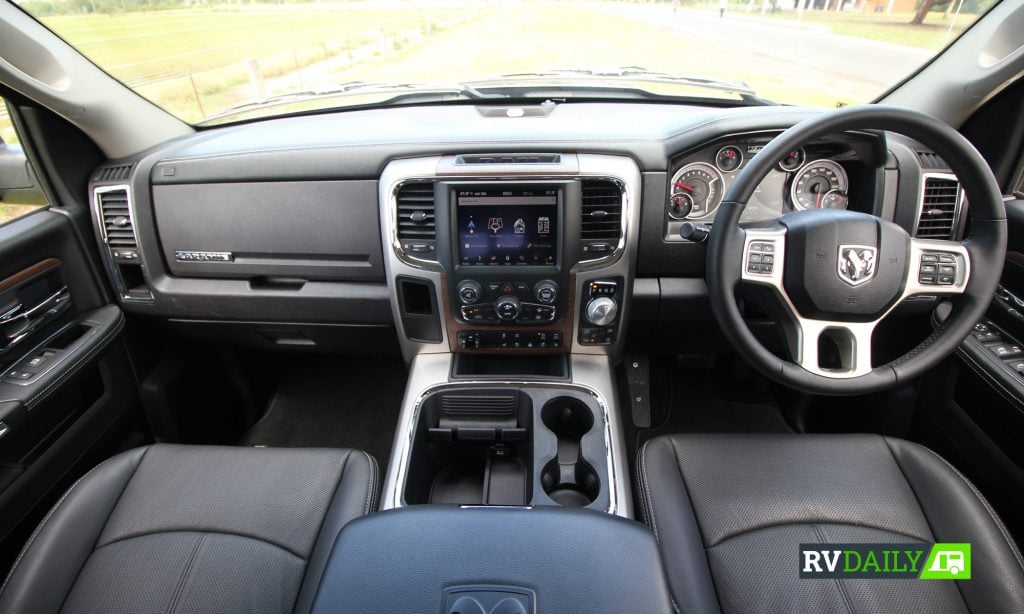 An integrated electric brake controller, towbar and towbar wiring (with seven-pin flat plug), tow/haul mode (to improve gearshift response when towing) and trailer sway control are all part of the package. There are two differential ratio choices for the Laramie, which affects towing capacity. With the shorter 3.92:1 ratio diffs, the 1500 Laramie has a 4500kg towing capacity. With the standard 3.21:1 final drive ratio, the towing capacity is down 1000kg, at 3500kg. The Express, available with the 3.92:1 only, has a maximum 4500kg towing capacity.
While the no-cost optional 3.92:1 ratios improve towing capacity, they also increase fuel consumption. The standard 3.21:1-ratio vehicle is quoted at 9.9L/100km combined average while the shorter, 3.92:1-ratio vehicle has a combined fuel average of 12.2L/100km. Like a lot of utes, the RAM 1500 falls foul of GCM when towing. If you tow right up to the 3500kg capacity (of the 3.21:1-ratio vehicle), you'd have only 111kg for payload. While RAM includes a full tank (98 litres) of fuel in the kerb weight, it doesn't include the driver's weight.
The RAM has heaps of room inside for five overgrown adults. Compared to any one-tonne ute, it's simply huge inside, and really comfortable at that.  The dash is identical to the 2500 and so the controls and instruments are easy to find and use (all except the odd foot parking brake, angled too high on the right side of the lower dash).
One neat feature is the multi-function display in the instrument cluster, which displays the changes to electric brake controller gain when adjusted with the buttons on the lower centre console.  The big V8 hauls the heavy RAM around as if it was a lighter vehicle – this is a quick, responsive ute that also sounds really good when it's working hard. The eight-speed auto is also very smooth, although it can be caught napping when you're rolling in traffic and need a burst of speed when changing lanes, for example.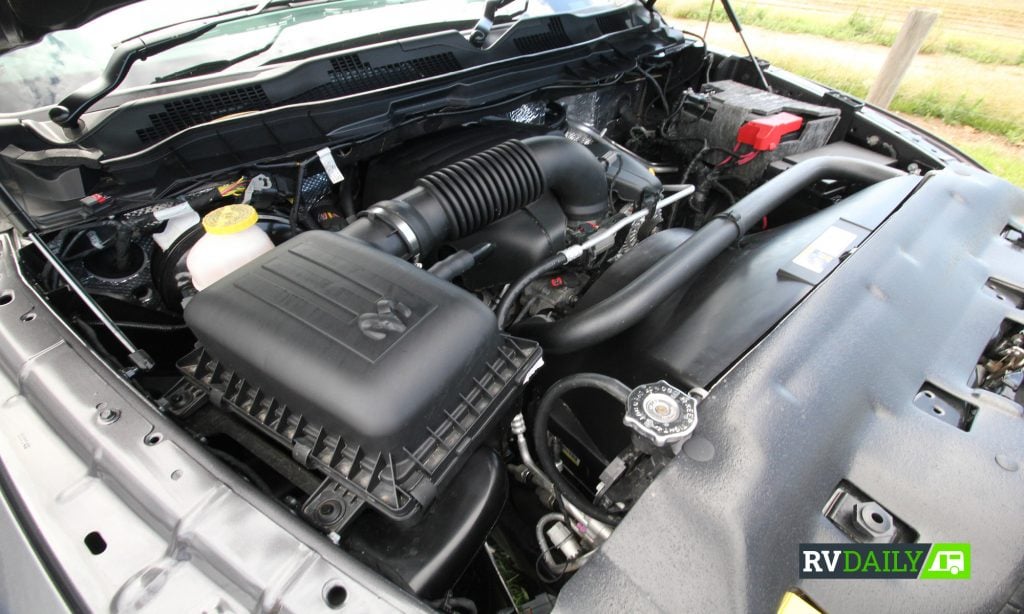 The RAM feels really big in the city, there's no way around it. You won't take it into multi-level carparks by choice. It's much better out on the open road with a dirty big caravan behind it. We went to Parravans Windsor and hitched up a 2900kg caravan with 320kg towball download. The RAM settled down 50mm at the back and rose 15mm at the front with the caravan hitched up. The big V8 cruises at about 1600rpm in top gear at 100km/h, but doesn't stay there for long with a van behind; it's usually in seventh gear doing around 2200rpm.
Performance with the big van behind was excellent. Nothing slowed the RAM down except the speed signs. If you want to climb at 100km/h up a hill, then for all but the steepest gradients the RAM will do it. Towing up western Sydney's Lapstone Hill, for example, the RAM was climbing up at the posted 90km/h with around a half to three-quarters throttle applied. Ride quality is a bit patchy; on some rough roads the RAM just eats it up, but on some undulations it takes a while for the front suspension to settle.
Where the RAM does not have any problems is with stability. It is one of the most composed tow vehicles out there. Trucks passing on the highway at 100km/h and uneven road surfaces do not upset this truck. It didn't even flinch. The fuel consumption when towing was 21.7L/100km and when driving solo on the freeway, average consumption was 9.7L/100km. It's thirsty when towing, for sure, but go ask a LandCruiser 200 Series turbo-diesel owner what they get out of their vehicle when towing three tonnes … it's about the same as the RAM, and diesel is more expensive than ULP.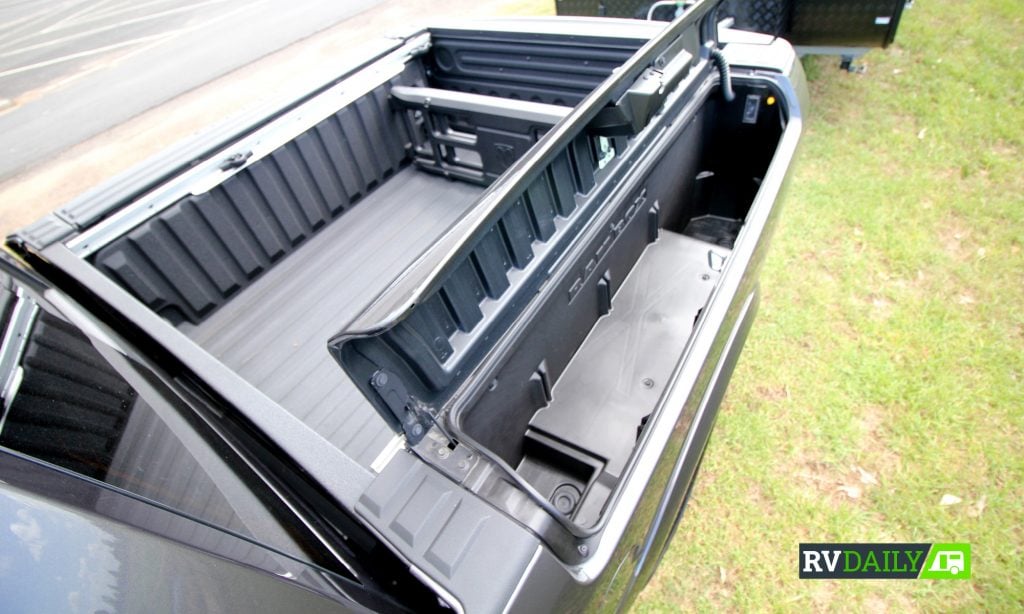 SPECS
Model: RAM 1500 Laramie
Engine: 5.7-litre V8 petrol
Power: 291kW @ 5600rpm
Torque: 556Nm @ 3950rpm
Gearbox: Eight-speed auto
Kerb weight: 2650kg
GVM: 3450kg
Length: 5817mm
Towing capacity: 750/3500kg
GCM: 6261kg
Towball: 350kg
RRP: $105,300 (as tested)
PROS
> Towing performance
> Towing stability
> Standard towbar/EBC
CONS
> Towing/payload capacity limitations
> No advanced safety gear like AEB
> Parking brake position