Are screw-in pegs better than traditional tent pegs? We go completely over the top to find out!
Most campers have had the pleasure of whacking steel tent pegs into the ground, followed by the frustrated yanking to get 'em out. If you're a crack shot with the hammer, you're laughing. But if you strike like lightning, expect mashed fingers, skinned knuckles and swearing.
Enter the screw-in tent peg, with all sorts of wild claims as to how easy they are to use and how well they hold your guy ropes to mother earth, but do they really work? We devised an ingeniously simple way to test the holding capacity of any style of peg, in anything from soft fluffy sand, to medium-packed sandy loam and hard-packed dirt.
Being a screw-in design, a hammer is replaced by a 12V drill, although a shifter, spanner, ratchet or a hand brace (like your caravan leg winder) can be used to insert and extract the pegs.
Some manufacturers say their screw-in pegs shouldn't be pulled at an angle to the shaft of the peg. Given their longitudinal holding capacity, they can hold in the ground while being pulled straight in line with the peg and rope, so we had to adapt our techniques to suit.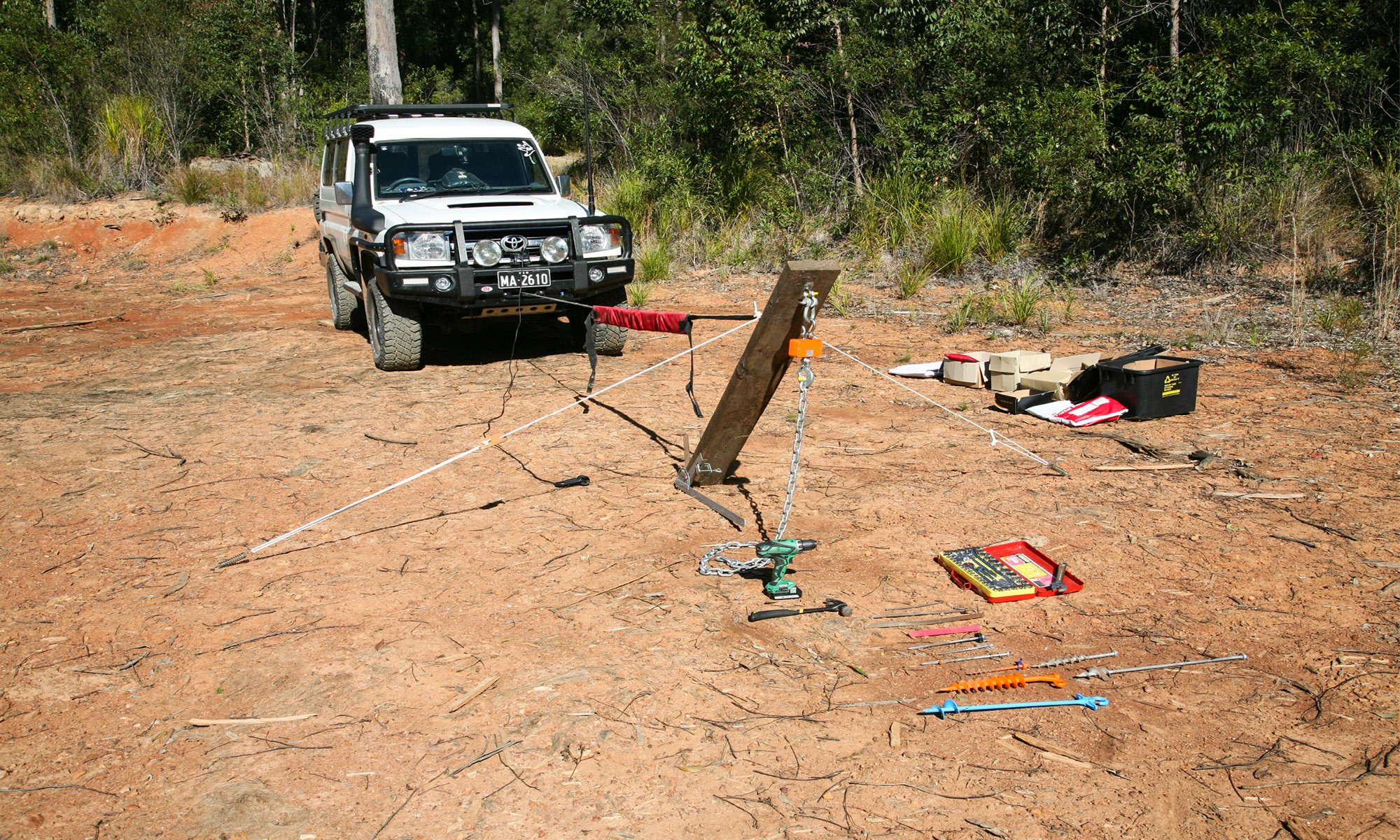 Ingeniously simple method … gone wrong
Initially, I planned on using my RUNVA 11,000-pound winch (almost five-tonnes), plus a 1000kg crane scale, 1000kg rated closed eyebolts, chain, rated bow shackles, a giant protractor to measure and set pull angles, along with some mathematical know-how allowing me to transform a horizontal winch line pull into two separate calculated angled pulls on each peg.
The first pull was set to be pulling the peg out of the ground at a 45° angle, replicating use on a tarp, awning or tent – in effect, trying to bend the peg as well as pulling it free from the ground, and that's a no-no for some of these pegs.
The second pull was to be set vertically to pull each peg directly skywards, replicating use on the footplate of an awning or any other pole without a guy rope, plus allowed for the wishes of the few companies that suggested not pulling their pegs at an angle, which we did anyway to see what happened! And that's where things started going wrong with too many breakages, so I changed tack and only pulled the screw-in pegs out of the ground in line with the peg. Each peg was slowly pulled from the ground by inching the winch rope in while we noted the maximum kilogram reading on the scales. The higher the number, the harder it was to pull the peg out of the ground – simple!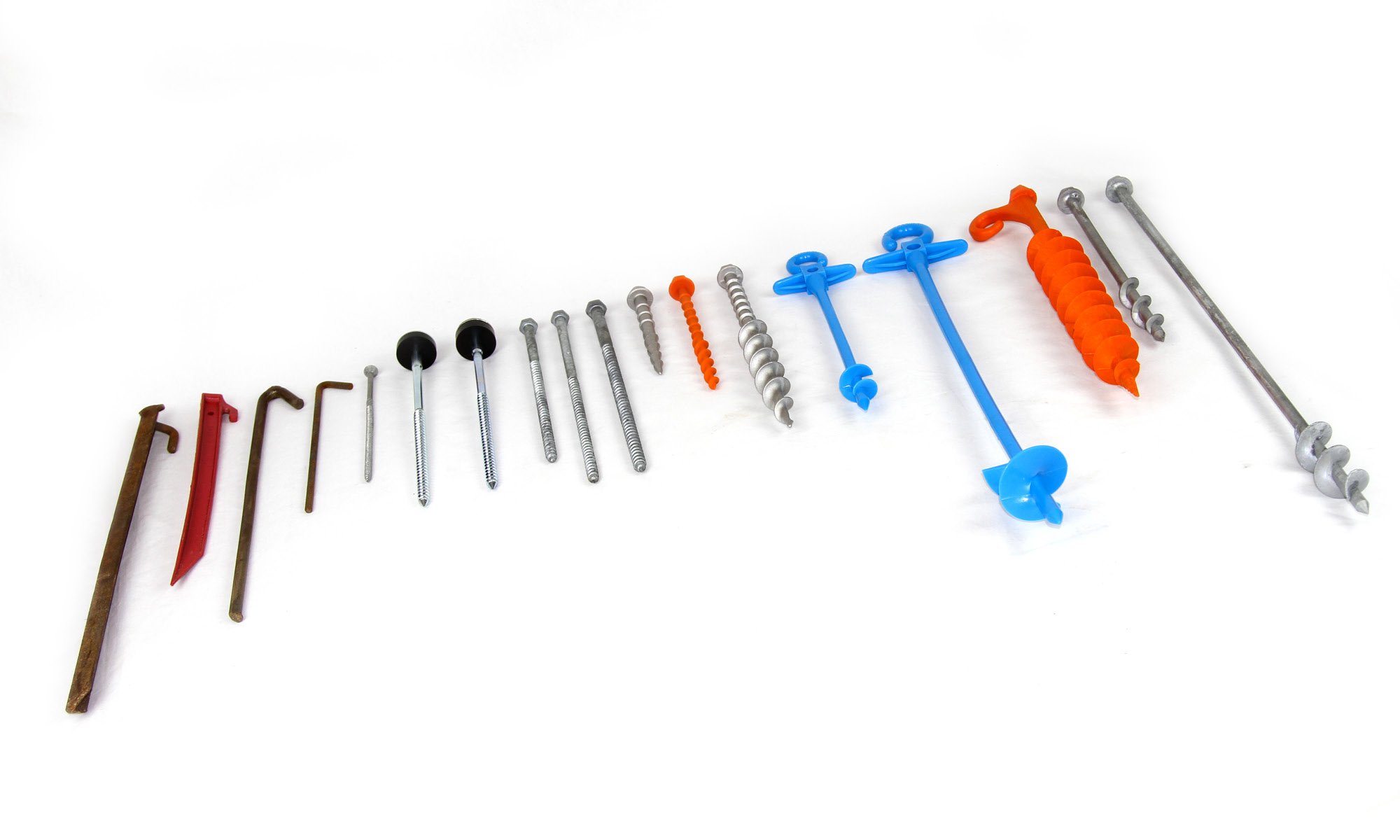 This test is not 100 percent scientific but it gives a damn good indication of what you can expect from screw-in style pegs compared to traditional pegs. Firstly, you need to choose a peg to suit the ground conditions. Secondly, screw-in pegs can produce similar and sometimes greater ground-holding strength in a vertical pull compared to an angled pull. Thirdly, I broke a few of the screw-in pegs given I pulled them at an angle … all in the name of testing, of course. Fourthly, check out the results table to see the massive holding force of the Ground Grabba and Peggy Peg for most soil types. Finally, the long-angled steel peg offered pretty damn good holding forces and was the best hammer-in peg by a country mile.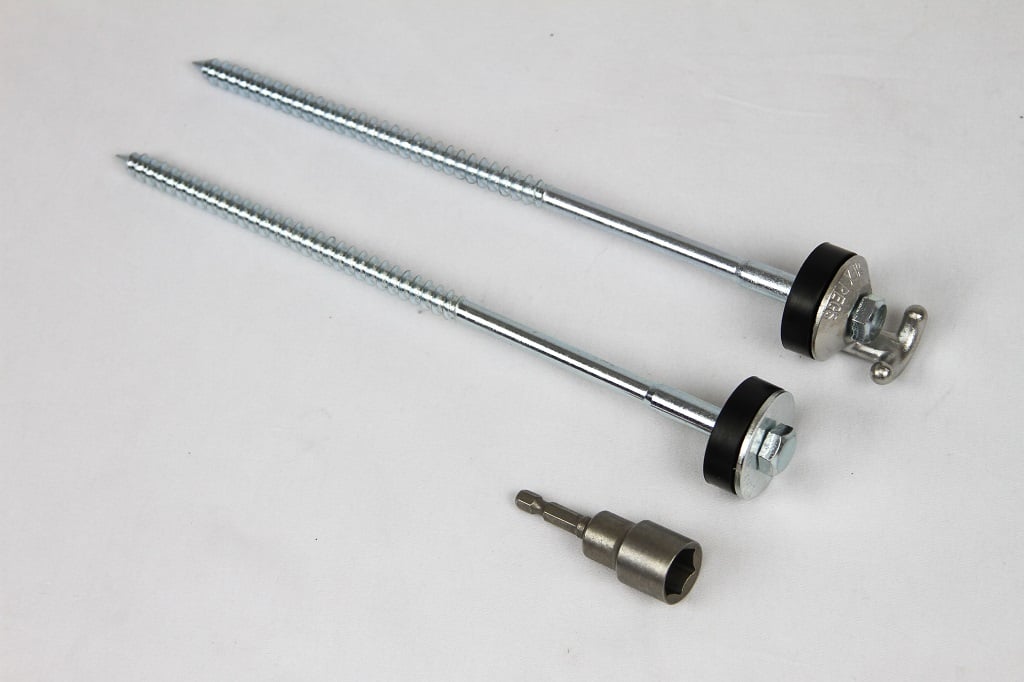 Hex Pegs
Hex Pegs are a 285mm-long steel screw-in peg featuring stainless-steel washer, rubber grommet, a clever rope retaining hook top, and a 15mm head. The included 15mm driver also featured a magnet within to help hold the peg in place. Hex Peg also have an alternative head without the rope hook top, which is more suited to holding down a tarp, or any other circumstance where you don't need to hook a guy rope on. Hex Pegs come with a two-year warranty and can be used with any drill including impact drivers, which generally feature much higher torque ability to screw the pegs into harder ground. I reckon the Hex Peg is a ripper design, although you could stub your toe on the rope hook that stands proud of the ground even when the peg is driven fully into the earth.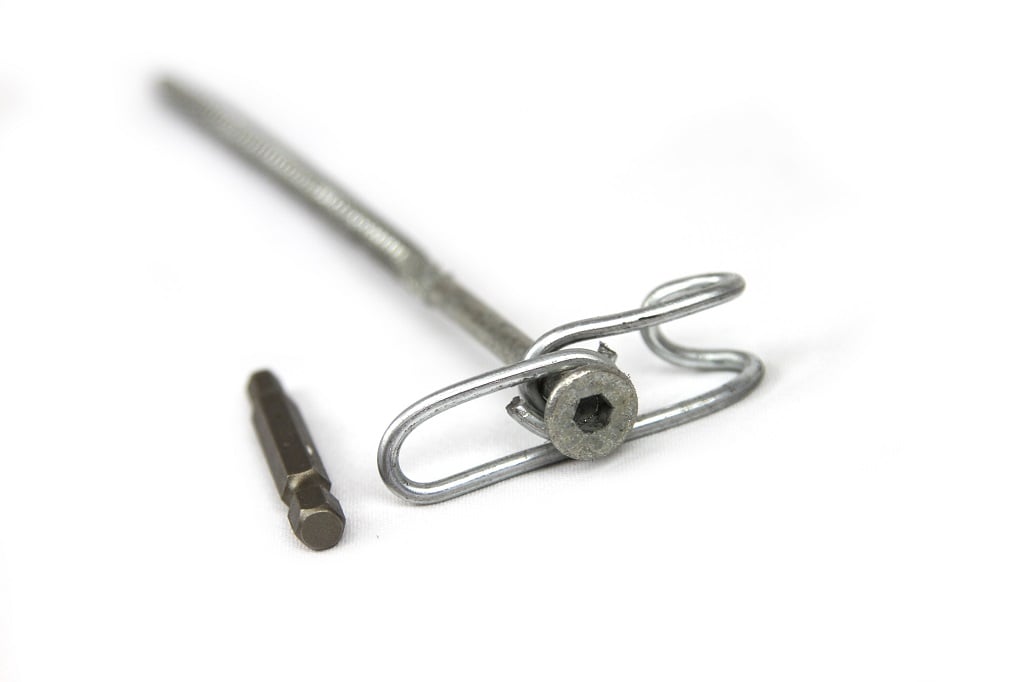 Screw In Pegs
Screw In Pegs are a galvanised 200mm-long shaft that accepts an included 5mm hexagonal driver, and both standard drills and impact drivers for great drilling forces. While looking a little agricultural, the cleverly designed wires loop and hook remains on the peg shaft and can be used to attach a guy rope, or to hold a tarp down directly to the ground. A great design idea sees the hook pointing downwards so as not to promote toe-stubbing. Although the Screw In Peg performed faultlessly in harder soils, the performance in anything softer is not much different to a standard peg. The finer flutes on the shaft clogged with dirt, rendering it of little use for ground-holding ability.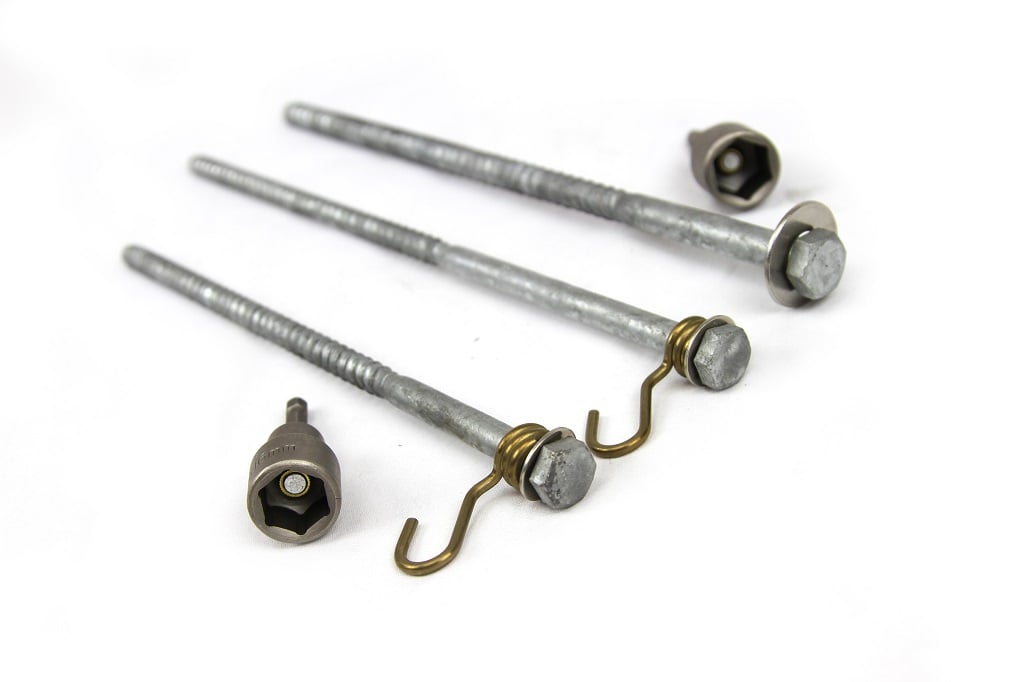 Screw Pegs Australia
Screw Pegs Australia offers three sizes of galvanised screw-in pegs: 8mm (130mm long), 10mm (200, 250 and 300mm long) and 12mm (300mm long), all of which use a hexagonal head with stainless-steel washers and are driven via 16 and 18mm socket drivers. Both socket drivers supplied included an internal magnet to help hold the peg in place. The included clips (wire rope hooks) are slid onto the peg shaft prior to drilling into the ground and allow guy ropes to be easily attached, or the peg can be used without the clip and just the supplied washers while holding tarps or legs directly to the ground. I found the diameters and lengths to be a great all-rounder for hard dirt and medium loam, but they are no match to a dedicated sand-style screw peg when used in sand. I also liked the inverted rope hook/clip so no sharp ends are pointing skywards to catch unsuspecting toes.
Peggy Peg
Peggy Peg offers many different lengths and diameters, as well as aluminium and UV reinforced fibreglass pegs. A great design feature is the rope clips that slot over the hex-shaped head onto the main shaft. The clip can be used anywhere on the shaft meaning the peg doesn't have to be drilled all the way in to still allow a pull from ground level, which will reduce potential peg damage. Attaching to the clip is a guy rope ladder, which replaces the steel spring on most guy ropes.
Peggy Peg can even supply long masonry bits to pre-drill holes into ridiculously hard ground. A combo tool can be used to help twist the pegs into the ground should your drill not do the job and there are purpose-designed anchor plates that accommodate up to seven separate pegs for extra ground-hugging force as well as slots to take awning legs.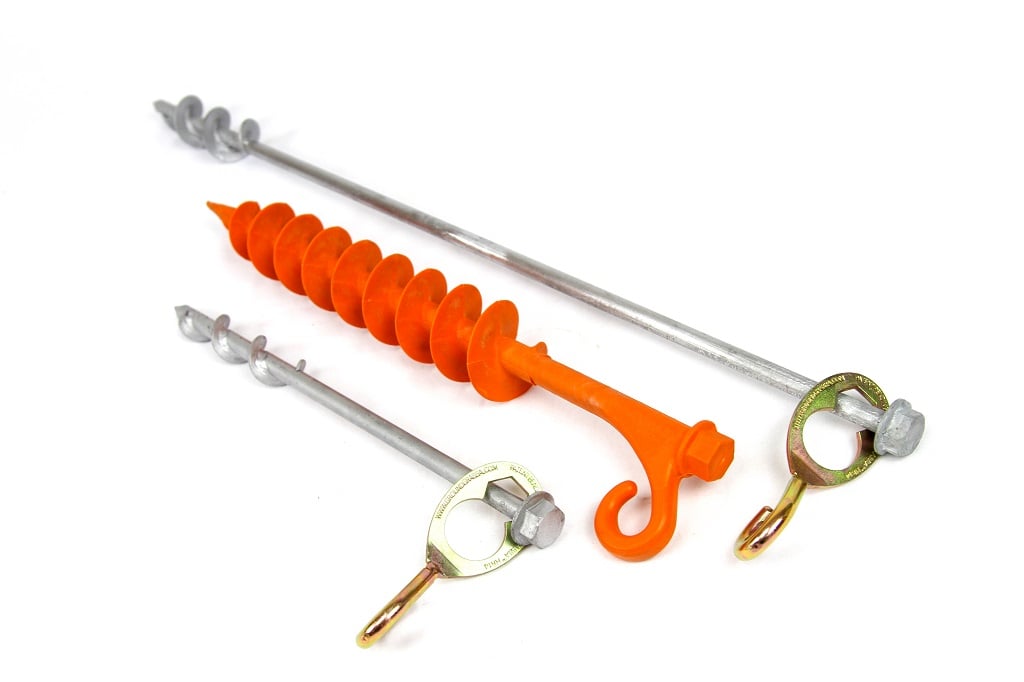 Ground Grabba
The three types of Ground Grabba pegs incorporate two different size steel pegs and one glass-reinforced nylon peg, all of which use a hexagonal head driven by supplied 19mm sockets. The 400mm-long, glass-reinforced unit is classed as a 'recreational grade' tent peg for use on beach and sand dunes and features large diameter flutes along the shaft and a moulded open rope hook. The two steel units measure in at 300mm and 600mm long, both with large diameter flutes on the lower section of the shaft. While a regular drill is fine, an impact-style drill shouldn't be used on the glass-reinforced peg, as this could fracture it. The two steel units require a Hex Hook Pro hook plate to attach guy ropes, and each plate incorporates a 19mm hex opening that can be used to tighten or loosen the peg. Given they have a lifetime guarantee, I reckon you'll get plenty of use.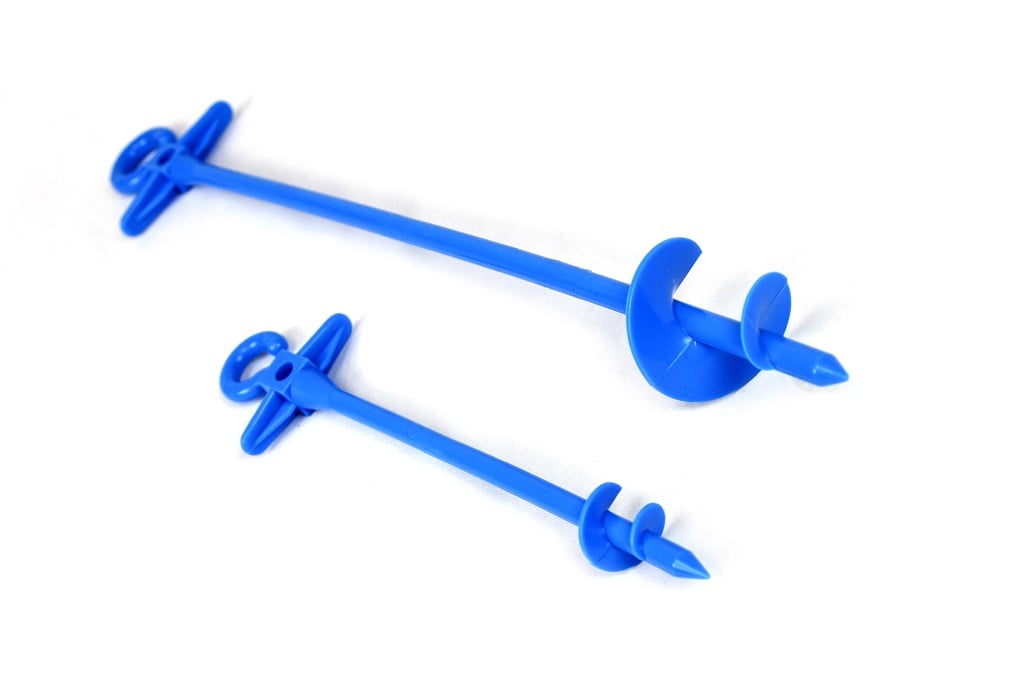 Blue Screw
Blue Screw offers two plastic pegs at 310 and 580mm long. They are ideal in sandy environments with exceptional high-hold abilities. Blue Screw suggest its pegs work well in snow, sloppy mud and underwater too, which would be ideal for a boat mooring. The rope hook on top is large enough to attach multiple guy ropes. This product is aimed squarely at sand and soft soil use; forget trying to twist it into hard ground – it simply won't work. As the Blue Screw is so flexible and long, you need to ensure it's wound all the way in if pulling it at an angle, but works equally as well if screwed in line with the rope pull instead of at an angle, which could bend or twist the shaft beyond its limits.
Standard Traditional Pegs
By this we mean a peg that is hammered into the ground by a hammer. There are dozens of different sizes (length and diameter), material types, and even different head shapes available. We've chosen some common size steel pegs at 200mm and 300mm long, a heavy-duty angle iron type peg at 450mm long and a 300mm long plastic peg – all from my own stash. Obviously, we couldn't hammer the plastic sand pegs into hard-packed dirt and the two smaller steel pegs don't hold in soft sand. The same goes for all the screw-in type pegs … you need to buy the correct peg for your circumstances. The biggest advantage of these pegs is their cheaper price, range of sizes and they can be hammered back into shape after you've bent them. The downsides: they can be damn hard work to hammer into and retrieve from the ground. My biggest surprise was the ability of the long angle-iron-style peg and how well it held during angled and straight-line pulls.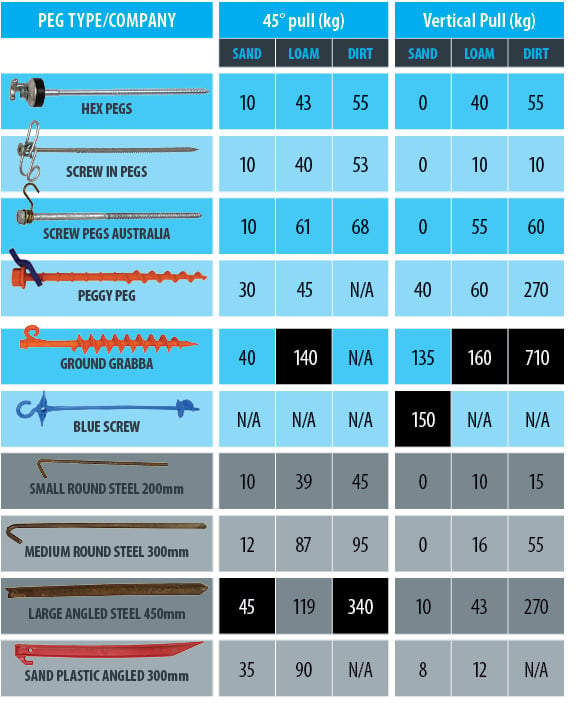 Results
There was never going to be an outright winner. Same as a standard-type peg, there is no one-sized-peg-fits-all scenario. To find the best peg for each ground type, you're best studying the table with regard to the kilogram ratings. The higher the number, the higher the force was required to pull the peg out at the two different angles.
If I had to stick with just one brand of screw-in peg, I'd be looking at Ground Grabba or Peggy Peg; they both offer a good range for most soil conditions and I loved the incredible ground-grabbing efforts of Ground Grabba (sorry, I thought it was funny) and the strength of their long steel version at a whopping 710kg of holding force. Peggy Peg offers options above and beyond just pegs, but both companies have developed unique products that perform exceptionally well.
Words and images Mark Allen.