RISE OF THE SUPER PARKS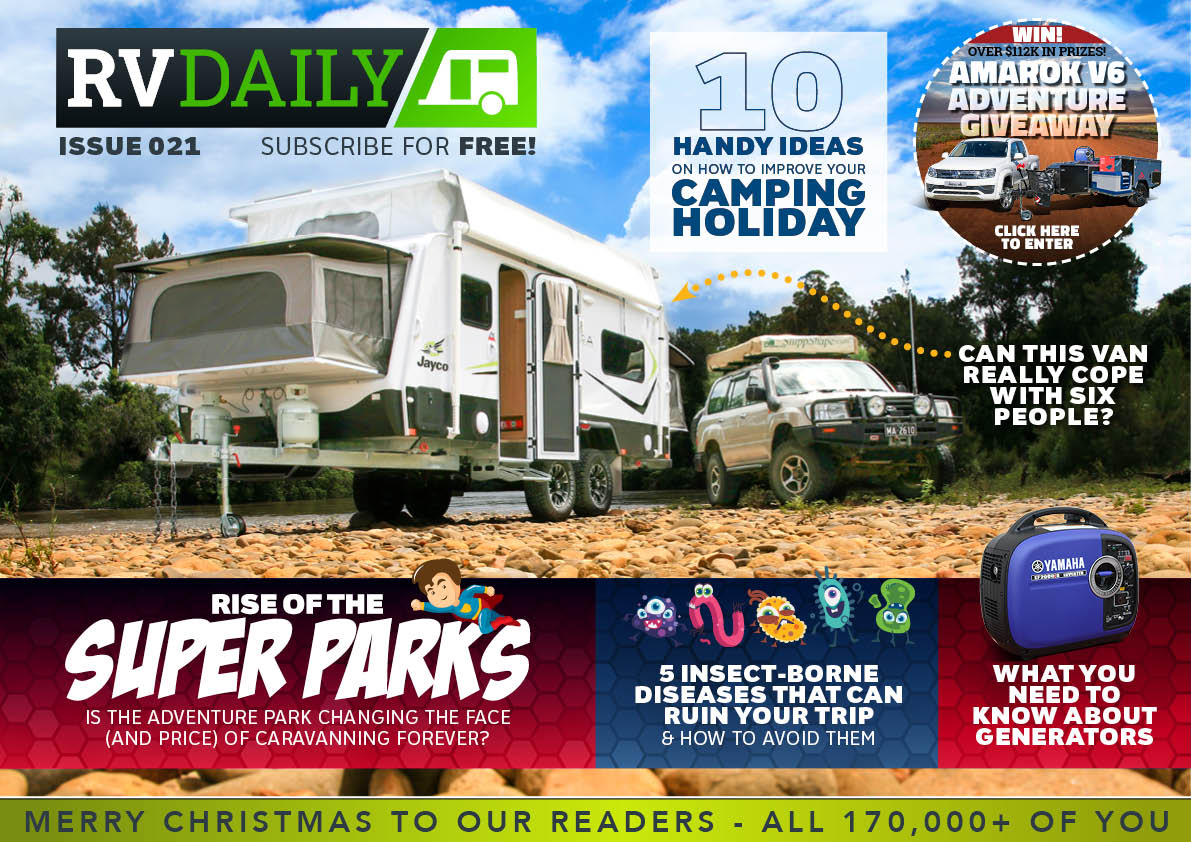 Is the rise of the adventure park changing the face (and price) of caravanning forever?
Gone are the days when the best you could hope for in a caravan park was a natural feature somewhere off site, maybe some water frontage and an amenities block built in the 70s that gets cleaned every few days. Now it's family bathrooms, heated pools and spas, jumping pillows, activities for the over 60s and under 12s and … ziplines? 
As a youngster, the most adventurous activity I engaged in at a caravan park was riding around without a helmet on and maybe there'd be somewhere to swim like, I don't know, the beach or a water hole. Now I'm supposed to careen down a metal rope through rocky bushland and hope I come out unscathed on the other end, then top it off with 15 waterslides through kid soup while wearing the latest designer swimsuit. What happened to the days when a caravan and camping holiday meant connecting with the outdoors in a relaxed and non-life-threatening way to both myself and my wallet? 
Well, caravanning and camping is big business in Australia these days with the popularity of this excellent magazine a testament to that in itself. According to the Caravan Industry Association of Australia, last year caravanning was worth $19 billion. Which means we're all into being with the zen and the nature, right? No, not quite.
A caravanning holiday even a decade ago was seen as a 'budget' experience. Families could enjoy a week or two relaxing on the same stretch of river or beach as the exorbitant resorts and still pay all the bills when they got back home. Now, even some national park campsites cost the same as a night in a hotel, while many waterfront parks have made way for permanent housing and accommodation. What's a caravan park owner to do?
Seemingly, the solution is to apply as many bells and whistles as possible. Diversifying for a fickle crowd of caravanners while ensuring their park is a destination in and of itself seems to be the answer many caravan park owners are turning to in an effort to cash in on the camping dollar. According to the Big4 Holiday Parks website, a core mission was to "create parks that were not just somewhere to rest a weary head but a place that defined the holiday experience." Having stayed in plenty of Big4s around Australia, I can attest to their high facility, maintenance and service standards, but also the many times I had to say, "Sorry, how much for the night?" with a look of sheer incomprehension on my face.
The Rivershore Retreat at Diddillibah on the Sunshine Coast is an excellent example. Opened in 2016 at a cost of $10 million, the park was built on a disused cane farm on Petrie Creek, a feeder to the Maroochy River and almost 10km from the sandy beaches of Alexandra Headland. But, true to their word, this Big4 Affiliate is a defined holiday experience in itself. There are 'glamping' safari tents, waterslides, mini-golf, a boat ramp and more, plus an extremely tempting bar and restaurant all within grabbing distance of the playground or pool (happy hour cocktail, anyone?). What's not to love? The price, for starters. During peak holiday periods such as Easter 2018, the cost to a family of four staying the required seven-night minimum on a powered site will be over $1000. 
Holy Haemorrhaging Hundreds Batman! But according to Rivershore owner Bernie McGovern, the prices are justified through the provision of
five-star facilities people can enjoy, with guests likening a stay at Rivershore Retreat to "being on a cruise ship." And with the park at 80% occupancy during 2017, there are plenty willing to pay.  
Outside Toowoomba in a gully close to the rail line, David and Lisa Souter have diversified their land to lure in the punters, turning a derelict campground into a creek-side 'oasis' doubling as an adventure park. Offering specialised courses for schooling and corporate groups during the week, Murphy's Creek Escape also caters to the rest of the tourist market through luxury cabins and tents, powered sites and all the other expected camping facilities, along with a flying fox (zipline), ropes course, archery, a dedicated swimming hole, and for those with a 4WD and off-road rigs, a short, rocky drive up a steep road to its 'Remote Sites'. In an attempt to capture even more of the caravanning market, an off-leash dog area has recently been added. It's not nearly as pricey as their coastal counterparts to stay the night, but any activities requiring a guide or instructor cost extra.  
For these parks, turning an old sugarcane paddock or site into a multimillion dollar caravan park makes perfect sense where, according to a Caravan Industry poll from 2017, 79% of the Australian population had a "positive purchase intention towards caravan and camping holidays" – a clear sign the market is growing. Over the last two years, 7 million of us have stayed in a caravan park, campground or national park and in October of 2017, $30 million dollars in product were sold in just four days at the Brisbane Pre-Christmas Caravan and Camping Sale. Yep, caravanning is big business. But it's not just an intrinsic need to provide a 'destination holiday' that's driving the increase in infrastructure and price through the pop-top roof. 
Take a look through some of the social media pages for low and no-cost camping groups, and the debate surrounding the towns and shires coming to the RV Friendly party are hotly contested. With plenty of towns struggling to cash in on any kind of tourist dollar, like Goondiwindi or Camooweal in Queensland, Queenstown in Tasmania or York in WA, the idea of free camping for RV users makes a lot of economic sense to every business model in town bar one. In both instances, lobbying and complaints from established caravan park owners in each town had waylaid the development of or banned overnight stay areas, while free camping advocates bemoaned the lack of free or low-cost overnight facilities. A representative from the Freedom Choice Camping organisation suggested super parks such as Rivershore Retreat had "priced themselves out of the market" with park owners "crying to council" over the installation and lack of policing of no and low-cost camping. And with McGovern at the other end of the spectrum, suggesting free camping is a "blight on the industry", there's sure to be more punches thrown around the canvas. 
And once the fight is over? It's time to make the best of what you've got and jack those overnight prices up even more. For the average punter, a camping holiday is certainly not the wallet-friendly option it once was, but then, lots of people big and small love a jumping pillow and they certainly ain't free to install. Either way, the budget holiday of old is now much harder to find.
Here are some important specs. According to the Caravan Industry Association of Australia, we manufactured almost 22,000 recreational vehicles in 2016, the most in one year since 1980. 
In 2017:
$730 million was generated by powered sites alone

Over 550,00 caravans registered in Australia

77% of all caravanning and camping trips taken were for holiday purposes

47% of the market belongs to the 30-54 year old bracket, with the 55s and over bracket taking only 30% of the market, but undertaking much longer trips.