The Wonderland Amaroo Hornet is big and bold but the sting is you'll need a big rig to tow it
If a little bling is your thing, then the new Wonderland RV Amaroo Hornet is guaranteed to generate more than a few admiring glances. The Hornet is an attention-grabbing bright yellow with contrasting black powder-coated, modern checker plate on the front panel and lower sides of the van.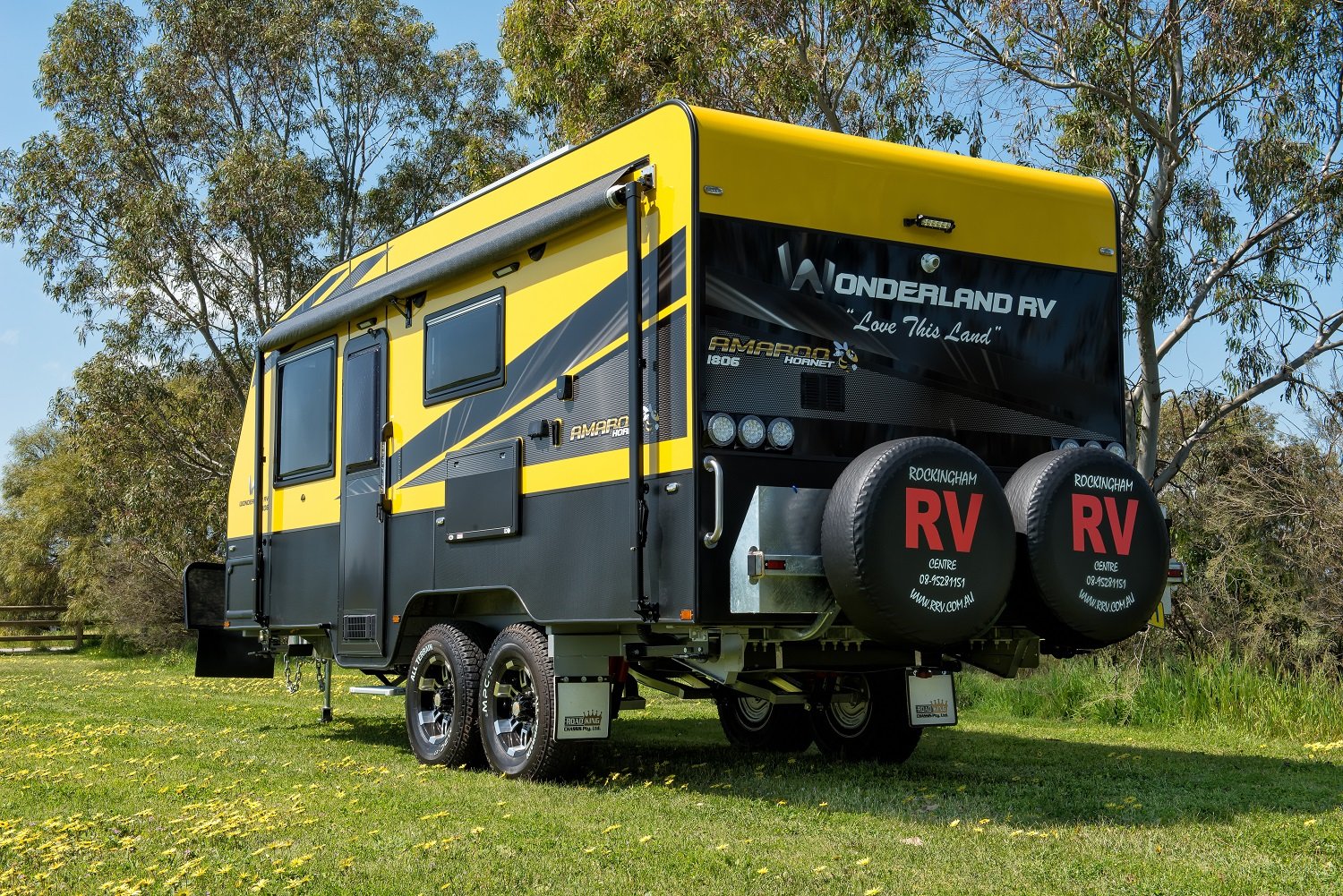 Jim and Michelle Groves from Rockingham RV Centre recently introduced me to the Hornet. Jim's decision to distribute Wonderland caravans is frankly self-serving – he only wants happy customers, "When a customer buys a van from me, the liability rests with me, so I need to have total confidence in the products I sell. If a client drives their van down the Tanami or up to The Cape, I need to know they aren't going to have problems." Jim reckons Wonderland offers solid build construction, quality materials, and attention to detail for the fit and finish that not only enables durability of the van, but also exceeds customer expectations for practicality, functionality and value for money. A mouthful you wouldn't mind trying to get your teeth into.
Upfront is an extended drawbar; add a decent reversing camera and strong LED rear work light mounted on the rear panel, and getting into tight spots will be a little less stressful. The Hitchmaster DO35 coupling means there will be fewer arguments come the time to hook up thanks to the self-aligning centre pin and spring-loaded locking disc. There's even a Breaksafe Breakaway Controller in case the unthinkable happens.
Braking is taken care of by large 12in electric activated drums. Bolted onto the tandem axle set-up are four stylish alloy rims running MPC-27 All-Terrain tyres with two spares mounted onto a galvanised four-bar supported rear rail that also houses two jerry can holders. There's a stainless-steel grab handle on each corner; handy in high winds if you're a little unstable on your pins.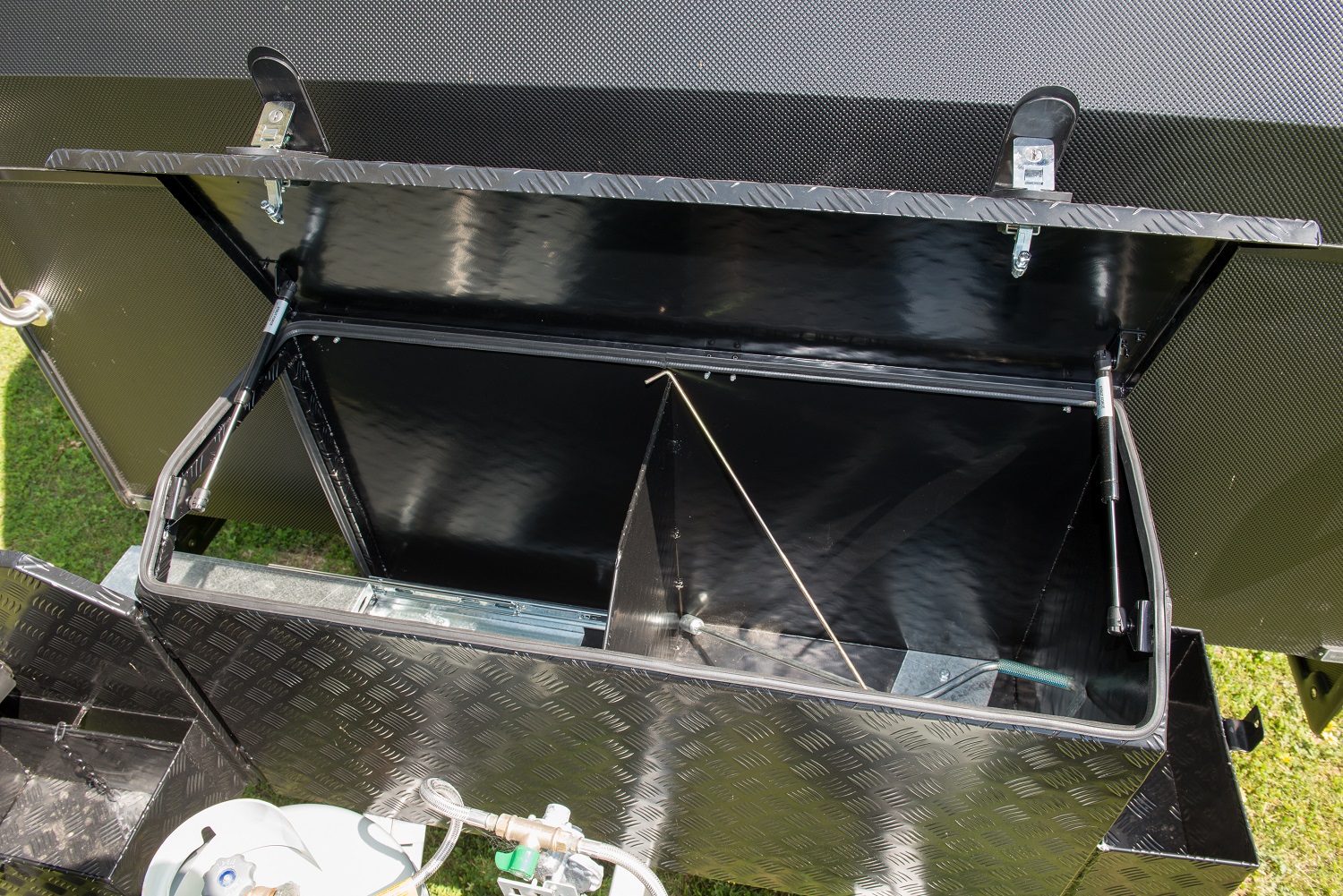 Out front is a large mesh stoneguard and rubber flaps to deflect wayward rocks. Mounted on the drawbar are two 9kg gas bottles with a large checker plate lockable storage box behind them, fitted with a centre divider and built-in generator slide.
Two good-sized doors on either side of the van access a large pass-through storage compartment just behind the front storage box. Perfect for anything from fishing rods, to ground cover sheets, deck chairs and hose reels. There's a full-height door with upper window to see who's knocking; the external door can be opened with or independently from the internal security mesh door. Access to the van is via a spring-loaded fold-down step eliminating the need for the steps to be supported by muddy ground contact.
The grab handle next to the entry door is a clear polymer resin that lights up with a distinctive glow – a clever idea, fully appreciated when approaching in the dark of a bush campsite. Just to the right of the door is a neat fold-down table, perfect for the coffee break roadside stop. Twin 12V outlets and a 240V plug provide outside power and a large Aussie Traveller awning, complete with co-ordinating black hardware, provides cool shade.
Down the driver's side is an external shower assembly housed neatly in its own storage compartment. Below that is the Thetford toilet cassette, with easy removal and loading thanks to a good working height.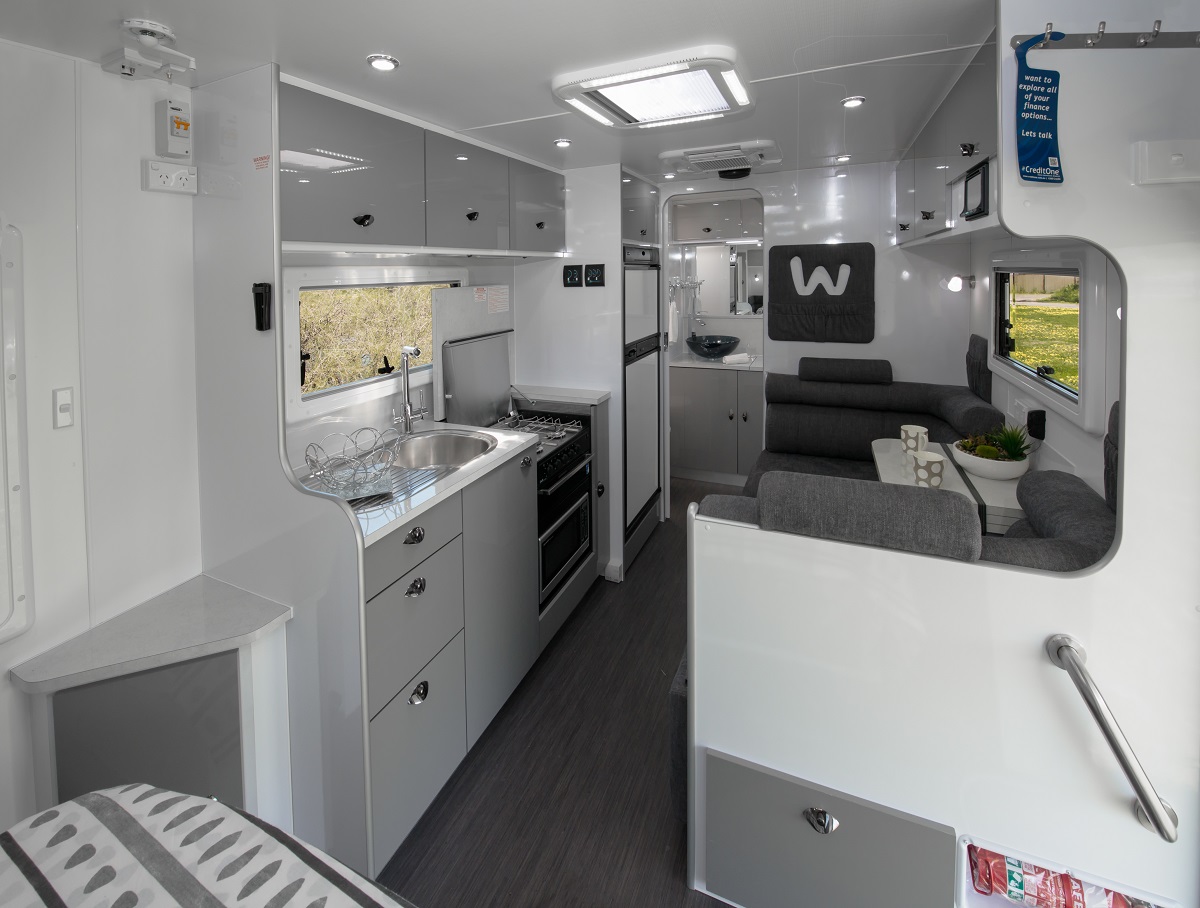 Step inside, and the Hornet has got it all; bold bling outside with executive-style inside. There are large secure windows that let in plenty of light and pivot open for flow-through ventilation, while mesh screens keep out annoying insects. The efficient reverse-cycle air-conditioning counters the heat of the day and overhead lighting is effective without the glare of stadium lights.
The ensuite is a crowd-pleaser, with full-size shower, separate toilet and a roof-mounted power ventilated outlet above each. The vanity unit comes complete with elegant glass bowl and flick mixer tap closing out with a 2.5kg top-loading washing machine; a neat and welcome inclusion.
The roomy L-shaped café style dinette luxuriously includes built-in leg extensions for those times you want to stretch out. The table is a three-piece fold-out unit that can easily be operated by one hand. A storage cabinet under the table with a roll-out drawer utilises the under-seat space.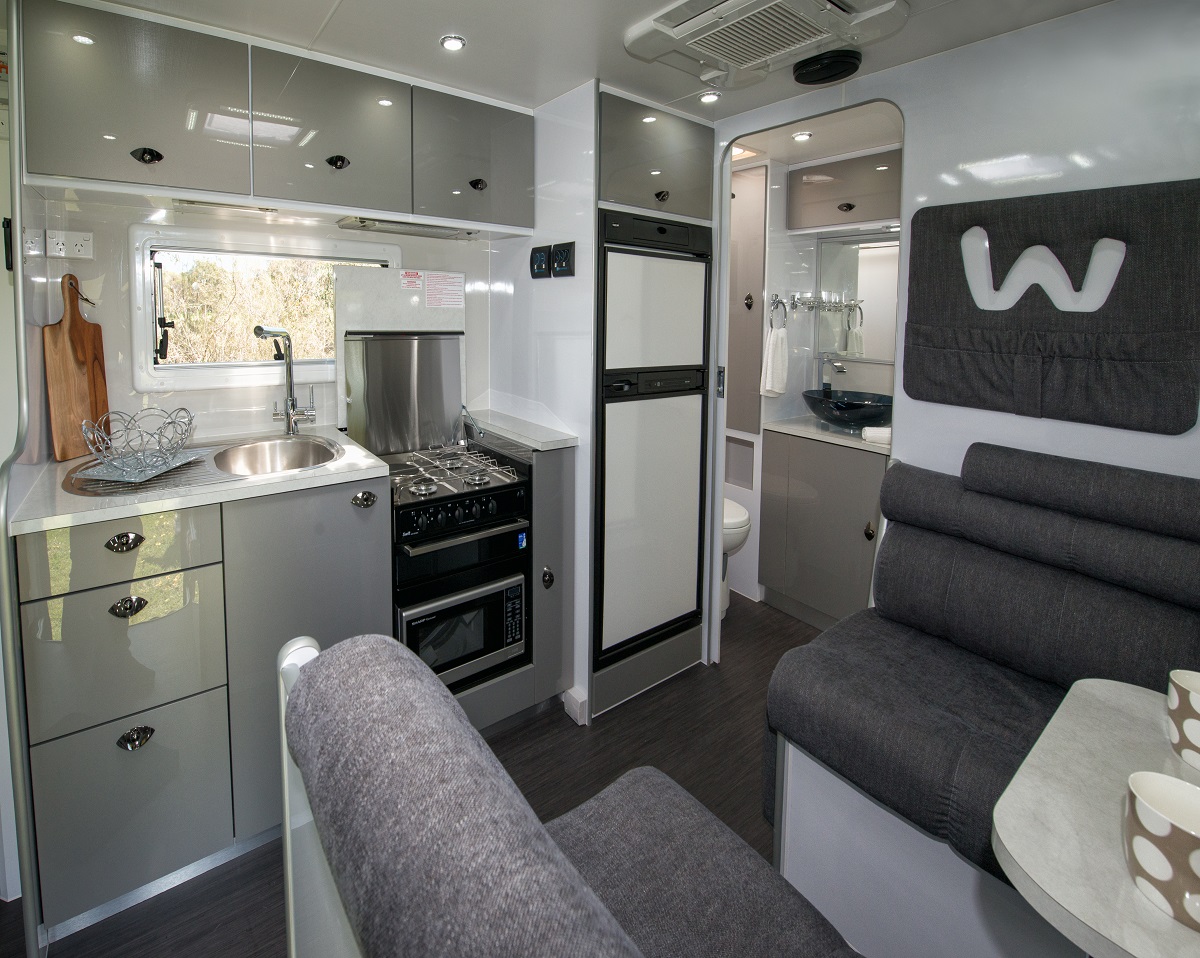 The kitchen has a 190-litre three-way fridge freezer to keep the food fresh and drinks cold. Or there's an option for a compressor fridge if preferred. There's a Swift stove with three gas burners and one electric hotplate, plus a grill and microwave combination below. Next to the stove is a slide-out pantry unit and plenty of overhead and under bench storage. The full-size sink comes with a 3-in-1 tap with a filtered waterspout. A high gloss acrylic splashback deals with cooking splatter and a twin fan rangehood sorts things out if you get a little smoky char grilling those fresh prawns or you can use the external gas bayonet connection for a portable barbecue.
For comfort, there's a 28-litre gas and electric hot water system with dual 95-litre water tanks and a 90-litre grey water tank. Twin 100 A/H batteries are fitted with a 40-amp Voltech charger and a 150-watt solar system. Our van was optioned up with the impressive Redarc BMS1230s2. It's a complete battery management system and matched inverter for charging auxiliary lithium batteries incorporating AC, DC and solar inputs to achieve the best charge for an auxiliary battery.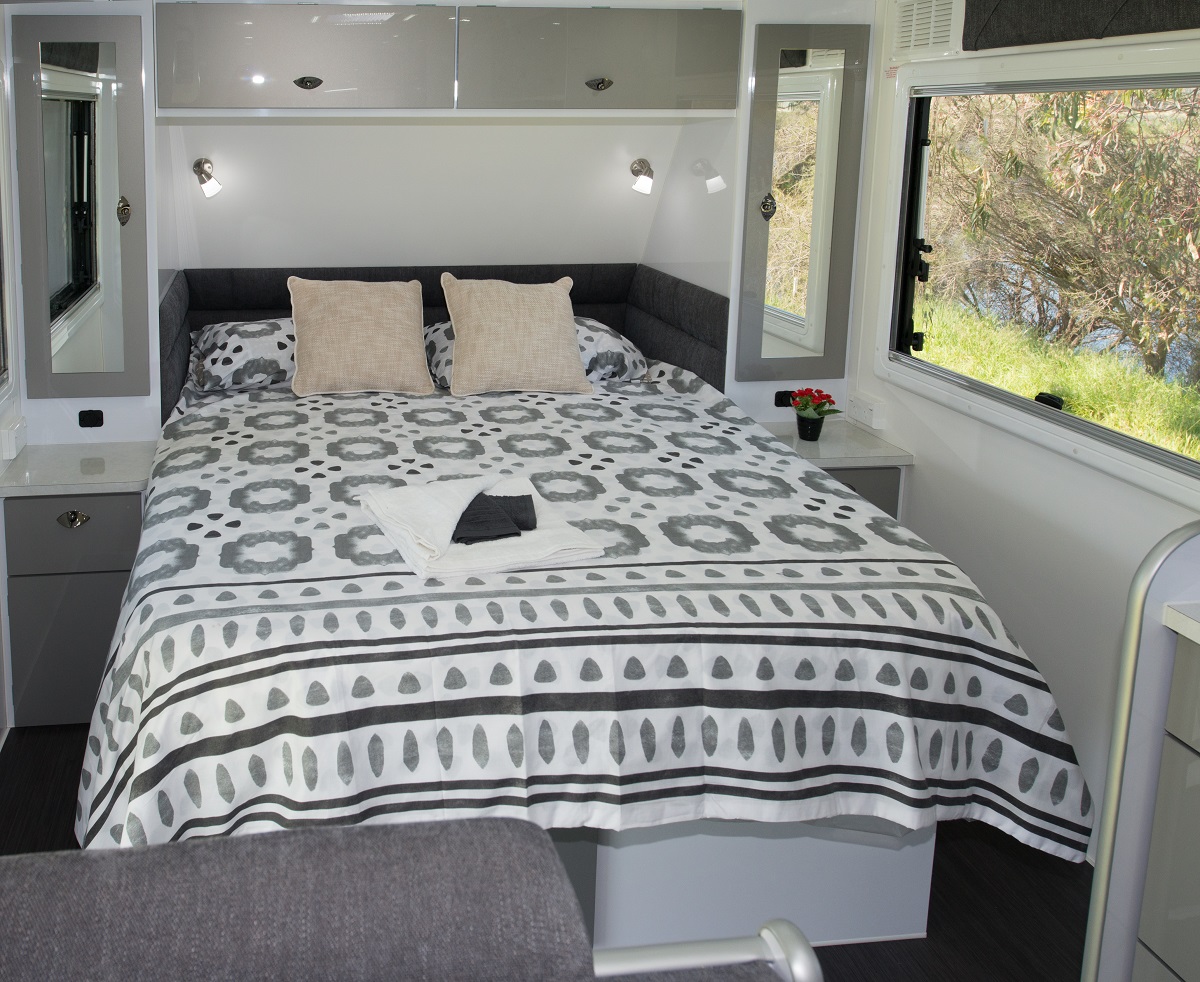 You can listen to your favourite tunes whether dining inside or out thanks to internally and externally-mounted speakers powered by the multi-function 200W Sansui audio head unit, located just above the café seating. Or if you would prefer, lie back on the comfortable bed and read a good book, plug the iPad into the USB or watch a movie on the 22in LED combo TV/DVD unit.
With such a great list of standard features, what stands out is Wonderland's attention to detail, from the modern CNC cut double laminate furniture to the stylish acrylic doors, concealed door hinges and attractive shell lock catches. There's also a choice of internal colour combinations available to accommodate different tastes and styles.
The body is made from a solid piece of 19mm structural-grade timber. It's CNC'd in a jigsaw pattern that interlocks to create a one-piece wall composite consisting of 1.6mm of aluminium skin with a 3mm composite panel finished with a further 1.6mm aluminium outer panel. All doors and windows are routered out, including troughs for cable runs; foam is then cut to precisely fill all gaps to aid noise suppression and insulation. Add the one-piece roof and floor and the Hornet is strong and flexible enough for off-road use.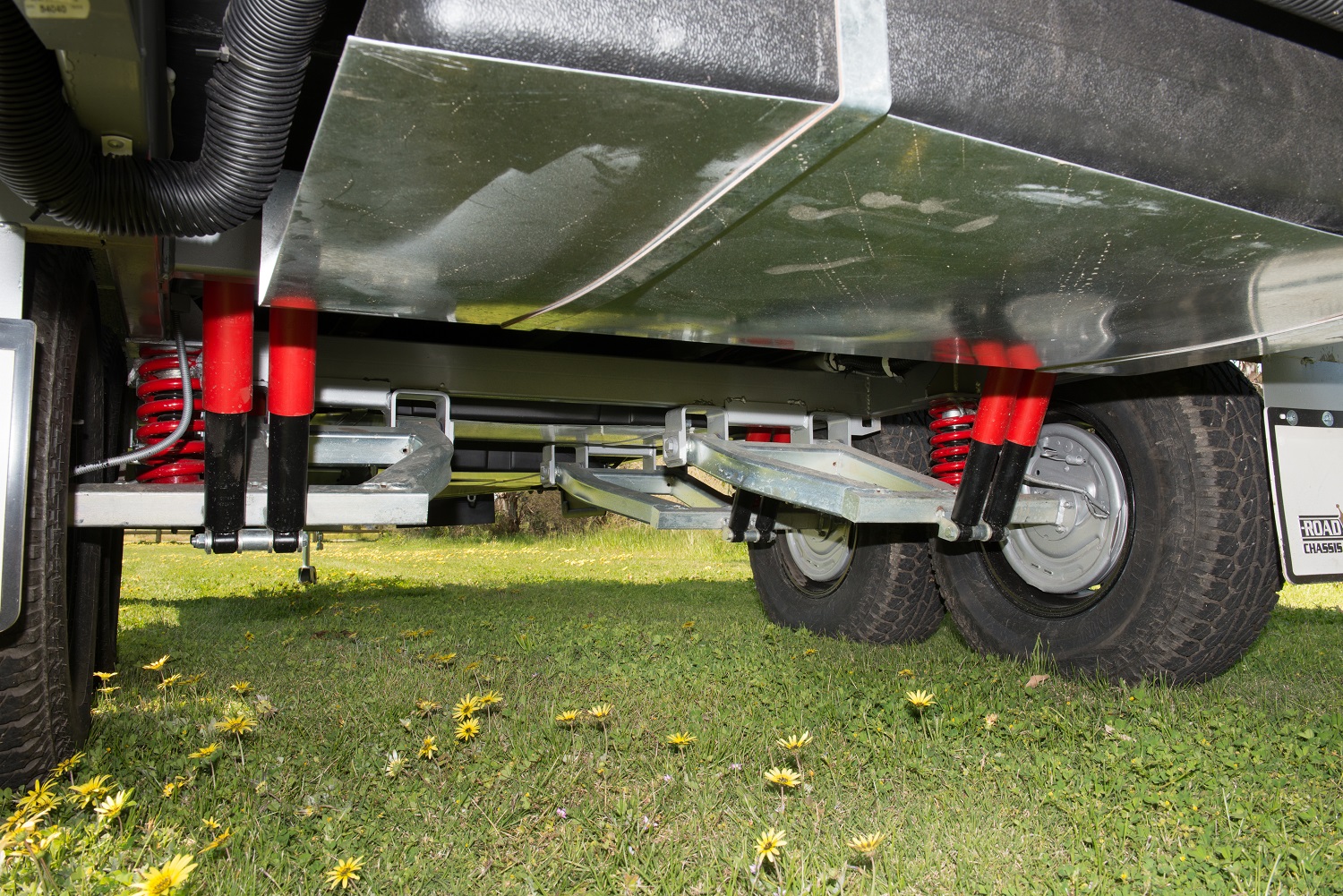 The van sits on a Road King 3.8mm steel double box chassis, consisting of a 6in A-frame that runs the length of the van, with an upper 4X4 chassis providing additional height. Two suspension systems are available; the AL-KO Outback or the heavy-duty 3.7T Cruisemaster XT independent coil-sprung suspension as fitted to our test van. It provides stable on-road handling and good wheel articulation for undulating off-road terrain. Skid plates protect the rear in tight departure angles.
Verdict
It's easy to see the Wonderland Amaroo Hornet doesn't compromise on quality, functionality or comfort while providing value for money. The fit and finish on the interior is impressive, the large windows accentuate a spacious and airy feel. With great attention to detail and plenty of features, the Amaroo Hornet is a competent and comfortable option for extended touring.
Specifications
Overall length: 8.4m (27'6")
External body length: 5.7m (18'6")
External body width: 2.48m (8')
Travel height: 3.1m (10'2")
Tare weight: 2620kg
Gross trailer mass: 3280kg
Ball weight: 200-220Kg
Warranty: Three-year structural – 12 months' appliances
Price as tested: $81,990
Pros  
Heavy-duty chassis
Solid wall construction
Practical and elegant ensuite
Extensive features all-inclusive as standard
Three-year structural warranty
Cons  
Plastic toilet bowl, not porcelain
Missed opportunity for storage under both café seats
Limited bench space, a trade-off for full-size practical sink
Words and images Ray Cully.