Review: Windsor Silhouette XC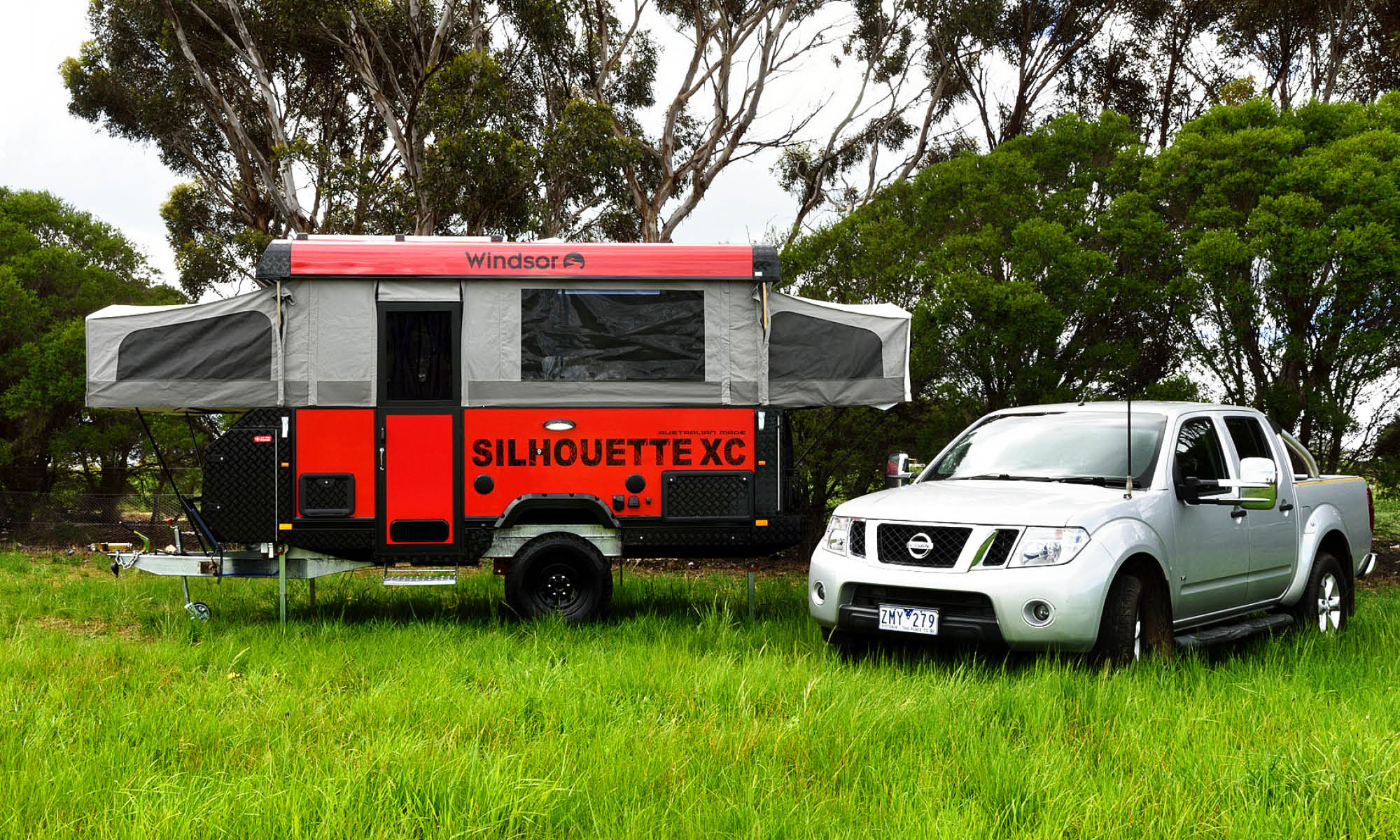 Windsor has been around since 1972 but the Silhouette XC is a prototype camper that signals Windsor's aggressive bid to elevate its profile.
By Anthony Kilner
When I first heard about the Silhouette XC it was being launched at the Penrith Show and there was a lot of talk about its rugged looks. It certainly does look tough for an off-road wind-up camper.
For images, videos and the full RV Daily experience, read this in our online magazine.
We sat down with Anthony Sherry – national business development manager for Fleetwood Group – at the recent Leisurefest Show in Melbourne, and he was quite animated about the resurgence of the Windsor brand. As a trusted name in the industry for many years and with plans for the future growth, Windsor is one brand to keep an eye on.
Fleetwood has a plan in place to expand the Windsor range and the Silhouette XC is just the beginning of that plan. Feedback from the public exposure to the prototype has been amazingly positive and the rugged look of the XC has been drawing plenty of attention.
I'll be upfront and state that we found quite a few little problems that needed to be addressed with the XC, although most of these were simply due to being a raw prototype. I am keeping that firmly in mind in this review because I reckon that there is a lot of potential in the Silhouette camper.
Outside
Without further ado let's crawl around the Silhouette XC. The body of the camper is of sandwich construction for a durable, tough finish. Chequer plate is used extensively and the red body and black trimming looks pretty smart.
Aluminium is used front and back to create the caps, as they are called, and these caps house a fair bit of gear and storage. Up front, the cap features a generator box and slide on the driver's side of the unit while on the passenger side it houses twin 9kg gas bottles, also on a slide.  This makes changing them very easy.
In the middle of the front cap is a reasonable storage area plus the Cruisemaster air control panel for the optional airbag trailing arm suspension. It also comes with an air outlet fitting for pumping up tyres and using a blower gun, which is very handy.
Around the body are a variety of lockers that house the battery and compressor system, the awning and also have space for long and short items. On the rear passenger side of the van, opening a door reveals a slide-out kitchen. This has a barbecue on the end, a lift-up shelf to increase the prep area and a plumbed sink as well as storage cupboards. The lids of the kitchen storage section on the slide-out barbecue flipped open when we were driving, which is one of those fiddly things that's being sorted.
I would have liked to see a leg under the barbecue to support the weight and make it more stable for use. It's a practical kitchen though. On the rear cap are LED lights, twin jerry can holders, a spare wheel and bumper and yep, it's all black!
Mechanically speaking, a modular galvanised chassis features airbag suspension, off-road electric brakes and 16-inch steel wheels shod with the optional X4 265/75R16 Bridgestone mud tyres. Other features under the chassis include drop-down legs, stone guarding to protect three 43-litre fresh water and two 43-litre grey water tanks underneath.
Mounted on the A-frame is a tap, stoneguard for the camper, DO35 off-road coupling, an AL-KO jockey wheel and tucked up neatly is the air tank for the compressor. Heavy-duty Australian canvas and PVC windows are used throughout and they offer plenty of light and ventilation on the inside and up on the roof is a hatch and solar panel. Other external features include a drop-down step, gas bayonet, external speakers and external shower to name a few.
One thing I noticed was the aerial mounted on the passenger side rear of the camper. It's in a very vulnerable spot for damage from trees if someone goes into tight terrain.
Set Up
Setting up the XC when it's parked up is pretty easy – in fact, we used a 12V drill to do the bulk of the lift then finished with a hand winder. There are no cables in this three-stage system and it works very well. Once the sandwich panel roof is up, the ends slide out and two external arms can be fitted on the outside, while the canvas work is pushed up and locked into place from the inside.
The kitchen unit can then be pushed out, which creates a good walk-through space inside. The door drops down from the roof and the entire external canvas can be locked down with Velcro and press studs to seal the unit.
This whole process took two of us less than five minutes to do, and neither of us had set it up before. With some practice I reckon it could be done in half the time. Packing up is the reverse and takes a little longer to ensure all the canvas is tucked away neatly.
Inside
Once the double door is locked in place, access into the camper is easy. On the passenger side of the van is a club-style lounge and table that will seat two people on each side easily. There's storage under the seat nearest the door as well as a pantry-style cupboard behind that seat.
Behind the seating is the rear bed. Both beds feature a queen-size heavy-duty foam mattress and screening curtains for privacy. Each bed comes with a hanging wardrobe system that has three compartments utilising Velcro over a rail on the roof. While mentioning the roof, Windsor has added LED mood lighting around the roof and it works a treat.
Opposite the dining seats is a slide-out kitchen. Once the kitchen is out there is a good amount of space to live in. Kitchen appliances include a Camec 3&1 gas/electric cook top with grill, deep sink with flick mixer and a Camec microwave. An optional Atwood HWS provides hot water to the sink and external shower. Windsor has packed as much storage space around the van as possible to make touring life easy.
Between the kitchen and the front bed wall is a smallish Dometic three-way fridge and yet another cupboard, all mounted under a benchtop to create additional workspace. Our review model had the optional 19-inch TV as well.
Verdict
Overall I liked the look and feel of this camper. The air suspension, storage and the interior space are all positives. The exterior kitchen makes outdoor living easy and that's a bonus for families who like to get away from the hustle and bustle of city living.
Pricing for the XC models starts at $34,900 including GST and ranges up to $40,400 for the top of the range model including GST. Adding options will add to the price and there are quite a few to choose from. Production is set for March 2017 and there will be three colours to choose from green, white and red as tested.
Here at RV Daily we are looking forward to reviewing a production model in early 2017 when they start hitting the market properly. I reckon there will be improvements between what we are seeing now and what we see then and it will be better and smoother to operate, which will be a good thing.
Specifications
Body length: 4.25m (13ft 9in)
Body width: 2.35m (7ft 7in)
Tare weight: 1770kg
ATM: 2170kg
Price as tested: $51,990 including options – drive away
Pros
Off-road ability
Overall looks
Space inside when set up
Cons
As a prototype, it's unfair to list any problems if they are being sorted. We'll tackle this on a full review in the future.