Reader's Review: Zone RV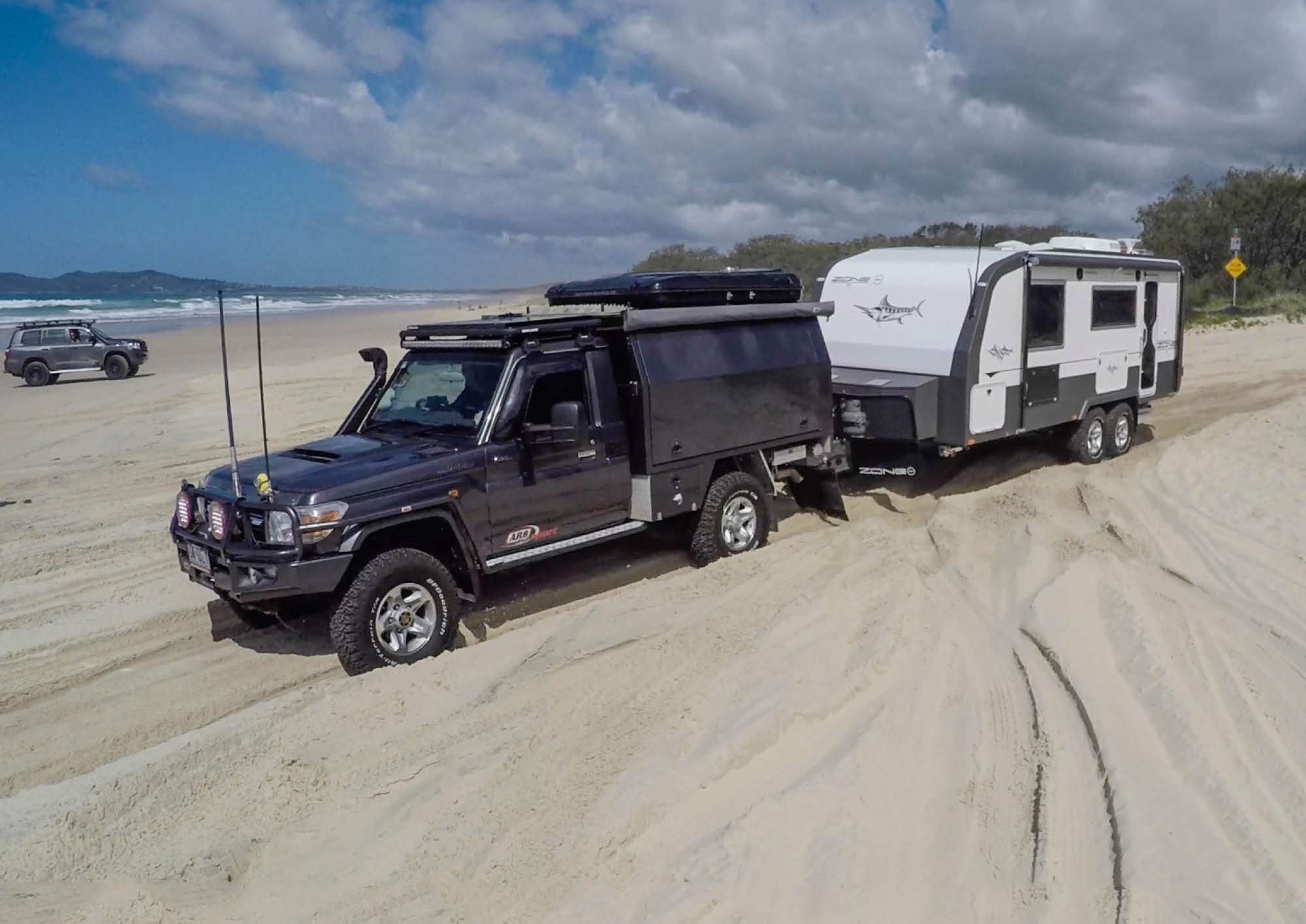 By Gary Tischer
The benefits of the composite body, bonding technologies and monocoque construction are reduction in weight while increasing strength at the same time as keeping out dust and water. Although a relative newcomer in the caravan scene, the precision engineering involved in the ZONE RV range has been tried and tested in the most demanding conditions.
For images and the full RV Daily experience, read this in our online magazine.
Paul and Jillian have travelled the to all points of the country towing quality camper-trailers. It was time to move into the world of luxury, while still being able to go bush for days on end. The ZONE RV Z-20.6 off-road caravan was chosen as their next home away from home.
We met on a sunny winter's day on Queensland's Sunshine Coast before crossing the Noosa River and venturing onto the beaches of the Cooloola Coast. This area is popular with campers and caravanners and a perfect spot to test the van's
off-road abilities in the soft sand.
With Paul's 79 Series LandCruiser towing the Z-20.6, negotiating the sand was a piece of cake, with even the softer sand providing no issue for both vehicle and caravan. The ability to raise the van for tough off-road conditions was not needed for Cooloola but will come in handy when Paul takes it off-road to some of his favourite spots in far north Queensland.
Paul and Jillian were spending the weekend with friends so this was a perfect opportunity to catch up and ask them a few questions over a cold beer and a great view to the ocean.
What were you looking for in a van?
Jill: I was looking for open plan living – space. A big lounge area and room to move. This van is fantastic … open plan living and that is what we have at home. I wanted to have what I have at home while on the road so I feel comfortable.
Paul: Reliability, practicality, easy to tow. Economical to tow, a great design and a good-looking van that you can put to the limits and get it to that place that you really enjoy.
What are the most important features of this van?
Jill: The space inside it, you are not feeling enclosed, it's open living … good-sized lounge, lots of cupboard and drawer space. You have the option of cupboards or drawers. And the big bed, having a big luxurious queen-sized bed with a good mattress because you need a good night's sleep after being on the road.
Paul: True, very true.
Jill: Having the ensuite, it's the wow factor. I love it, just being able to come in, have your own space, shower on the road, I love it, absolutely love it. It's my dream come true.
Paul: After travelling all day, you can basically pull up, open the door, and walk in. You can have a nice hot shower within minutes and then sit back and have a nice cold beer.
What sort of trips are you planning to do with the new ZONE RV van?
Paul: Next year we would love to go and do Tasmania. We've seen a fair bit of mainland Australia but we haven't got to Tasmania yet. Taking the ZONE over there would be perfect … air-conditioning, heating. It would be great to go and explore Tasmania. It would be awesome.
What would be the roughest territory you would take the ZONE to?
Paul: I'd definitely take it up the Cape … obviously not on the old Telegraph Track. There is an unsealed road now all the way to the top … you can get off the bitumen and thoroughly enjoy it.
How did find towing across the soft sand today?
Paul: It was great, no problems at all. Got the tyre pressures correct and you can belt along fairly well … it was awesome.
What are the best features of your new van?
Jill: For me, having the larger fridge option, which was fantastic 'cause I'm a fresh food girl. Having the large space on the lounge, especially for us as we like watching TV and relaxing sometimes when we're not sitting outside. Having all the drawers… I love the drawers, I have so much space in here. And have the big bed like I said before. Fantastic.
What are some of the options you have taken up with the new ZONE?
Paul: The bigger inverters and extra solar power. The bigger batteries … we have 240Ah in the batteries and 600W of solar. Depending on your usage, you can be in the middle of nowhere and live comfortably for days on end with plenty of sun and still have plenty of power. We've chosen to have 300 litres of fresh water and then there is 100 litres of grey [capacity]. We can be on the beach and wash all the salt off and be comfortable and fresh inside.
Jill: Having the barbecue facilities outside … so you can be cooking outside, which is great, so you have the option for outdoor or indoor cooking.
Paul: I went with the full automatic airbag suspension so you can air the suspension up or down for whatever terrain. You can set it high for going over rocks or trim it right down. It's all auto-levelling suspension and the tandem set-up runs beautifully. It's pretty impressive.
Jill: The colour schemes that ZONE has. You have lots of options and they are very accommodating with helping you out … couldn't have wished for anything better.
Verdict
ZONE RV has put a lot of new innovation into its caravan range, which has resulted in a great product. ZONE RV caravans will no doubt turn up in some very remote locations. As you can tell, Paul and Jillian are very impressed with their new home away from home.