Paradise Inspiration Supreme Black Edition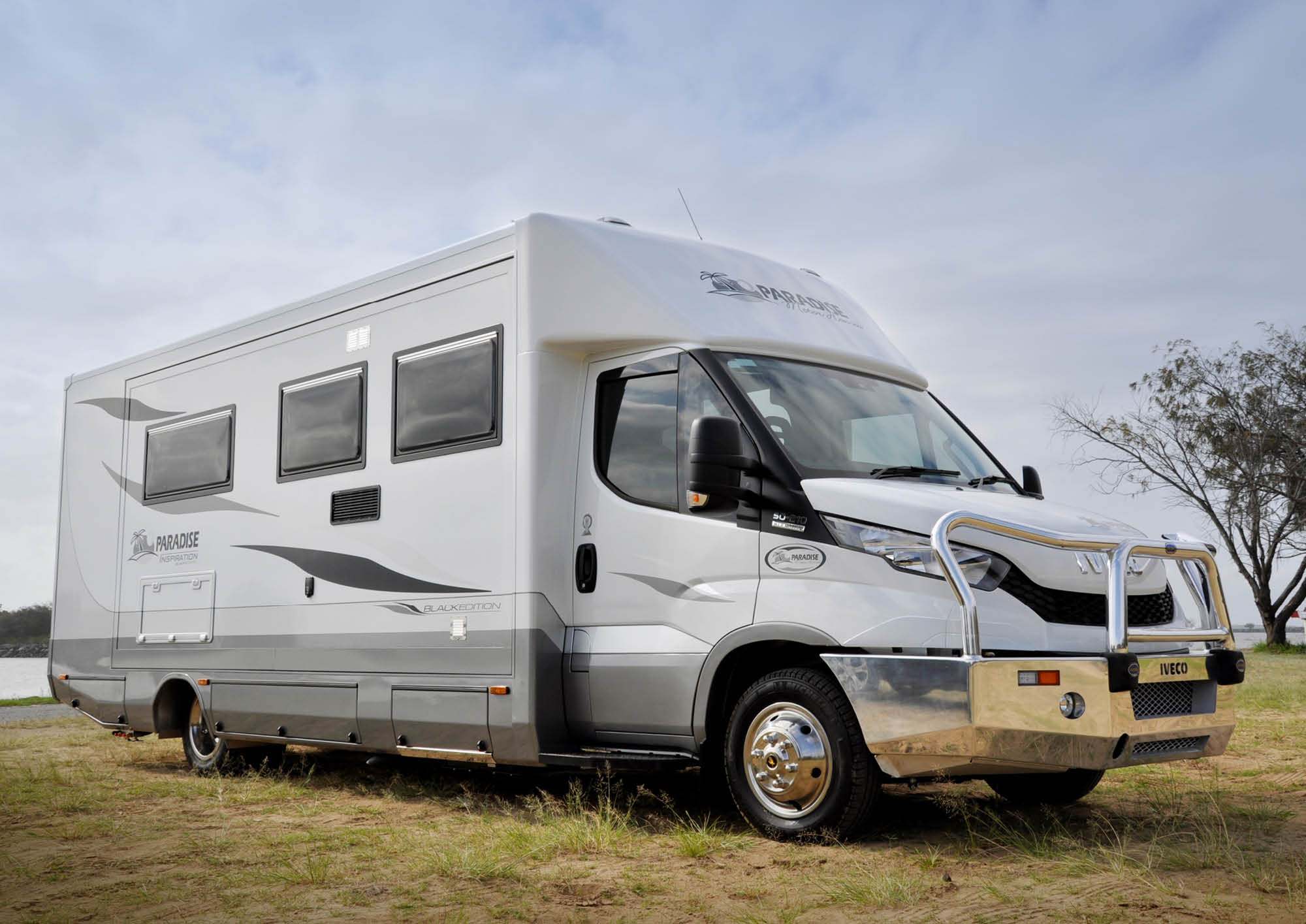 Iveco is the new chassis of choice and ideally suited to Paradise's Black Edition Inspiration Supreme…
by Richard Robertson.
For images and the full RV Daily experience, read this story in our online magazine.
Paradise sits at the top of many people's dream motorhome list. Arguably, its luxurious motorhomes are also the best engineered in Australia. It's Inspiration series has the most upmarket models you can drive on a normal car licence and until recently, Mercedes' Sprinter ruled the motorhome-chassis roost. Now, Iveco's new Daily is making serious inroads and it's easy to see why…
Daily News
The most obvious feature of the new Iveco Daily – a 50C210 in this instance – is the restyled cab, but its beauty is more than skin deep. There's new seating, a new dashboard and a whole new look, even if some of the slightly truck-like feel of its predecessor lingers. It's most noticeable through the steering wheel, which disappointingly is still plastic. Then there's the engine. The Daily uses the same 3.0L four-cylinder turbo diesel as the Fiat Ducato, but with twin turbos. While powerful and durable, it's not as refined as the V6 turbo diesel in a top-spec Mercedes Sprinter.
Where the new Daily shines is as a package: Its engine output, transmission and optional rear suspension are class leading. The engine produces 153kW and 470Nm and out-muscles the V6 'Benz, but the real gems are the 8-speed fully automatic transmission and optional rear air suspension. This trifecta catapults the new Daily into class-leadership contention and all three are standard on all Iveco-based Paradise models.
Daily Driver
The driving experience is now transformed. My time behind the wheel was limited but even so, in stop-start Gold Coast traffic the engine's performance and the transmission's smoothness were apparent. Perhaps the biggest surprise was the rear air suspension, and what really stood out was that nothing really stood out. There was no banging, crashing or thumping from the rear axle over potholes or irregular surfaces, just a controlled, smooth ride with limited body roll.
A new inclusion in the Inspiration Series is a dash mounted iPad Mini, along with a credit voucher to buy the navigation app of your choice (I'd choose TomTom). This is due to the absence of a flat screen infotainment unit. Rather, a conventional AM/FM/CD/MP3 sound system is all that's supplied – another reminder of the Daily's commercial roots. A demonstration of Paradise's engineering innovation, however, is its patented electric handbrake. This has a simple dash switch and frees up floor space to make cab-seat swivelling easy. Very clever!
As mentioned, the Inspiration Series is the top of Paradise's range you can drive on a standard car licence. That means it has a gross vehicle mass (GVM) below 4500kg. However, the test vehicle had a lot of options and consequently a GVM upgraded to 5200kg, requiring a light rigid (LR) driver's licence. Fortunately the upgrade is no problem for the Daily 50C210, which is built to that spec originally but derated to a 4495kg GVM for car licence applications. The test vehicle, with all its options plus full water and fuel tanks, weighed in at 4640kg. That left a healthy 560kg for occupants, goods and chattels. Regardless of the GVM, a 3500kg braked towing capacity is standard on all Iveco Dailys.
Supreme to Go!
The Inspiration Supreme sits second from the top in the five-model Inspiration range. It's 7.8m long and has an almost full-length 4.2m slideout on the driver's side that contains the lounge, kitchen and bedroom.
Coming from the Gold Coast it's no surprise there's a touch of glitz and glamour inside. Decor is contemporary with a genuine luxury feel, while the layout is decidedly open plan. With the slideout extended it feels like the Tardis! There's a front lounge/dinette that incorporates the swivelled cab seats; a kitchen in the middle, opposite the entry door; an east-west queen bed with its head in the slideout (just aft of the kitchen), and a rear full-width bathroom that's genuinely liveable – unusual in a motorhome. There's also a ton of storage space.
Decor and layout aside, the thing that stands out is how well this motorhome is made. There's no need to pussyfoot around inside, the cupboards and shelves have an industrial-strength feel backed by full-length piano hinges and serious screw-mounting overkill. There is no more solidly built motorhome in Australia, yet due to lightweight materials and clever engineering this strength doesn't come with a weight penalty.
Black Edition
Space doesn't permit me to detail the standard features in an Inspiration Supreme, so here's what's included in the $4335 Black Edition pack:
Slide-out Nespresso Coffee machine – most important!
Black framed windows
Black framed entry door
Limited Black Edition graphics
Black external speakers
Cab entry steps in black
Black fridge and microwave vents
Black external power points
Black front cab bonnet and grill vents
Here are the options fitted to the test vehicle:
Four-post fully automatic hydraulic levelling leg system
Built-in Honda 3kVA generator with Paradise-designed mounting system
External drop-down table
3500kg tow bar and electrics
Second Truma roof-top air conditioner
Bosch instant hot water system
Oyster fully automatic Satellite TV system with Vast TV
External HD TV
Fiamma dual rear-mounted bike rack
3kg front loading washing machine
Full alloy polished bullbar
A Paradise Inspiration Supreme – hold the anchovies – lists at $251,000. Add the Black Edition package and other options and the test vehicle price rose to $292,312.50 – plus on-roads. While that's a lot of money it's also a lot of motorhome.
The Lowdown
Paradise's Integrity Supreme is a premium motorhome and the new Iveco Daily is close to the perfect motorhome base vehicle. Overall the package is difficult to fault. From experience I know the design to be extremely liveable and Paradise's engineering and production methods world-class. If you're looking for the best in a compact and easy driving motorhome this is a great place to start. And trust me – you'll look good in Black!
Pros…
New Iveco Daily upgrades
Quality
Standard equipment
Spacious
Liveability
Practicality
Driving enjoyment
Cons…
Smallish standard water capacity
Smallish gas capacity
Price