Oztent releases the world's first non-electric heat adjustable sleeping bag which promises to be a revolution in comfort, warmth and reliability for anyone contemplating a winter camping trip this year.
This week, in preparation for the coming cooler months, the Oztent Group are launching the OZTENT REDGUM HOTSPOT™ HEATED SLEEPING BAG XL – the world's first non-electric heat adjustable sleeping bag.
Employing aerospace sleep research, the sleeping bag has been designed to maximise outdoor sleep comfort by applying up to six HotSpot™ pouches above core active heating locations on the body. This allows campers to adjust the bag to achieve the optimal level of warmth and comfort for their sleep requirements.
Unlike an electrical mechanism, a HotSpot™ pouch achieves 'heat normality'. This means that it releases the most warmth when activated, as the camper goes to bed, then evenly and gradually releases heat into the bag throughout the night to synchronise with the camper as their temperature normalises.
The OZTENT HotSpot™ is a unique reusable heat pouch that can heat up to 53oC in seconds and has been tested for up to 500 uses.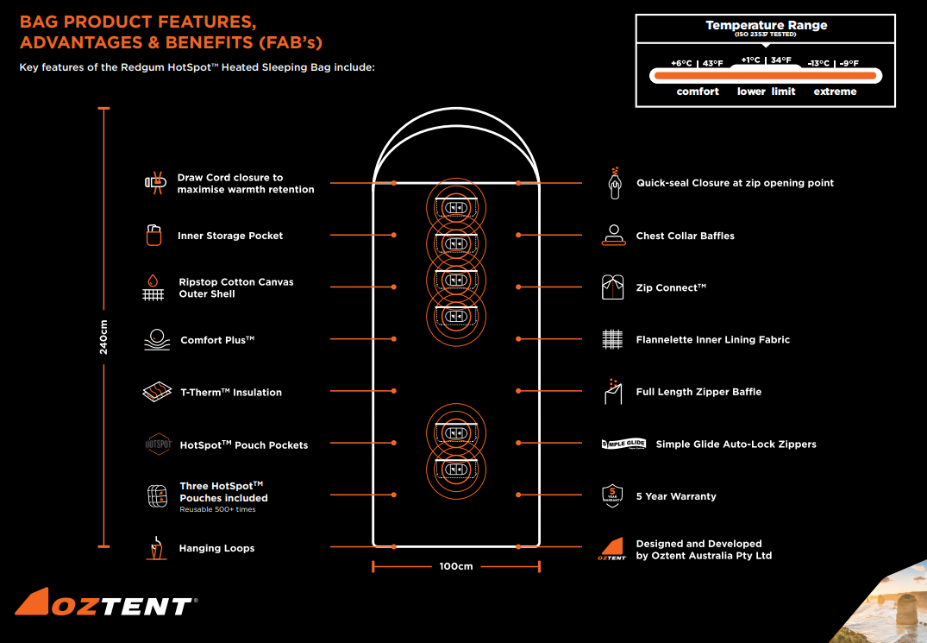 Along with the REDGUM sleeping bag, HotSpot™ is available with a selection of OZTENT chairs designed for warmth and comfort during cooler months – be it at a campsite or a sports game. Both the sleeping bag and chairs are patented globally.
"We are very excited about our REDGUM HOTSPOT™ HEATED SLEEPING BAG and see it as a great way to encourage many more Aussies to go camping during the winter months"; explains Luke Eather, CEO of the Oztent Group.
"While winter camping is already popular in Europe and the States, where HotSpot™ is well received, we believe that this year we will see considerably more people wanting to explore the bush over the cooler months; and we are making it even more attractive to them."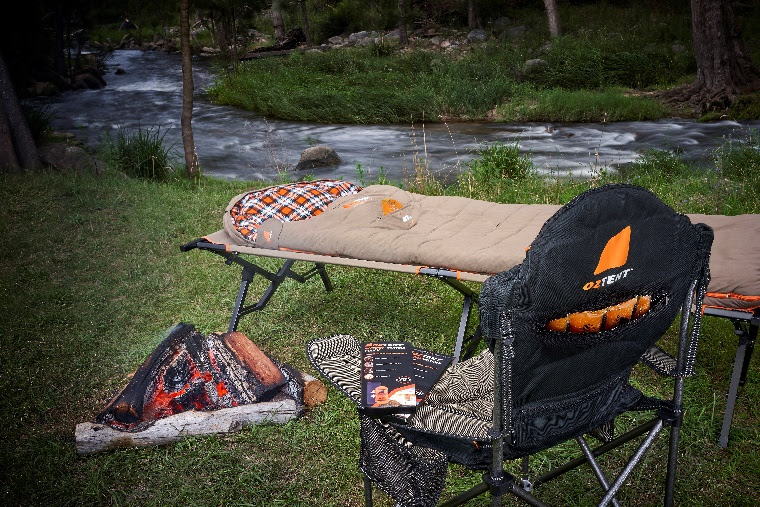 Obviously, the OZTENT REDGUM HOTSPOT™ HEATED SLEEPING BAG XL can be used as a regular sleeping bag and beyond its adjustable warmth, other luxurious features include:
Its significant size – adult size (240 x 100cm);
A ripstop cotton canvas outer shell – no more being cold and wet when you touch the outside of your sleeping bag;
Comfort Plus™ – the fabric on the collar, inner and side baffles selected for additional comfort and a great night's sleep;
T-Therm™ Insulation – a moisture-resistant matrix fibre filling that is renowned for body insulation and comfort;
Simple Glide™ zipper system – combing anti-snag guards with auto-locking sliders and zipper glide technology for hassle-free operation;
Zip Connect™ – All OZTENT designed sleeping bags allow you to join two sleeping bags together to give you a double-width; and
Is sold with three HotSpot™ pouches included.
To be released this week exclusively through selected BCF stores, the OZTENT REDGUM HOTSPOT™ HEATED SLEEPING BAG XL will retail for $299.99 nationally. For more information visit www.oztent.com.au/redgum-hotspot.