Ticket re-sale offered for those whose situation has changed as a result of COVID-19 restrictions.
The Birdsville Race Club has today confirmed that a second release of tickets to the iconic Birdsville Races will go ahead as planned this week.
Set to be staged on 3rd & 4th September, the 2021 Birdsville Races have already set new records with all first release tickets selling out on the first day they went on sale in May. 1,500 second-round tickets will hit the market from 9 am on Friday, July 30th at www.birdsvilleraces.com (in partnership with Oztix).
"We are not going into this second release of tickets with our eyes closed to the current COVID situation. The country is facing significant COVID challenges and we understand that the impact of those challenges in some areas may mean some ticket holders may no longer be able to attend. The reality is however that the majority of our ticket sales this year are from within Queensland, as well as from regions less affected by COVID, than for example NSW, and we have a huge waiting list of people chasing tickets. So, with some tight COVID safety planning, we will be able to go ahead and run the races this year – and we need to get our second round of tickets on-sale to allow people enough time to plan their travel," said Gary Brook, Vice President, Birdsville Race Club.
With most horses and trainers travelling from across Queensland there will also be very little impact on the field even if some border restrictions are still in place nearer the event.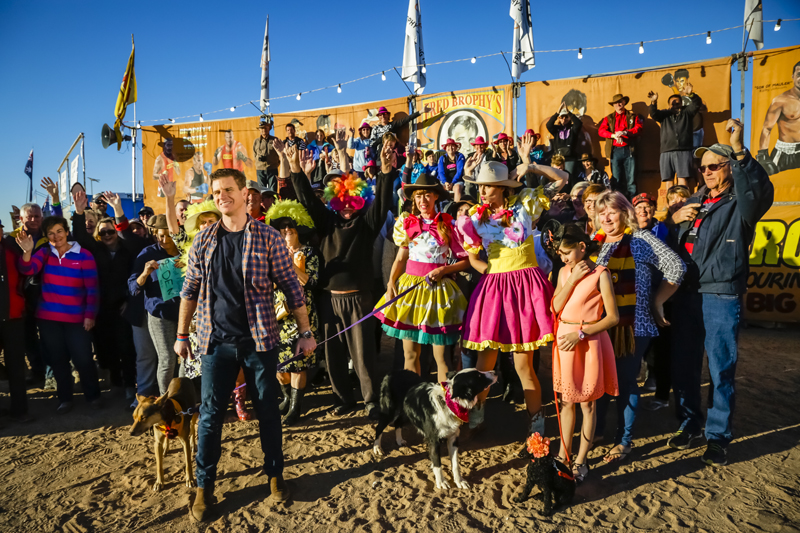 "We love welcoming people from all around Australia to the magical township of Birdsville each September, however, this year will need to do things just a little differently. It would be irresponsible if we didn't do all we can to get the races off the ground, even if not everyone will be able to join us.
The Birdsville Race Club is a non-profit, community-run organisation – we are passionate about the Races, but are not pushing ahead for our benefit. It's more for the benefit of the region, both economically and mentally. The Races have always been a welcome relief for so many of our racegoers who come together from many isolated outposts of the Outback, whether it's in times of drought or other hardships. And this year has been hard. People need the economic boost we'll bring them, as well as something to look forward to," added Gary Brook.
The Birdsville Race Club is offering the opportunity for punters who may already have tickets and now believe they will not be able to attend the 2021 Birdsville Races to sell their tickets via https://tixel.com/au/music-tickets/2021/09/02/birdsville-races-2021.
For those unable to come together trackside in Birdsville, the 2021 Birdsville Races will be broadcast on Sky Channel with betting on the full TAB meet also available. All the fun and festivities off the track will be shared via our social media platforms Facebook, Instagram and Twitter. "We hope those who can't join us in person will join us online or on their TV," said Gary Brook.
Now in its 139th year, race organisers are incorporating COVID-19 safe precautions to ensure the event is a safe space for all attendees and will continue to work with Queensland Health and adapt to an ever-changing environment.
"With restrictions in place surrounding the number of racegoers who can safely attend, we, unfortunately, have a finite number of tickets we can sell this year. After working tirelessly with our events team and key stakeholders the additional 1,500 ticket allocation that will go on sale this week is the maximum the event can accommodate. Our old philosophy was come one, come all, but with so many health considerations we have made the decision to cap ticket sales after the next 1,500 to ensure the event is a success. It's the first time in the event's history that we will not sell any tickets at the gate," said Gary Brook.
The Event Safety team that was an integral part of staging the recent COVID safe Birdsville Big Red Bash event is working with the Birdsville Race Club to ensure a similar positive outcome for the iconic race meet.
For those who are able to make the annual pilgrimage to Australia's most remote town on the edge of the Simpson desert, an electric atmosphere trackside and a packed program of 13 races over the 2-day event awaits – showcasing some of Australia's finest thoroughbred racehorses, and some of the Outback's most talented jockeys.
Crystal clear blue skies are starkly contrasted with the iconic red dirt of the Simpson desert, and love it or hate it, dust on clothes becomes a badge of honour
This year, race organisers have added a new element to the ticketing, including eligibility for membership and all the benefits that come with that, to the Birdsville Races Roadies. A Roadies membership will make the Races adventure even more enjoyable.
Membership includes exciting route suggestions and travel advice from your capital city, discounts where applicable, bumper stickers, unique vehicle door stickers, plus the ability to connect with fellow Roadies via creating individual online Roadies profiles.
The Birdsville Races also offer a stacked line-up of film and live music, cocktail parties and Fred Brophy's famous traveling boxing troupe, the legendary fun of the Birdsville Hotel, the colour and character of Fashions on the Field, stand-up paddleboard, and kayak hire on the Birdsville Billabong, scenic flights over the region, sunsets on Big Red and the renowned camel pies of the Birdsville Bakery which has reopened under new management.
The Races will also continue its proud support of the Royal Flying Doctor Service, hosting a 6-kilometre charity fun run to help fundraise for the vital service in the remote region.
The Birdsville Races are supported by the Queensland Government through Tourism and Events Queensland and features on It's Live! In Queensland events calendar.
The organising committee comprises a network of current and former residents of Birdsville, all keen to share the magic of the outback races – keeping the event alive and in the psyche of Australian punters.
Each year, horses and trainers make the long-haul trek to Birdsville setting up camp under gum trees alongside the Diamantina River – creating their own community that has become as tight-knit as the long-term residents of the rural township itself.
What: Birdsville Races
Where: Birdsville, Queensland
When: Friday 3rd and Saturday 4th September 2021
How much: Starting from $42.35
More info & tickets: www.birdsvilleraces.com or for more information on the Birdsville Races Roadies go to www.birdsvilleracesroadies.com