Narva has taken out the Best Stand Award Over 100sqm at the recent National 4×4 Show in Melbourne. The stand included their new range of LED lights, the Ultima 180, Ultima 175 and the Ultima 225.
With a vibrant looking stand and plenty of lighting plus the impressive Narva Racing's heavily-photographed TSCO Trophy Truck, a 700hp 6L V8-powered custom off-road race vehicle there was plenty to get the show-goers buzzing with excitement.
The big winner on the day was the new Virtual Reality Driving Light Experience. This interactive simulation allowed consumers to see and compare different driving lights by placing them in the virtual passenger seat of a 4×4 making its way along multiple terrains in the true dark of night.
"The VR experience provided attendees with a completely immersive 3D view of their surroundings and the ability to seamlessly switch between different lighting configurations just by pointing at the lamps they want to see in action," said Narva's Marketing Manager Jake Smith. "This specially filmed simulation is the closest you'll get to a real-world light beam comparison. It really is a what-you-see-is-what-you-get experience and that makes it much easier to choose the appropriate lighting for their needs," he said.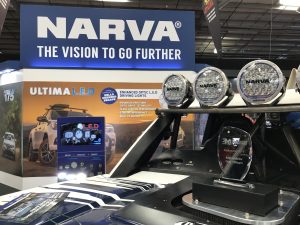 This could well be a highlight of upcoming 4WD shows around the country!