MOUNTAIN TRAIL HAS FUSED CARAVAN, CAMPER & LUXURY APARTMENT INTO ONE HYBRID HERO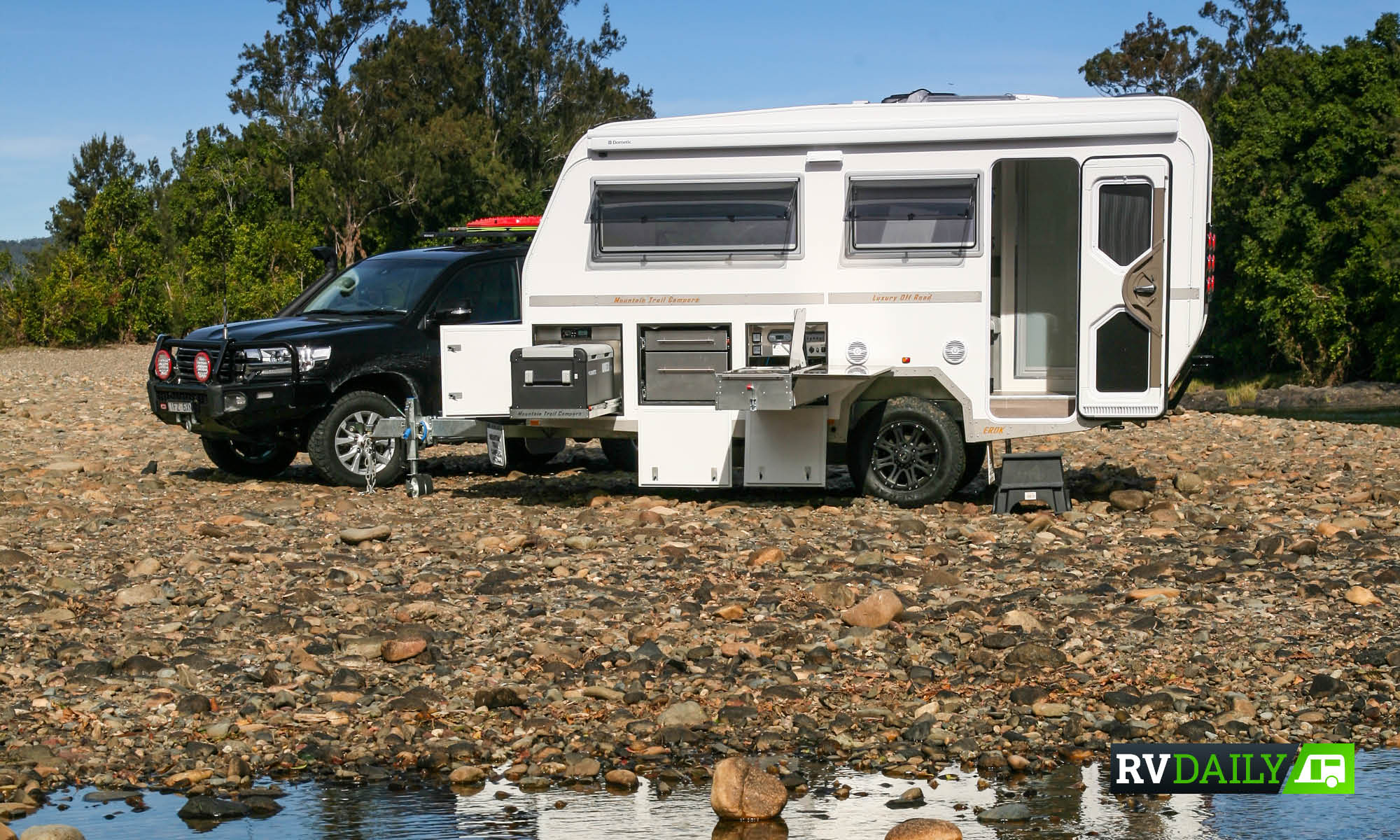 You want to escape the rat race to camp remote, but you don't want a camper-trailer with canvas.
For images, videos and the full RV Daily experience, read this in our online magazine.
You want to retain life's luxuries but just can't fit them all into a smaller caravan.
You want to have your cake and eat it too.
Can't be done?
It seems Mountain Trail's latest offering of an Australian-made hybrid caravan is more than capable of being towed to almost any destination to return a high-end touring and camping experience. You can eat all the cake you want!
The tall, silky smooth, high-gloss white panels of the 15-foot Mountain Trail LXV off-road hybrid caravan made a stark contrast to the black 200 Series LandCruiser tow vehicle as it effortlessly trundled over the river stones, dipping its rubber into the chilled waters of the mid north coast hinterlands and forged upstream to its final clandestine camp spot.
Yep, this hybrid van, with its 4X4-like wheel track, can indeed be towed more places than your average van. It has almost zero set-up time… you slide the external stainless-steel camp kitchen into position and deploy the electric side awning, then kick back and relax.
OUTSIDE
Three kerbside lockers conceal a 95-litre chest-style Waeco fridge freezer, a dual-drawer pantry and a stainless-steel kitchen complete with three-burner gas stove, hot and cold running water, a sink and a triple-drawer system for crockery, cutlery and general kitchen implements storage. Outdoors living at its finest, and all manufactured in-house.
A bank of gauges also resides next to the pull-out kitchen and incorporates: dual water level indicators; Redarc battery management system; 240V,12V and USB sockets, as well as the master switching for the stereo, water pump, lights, water heater, locker lights and fridge, plus the switch for the side awning – all of which are individually fused. All easily accessible and contained in the one spot. I like that.
Overhead LED bar lights ensure plenty of night-time visibility, while the twin external waterproof speakers provide plenty of entertainment.
Two huge off-side lockers are lined with marine carpet and allow for enormous amounts of gear, while the third locker is dedicated to the hot water heater tank and associated plumbing. Water tank fillers and a power inlet are also found just above the wheel.
Underneath the LXV Hybrid, a hot-dipped galvanised chassis and drawbar has been fitted with dual water tanks and Mountain Trail's own independent trailing arm coil-spring suspension design, which relies on Tough Dog nine-stage adjustable shock absorbers to control the bounce and an eccentric nut to set toe-in and camber.
Of particular note on the Mountain Trail system is the removable stub axle facilitating easy change or repair, compared to a weld-in version. The different mounting position and angle of the coil spring on the chassis compared to most is a (literally) slant on a popular design; also noting the relatively upright shock absorber mounting while still allowing a long shock length – that's a good thing!
The 12-inch drum brakes and off-road oriented Grabber All Terrain LT 285/70R17 tyres are wrapped around black alloy CSA 17-inch rims providing great off-road serviceability. A Vehicle Components 3.5-tonne Hitchmaster DO35 off-road hitch suits the intended ability of the van, allowing unhindered hitch articulation.
Three tanks comprising 85- and 125-litre
food-grade water tanks plus a 55-litre grey water tank are all tucked up out of harm's way, noting the extra protection of the rearmost tank with a sheet of alloy checker plate. Also tucked up on all four corners are the wind-down stabiliser legs – it's good to see a manufacturer ensuring these legs are fitted in such a way that they don't get dragged while tackling adverse terrain.
The German-sourced fibreglass composite panelling is utilised on all walls and the roof to help insulate and reduce weight, and this returns a classy finish in combination with the stainless-steel trimmings. Tinted Euro-style double-glazed windows open to allow plenty of natural light and air.
The single spare wheel is fitted to a wind-down carrier underneath and between the chassis rails and I (for one) reckon this is a great position for it so as not to have it sitting up high on an external wheel carrier. This keeps the centre of gravity low and the spare is easily accessed similarly to many 4X4s with a hand crank, the only drawback is having to slide it when required. A flip-down ARK XO jockey wheel is incorporated into the drawbar to allow moving the van over uneven ground, while front and rear-of-wheel mud flaps deflect stone strike. A separate front stone deflector is not needed as the angled, sloped shape of the front toolbox takes care of that job. This box is vented to allow carting dual 4kg LPG bottles, plus two fuel/water jerry cans along with a diesel tank for the on-board heating system; as well as general storage.
At the rear, a neat and clever hitch receiver and mount is incorporated into the chassis, as are dual rear-facing recovery points should you ever need to pull the van rearwards, such as in a bogging.
Measuring just two metres wide, the Mountain Trail LXV is 30-40cm narrower than most vans. This, combined with its full-height 2.85m walls, makes it look a little tall overall. Other than swapping to a pop-top, there's not much that can be done about this.
Out of sight, on the roof, two 140-watt moulded solar panels feed twin 105Ah AGM deep-cycle batteries via the Redarc 30-amp battery management system. These batteries power all the lighting, the fridge and accessories.
INSIDE
Stepping inside, the LXV is somewhat like a polar bear in a snowstorm… white on white, other than the grey highlights of the lounge and the lime green throw cushions. A swivel table allows easy access to the north/south positioned queen-size bed which features a pillow top inner-spring mattress. Access to the bed is only from the foot end, given that the van is not wide enough to allow side access. That's the downside of a narrower wheel track and overall width. On the plus side, the van will track better behind the tow vehicle and you'll cop fewer scratches from overhanging trees.
Large windows and a roof vent allow for plenty of natural light, while the Sirocco 12V fan adds a little air movement. The 240V reverse-cycle aircon is an option and locates in the section under the rear drawers. A diesel-powered hot water and ducted air heater system is fitted as standard, negating the need to hook into 240V power. The fuel tank for this system is located in the front storage box.
LED lighting throughout provides plenty of low power consumption illumination. A 24-inch LED TV/DVD player is fitted to a swivelling wall bracket so your entertainment can be viewed from either the bed or the lounge, while a Winegard roof-mounted antenna picks up the signals.
A one-piece fibreglass shower/toilet/hand basin cubicle allows for self-contained ablutions and (while not overly huge) is adequate for one person.   
Underbed storage is accessed by a small section of the base lifting via gas struts, while the rear wall features multiple soft-close drawers and overhead cabinets with a benchtop between. Although all included cooking facilities are external, this benchtop could be used for an electric frypan, sandwich maker, toaster and kettle arrangement.
All up, this hybrid van is exactly that – an amalgamation of caravan and go (almost) anywhere camper-trailer that offers luxury appointments and comfortable sleeping for two. Providing you're happy living outside part of the time, the Mountain Trail LXV could just be the perfect arrangement to allow remote touring in luxury… as long as you keep check on exactly where you attempt to tow it.
On that note, I'm gonna let you in on a little secret. During this photo shoot, the driver ummm… let's say, had a little incident just before these photos were taken. Can you see the damage to the van? Can you see the damage to the LandCruiser? I'll wager you can't; but one of these vehicles was written off while the other was in 'as new' condition.
Be sure to check back in next month as we detail what went wrong and how we recovered the van, the Cruiser and the whole photo shoot; plus what Tim (the editor) said when I told him what happened… well a toned-down 'edited' version of what he said – this is a family publication after all!
VERDICT
A well-executed, Australian-made hybrid van that delivers as promised; good off-road ability combined with luxury and quality utilising excellent components.