This jack could be your new best mate…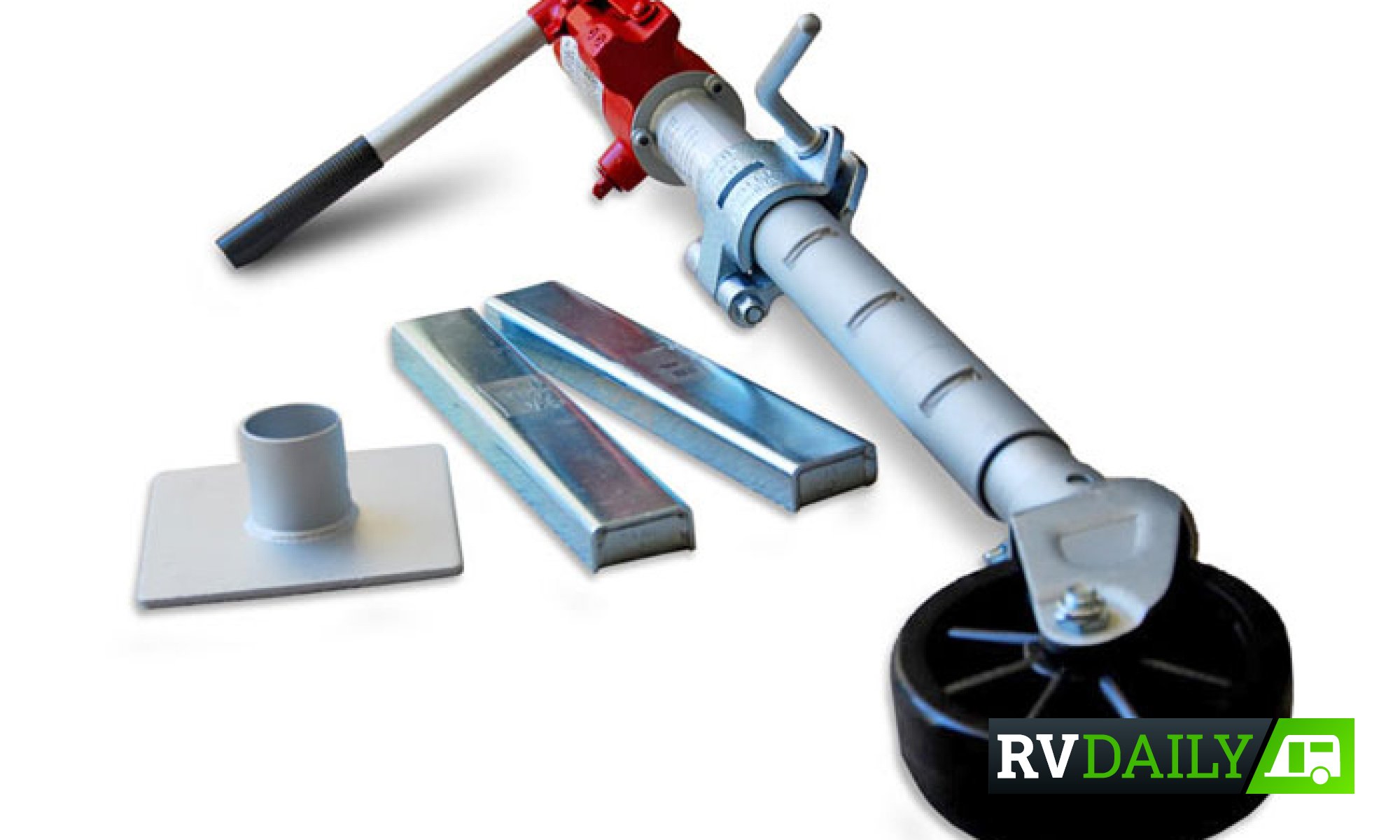 You could easily say "move over Arnold Schwarzenegger"when the Trail-A-Mate is around. This jack is based on the principles of a hydraulic bottle jack, but that's where any similarities end, because it offers so much more.
CLICK HERE TO READ THIS IN OUR FREE ONLINE MAGAZINE
WHAT'S IN THE KIT
Besides the jack, there's a bundle of other things inside the box including a cold-dipped galvanised leg tube, a base plate, a wheel, and a locating pin. But there's also a wheel brace with a thin-walled double-ended socket of 19mm to 21mm to reach those difficult-to-get-to mag wheel nuts, a lifting bracket clamp, and two engagement fittings. And wait for it, they even throw in a hat to encourage you to be sun smart during the jacking process. The combination of all this gear weighs around 15kg and must make this kit one of the easiest methods (if not the easiest) for jacking a caravan and hitching it up to your tow vehicle.
Not only does the Trail-A-Mate assist with hitching and unhitching, with a weight load limit of 1000kg and an ATM of 2900kg, it also makes easy work of lifting the side of your RV to change a tyre.
HOW IT WORKS
While it's a relatively easy process to use the Trail-A-Mate, it's important to read the instruction manual beforehand to ensure you're following the correct safety procedures. The eco-friendly painted hydraulic bottle-style jack is attached to a cold-dipped galvanised shaft, which has a length of 730mm when assembled. The leg tube segments are formed into the shaft so it can be clamped to your RV's A-frame. This allows you to raise the A-frame using the hydraulics of the jack by pumping the handle, or lower it by undoing the locking tap. The jack's lifting height starts at 145mm to a maximum height of 780mm with a lifting range of 380mm.
The lifting bracket clamp is used for lifting the RV from the side via the two engagement fittings (which must be welded either side of the RV's crossmember at the rear of the axle).
To operate the jack here, position it in the appropriate engagement fitting along with the base plate, and pump the jack handle to lift it to the required height.
OUR THOUGHTS
When we were travelling around Australia, we always wanted a jacking solution that meant anyone could hitch/unhitch our rig in an emergency regardless of their strength, and the Trail-A-Mate fits the bill perfectly. Since making our purchase back in 2009, it's still going strong and hasn't missed a lift. As easy as we've found the jack to use, we've made it even easier by slightly modifying our RV's A-frame clamp, which holds it. By using the Trail-A-Mate, we've freed up some A-frame space, and we're not messing around winding a jockey wheel on what might be uneven ground. And if we ever need to change a tyre roadside, the Trail-A-Mate saves us from crawling under the RV.
We're not the type of travellers to leave the jack in place once we've unhitched, so we lower our RV onto a jack stand as a safety precaution and remove the Trail-A-Mate. This technique acts as a deterrent for any would-be RV thieves as it means they need to be prepared with their own jacking device at the ready.
We all know that RVs are heavy so when a jack like the Trail-A-Mate can take all the back-breaking work out of RVing, then it's one mate we definitely don't mind tagging along for the ride. RRP $399
Note: Trail-A-Mate has another hydraulic model available for heavier loads, the MKII. This model has a weight load limit of 1500kg/ATM 3500kg.