The glamorous @instagram life is truly for the converted … here's how to make a successful van conversion work for you
So you've hit on the idea of buying an old van, decking it out as a camper, grabbing your beautiful partner and making a fortune living the Instagram life.
"How difficult can it be?" you ask. "After all, social media is full of beautiful people in fabulous places making truckloads of cash vicariously 'living the dream' for the masses". Hmm…
While your plan has its merits, if you'd done it five or so years ago you might have made enough by now to comfortably retire (segue, what would you do then? Maybe by an old van, do it up and, oh, never mind).
It's a given that your photographic prowess is unrivalled; ditto the appeal of your partner. Now, all you need is that old van and to convert it.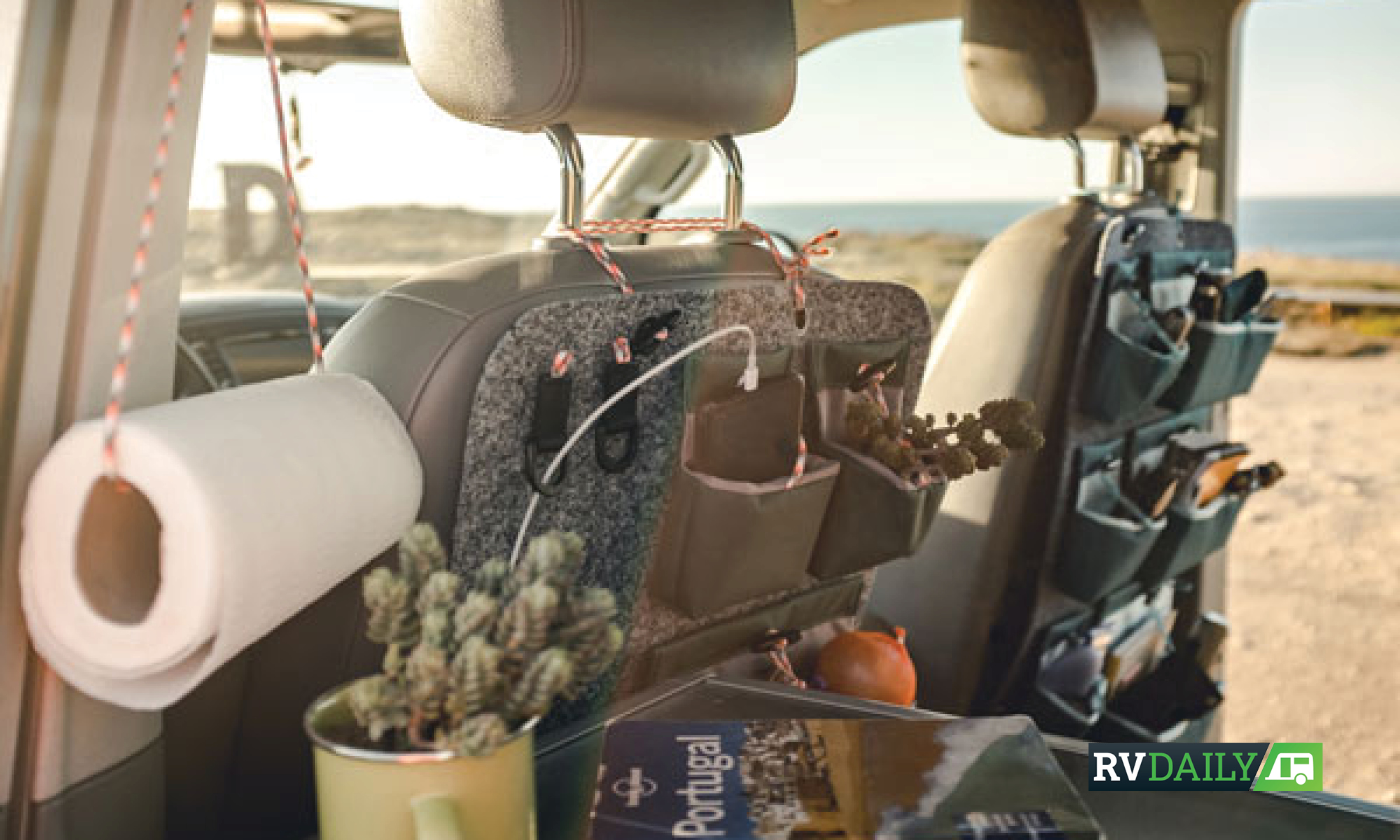 Question: Apart from assembling an IKEA flat pack, have you ever actually built anything? How are your electrical and your plumbing skills? What about, body repairs, woodworking and upholstery? How well equipped is your workshop to cut/machine/trim/sand all the necessary components to bring your vision to life? Of course you're familiar with all the necessary State and Federal regulations regarding the installation of the various systems into a motor vehicle, along with those pertaining to vehicle modifications, both structural and safety orientated. You are, aren't you? And of course, between your gruelling 60-hour work week, fabulous relationship, perfect family and heavy social commitments, you have the time (and place) to make this conversion a reality. No?
If after cashing this reality cheque you still want to push on with the Instagram dream, the next best thing is buy an old campervan or motorhome and 'remodel' it. That will also give you content to share – Insta Cred – and help build your audience, especially as people love to sit and laugh at the mistakes you'll make. But do you really want to drive an old crapper? As a friend of mine says, "No matter what you do to it, a turd is still a turd."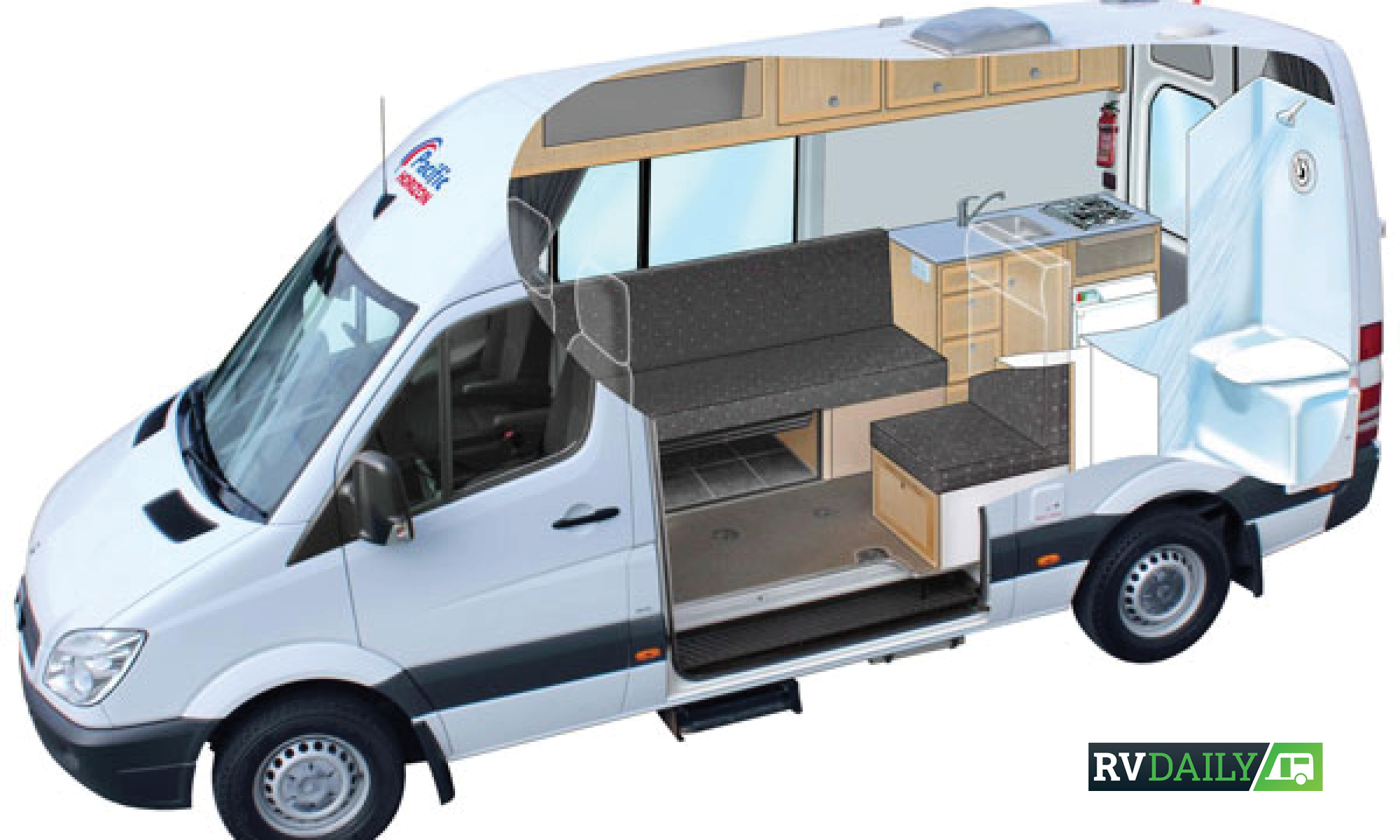 A MIDDLE WAY
The enlightened middle way is to buy an ex-rental. That's because they are newer and the interior is built to take a pounding. Being new means they'll have more safety, comfort and convenience features (think airbags, ABS, traction control, air conditioning, etc.), and just be plain nicer to drive. Being built to take a pounding means just that: Rental vehicle interiors are seldom stylish, but they are built to last. Ex-rentals are also usually well priced for the age and model/specification of the vehicle. That's the good news. The bad news, of course, is that ex-rentals always have high kilometres for their age. Like they say, there's no such thing as a free lunch…
"Is that a bad thing?" I hear you ask. The answer is simple: Yes. And no (I lied about simplicity). Yes, it's a bad thing, because the rental company has had the best kilometres from the vehicle. No, because commercial vehicles are built to last longer than passenger vehicles and because most of that distance is done on open roads, not in bumper-to-bumper city traffic. Of course, there's no escaping the fact that years of use by hundreds or thousands of none-too-caring rental customers will have taken their toll to some degree, but hey, everything is a compromise.
If you're still unsure, remember that rental companies across the country sell thousands of 'retiring' vehicles every year. While there might be individual horror stories, if they were a bad deal the market for them would collapse. 'Nuff said…
CHOICES, CHOICES, AND CHOICES
Ex-rental vehicles come in three flavours: campervan, van-conversion and coachbuilt.
Here's a quick look at the pros and cons of each:
Campervans:
These are social media fodder and your cheapest ticket to the Insta Glam life, but that's about as far as the good news goes. Almost without exception they will be built on the Toyota HiAce, an insanely reliable delivery van intended for crowded Asian cities where parking space is at a premium and occupant safety isn't. HiAces have the driving characteristics of wet cardboard boxes and perhaps a little less refinement, but they're unlikely to let you down.
To look really cool you need a pop-top roof and this is the other piece of bad news: Most ex-rentals will have a high roof because it's more practical, space efficient and maintenance free. Unfortunately, they look about as cool as Donald Trump on a windy hair day (okay, any day, I was trying to be nice). The other thing is, being a campervan means no bathroom. While you might be okay with that, consult your partner before parting with your cold hard cash. Prices can start as low as $10,000 for something 10 years old with 500,000km or more on it, but $20-25,000 for a hi-top in good nick but with 250,000-plus km is common.
Van Conversions:
The perfect middle ground, these van conversions – think Ford Transit, Mercedes-Benz Sprinter, Fiat Ducato and VW Crafter – combine campervan credibility and bathroom convenience in one cool package.
Think $40,000 or so for the last of the Transits (if you can find one), otherwise $50,000 and well upwards for a VW Crafter or Mercedes-Benz Sprinter. Also think 250,000km and up unless you're lucky.
Coachbuilt:
No Insta Glammer would be caught dead in a traditional motorhome. That's because they're for your grandparents (if you are their grandparents, take a Bex and have a good lie down – you'll get over it). Traditional motorhomes are spacious, comfortable and have all mod cons – precisely the things your online followers don't want to see. They want you to suffer a bit for your art while remaining incredibly cool, so lots of space and convenience are out. Mod cons are okay, but be careful…
So, now you've decided on a van conversion, which one?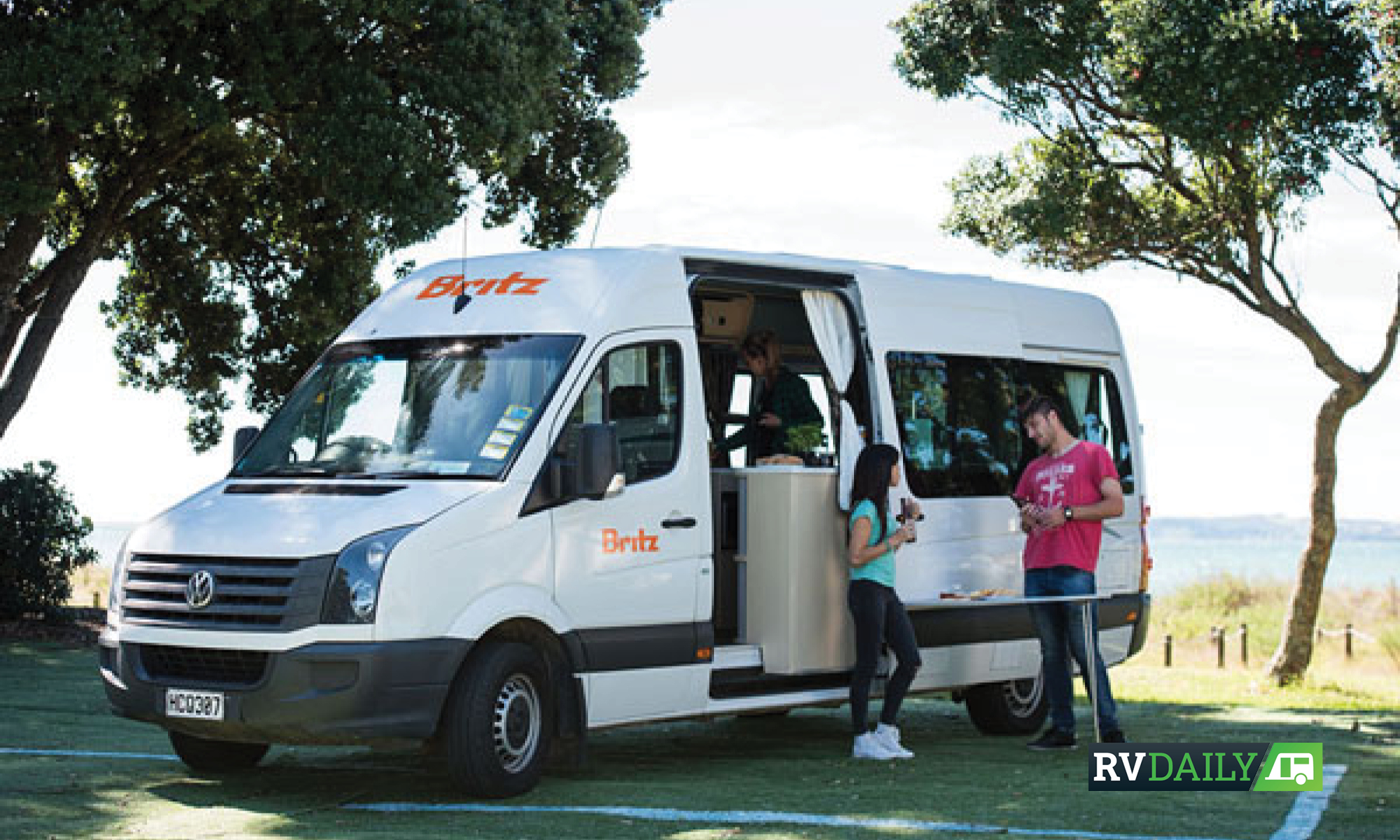 EURO, EURO, OR EURO?
If Toyota made a Ford Transit-size van with a front engine, walk-through cab, decent safety equipment and rear barn doors, it would clean up. Why it doesn't is beyond me and has been the subject of more than one late night/ red wine session of serious contemplation (and I'm still feeling it). However, I've digressed.
Ex-rental van conversions – indeed ex-rentals bigger than a campervan – will be running on a base vehicle from Europe. However, there are base vehicles and base vehicles. Until a few years back the Ford Transit was the darling of the rental industry. Tough, reliable and backed by a national service network, the Transit was, and still is, a good thing. Unfortunately, Ford in its ignorant wisdom decided delivery van (and therefore motorhome) drivers didn't need automatic transmissions. That was fine in Europe, where until recently auto-shifting gearboxes were viewed with the suspicion reserved for black cats in the Middle Ages, but rental customers Down Under wanted more. And so it was bye-bye Transit and hello Sprinter/Crafter/Ducato – each also European, but with the option of automatic. However, not all auto-shifting gearboxes are created equal.
While depending on model year recent Sprinters use a five or seven-speed automatic like the ones in most passenger cars, the Ducato and Crafter use a six-speed automated manual transmission (AMT). These are essentially manual gearboxes in which a computer changes gears for you. Like a conventional automatic there is no clutch pedal, but unlike a conventional auto, progress is interrupted by a pause each time your unseen helper changes gears in a rather leisurely fashion. If you hunt around you might find some manual Sprinters or Crafters out there and these you can't beat for simplicity and reliability. However, if you want a 'proper' auto the Sprinter is the best bet, both for reliability and driving pleasure.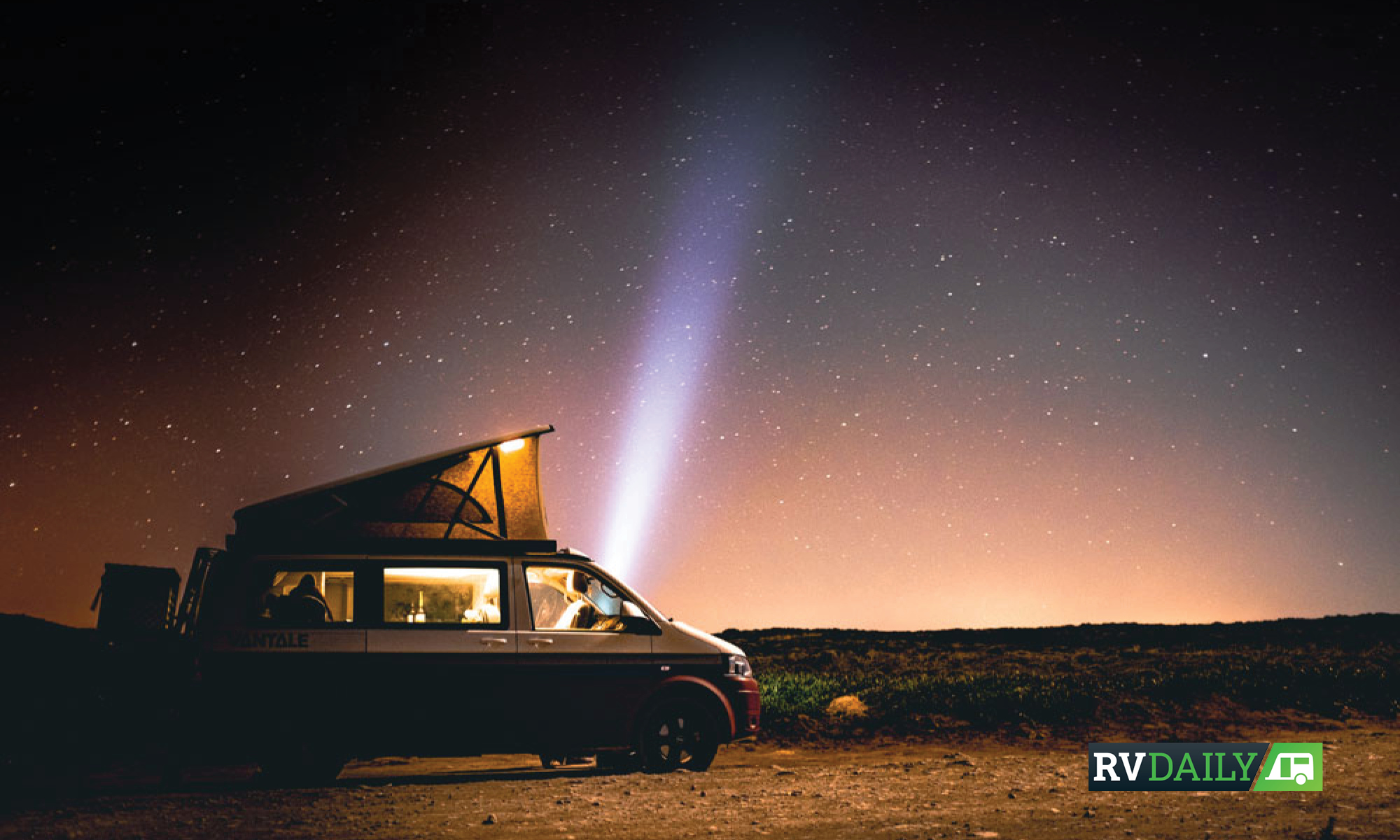 CHOICES, CHOICES, AND CHOICES
If you have a selection of vehicles to choose from in a dealer's yard, check them all out before deciding on one and then get an independent pre-purchase mechanical inspection. This is absolutely essential because depending on your State of residence, a used commercial vehicle probably isn't required to come with a warranty. However, reputable dealers will usually include at least three months warranty and this also covers the conversions.
Under no circumstances – read my lips – under no circumstances should you buy a dealer-offered extended warranty. They are insurance policies provided by third parties that pay large dealer commissions and are basically worthless; so onerous are the conditions of compliance and limited any payout. If the pre-purchase mechanical inspection is okay, ongoing regular maintenance is your best insurance.
One final note on servicing: Don't be fooled or pressured into thinking you must go to an 'authorised' dealer to have your Ford/Mercedes-Benz/Fiat/VW or whatever, serviced. There are plenty of reputable and affordable RV service businesses out there and the best way to find them is by asking around online. Good news travels fast, bad news travels faster.
INSIDE STORY
I've spent most of this yarn talking about the vehicle, because the stuff inside is largely generic and low cost. That doesn't mean you don't need to make sure things like the fridge, hot water system and house battery work and are in good condition, but replacing them is a lot cheaper than an engine, gearbox or differential.
Open the drawers and cupboards and give the cabinetry a good shake. It shouldn't move, so if it does go find another vehicle. Check inside the cupboards and look at the ceiling liner and any interior trim panels for stains, which usually signal water leaks. Also, make sure the vehicle doesn't have a musty smell. If it does it means there's been a long-term water leak, because rental vehicles regularly have their doors, windows and roof hatches open and any smell that can build up in short time is a sure sign of trouble.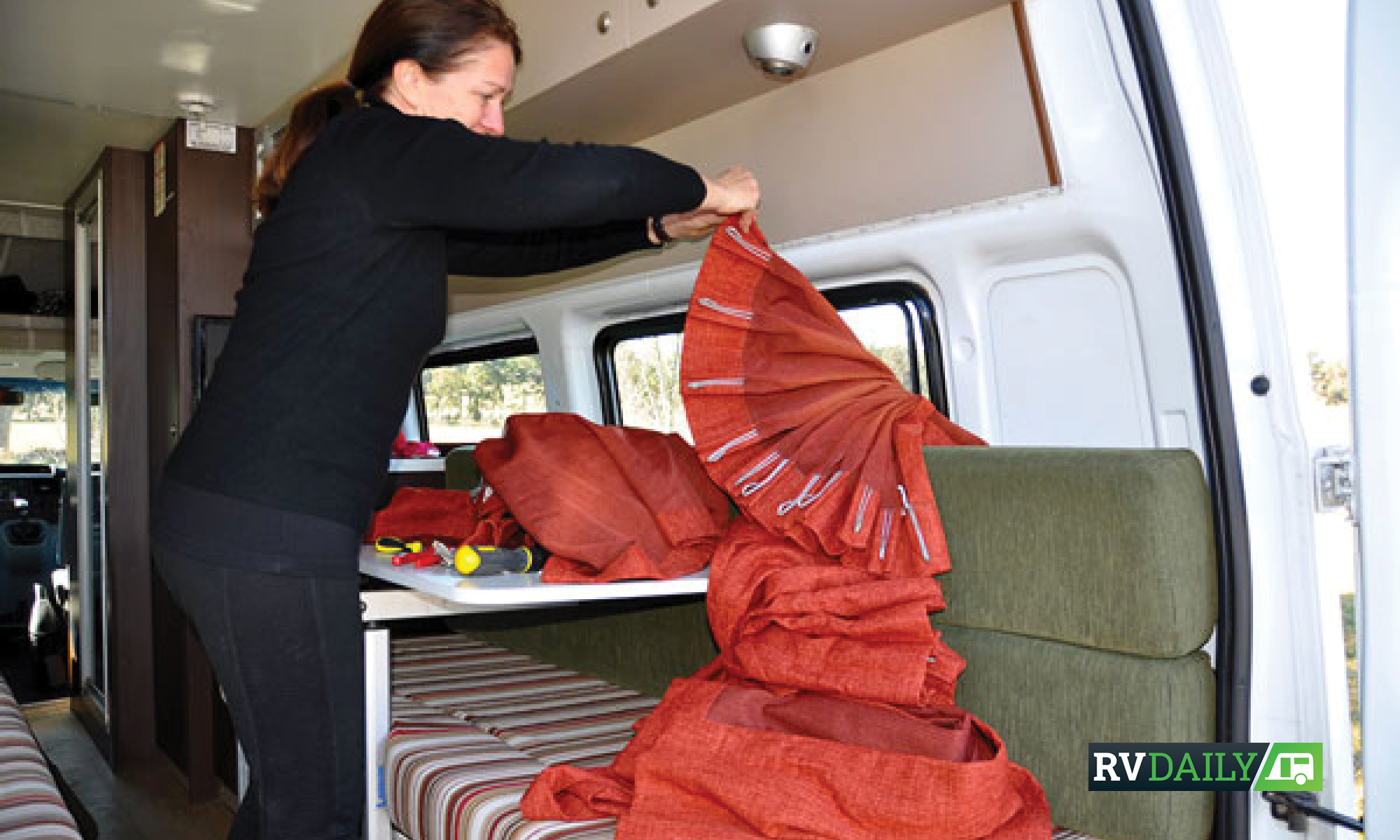 So… One of the beauties of buying an ex-rental is that because it's not in showroom condition you won't be afraid to add your individual touches. These can be as simple as a new set of cushion covers or curtains, maybe some LED light fittings or even a lick of paint or contact paper. Whatever you decide to do, start with a really good clean. Pull out everything you can remove, then wash, scrub and do it all again. You'll be amazed where years of accumulated travel dirt can lodge itself!
Another thing to consider is keeping a bit of money aside for some must-have extras. Ex-rental vans usually have full-length windows down both sides and while they provide great views, they also let a great deal of heat in and out. If you really are handy you could actually take some of these windows out, replace them with metal body panels and put in real motorhome windows. If you're like me, Solarscreens are the way to go. Just make sure you get a full set that includes the windscreen, cab and rear door windows. Solarscreens makes sets for each vehicle type and while there are imitators, the originals are pretty hard to beat, if a bit pricey.
Those same windows won't open much, so a 12-volt fan or two is essential and ideal for freedom camping. Most ex-rentals will have air-conditioning and it's great in summer to be able to book into a caravan park, plug in and cool down. But aircons are noisy and the best Insta Places never have mains power, so plan to live off-grid as much as possible. In colder weather a diesel-fired heater will be worth its weight in off-grid gold, but year-round a set of insect screens for the side and rear doors is a must.
Set a budget, choose carefully and get going. The Insta World isn't getting any less crowded and you've got a fortune to make. Dare I say, "Snap to it!"?
Words and images Richard Robertson
SALES OF EX-RENTAL RVS
Wallaby Motorhomes
Apollo RV Sales (Melbourne)
Sydney RV
Britz