Caravan Review: Halen Vans Bathurst off-roader
Does this off-road luxury Halen van shake like its musical namesake, Van Halen? Let's review the Halen Vans Bathurst off-roader.
Okay, there are going to be lots of Van Halen (VH) references in this yarn. Jason Francis, MD of Halen Vans, is a VH nut and his wife Bec isn't far behind. So I couldn't help myself. I love music and in my role doing a regular morning radio show in the Yarra Valley I do a lot of research – so it makes writing a yarn like this a trip down memory lane. Still, let's get the show on the road.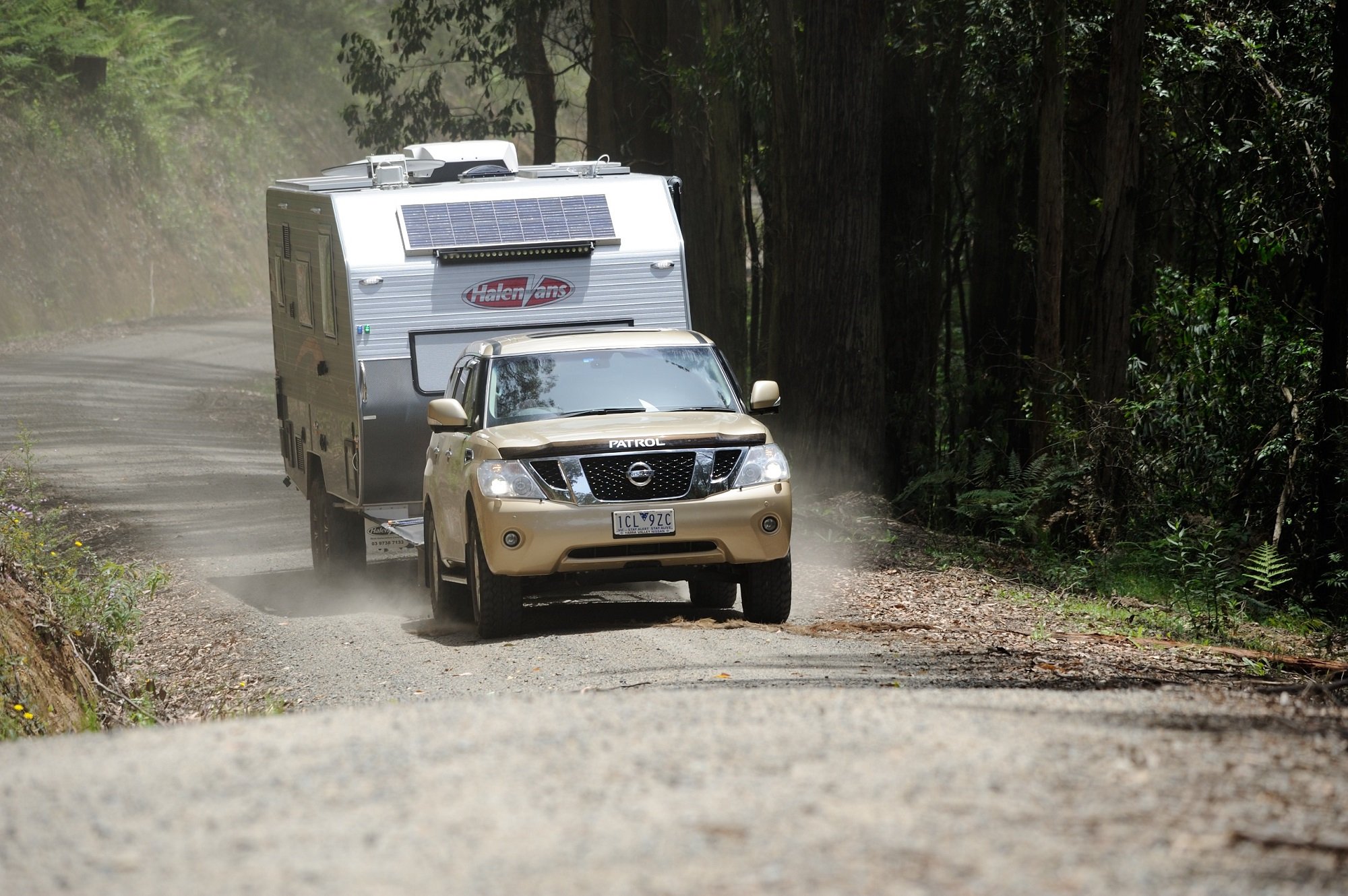 Halen Vans has been running since 2011 and specialises in off-road vans. Having been in the caravan industry for around 28 years Jason is goin' down for creating amazing off-road vans ranging in price from $80,000 to $150,000. Bec oversees the show and she runs a tight ship, ensuring that everything goes smoothly. This duet not only builds tough vans, they get off to la grange every time they can to live in the best of both worlds.
Halen Van's mission is to manufacture a fully-customised off-road van that can be used anywhere in Oz, with a huge focus on lithium battery technology as the powerplant. The electrical work that goes into the products is pretty amazing. Our review van starts with a 500-amp Enerdrive battery. To charge this battery are five 150-watt solar panels that can deliver up to 50 amps per hour in the right conditions. To get power sorted for the 240-volt appliances, an optional Enerdrive 3000-watt/120-amp inverter combi unit is employed – which means between the battery and the inverter every appliance in the van, whether 240-volt or 12-volt, can be used without mains power or a generator.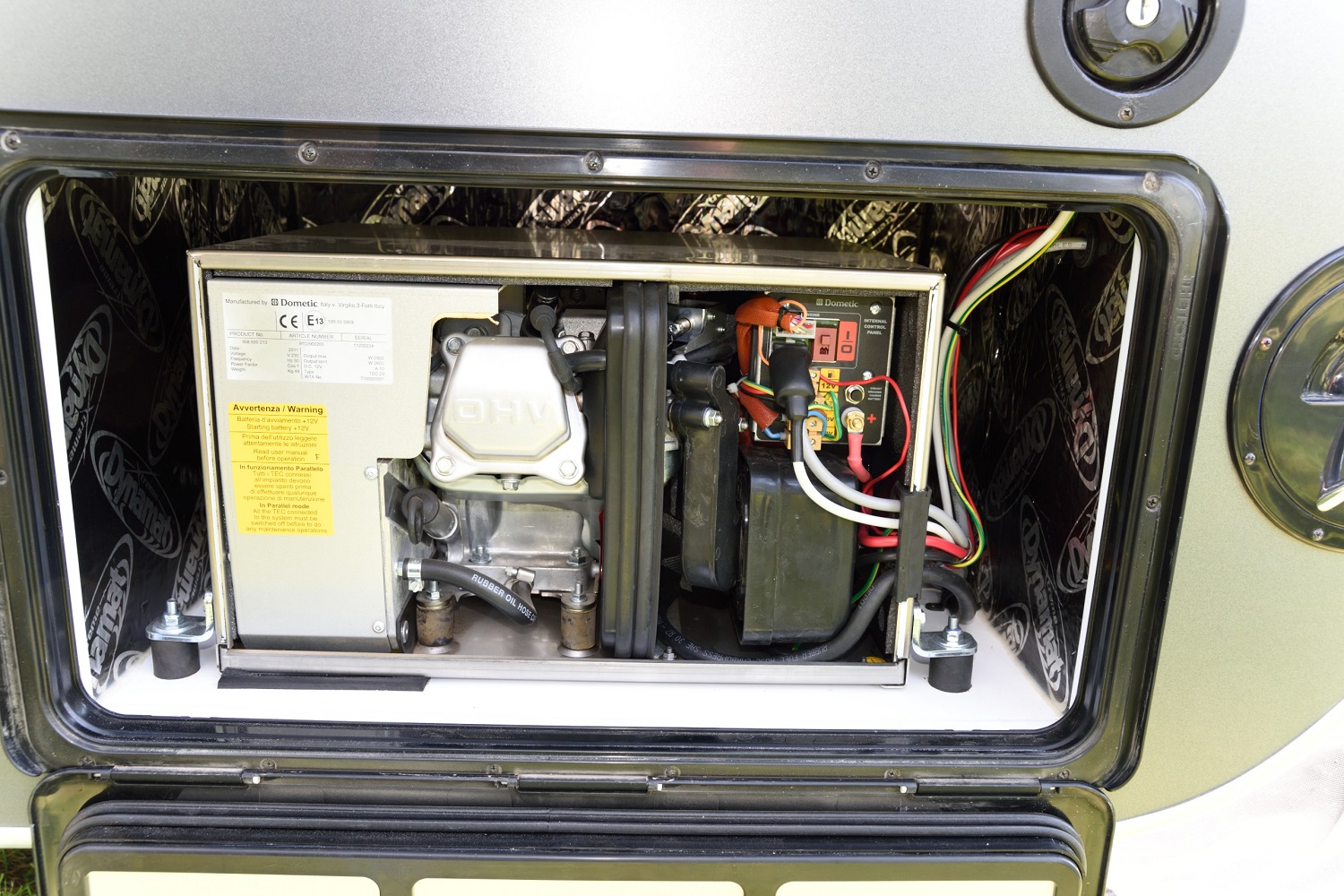 When travelling remotely, power can be hard to come by and relying on the sun at times is not good enough, so in such cases the optional fully-mounted TEC 2.9-kVa Dometic generator can be used. Halen fits an external muffler to this unit, which makes it as quiet as possible; and as it only has to be run for limited time periods to charge the battery, it's almost overkill – yet it is a fully integrated system that works.
This amazing electrical system has fail-safes to protect the battery and wiring. Everything is fused and clearly marked so it's one of the best I've seen. It really is the heart of this van and what makes it stand out from the crowd, especially on hot summer nights when the Harrier AC unit is required to stay frosty.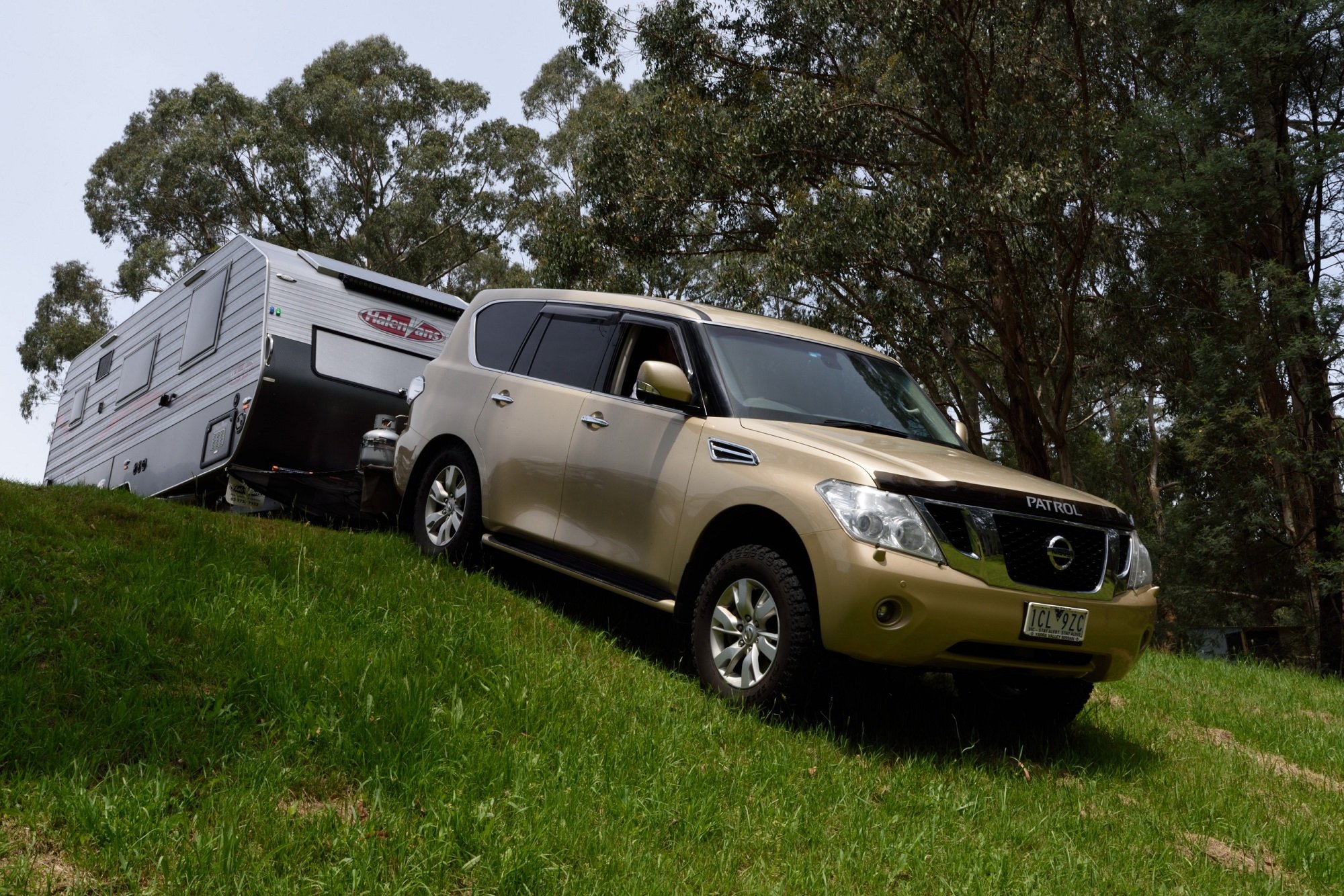 OUTSIDE
The Bathurst is built on a specially manufactured Supagal chassis from FP Chassis. Features include a Cruisemaster airbag suspension system with the ability to raise and lower according to ground conditions using Halen's own air system… which is no big trouble to operate.
Electric to hydraulic disc brakes and 16 x 8-inch alloy rims shod with 265/75 R 16 Goodride M/T tyres are two major features on the chassis. Everything under the chassis is well protected and very neat. Halen manufactures all the plumbing for the airbags, compressor tank, and the hydraulic fluid tank for the disc brakes; basically everything in 'n' out for this van to function well.
The aluminium-clad body is built around a Meranti 27mm framework complete with pre-drilled holes for integrity and strength. The van is fully insulated for all weather conditions. A stainless-steel nose cone looks cool and is very durable.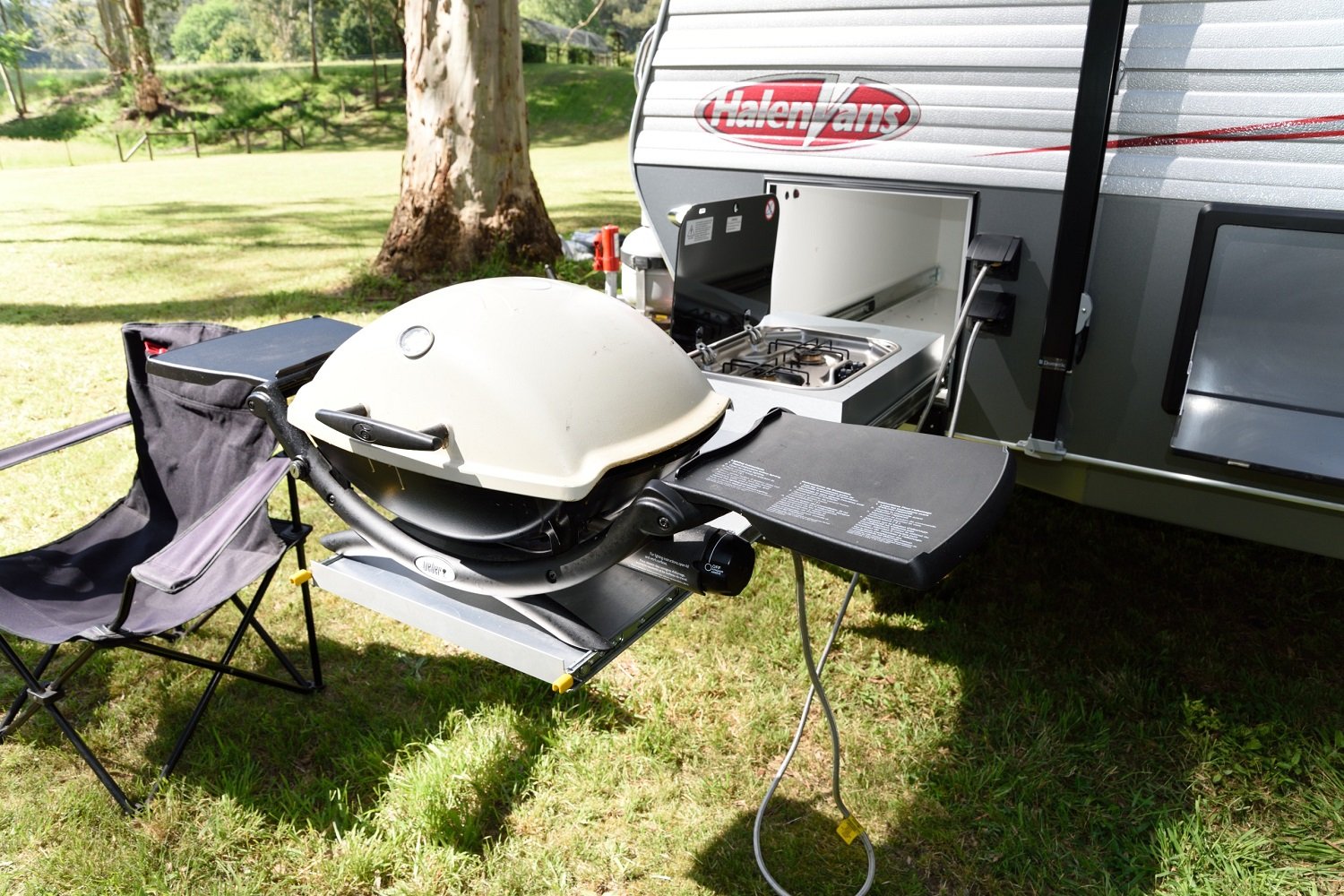 Around the body are storage compartments that allow for long items and chairs and tables, plus there's a slide-out kitchen complete with Weber barbecue, an external shower, picnic table and more – it's just like paradise on wheels!
Other features include an awning, double-glazed windows and full LED lighting throughout to light up the sky. The four water tanks (with the option of a fifth) are well protected underneath. It's about time someone came up with a truly off-road package offering some serious rock candy and this is one I want!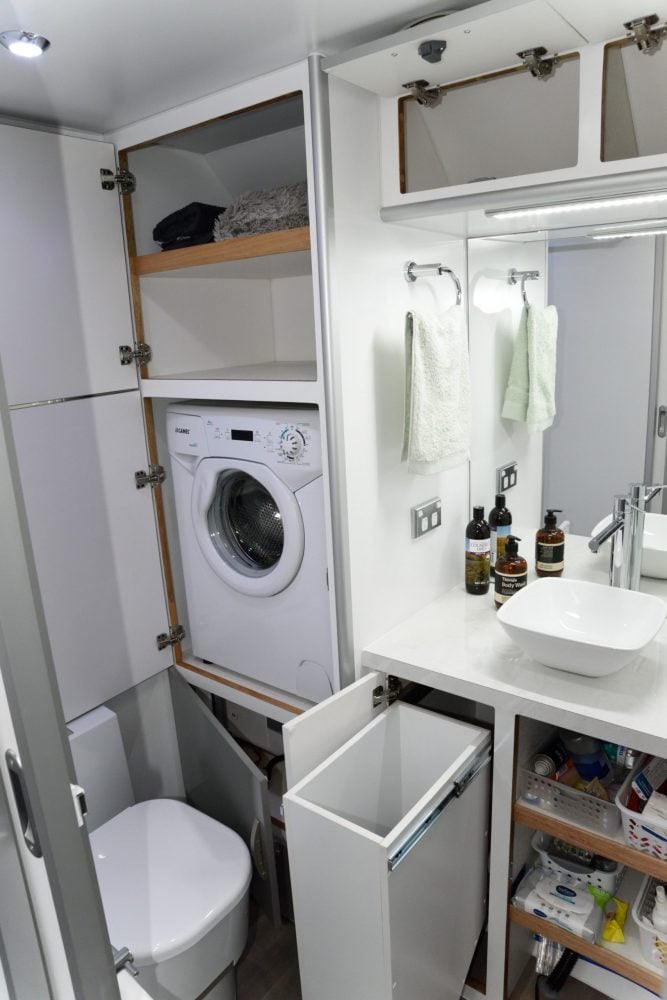 INSIDE
The inside of this van is certainly not the heartbreak hotel, and folks who look at it will be thinking – I can't stop lovin' you. A full ensuite is on the right, across the back of the van as you step inside. In this spacious room, there is a Dometic swivel toilet, a Camec 4kg front-loading washing machine, a huge array of storage options and one of the best features I've seen in an ensuite ever… a slide-out box for dirty clothes, which will make whoever is responsible for the laundry very happy. The vanity unit is neat and the shower is a good size for keeping clean.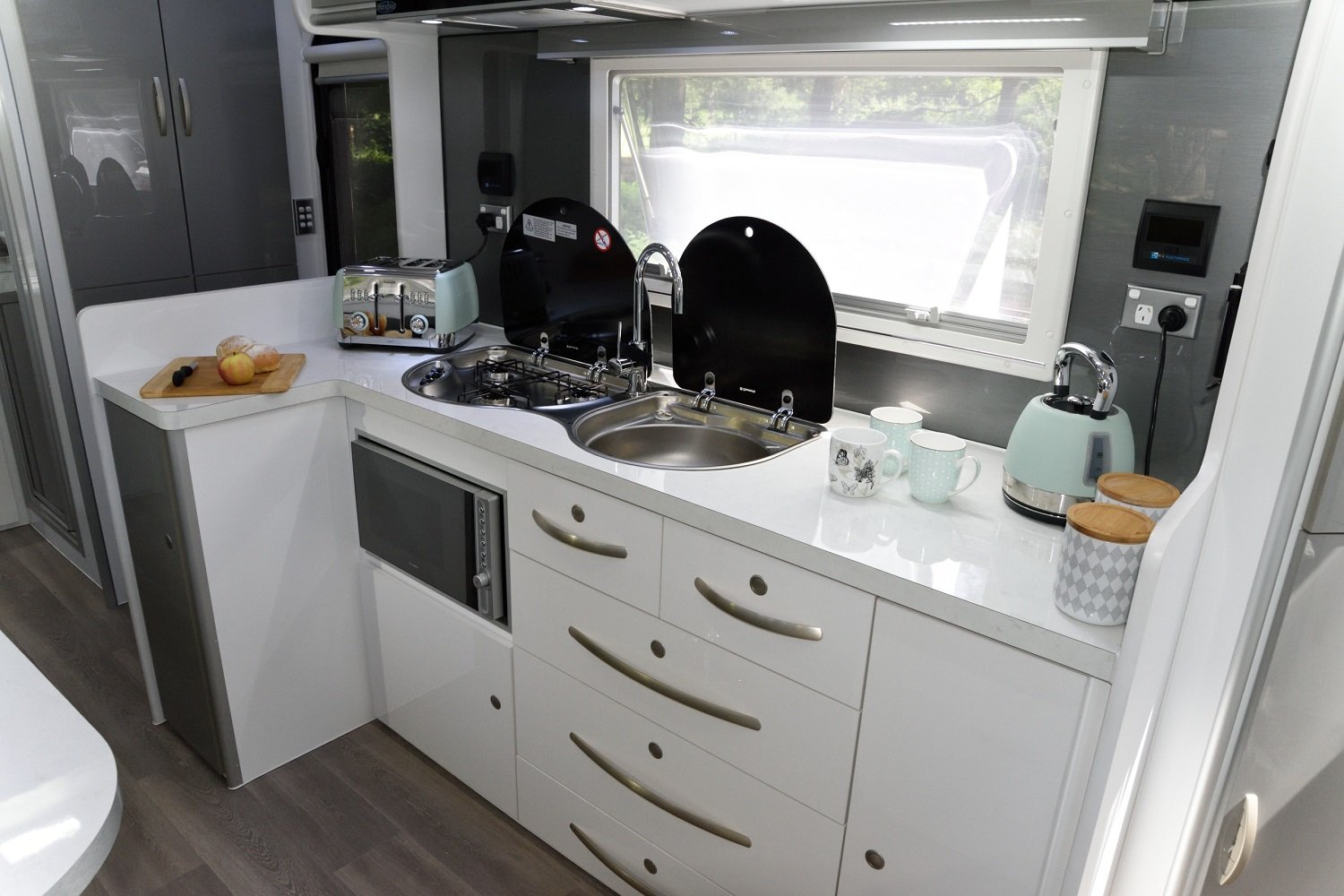 The kitchen and dining room is in the centre of the van. The dining room is an L-shaped affair on the driver's side. Buyers will never be outta space for a cool bevvie with a 224-litre Dometic AES fridge seated between the ensuite and the leather dining seat. Opposite the dinette, the kitchen has masses of storage above and below the benchtop. Camec appliances are used throughout with a microwave below the bench for easy access, a three-burner combo stove and sink mounted above the microwave and a range hood that fits neatly into the overhead cupboard to remove the smells. There is also a massive pantry space mounted in the ensuite wall which forms part of the walkway into the van – great use of space.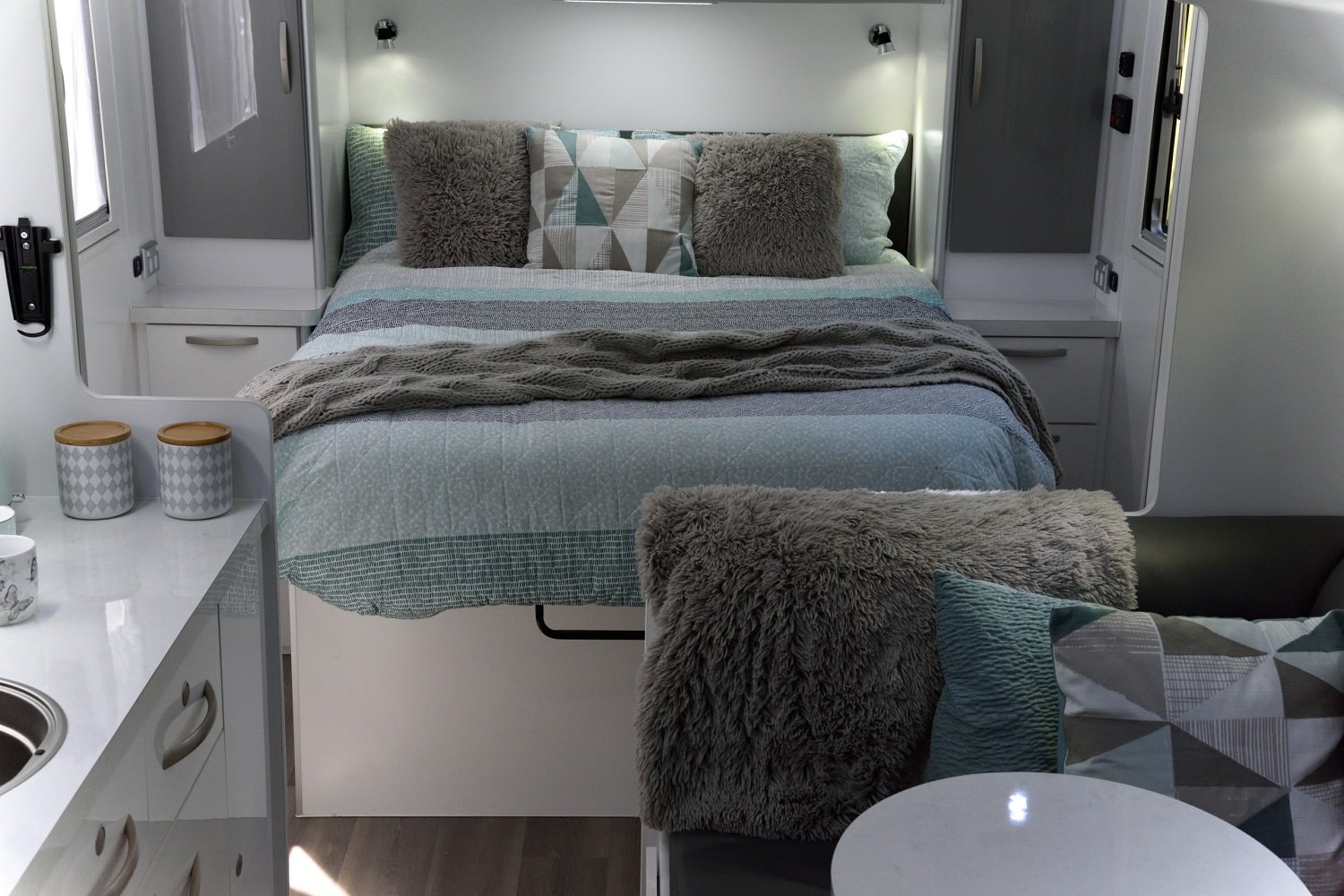 At the front of the van is the place where rock 'n' roll hoochie koo happens. A queen-size bed dominates the centre of this space with wardrobes and cupboards on both sides and more cupboards above. There is some storage under the bed; however, it's tight as the electricals take up a lot of space and ultimately the bed is mounted higher to cater for this arrangement.
Optional extras include a Dometic diesel heating system, a GPS tracker and a fully-remote Quad LNB satellite system with Marine Outback TV. There is seriously too much in this van to mention everything.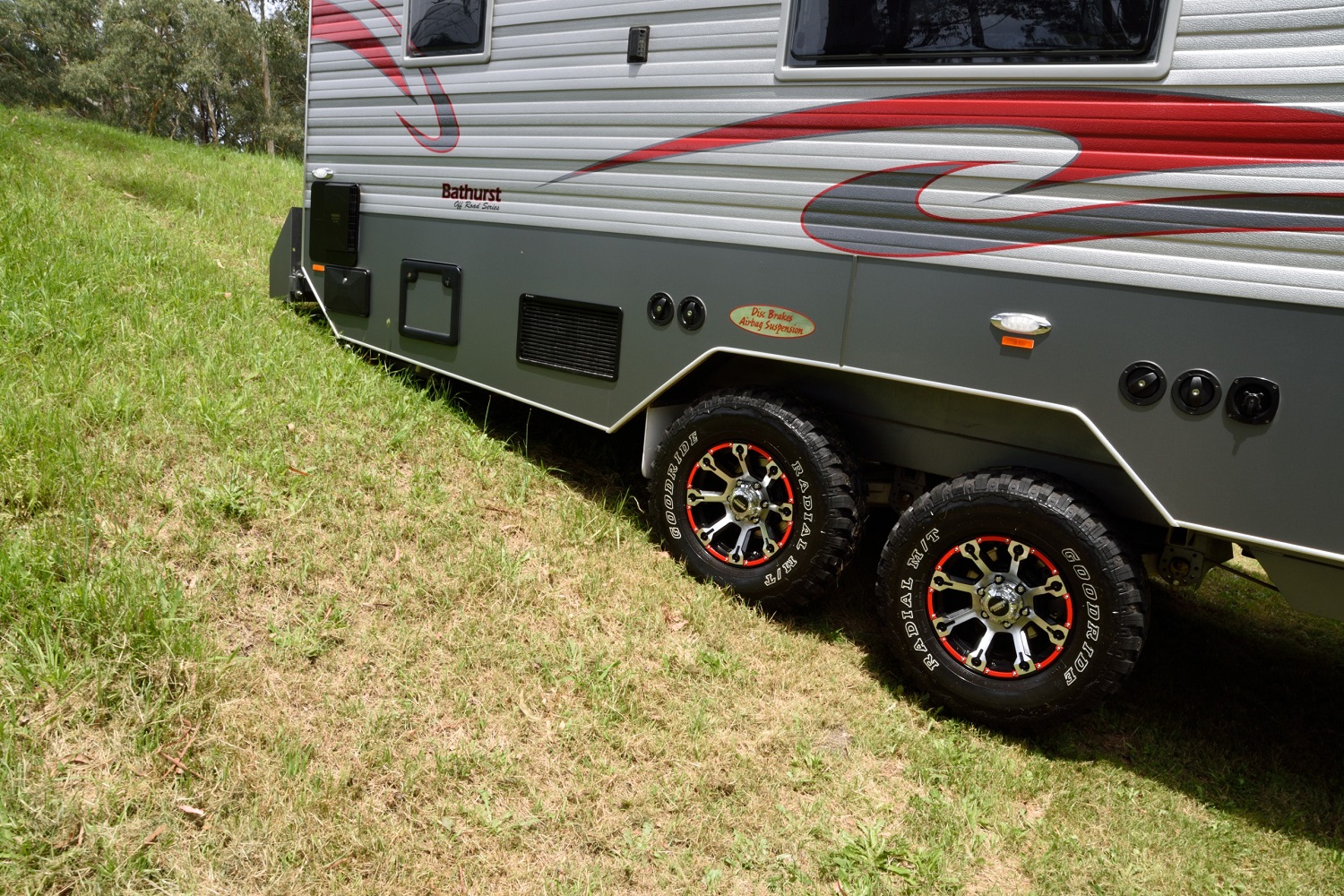 VERDICT
On Judgment Day, the Bathurst Off-roader stood tall and strong. As I said at the start, it takes a lot to get me genuinely excited about a van – and this van did it! It's big and rugged-looking with a touch of class that gives a superior fit and finish amid a very well-appointed interior. Halen Vans, you really got me with the detail in the electrical system which utilises some extreme technology to run the van – from the aircon unit to the microwave – without the need for 240 volts. This is my Panama. While this pleasure dome comes at a price of $140,000, the whole package is simply brilliant and well worth a gander for anyone wanting to get lost in this great land… happy trails!
SPECIFICATIONS
Overall length: 8.9m (29ft, 2in)
Overall width: 2.5m (8ft, 2in)
Tare weight: 2980kg
ATM: 4500kg
Ball weight: 300kg
Price as tested: $140,000 drive-away ex Melbourne
PROS  
Ability to free camp
Amazing battery power
Off-road ability
Full custom build
CONS  
Wait time for a build?
The bed height is high to cater for the battery
For more information click here
Words and Images Anthony Kilner.