GOING FOR GOLD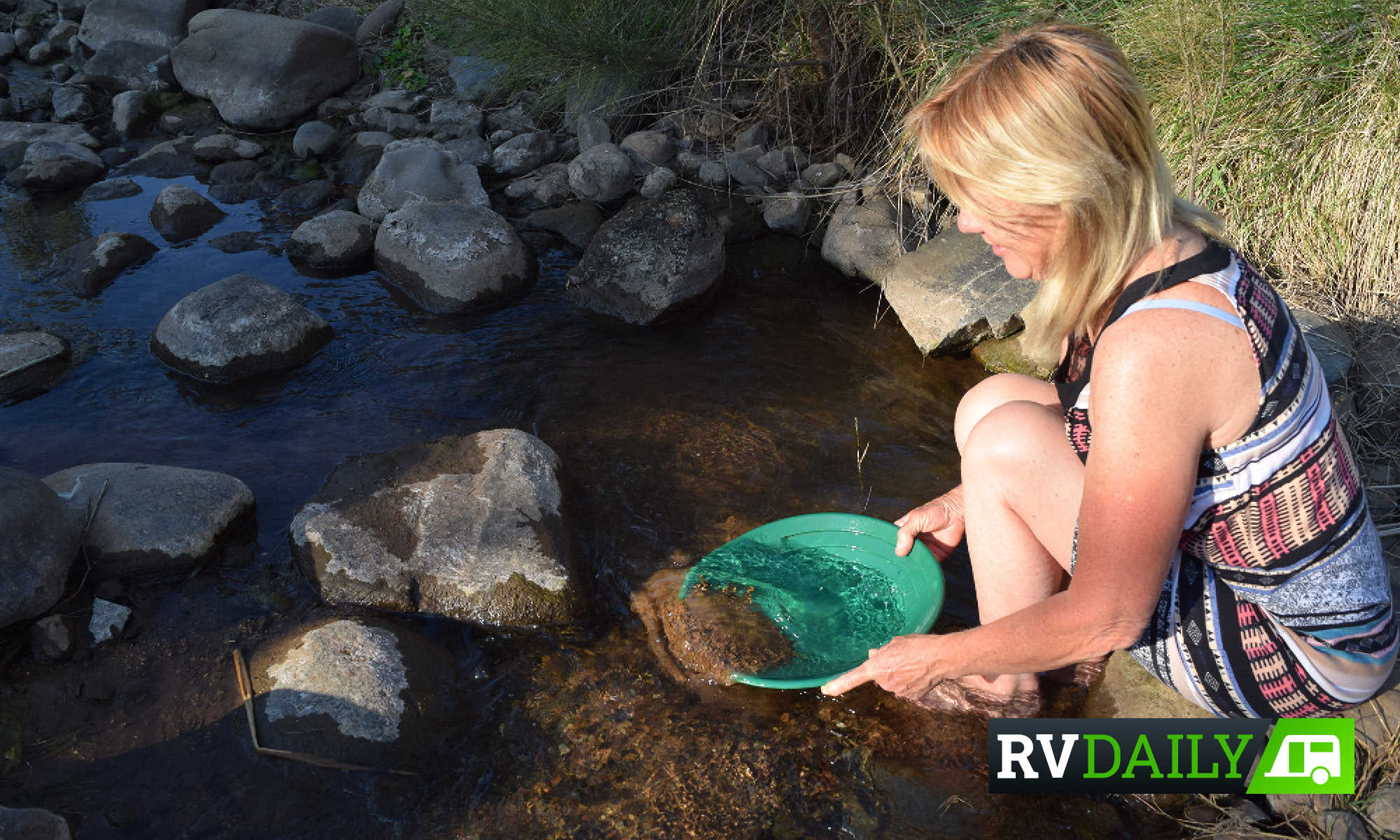 It's been a while since the last big nugget was unearthed in Nundle, but luckily this little village is a real gem
We'll bet every ounce of gold we found in Nundle that'll you will book another night's stay in this quaint little village!! A bold offer, but one we're prepared to stand behind.
Why? Well you just can't drive through Nundle and not be impressed, so once you're here you'd be a mad miner to not stop and look around. And that's how Nundle started back in 1852. A glint of gold sparkling in the clear mountain water set off a flurry of mining activity that remains evident today.
The people of Nundle now include descendants of that gold rush era as well as visitors who just fell in love with the beautiful countryside and relaxing atmosphere. A warm welcome is assured on arrival, be it at one of the many B&B's, picturesque camp grounds or the tourist park in town. The township is small enough that you can wander among the old buildings and attractions for the most part, making it a really enjoyable way of meeting the townsfolk and seeing the unique nature of this place up close.
A visit to the Information Centre is obligatory as it is also home to the Gil Bennett Rock and Gem Collection, an astounding array of raw and crafted geological pieces that will delight the eyes. There you can also talk to some of the most informative and knowledgeable folk around town, and get a few extra tips on places to see and when.
Walking straight out of the driveway of the information centre will land you in front of the Volcania Art Glass Gallery, home to local artists Linda & Mark Floyd. This quaint town has attracted many talented artistic people over the years, and is quite evident across the windows and walls of every place you visit. Your walk around town will no doubt take in a number of cafés, as each offers its own unique fare.
A visit to the Mt Misery Mining Museum is a must, as is sampling some of the local rainbow trout (hint, hint) at the sprawling café. The original stone structure on the corner started as a miner's cottage, but he became the local undertaker after he realised making coffins was a better use of his carpentry skills, and business was good in these tough times.
If soaking up the history is your thing, then this walk through old diggings and tunnels and around hand-dug shafts and mining tools will keep you busy for hours. Old posters and letters adorn the walls, sending your mind back in time so you even start talking as they did back then. Only the bright sunlight upon emerging from the museum smacks you back to reality.
After your pupils shrink back to normality, wander a few more metres down the road and visit the Nundle Woollen Mill. This place is more than just unique, its extraordinarily historic and yet fully functional.
The woollen mill is the last operational type in existence in Australia, using machines over 100 years old. Nick Bradford has carefully restored these old machines, some first built in 1914, and now produces some of the most exceptional textiles in the country. From using Australian wool bales, to the spinning and yarn processes, the dyeing of colours in-house, to the presentation of finished garments and accessories. It all happens here and it is amazing to see.
Note: For this photography we were very fortunate to be allowed an exclusive up-close look at the machines and processes, however visitors can still see the very workings of the mill via an open mezzanine structure above.
If you haven't seen enough unique and interesting artisanship yet, wander around the corner to the Odgers and McClelland Exchange Stores. This is just one of many places that will lure you inside, and hold you incredulous for endless hours.
The old building itself has an atmosphere of its own. Have you ever sat in a brand-new car and let that fresh leather aroma just sashay through your nostrils? Well its like that, but old smelling, delightfully old smelling.
By now you are probably getting thirsty, real thirsty. Just so happens the pub built in 1860 by William McIlveen still stands on the corner as it did when the thirsty gold miners returned from their diggings. Bill was a betting man and although the gamble to build a pub on the chance of gold prospecting pioneers striking it rich may have worked, his gamble on a card game went awry and he lost the Peel Inn to John Schofield. The Schofield family still own and run the pub all these years on, a testament to their own perseverance and fortitude.
Now you will find an award-winning beer garden and friendly service that befits a country pub with such a proud history. Even the local hound dog will greet you inside, if he can be bothered.
If you're thinking you've covered it all and ready to sit back and relax for the day, well sorry, not yet. Remember that bet we made earlier? You had
best book another day at least, as there's lots more to do.
Only a short drive from Nundle will take you to a number of interesting, unique and scenic places, the best being Hanging Rock perched hundreds of metres above Nundle. It's a very winding steep road, so not highly recommended for large or cumbersome rigs, you have to come back down! But the view from up there is awesome.
There are many bushwalks you can do and historic features to check out, including the memorials to the folk of the world renown Ashton Circus. The circus first visited Hanging Rock in 1852, but James Ashton's wife Mary died along with their newborn child during the visit, now forever immortalised at Hanging Rock cemetery.  
If you like the idea of reserving a quiet camp in the mountains, the Sheba Dams campgrounds is very picturesque, has most facilities, and is perfect for a bit of easy kayaking or fishing as it is stocked with rainbow trout.
The other notable campground a short drive north of Nundle is the Bowling Alley Point Reserve situated on the banks of the Chaffey Dam. And of course, there's the fossicking options in and around Nundle. There are some rules to abide by and places you can and can't go, but the tip about visiting the Visitors Information Centre will prove very fruitful for ambitious fossickers.
Now for those who take us up on our bet, not for the pub but the one about the gold and staying an extra night, let me just say you won't get rich from our fossicking efforts. But I still bet you'll stay another day in Nundle. It's a gold mine of history, scenery and the friendliest folk you'll find anywhere.
DESTINATION DETAILS
There are a couple of routes to consider when heading to Nundle.
From Sydney, the turn off at Lindsays Gap Road, about 8km north of Wallabadah on the New England Highway, is the shortest option but very winding and steep in sections. Recommended for more nimble vehicles and vans.

An easier but considerably longer route is heading south from Tamworth using the Nundle Road through Woolomin. Recommended for bigger rigs and the few extra kilometres is worth it. This is also the best route if travelling from Northern NSW.

Nundle GPS Coordinates:




31° 28' 0" S, 151° 8' 0" E

Elevation: 609M

Ideal time to visit: Spring, Summer, Autumn

Information Centre: 103 Jenkins Street, Nundle

Many shops and tourist outlets are closed on a Monday, and on other days open hours vary from around 10am to 2pm-4pm closing.