If you want to get the most from the Camps Australia Wide smartphone application, here are four essential tips to get you started.
Camps Australia Wide is an Aussie-owned business that has been producing guides for Aussie travellers since 1992. The CAMPS book is Australia's favourite camping and RV travel guide known as "The Traveller's Bible" and is now in its 11th edition. They also produce the equally popular Camps Australia Wide App and a lot of their customers have been transitioning to the electronic edition.
The app has everything you need to plan your camping holidays around Australia featuring free and low-cost camping, station stays, national parks, state forest parks, rest areas, showground camping, hotel and pub camping, as well as all the tourist caravan parks throughout Australia. There are over 950 public dump point locations with addresses & GPS coordinates – includes symbols for cassettes, holding tanks, if there is access for big rigs or if a fee is applicable.
If you're having trouble converting to the new fancy technology, owners Heatley and Michelle Gilmore have offered these four essential tips to get the most out of the Camps Australia Wide app. 
TIP 1: Search & Apply Filters
 
Using the app, you can explore new camp areas and caravan sites by simply searching for a town, national or state forest park using the search bar at the top of the Map.
 
Then apply the search filters to narrow down your options by site type, price range, amenities, vehicle types, facilities, pets, connectivity and more.
 
Or if you already know the name of the place you want to visit, but are unsure if it has what you need, simply search for the name and open to view the latest verified information about that site.
TIP 2: Use the Trip Planner
 
Planning your stays and stops in advance has never been easier with the Camps Australia Wide in-app Trip Planner.
 
Simply tap the Save to Trip icon when viewing a listing and start building your trip!
 
You can save information for multiple trips in advance, or even create a bucket list trip for all the places you wish to visit but haven't yet been to.
 
Once you've created your trip you can view all stops on the Trip Map and refer back to your trip at any time to remember where you've been.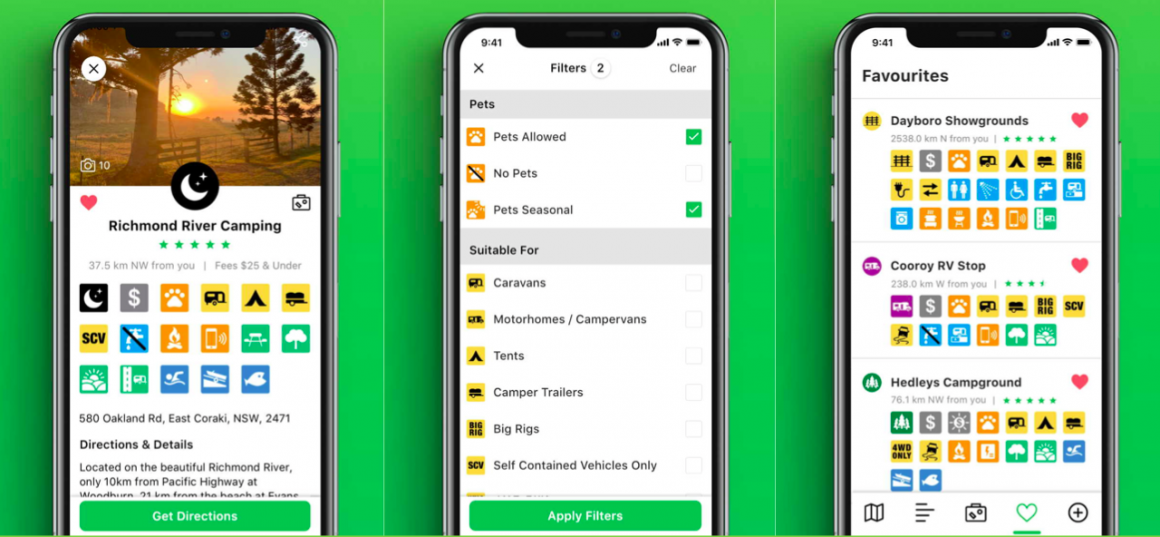 TIP 3: Download 'Offline' Maps & Content before you go
 
How do you access the app's content without a phone signal or WIFI you ask?
 
Well, don't worry about being left out in the open, simply download the relevant offline data to your device before you depart.
 
That way, no matter where you are, you'll always have access to all the latest caravan park and camp area locations, directions and site features when you need them the most.
 
Tip 4: Need Help? Just ask!
 
Remember, if you get stuck and need a helping hand, or if you have questions about Camps Australia Wide, you can always contact the team by sending them an email at info@campsaustraliawide.com or visit the website.
Safe travels.
More reading: DIY Motorhome Build – MAN Extreme Off-Roader