Coromal Caravans are now manufactured by Apollo Tourism & Leisure at the brand's Northgate factory in Brisbane. Under this new ownership, five new Coromal models have been launched in the Pioneer and Element range.
Apollo aims to reinvigorate the Coromal nameplate following its purchase with stablemate Windsor from WA's Fleetwood RV in mid-2018, and says its unique approach to manufacturing will be a refreshing change in the caravan industry, in which 90% of vans are manufactured within just a few suburbs of Melbourne. The Coromal and Windsor names have been around since the 1970s, being a stalwart of the Australian caravan scene. And despite the 2018 launch of the strikingly designed Coromal Element Evolution, reputation wavered in recent years; new ownership provides an opportunity to take the concept, design, hardware and apply authority to the production process and oversee improvements.
"We know that the Coromal brand is iconic among Australian caravanners and Apollo is excited to build on the brand's legacy and continue to invest in local manufacturing," said Apollo's Managing Director and CEO, Luke Trouchet.
"We have committed extensive research and development in integrating the previous Coromal manufacturing process in Apollo's existing construction methods and materials," he added.
NEW AND IMPROVED MANUFACTURING STANDARDS
RV Daily editor, Tim Scott, was recently a guest of Apollo at their Brisbane factory. As Tim toured the factory, he saw how Apollo's process of quality control uses a barcoded system that tracks the van, the steps and even the project team member through each stage of the build. This not only means that shortfalls in expectations are able to be pinpointed, but efficiencies are identified and implemented. With the various production lines operated in a flowing movement it also means staff are trained across all stages of builds on several (or all) models rather than an older style bay-build where one staffer took on the whole single-model project.
Tim also saw a constant stock replenishment system, that speaks for itself in terms of supply, and new lifting mechanisms that meant roof sections requiring hatches and fittings were dealt with at ground level and then safely hoisted into place.
The new Coromal models of Element and Pioneer in off-road and semi off-road format still use a composite sandwich panel for the body and the one-piece roof section. However, to further control the build process Apollo is about to supply and cut the material panels on site with newly installed CNC machines.
Apollo's build improvements relate to electrical wiring and plumbing changes as well as the reduced chance of water ingress via better sealant processes.
One feature that drew Tim's attention with the original Element Evolution was the frame. A weight-saving, hi-tensile 550-grade steel, rivetted chassis bearing the name of its origins: Fleetwood RV or FRV, and this has been retained alongside the wishbone suspension.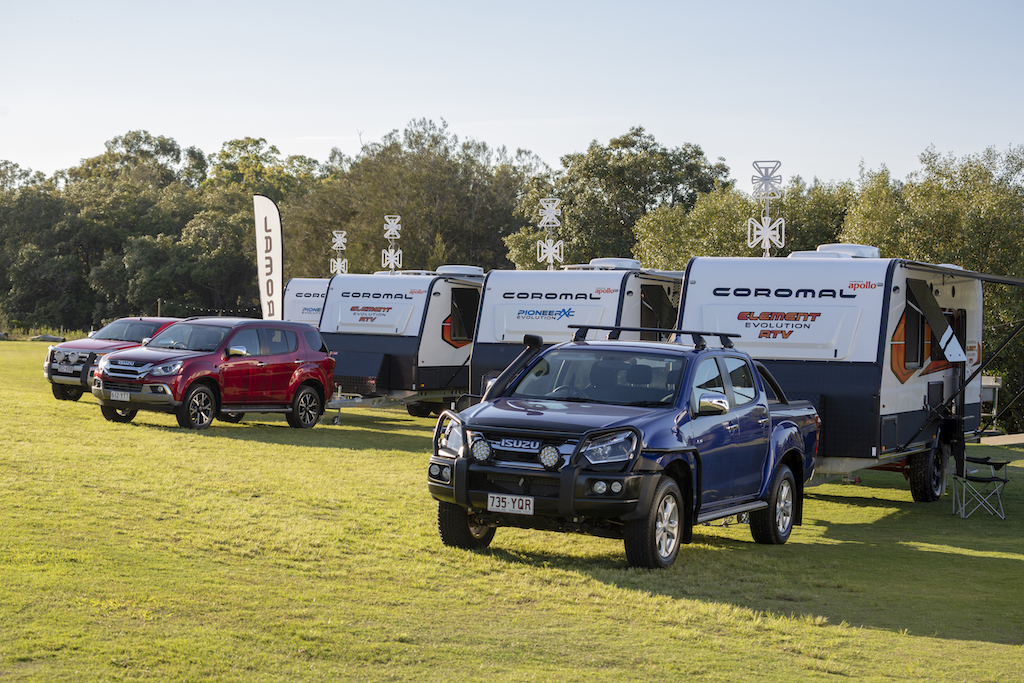 NEW 5-3-3 WARRANTY
In a system akin to the automotive world, and rare among RVs, Apollo now offers its 5-3-3 warranty on Coromal vans built by them. This is: five years structural guarantee on all parts of walls, window fitment, floor and roof; three years body and interior guarantee on all parts of the interior build including cabinets, furniture, framing and wet-area fittings, and three years' roadside assist. This is supported by Apollo's 1600 service providers across Australia.
TRIED AND TESTED
"Apollo's construction methods have been tried and tested over thousands of millions of kilometres on our rental fleet and under the Winnebago name," Luke Trouchet said. "We have confidence in the recreational vehicles we manufacture, which is why we have created the Apollo 5-3-3 warranty program, adding further peace of mind to the buying decision for customers." Apollo has recently achieved industry RVMAP accreditation for the Coromal vans.
In addition to the five new models launched under the Pioneer and Element range, Coromal currently has new models in production from the much loved Appeal and Princeton ranges.
Click here for more information.