Replace boredom with education and entertainment to keep the whole family entertained while you camp this summer
Camping is about experiences you can't get at home. The last thing you want to hear is "I'm bored"! With a little forward planning, you can beat the boredom and guide easy, educational and fun science and nature-based activities for kids almost anywhere.
Boredom Blaster Day Activities
Boat Race
A race brings out the competitive streak in all of us. But did you know it can also be used to demonstrate the erosive power of water? This is a great first activity to keep the kids occupied while you're setting up, but remember that children must always be supervised around water.
What you'll need
– A boat brought from home or made from almost anything that floats, e.g. bark, a plastic bottle, etc., but make sure they're similar in size and shape.
– A print out of this diagram:
– Long sticks or broom handles to launch boats into the water
– Flowing water
Instructions
Stage boats in a line from the water's edge to the middle, release and watch what happens. Which boat won? Look at the diagram together and try to work out why. Now move further along the bank and ask the kids
to choose the area of fastest flow. Remember not to leave anything behind when you finish.
Tip: Don't have flowing water nearby? Kites are great for demonstrating wind direction or build paper planes to understand aerodynamics.
Treasure Hunt
A good old-fashioned treasure hunt is a great way to keep the kids out of your hair while filling them with a sense of accomplishment and perhaps a reward.
What you'll need
– 'Treasure' (gathered from local sources)
– Markers
– Lollies (optional)
– Paper map printouts (to be drawn on) or paper (to sketch a map on)
– Backpack (to bring back finds)
– Sticky tape and Blu Tack (optional)
– Camera/camera phone (optional)
Instructions
This activity does require some prep. You'll need to do some reconnaissance of the area – look for unique objects that you might not find elsewhere. Mark them on the map/sketch a map. Optionally, tape or tack a wrapped lolly to them as a reward. Even better, rather than disturbing the object, ask the kids to take a photo as evidence. Bigger kids might enjoy a selfie scavenger hunt where the most creative selfie with the object wins. It also gives them some Snapchat/Instagram fodder.
Tip: Remember to leave no trace and take any man-made objects home with you.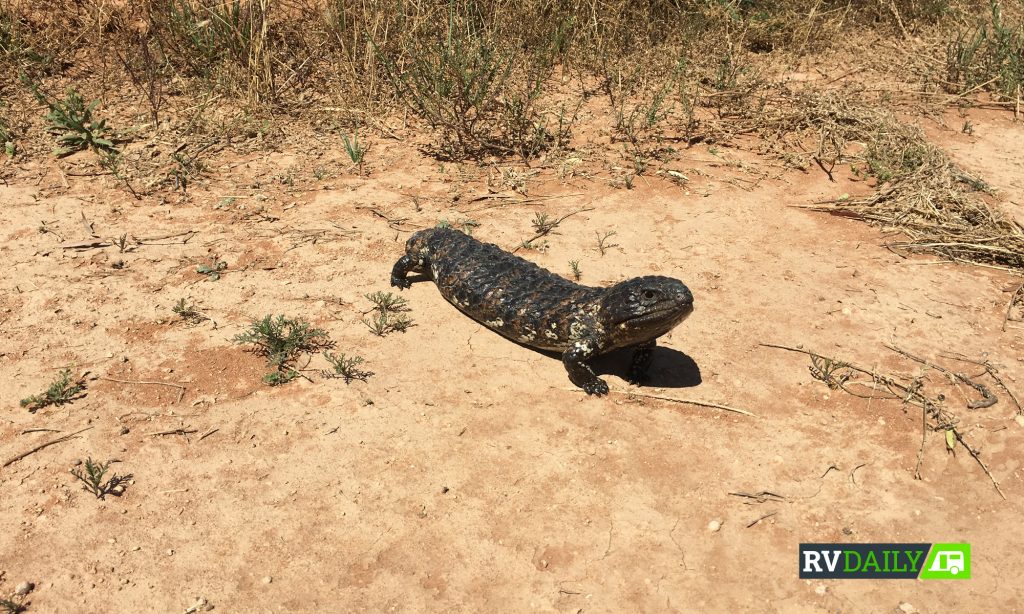 Animal Spotto
Animals are amazing, and you'll scarcely find a kid who isn't fascinated by them. Take little scientists on a fauna survey to show them diurnal (day-active) animals. You might also decide to survey a specific group of animals,
e.g. birds or mammals.
What you'll need
– Pen and paper
– Local guide book
– Binoculars (optional)
Instructions
It pays to do a little research on the area before setting off so you know what you might bump into. Now is a good time to remind kids to appreciate animals from a distance. If you disturb them you're less likely to observe their natural behaviour, and some animals can be dangerous. Encourage children to use all the senses. Can you hear or smell the animal? What are the animals doing? Does their behaviour change throughout the day?
Boredom Blaster Night Activities
Fire Science
The old bush telly is pretty amazing. It keeps us warm and cooks our food. Why not show the kids respect for fire and some of the amazing things it can do?
What you'll need
– Wood, kindling, fire starters and matches
– Stuff to make jaffles
– Marshmallows
– Long sticks
– Coloured fire powder
Instructions
Dig or use a regulation firepit, then build a fire like so: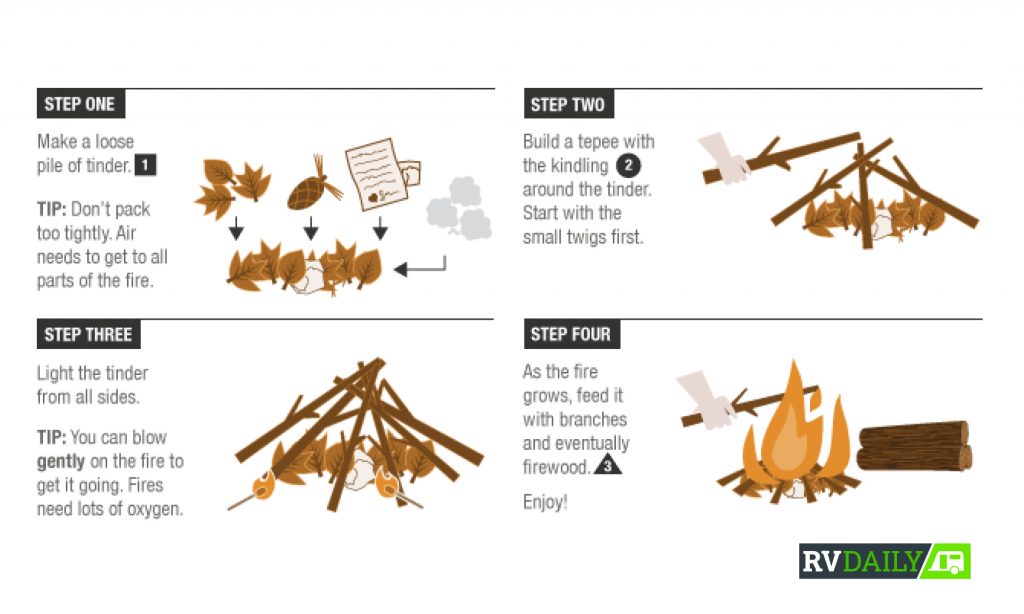 Adhere to the regulations for the area and make sure the fire is completely out with water and cool to the touch before leaving. Once you've got the fire going, get all of the food activities out of the way before play. Involve the kids in filling their jaffles and toasting their marshmallows. Now they're full of sugar, pull out the magical coloured fire powder and watch their faces light up. Different chemicals and compounds produce different colours when burned and look really cool!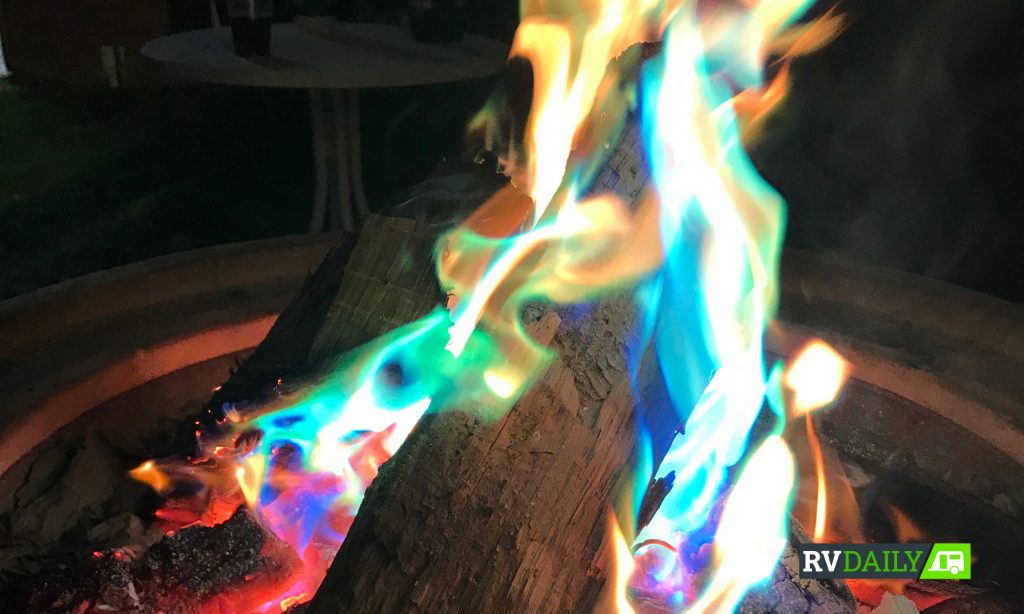 Spotlighting
Spotlighting is something real scientists do on fauna surveys to look for nocturnal animals. Can your budding little scientists identify an animal from its eyeshine? Are they different from the animals you saw during the day?
What you'll need
– Spare batteries
– Pen and paper
– Local guide book (recommended)
Instructions
Scope out the best areas to look during the day, and make mental note of any hazards on your planned route. Look in the canopy, trunk and in hollows. Also look on the ground, as not all nocturnal animals will be in the trees.
Once you've spotted an animal, don't keep shining bright light in its eyes. Switch to low intensity, cover with red cellophane or use 'red mode' to protect the animal's eyes; take note and move along to look for more animals. A guide book appropriate to the local area can help you narrow down the exact species.
Star Gazing
The night sky holds endless wonder, and it's so much better without light pollution. You might even spark an interest in a budding little astronomer.
What you'll need
– A stargazing app (download before you go away) on a device. Examples: SkyView Lite, Night Sky 2, Planet Finder, ISS Spotter. Try a few out and see what you like.
– Camp chair
– Telescope (optional)
Instructions
Each app will have different instructions and reveal different facts, but the objective is to identify different objects in the sky; our moon, satellites, stars, planets, galaxies and more. If you've brought a telescope you'll get an even better view. Repeat this activity over multiple nights and see if the kids can spot the same astro objects.
Tip: Why not combine with astrophotography and night photography? Check out this photo taken by Lily Grant (age 14).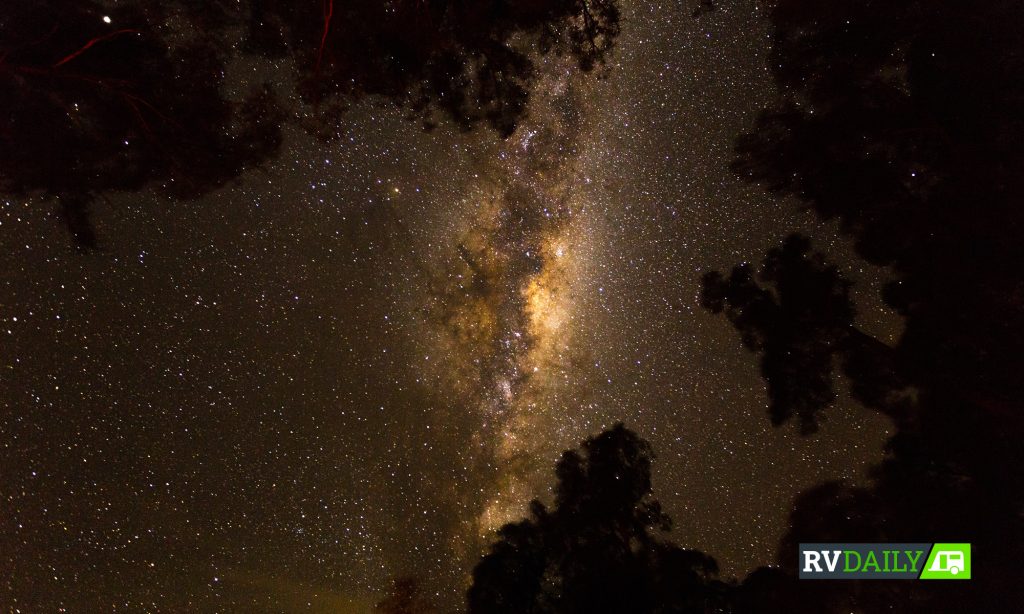 Words by Juliette Remfrey.