Cyclone Trevor decimates the Gulf Country's working stations. Huge rains turn Queensland's Channel Country into a stinking, mass bovine cemetery. Fires rip through Victoria's Gippsland. The best part about travelling in an RV is that plans are changeable and a bit of wild weather might put you in a bother for a week or so, but you can always drive out of it given a reliable weather app and a steady internet connection. But once the damage has been done, it can be difficult to know whether retracking your route into an environmentally savaged area is helping or hindering the very community you are there to visit.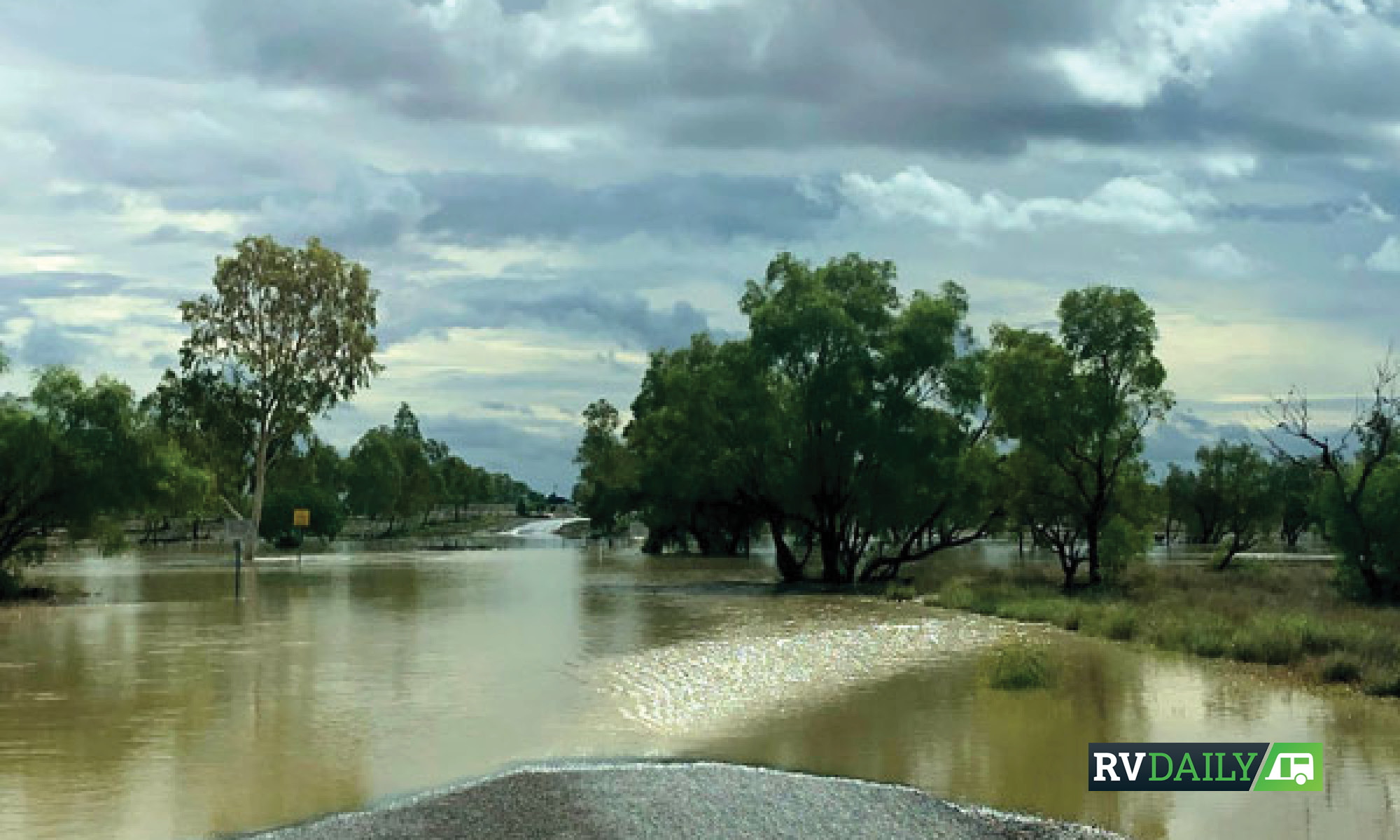 THE VINEGAR INCIDENT
Rolling up into a North Queensland caravan park as the last green leaves fall from the latest cyclone and asking whether the camp kitchen has a coffee pod machine ("Also, is there a Nespresso shop nearby?") will undoubtedly get you a snort of incredulity. At best, you might receive a not-so-ambiguous telling off or if you choose not to ride out of the area, a $243 fine as some caravanners experienced near Airlie Beach thanks to Whitsunday Council officials when parked in a 'legal' illegal camping zone in the aftermath of Cyclone Debbie. Thankfully though, stupidity in the no-nonsense belt of outback Queensland is simply paid with a withering stare as I found out on a recent visit there.
Upon lifting the caravan park washing machine lid in Queensland's outback jewel, Winton, the bore water smell hit me in the face with the full force of a rotten egg. Washing waits for no man or woman, however, and armed with my East Coast town-water sensibility, I trudged up to the local grocery store for something to mask the sulphuric smell that would inevitably infiltrate our clothes; would lavender oil or perhaps a dash of vinegar to neutralise the smell work? And what better source of information than from the lady manning the till, a local who would be au fait with the ways of washing in Winton! She looked at me as though my second head was the least of my worries, lowered her glasses and said, "Why would you want everything to smell like vinegar? We just wash it and let the wind take anything YOU might smell out of it". Winton 1. Me -2.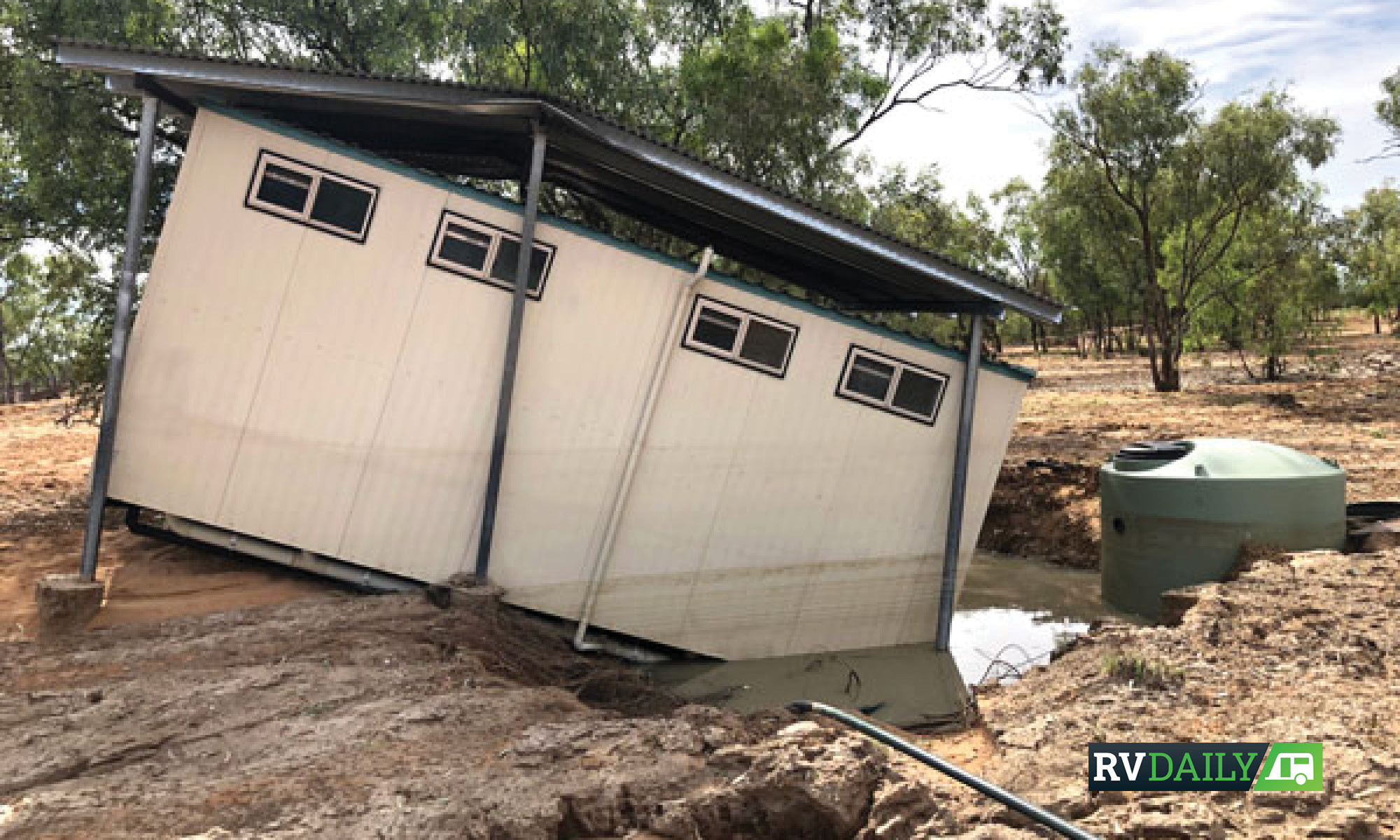 HOW CAN WE HELP INSTEAD OF HINDER?
On my way back to the caravan park, I reflected that for a town sitting in yet another year of drought, a blow-in breathing precious oxygen with peculiar ideas about how to get clothes cleaned might be a bit hard to take. On the one hand, I'm placing strain on the community's precious resources, but on the other, spending my cash here (not the bit I didn't use to buy vinegar) is vital. Businesses in ailing towns welcome the caravanning dollar, all $4.6 billion of them on an annual basis. According to some, the anecdotal evidence alone suggests this expenditure is preventing some areas from drying up and dying out completely. Rin Klasen of the National Association of Caravan Clubs says that the RV community undoubtedly helps keep towns afloat, citing the closure of the Julia Creek RV Friendly Site in February this year due to flood having a clear economic impact on the town itself.
"The business community couldn't wait to say 'we're back open for business'," he said, such is the injection from the RV community from this donation-only campground. For small country communities, the introduction of an 'RV Friendly' sign just outside of town and corresponding facilities can be a boon for their localised economy, something large tracts of central and southern Queensland (over 65 percent of the state) are aching for as many shires enter their sixth year of drought and attempt to recover from various other recent natural disasters.
February's floods inundated vast swathes of cattle country in Queensland and the Northern Territory, with stations throughout the outback devastated with an apocalyptic loss of almost 700,000 head of cattle, 10,000km of fences and 15,500km of private roads damaged according to AgForce spokesperson Andrew Freeman. Spending a few dollars in the local bakery as you whizz through these towns on your way to the next touristy destination unequivocally helps these ailing communities, but there are a core group of RVing individuals who are Next Level when it comes to lending a hand.
"For small country communities, the introduction of an 'RV Friendly' sign just outside of town and corresponding facilities can be a boon for their localised economy"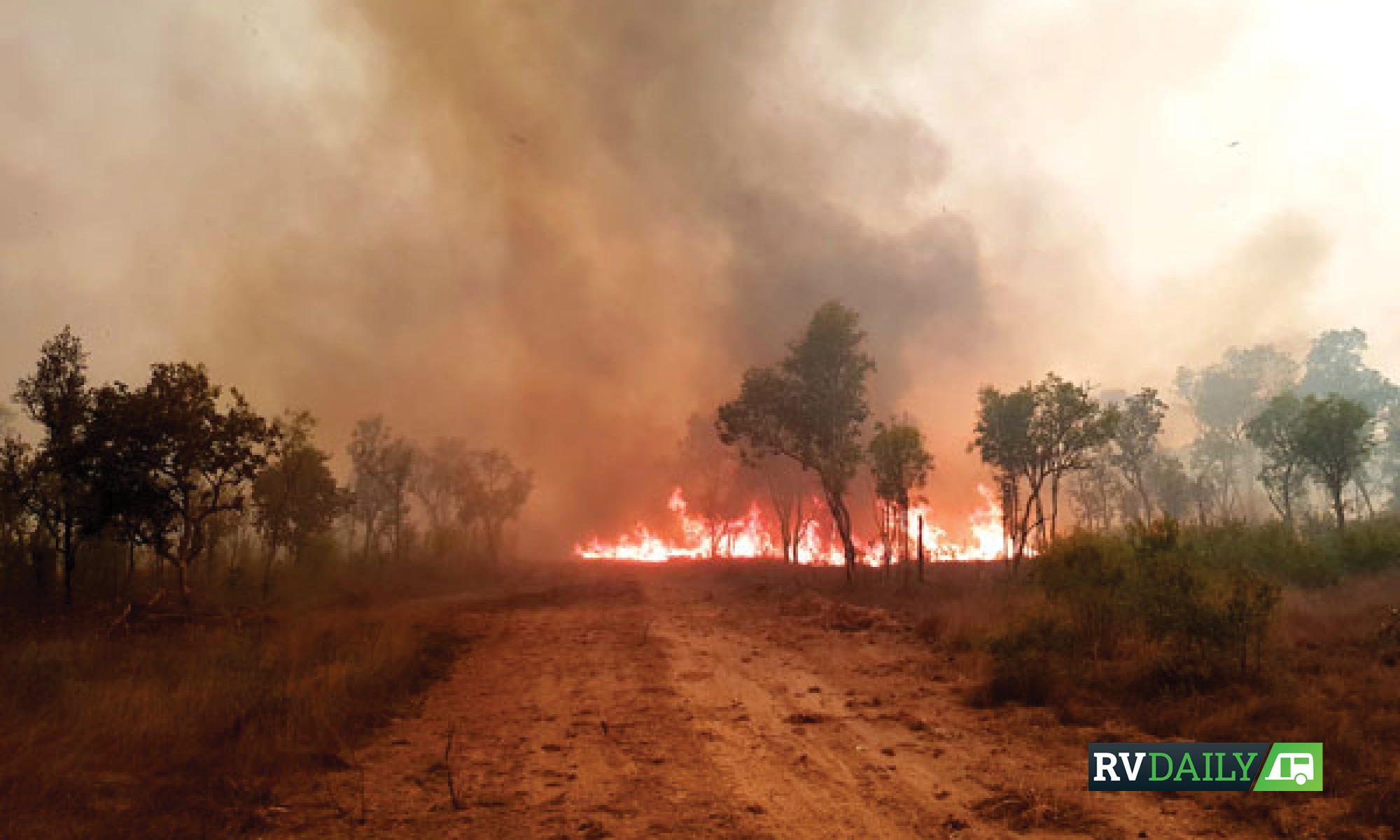 THE VOLUNTEERS BLAZING THE WAY
Kevin Butler from BlazeAid, a volunteer organisation working with families and individuals in rural Australia after natural disasters such as fires and floods, are ostensibly helping to 'rebuild fences', but are more accurately injecting much more to the recovery efforts of those effected and indeed, into their very own lives. With RVers making up the vast majority of volunteers in BlazeAid's numerous camps throughout Australia, Kevin believes that physically lending a hand to devastated communities "is a no-brainer".
"BlazeAid are a core group of RVing individuals who are Next Level when it comes to lending a hand"
With self-sufficient RVers given a place to park and a meal or two at this year's base camps like those at Winton in Queensland or Bunyip in Victoria, volunteers are then sent out onto properties to help with flood recovery or rebuilding after fire, mostly with destroyed fences though the multitude of skills possessed by travellers is put to good use also.
"An ex-school teacher might help the kids with School of the Air so mum can get out and help on the property or a volunteer might do the cooking so there's one less job for these farmers to do in the evening." And apparently the RV community are an incredibly giving mob, with volunteers performing 8939 days of work on 266 different properties in 2018 across fire-ravaged Dunedoo and Bundarra in NSW, Cobden, Terang and Macarthur in Victoria and storm-affected Murgon in Queensland. Kevin's advice to RVers travelling across ravaged pockets of Australia is to simply get involved: "Staring at two white lines, driving around the country with just you and your wife … it gets a bit boring! Life is camaraderie, get a real taste of a different kind of life in Australia and do something to help the quality of lives of others, and yours will improve too".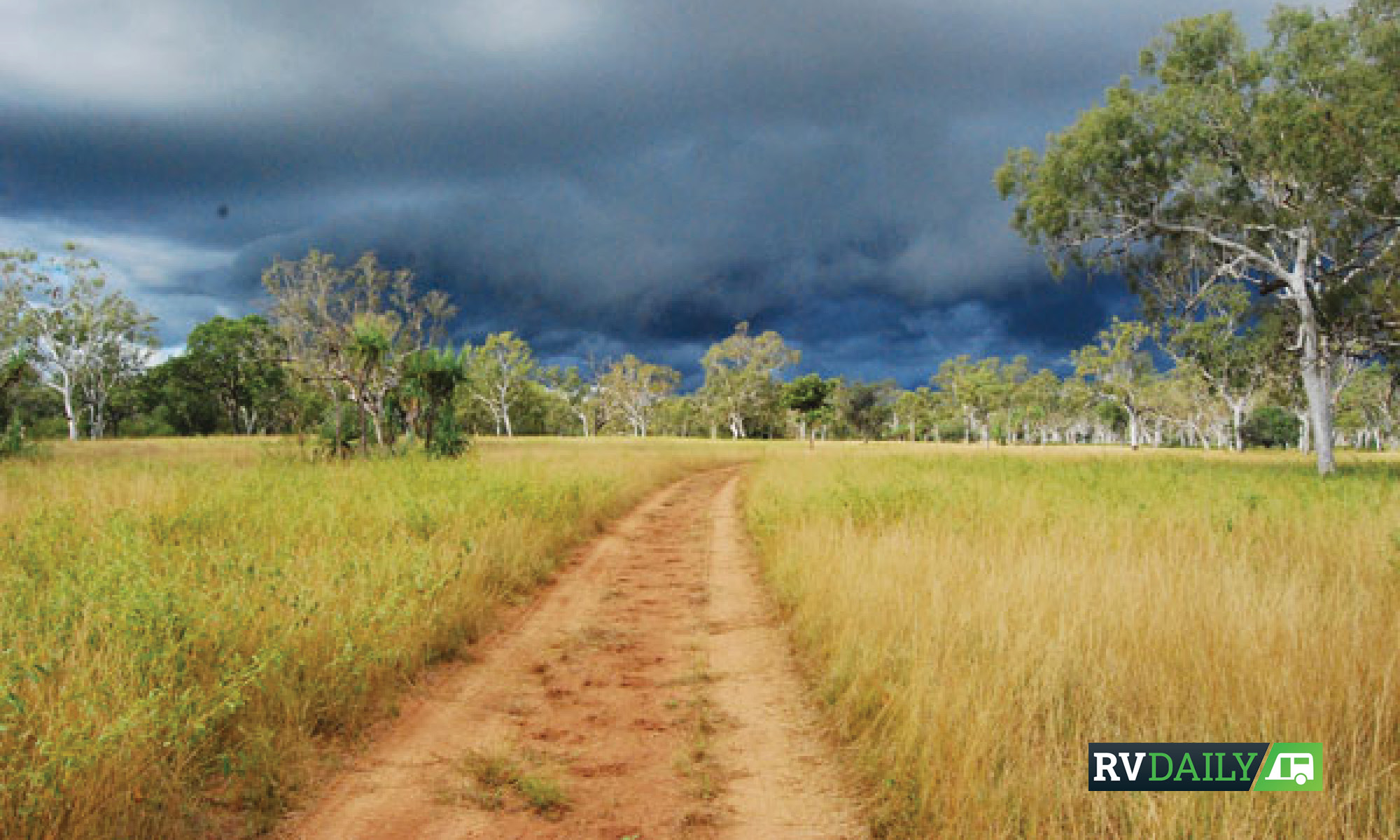 DON'T BE A FAIRWEATHER FRIEND
For those travelling the highways and byways, changing plans on the basis of the weather, Rhett Walker of the Northern Territory's Lorella Springs Wilderness Park suggests that RVers simply need to contact their destination directly to get the full picture of weather 'affected' areas. With his beloved one-million acre property, a camping haven for off-roaders, a surety to be hit by Cyclone Trevor according to the BOM earlier in the year, Rhett evacuated his team only to return to the Lorella Homestead to find a paltry 12mm of rain had fallen with just a faint breeze to match.
"Cyclone Trevor didn't do anything to us," he said, but the rumours "that we'd be underwater and flooded" did the most damage, with caravan and camper numbers uncharacteristically low. "People have just stayed away." On the flip side, the Northern Territory's 'bad' wet season has water-chasing travellers avoiding the dry Top End, compounding Lorella's patronage woes despite the property having plenty of water about.
"We're spring fed, but that's also why we talk to people travelling onto Lorella, telling them the best spots to visit, we want them to have the best possible experiences," despite what the weather's doing.
Travelling through drought-affected areas?
Here's how to be of most help (and avoid those withering stare moments):
» Shop in local stores
» Visit local attractions
» Limit water consumption
» Don't wash your RV because: dust
» Explore the smaller towns off the main highways
FINAL THOUGHTS
It's a harsh land of extremes, but in that lies the beauty of Australia and the very nature of its character. Buy the coffee, look around the town, speak to the locals and help those in need with your time, skills or your dollars. Just don't ask stupid questions about vinegar.
HOW YOU CAN HELP NOW
Want to be a BlazeAid legend?
Kevin says the volunteering necessarily coincides with the bushfire and storm season of December through to June. Check out the website for volunteering or donating details. www.blazeaid.com.au