Avida's Ceduna Now Has Multi-Terrain Ability…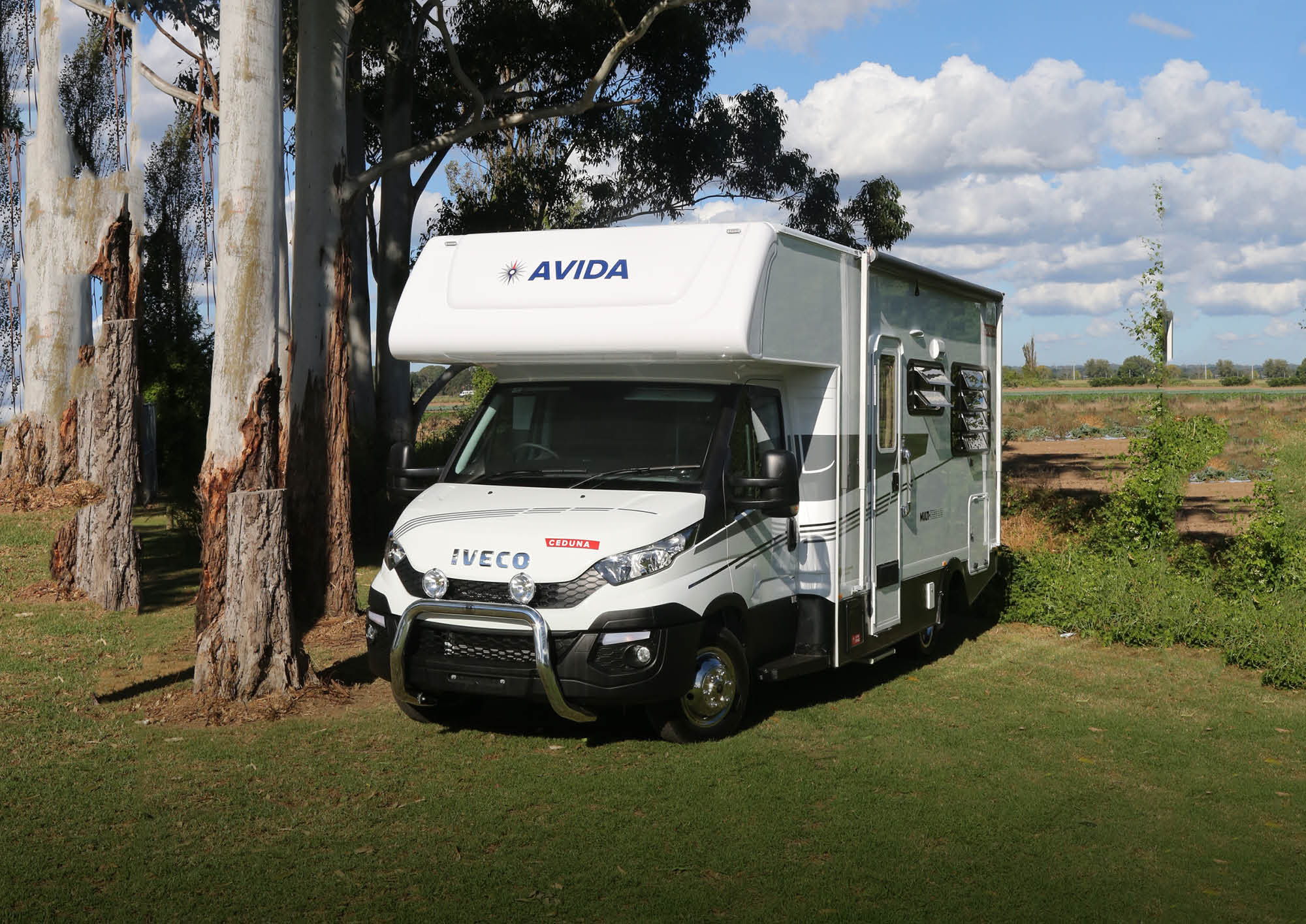 The Ceduna is built on the all-new Iveco Daily and it's a single model in Avida's extensive range. It's a versatile, if conservative, design that benefits from an interior freshen up and the new look Iveco. Importantly, it can be driven on a car licence, as long as you don't want to carry or sleep more than four. Choose the six-seat/six-bed option and you'll need a light rigid (LR) driver's licence.
For images and the full RV Daily experience, read this in our online magazine.
There are two MTP options: with or without diff lock. Both have the standard Ceduna features but are longer – 7.37m versus 7.01m – and get an additional 60L of fresh water over the standard 100L. They also have a nudge bar and driving lights, checker plate with black rear-wall mould inserts, an external barbecue fitting, outdoor hot-and-cold shower, 2 x 80W of solar, a steel rear bumper, and the spare wheel is mounted on the rear wall for extra departure-angle clearance.
Central to the MTP is the Iveco Daily because one version has a diff lock option. Curiously, Iveco only offers it on the lighter rated Daily 45C, which has a 4495kg gross vehicle mass (GVM); basically the cut-off weight for a car licence. The six-seat/six-berth Ceduna (with or without MTP) uses the Daily 50C with a 5200kg GVM, thus requiring an LR licence. To complicate matters it can be downrated to 4495kg if you don't need all the seats/beds or the expense of the diff lock in MTP guise. Confused?
In a nutshell, if you want the MTP with diff lock you can only have a four-seat/four-berth Ceduna. Got it?
Daily Driver
The new Daily – whichever version you choose – has a 3.0L turbo-diesel and comes standard with a six-speed manual. However, automatics are all the rage and Iveco's new eight-speed is a ripper. I doubt Avida will sell a single manual version as apart from anything, it will significantly affect resale.
The new-look Daily has a much more car-like cab and is a pleasant and com-fortable place to view the passing countryside. Visibility is good, as is the turn-ing circle thanks to it being rear-wheel drive, while reasonable ground clear-ance helps its multi-terrain intentions. I didn't get to drive the diff-locked version but the dramatically increased traction should give it real legs in loose, muddy or wet conditions. Ground clearance will likely remain the limiting factor (along with a sense of self-and-financial preservation) but it's a pity a suspension lift isn't available.
The Ceduna has a square and slightly old-fashioned appearance. It's robust, however, thanks to fully welded metal wall, floor and roof frames. The frames have a foam sheet filler that Avida reckons act as an insulator and road noise reducer. The walls are laminated, with an outer fibreglass skin, while the one-piece floor has a plywood sheet on top and metal sheeting underneath, for added protection.
A great feature is its external storage capacity. There are good sized bins at the rear and a smaller one on the driver's side, plus extra bins for the batteries and gas cylinders.
Inside Story 
The Ceduna's layout is dominated by a large U-shaped rear lounge with wrap-around windows that can comfortably seat six. It has a removable dining table that's best for four and at night the lounge converts to a secondary bed. Sec-ondary? Yes, because the main bed lowers from the ceiling above it! Operated at the touch of a button, the bed can be set at different heights depending on whether you have people sleeping below, and left made-up when raised. Along with the optional over-cab double bed, it's how the Ceduna achieves its six-berth capacity.
Squeezed between the entry door and rear lounge, the kitchen is surprisingly well equipped with everything you need – except bench space. There's a three-burner cooktop with grill/oven below, a stainless steel sink and good cupboard and drawer space. Across the aisle, between the lounge and bathroom, is the 190L two-door fridge with a microwave above. Speaking of the bathroom, given how little space it seems to occupy it's impressive just what's been squeezed in. There's a separate shower cubicle, Thetford cassette toilet and a small wash basin, plus a locker above the loo and some shelf space under the basin.
Up front, between the entry door and swivelled front passenger seat, is a truly multi-tasking wall unit. In effect it's a travelling office with a multi-fold table, open storage below and a locker above. In between, the wall supports a maga-zine pouch and a swivel-arm TV. By the entry door, the side of the overhead locker is where you find the control panel for most interior electrical functions.