Are we social media suckers?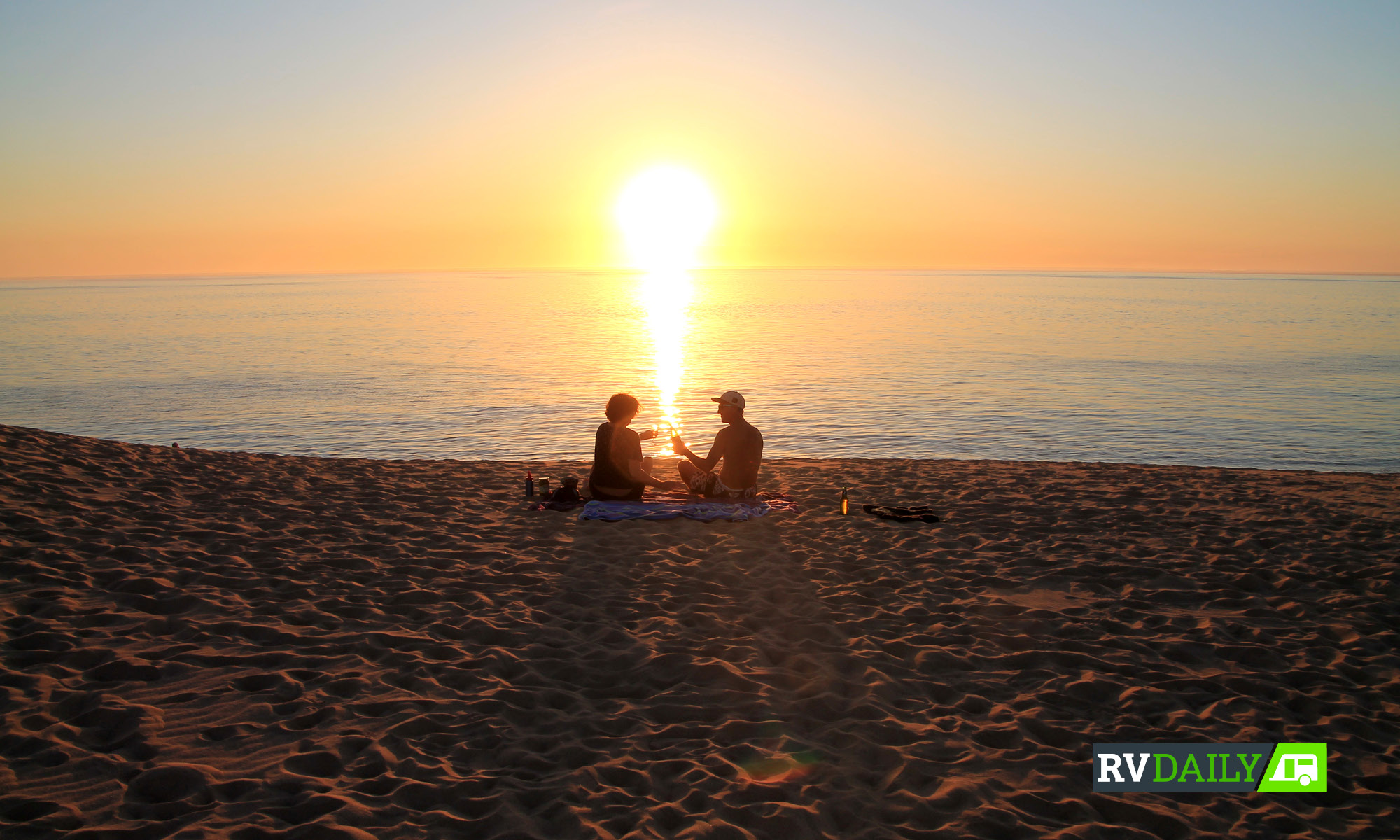 Caravan like nobody's watching. Because they're not. They're checking Instagram and Facebook on their phone
I was sitting on a dune in the Cape Range National Park in WA, watching the sun set on a gorgeous calm Indian Ocean, husband by my side and kids playing in the sand, when the other half turned and said, "Put ya bloody phone down and watch the sunset with your own eyes, ya ridiculous goose!" There may have been a few other choice phrases in there and I was forming my own similarly articulate one when for a brief moment the thought flashed through my mind: he's right. Shock horror.
For the last 15 minutes of this glorious day I'd been attempting to frame the best social media shot, trying out different angles and wishing that guy with the drone would either go higher out of my line of sight or experience engine failure and plummet into the clear blue water. And when would we have access to WiFi so I could post this inspirational photo with its jealousy inducing caption? How many thumbs up, hearts or shares would I get? Who should I tag and who *gasp* might re-gram it to their much more popular account? Why is my husband so irritated by the deep and meaningful relationship I have with my phone and, further afield, a few hundred or so followers? That sunset was not romantic nor relaxing. In many ways, I had hardly experienced it at all.
The prevalence of social media to the RV community in Australia has burgeoned in the last few years in direct proportion to the incredible growth the caravanning and its associated tourism industry has experienced. Once the digital playground of a few wisened travellers, there are now social media groups, pages and blogs for just about everyone and everything, from those travelling with kids or dogs to those only wanting to pull up next to vintage campers, other grey nomads or fellow photography enthusiasts. Then there are the plethora Instagram, Reddit, Twitter and Facebook pages devoted to a Big Lap, regional focus or rig style. It seems every man, woman, child, their pet and rig has a phone and social media habit. But has all this tagging and liking enhanced our caravanning adventures, or are we becoming voyeuristic armchair travellers even as we 'get away from it all'?
Statistically, the short answer is that social media has become a dominant presence in our caravanning lives. Australians are among the highest users of social media worldwide and according to the 2018 Sensis Social Media Report at least 96 percent of Aussies in their twenties and thirties actively access accounts morning and night. The older generations are only slightly less connected, with 86 percent of those in their forties and 66 percent of the 50-65-year-old bracket into the liking and commenting. On average, we spend over one and a half hours scrolling social media daily and love it or hate it, Facebook is far and away the most popular platform.
One such organisation demonstrating our voracious appetite for all things travel online is the immense digital juggernaut of Tourism Australia which is leading tourism bodies around the world in disseminating its travel brand. Almost eight million follow the See Australia Facebook page, close to three million follow the Instagram handle @australia with users tagging their photos #seeaustralia over 3.8 million times.
Considering the 15 million Australians on Facebook and the popularity of travel-based accounts, surely we're not just looking at pretty photos of acai bowls next to a beachside rig tagged #vanlife for hours on end. Perhaps, just maybe, those traversing this sunburnt country are relying on social media for much more: as a means of inspiration, decision-making, connecting and developing communities on the road.
For some like Tracy and Rob Morris or 'The Blonde Nomads' as they're known online, a young family on an endless lap of Australia, social media has improved their experiences immensely. In part, this is due to their thriving travel-based content creation business which relies on the Internet and social media, but it also makes connecting "with other travellers and organise to catch up when you cross paths" much easier, having made "amazing life-long friendships … with likeminded people" on the road. Tracy also credits platforms like Instagram with shaping their travel plans through photos and posts helping to "inspire us to visit a destination".
Heavily invested in projecting the inspirational image themselves, Tracy says, "If there is a great photo opportunity we may prioritise visiting that destination over another." With their business relying on technology, the Internet and developing their social media following, it would seem the Blondies never log off from all this "social influencing", with Tracy admitting that all the sharing and commentating on their accounts can "contradict what we are all about." Being together as a family and getting out in nature are some of their core values, but with a technology-heavy business, unplugging gets "a bit tricky…. We don't want our kids to see us with our phones all the time."
Both Tracy and Rob make conscious efforts to close the laptops, put down the devices and get out and enjoy exploring with their kids: "It's all about finding a happy medium." Unfortunately, though, it's not all happy blue thumbs and rosy hearts come 9pm Saturday night on Australia's social media platforms. According to Matt Sutton, creator of Australia's biggest caravanning Facebook group Everything Caravan & Camping, not everyone's ready to politely suggest the best free-camp near Mallacoota after some relaxing beverages over the weekend.
"Friday and Saturday night once they've got on the drink is the worst time for people getting stupid," with unhelpful comments at best and foul at worst gracing posts by those looking for advice on anything from chemical toilets to caravan parks accepting pets. Matt says he gives would-be trollers a warning before banning them, stating the aim of his Facebook group is to help the "novice eager to learn or an experienced traveller pass on their knowledge," not an open discussion on users' common sense or rig choice. "Not everyone's an expert, just give them a hand. There's no need to be nasty."
While policing commentary is not always pleasant, Matt reckons one of the best by-products has been the friendships people from across the country have struck up thanks to the group. "It's joined people together," with the first real-life encounter attracting 32 separate rigs and the next 120. And he's not always the instigator: "One of the ladies wanted to organise one in Queensland so she did and had 124 turn up in Kilkivan. It's just great!" For those looking for like-minded caravanners and towns like tiny Kilkivan looking for a portion of that tourist dollar, social media is certainly making connections across this wide land easier.
So where does this leave your average Insta-punter keen on sharing their amazing adventure with family and friends back home or the world at large? For Tracy, it's all about knowing "exactly what you want to get out of it." If you're sharing with friends and family, enjoy the process of documenting your adventure, but "don't stress about getting 'the shot' or posting religiously," whereas making a business out of social media by attempting to 'grow your following' is just that: a business with all the hard work that comes with it.
Luckily for me (and my marriage) we stayed a few more nights at Cape Range NP and I was able to act in a much less goose-like fashion at sunset, enjoying the fiery reds and searching for that elusive flash of green as the sun slid into the ocean. We actually saw it one evening – if only I'd had my phone to capture it. #slowlearner