A Motorhome for the Sceptic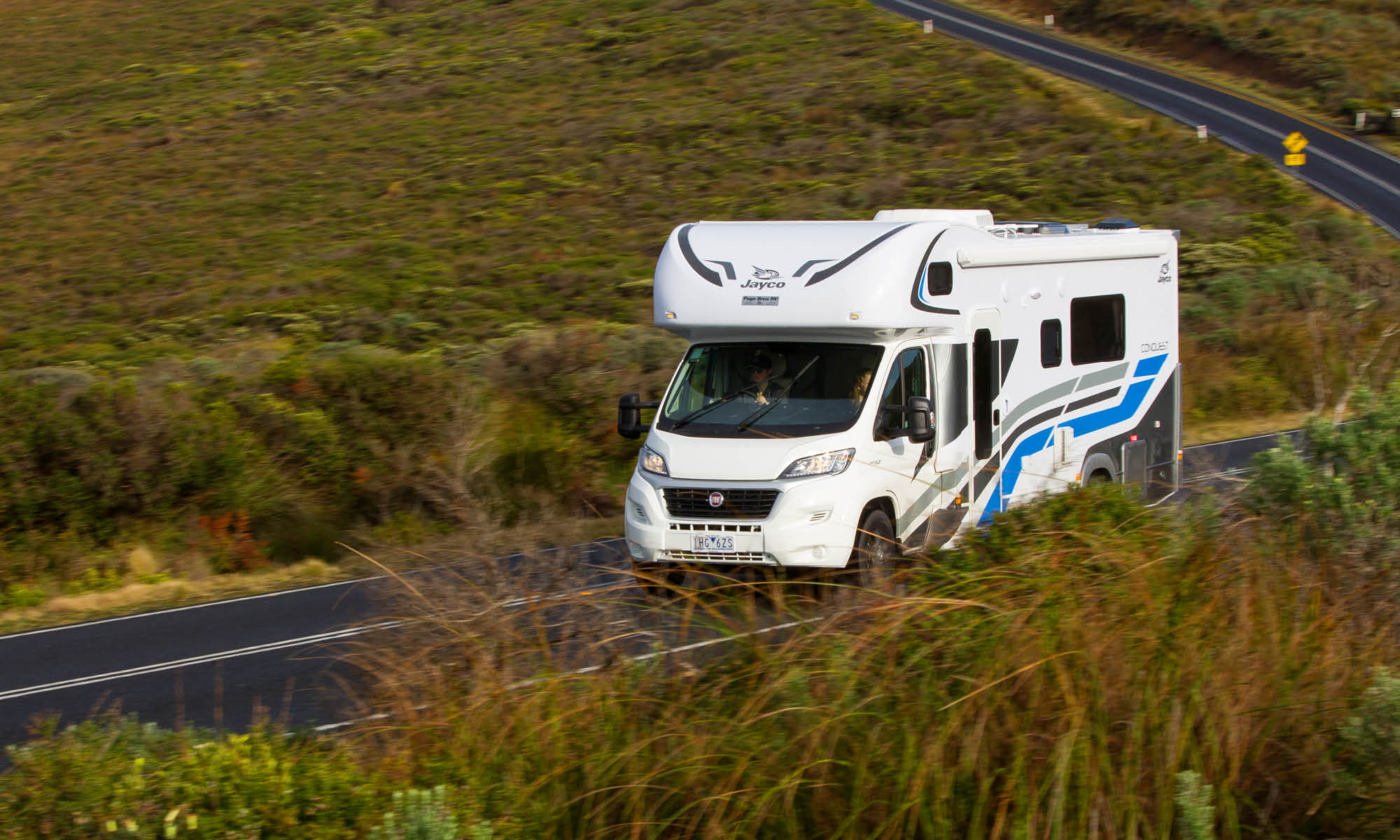 Did an RV holiday change this newbie's mind?
By Robert Pepper
I'm a 4WD guy. I drive hard tracks for fun, own a modified 4WD, am a member of 4WD clubs, I teach 4WD courses and generally live the 4WD life. And when a new off-roader needs reviewing I feel well able to do so, having spent many years driving brand-new press cars further off-road than most others, the results of which you can see in Unsealed 4X4.
For images, videos and the full RV Daily experience, read this in our online magazine.
But when it comes to motorhomes, I'm a relative newbie. That's why I was keen to try this lovely looking Jayco Conquest, and I'm writing it up for RV Daily not so much as review, but from the perspective of a first-timer, albeit one with extensive experience in a variety of off-road camper-trailers.
This particular Conquest is a Jayco Touring FA.25-1, it is nearly eight metres long but is just small enough to be driven on a car licence as it has a Gross Vehicle Mass of 4490kg. It seats and sleeps four, has a stove, fridge/freezer, microwave, toilet, shower and even a washing machine. And four of us – two adults, two children – took it around the Otway National Park from Friday night until Sunday.
At this point I'd best admit I was somewhat of a motorhome sceptic. I mean, I get the whole house-on-wheels thing but aren't the disadvantages too high a price to pay? I love the freedom of touring in a 4WD, I can just speculatively explore literally any track, whereas in the motorhome I'm worried about the most well-formed dirt roads. I can slot my 4WD anywhere in the CBD, but a motorhome is a big thing to park. Once at my camping base we can leave the tent or camper trailer then go exploring, knowing it'll be there reserving our slot when we come back. I can also use my 4WD for other purposes such as a daily driver, cargo hauler or whatever else comes to mind. And I've spent far too much time in a sad, slow little convoy behind 'fatburg' motorhomes as they trundle snail-like around Australia.
And yet, I'm actually writing the first draft of this story while comfortably ensconced on the Conquest's double bed. We have 240V power so the kids have the two essentials of device chargeability and free Wi-Fi. It is raining outside, and there's a briskly cold wind blowing in from the sea up along the river I can see through a window over the top of the laptop screen, but we're warm thanks to the heater. Set up was simple; we backed it into a powered site, hooked up the electrical power cable and job done, meaning only I had to actually leave the warm, dry comfort of the vehicle to set it up. And comfort it is. I find myself comparing the motorhome to a house, and really the only difference is space. Even so, the four of us never felt cramped, like you do in many tents. Frankly, I rented smaller and less comfortable accommodation after first leaving home. Truly, this is a motorised home.
Yet despite that, driving the Conquest is easier than you might think. The base vehicle is a Fiat Ducato turbo-diesel with 130kW of power and 400Nm of torque driving the front wheels through a six-speed automatic transmission. It's an "automated manual" which means it works just like a manual vehicle except the vehicle operates the clutch for you. No, there's no actual clutch pedal but there are differences to a normal (torque converter based) automatic. Mostly it's the slow gear shift which is a negative as there's a pronounced pause between shifts. On the other hand, if you want to take control yourself it's easy, and dare I say rewarding to do so. Yes, I will admit that driving a motorhome is fun. The forward control and big windscreen is also good for admiring the view. I have driven trucks before, and despite the relatively large size of the Conquest, this is no truck.
Yet motorhomes do suffer in some areas compared to cars or 4WDs. Motorhomes are based on commercial vehicles, the cockpit is a practical design and the vehicle is easy to drive, but if you want high-end sound, heated seats, advanced safety aids and the like then you're out of luck.What of the slow progress? Along the open road corners aren't a problem, but hills immediately show up the poor power-to-weight ratio. You won't be travelling as fast as 4WD owners toting tents, but guess what – you might get there before them.
If a motorhome owner and tent owner wake up at the same time then the motorhome owner might be on their way in 10 minutes or less, certainly a lot less time than the tenter. Let's say there's a good half-hour head start, and you'd need to drive very quickly to make that time up. Same deal at the end of the day. So while the motorhome may be slow on the road, you won't necessarily cover less distance in a day. It's also so very, very easy to change locations. We opted not to have breakfast at any caravan park, but to simply drive a little further and find a suitably scenic spot for our morning meal. Yes, you can do that with other modes of accommodation, but again I search for words to describe it and come up with easy.
Another part of 'easy' is self-contained. You want a shower? It's at the back, next to the washing machine and the toilet. Simply, everything you need is already in the vehicle, which then means you can be entirely self-reliant, never needing to brave wintry rain sheeting across a campsite just because nature has called.
But that self-containment is a curse. When you camp, you are in nature. You may be next to other campers, exchange a smile, a nod. There is interaction with humans. You start a campfire, you invite others over. With a motorhome that serendipitous social interaction is much harder – do you really want to knock on their forbidding, private door? In the same way that the motorhome robs us of the ability to randomly explore some of the finest 4WD-only accessible parts of Australia, it also closes us off from others. And from nature, too. So many times when camping, quietly reading a book or working, we've seen animals come out and forage. Kangaroos, quolls, platypus, even a snake right through our site. All that silent activity may go unnoticed from inside a motorhome.
The motorhome is also really designed for caravan parks with external power and water as several appliances don't work without, namely the main heater and microwave although the fridge can function regardless. I don't like being tethered to a caravan park, and yes you could make do without one or take a generator in the assigned compartment, but I'd still prefer a bit more independent design.
Motorhomes are also single-use recreational vehicles. You wouldn't want to pop down to the shops in one, although you could if need be. Yet that single use doesn't necessarily mean a holiday. One evening we decided to have a meal out – we drove the Conquest down to a deserted seafront, and had ourselves an intimate, lovely meal overlooking the ocean from our very own portable restaurant. You can also use the motorhome as a portable workplace, or cargo carrier, it doesn't need to be just for the once-a-year trips. If you owned one and kept it loaded ready to roll you'd remove a lot of the friction associated with set up for travel; just throw in a bag, start the engine and go. And why not, even if it's just for an evening?
One example of intelligent motorhome use is events. We have friends who use theirs to tow their racecar to track-day competitions. That means accommodation is taken care of as well as inexpensive all of your living gear is readily accessible. The awing can provide cover, and the motorhome acts as a very useful base for the weekend in a way that a 4WD tow car cannot.
So yes, I now understand motorhomes. We like houses, and houses on wheels are even better.
We liked… 
Comfort!
Space
Quick set up
Storage space
Self-contained
Not a fan of… 
Restricted to
well-formed roads
Limited-use vehicle
Fairly reliant on
caravan parks
Large size
Shuts you off from
the world
What about a caravan?
Our Conquest cost $143,000 as a base, but had options taking it to $153,000 plus onroads. The equivalent caravan would be the 25.78-5 Silverline costing $77,506, much cheaper but then you need a tow car.