5 Ripper Bush Camps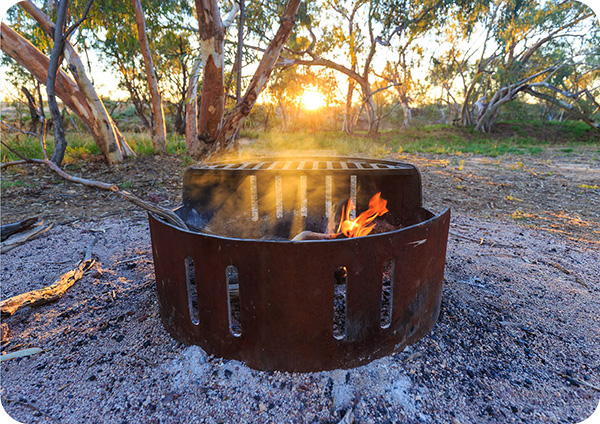 Camping on a budget can often lead you to the best camping spots in Australia.
By Glenn Marshall
1 – Bough Shed Waterhole, Bladensburg National Park, Qld
Bladensburg National Park is only 15 minutes from Winton with easy access when dry. The campsites are nicely spread out among the trees and it doesn't take too much effort to get your RV sitting level. The fire pits will help keep you warm once the sun goes down. QPWS prefers you book your campsite online these days, which is difficult if you have no phone coverage, so try and plan ahead where you can.
For images, videos and the full RV Daily experience, read this in our online magazine.
The permanent waterhole is perfect for yabbies, fishing or paddling a canoe to check out the old Bladensburg Homestead and outbuildings. A 4WD is suggested for the self-guided Scrammy Drive; grab a drive guide pamphlet from the homestead.
The famous dinosaur footprints are a quick half-hour trip to Lark Quarry and are more than worth the drive. If dinosaurs aren't your thing, Winton itself is a beautiful little town with links to Waltzing Matilda and has all the facilities to grab a hot shower and re-stock the larder.
FEES: $5.90 per person per night via QPWS
FACILITIES: Drop Toilet
FIRES: In fire pits only, BYO wood
PETS: No
ACCESS RATING: Easy/Moderate
GPS LOCATION: 22° 33' 35" S | 142° 57' 40" E
2 – Plushs Bend, Renmark, SA
One of the better free campsites in South Australia, this one is right on the banks of the Murray River. Please don't camp under a river gum, they are widow makers, prone to dropping limbs. Access to the campsites is easy when the conditions are dry, but a nightmare when wet. I advise you continue driving until you reach the open spaces near the toilets, even a big rig will get in there.
The only facilities are flushing toilets and you will need your own toilet paper and a torch once the sun disappears, however, it is a short drive into nearby Renmark where there is potable water and a dump point.
Cast a line, float your boat, sit and relax or take a few days and explore the Riverland District. Banrock Station Wine and Wetland Centre is nearby, as is the historic Overland Hotel. The kids will love you if you let them run around the Monash Adventure Park for a few hours.
FEES: Free (max 7-day stay)
FACILITIES: Flushing toilets (BYO paper), rubbish skip
FIRES: Yes, BYO wood
PETS: Yes, dogs to be leashed at all times
ACCESS RATING: Easy when dry
GPS LOCATION: 34° 12' 35" S | 140° 45' 24" E
3 – Glenpatrick Reserve, VIC
The Pyrenees offers some of the best wineries and toughest 4X4 tracks in Victoria, all within a short drive of the best-kept secret, Glenpatrick Reserve. Once a cricket ground for the local residents, this great open space offers loads of room to suit RVs of all shapes and sizes.
Flushing toilets are an added bonus and if the weather turns ugly, you can keep warm and dry within the brick shelter. We annually head to Glenpatrick for a gathering that generally has 30-50 people in attendance each year. In fact, a lot of 4WD clubs utilise this campground because you are in low-range within five minutes of leaving the campground. If you don't have a 4WD, there is plenty of exploring to be had at nearby Avoca, you can even hit the numerous top-shelf local wineries for those who enjoy a drop.
Fires are permitted in the fire pits or in the brick shelter, dependent on the conditions as sometimes the grass can get a bit long if no one has been around for a while. Colin is the caretaker and will likely pop in for a chat while you are there, too.
FEES: Free/donation tin onsite
FACILITIES: Flushing toilets, non potable tank water (when available), brick shelter, tables
FIRES: In fire pits only, BYO wood
PETS: Yes
ACCESS RATING: Easy
GPS LOCATION: 38° 8' 15" S | 143° 19' 38" E
4 – Cardenyabba Lagoon, Kilcowera Station, Qld
Kilcowera Station is one of the best outback properties I have come across, the campsites on Cardenyabba Lagoon are second to none. You will be spoilt not only by your hosts Toni and Greg, but also by what the property itself offers.
Firewood delivered to site, access to a kayak to relax on the water, swimming, fishing, yabbying, birdlife, wicked sunsets and station activities; want some more?
Grab a mud map and spend the day exploring the property on the self-guided tour or for a fee there is a guided tour option. The 60km track circuit takes you past lookouts, caves, creeks, water tanks and even a murder site.
The camping fee may sound excessive, but it is worth every cent. The Shearers Quarters are also a great option if sleeping in a real bed and cooking in a real kitchen appeals to your senses. Kilcowera don't take credit cards or EFTPOS, only cash, direct deposit or a cheque (do they still exist?).
FEES: $25 per vehicle per day (add $5 to gain access to Shearers Quarters bathroom facilities)
FACILITIES: Drop toilet, free use of kayak
FIRES: Yes, wood supplied
PETS: Yes
ACCESS RATING: Easy
GPS LOCATION: 28° 40' 7" S | 143° 55' 45" E
5 – West Branch Camping Area, Mount Moffatt Section, Carnarvon National Park, Qld
I'll let you in on a secret, the Mount Moffatt section of Carnarvon National Park rates higher than the overpopulated Carnarvon Gorge section. More remote and with 'high clearance 4WD recommended' access you will enjoy a more peaceful time camping. The West Branch camping area has fire pits, non-potable water and new eco-flushing pit toilets. It is also the largest campground in the park and is suitable for all high-clearance RVs.
The track into the campsite is sandy and tight, with some ups and downs that may put some people off. In that case, the Dargonelly Rock Hole campground would suit lower-slung RVs better.
Mount Moffatt offers spectacular views from atop the ridge, pastoral history, stunning sandstone outcrops, Aboriginal art and bushranger folklore to boot. It is worth spending a few days here to really enjoy all the sites and scenes, I highly recommend this place.
FEES: $5.90 per person per night via QPWS
FACILITIES: Eco drop toilets, non-potable water
FIRES: In fire pits only, BYO wood
PETS: No
ACCESS RATING: Moderate
GPS LOCATION: 24° 58' 23" S | 148° 0' 45" E