10 Essential Questions When Buying A New Van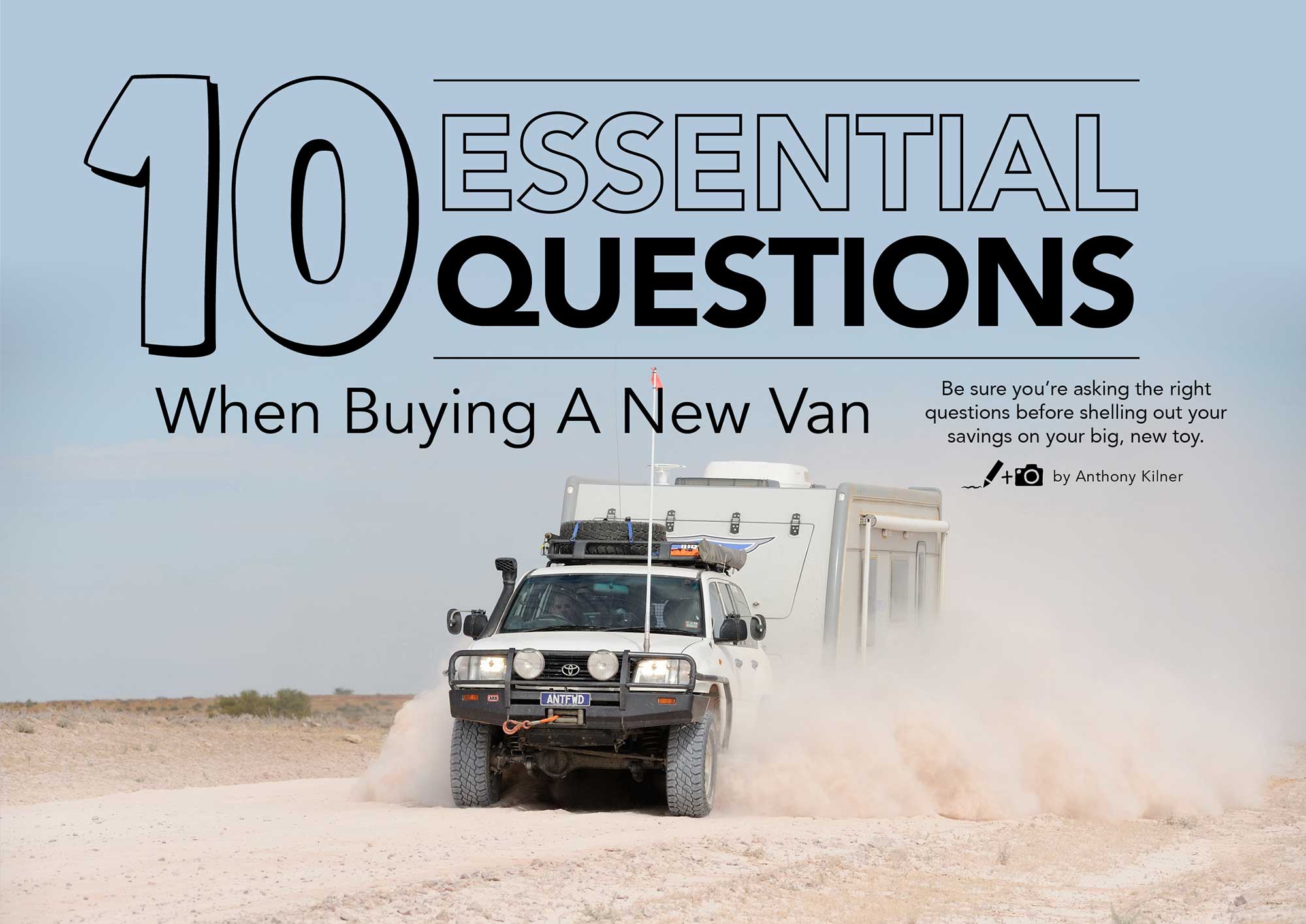 Be sure you're asking the right questions before shelling out your savings on your big, new toy.
Buying a caravan is up there with buying a new car or a home in that it requires significant research. Anyone paying big money for a house would at least get a building inspection, so it stands to reason – spending sometimes up to $100K for a home on wheels also requires thorough research. Here are ten questions for starters, just to get the new caravan buying process rolling.
For images and the full RV Daily experience, read this in our online magazine.
1 What makes you better than any other manufacturer?
We'd hope the salesperson answers this question honestly and refrains from criticising other manufacturers. We'd also suggest getting online to look for balanced views of other people's previous dealings with the manufacturer.
2 What's the expected re-sale value?
Regardless of how much a caravan costs, knowing if it can be sold in the second-hand market is essential. Of course, keeping a van in awesome condition will provide a greater chance of getting good bucks back!
3 What about a trade in?
Does the company you are buying the van from offer a trade in service? A trade in price is never the best price, however it sometimes still pays to trade in with fewer bucks and less hassle than selling privately.
4 Does the van meet all the legal requirements for being towed around the country?
All caravan manufacturers have to ensure their products meet Australian standards. The Australian caravan industry is doing lots of great work to stamp out shonky manufacturers who don't comply. Make sure your manufacturer does.
5 Will my vehicle be able to tow the van I want?
Many people have bought a van only to find out that their vehicle can't legally tow it. The suggestion is to keep legally within the towing capability of your vehicle. If not, get a new vehicle or a different van!
6 How much gear can the van hold?
It's critical to know how much your van weighs to know how much extra weight can be included for personal items. Every van will have an ATM, GTM and a tare mass and these cannot be exceeded for safe towing.
7 How does the van meet your individual touring needs?
Buying a van with no caravanning experience is hard if you don't know what your touring needs are. It's best to work that out by touring with a rental before you spend big bucks and suffer big heartache.
8 Costs for servicing and how often?
It's one thing to buy a van and another to maintain it properly. Ask the agent about their recommendations for servicing. How much will it cost, and what could an owner reasonably expect to pay for a year's service work.
9 What is covered under warranty and where can I go?
Being able to get your van repaired, under warranty on the road, is critical for fun touring. Check the warranty statement, ensure the van is covered for where you want to travel – and make sure it's in writing!
10 What's the damage to the wallet?
These days any sale should include everything plus GST so people know exactly what they are paying for. Ensure the final price includes any hand over fees, pre-delivery charges, extra accessories or modifications, registration fees and transportation and freight costs.