Article: Our vans were totally self-sufficient while making Foodie Trails. Here's how.
We opted for multiple electrical products from industry leader, REDARC, and they didn't let us down. Here's how we set up our vans.
While filming Foodie Trails we were on the road for several weeks at a time, living out of our Ezytrail caravans. The vans were running fridge/freezers round the clock, plus lights, coffee machines, food processors and more, and were also used for charging our computers and camera equipment. And while we spent every third or fourth night at a caravan park, the rest of the time we camped at bush campsites with no access to mains power, so we needed our rigs to be totally self-sufficient. Here's how we did it.
Our REDARC electrical set-up
While Ezytrail vans come standard with their own electrical system, customers can opt to upgrade to REDARC gear. REDARC is widely regarded as the industry leader when it comes to reliable RV and 4WD electronics, so we opted to fit a number of products to our vans. Here's what we fitted:
REDARC Manager 30
A state-of-the-art battery management system designed to charge and maintain auxiliary batteries by incorporating AC, DC and solar inputs. The Manager 30 charged our twin lithium batteries, along with our three 100W roof-mounted solar panels. The Manager30 operates like six separate products: it charges an auxiliary battery from the vehicle while on the move; it's a 240 volt charger; a solar regulator; a battery isolator; a load disconnect controller; all with a remote battery monitor.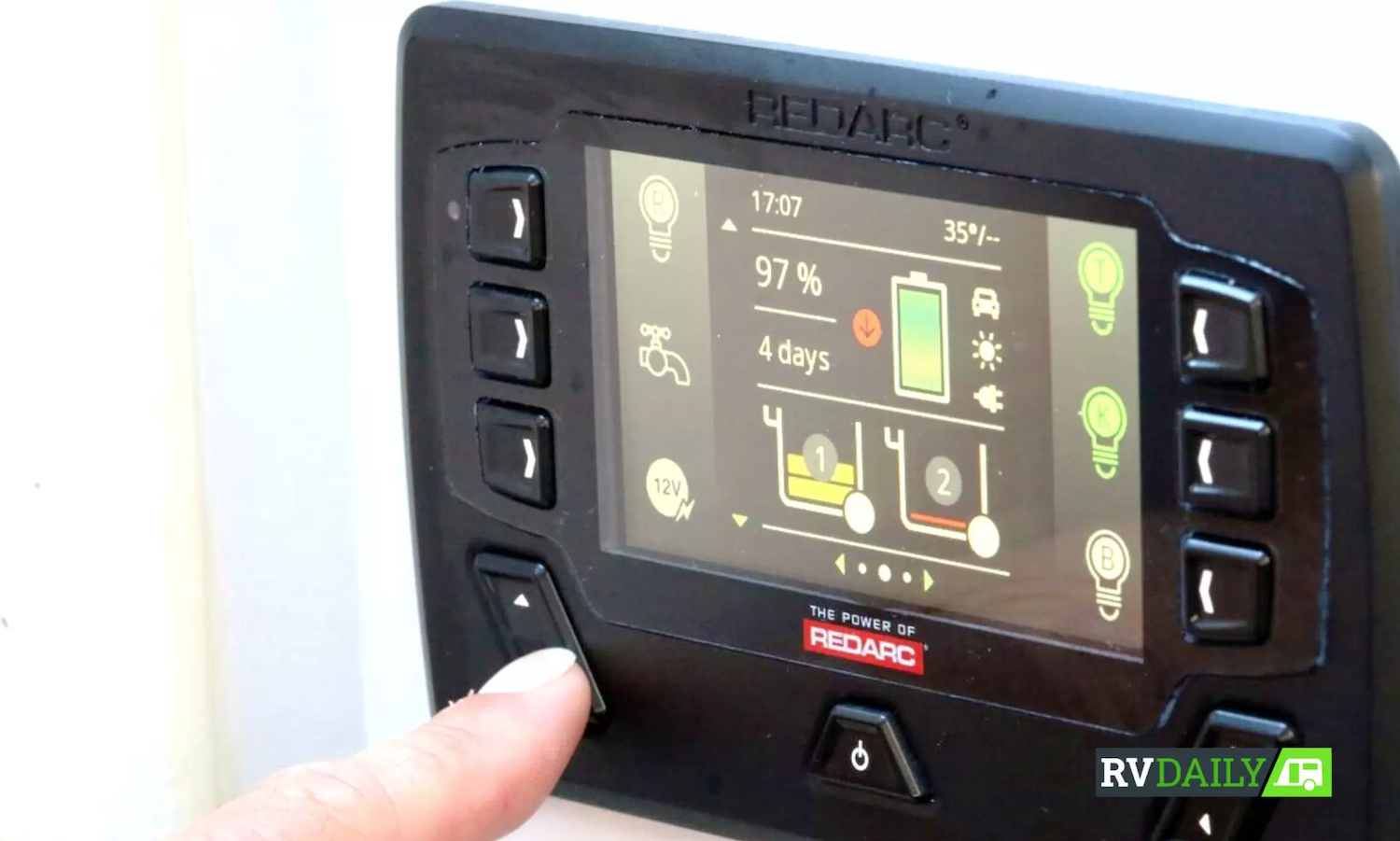 REDARC RedVision
When you're relying on your caravan to be totally self-sufficient like we were, the last thing you need is to suddenly run low on power and have your fridge or water pumps fail. That's why we installed REDARC's award-winning RedVision. RedVision is a total vehicle management system that enables the control and monitoring of multiple on-board devices via a smartphone/tablet app and an in-vehicle mounted display. You can turn on lights, an inverter, water pumps and other loads such as televisions, electronic steps and fridges. It also provides you with the ability to monitor water levels, temperatures, energy consumption and storage. Because we were using the REDARC Manager 30 BMS, RedVision made available detailed battery information as well. This innovative product made monitoring and controlling our Ezytrails' electrical gear simple, giving us peace of mind that we weren't about to lose power in the bush.
Click here for RV Daily's review of the RedVision system.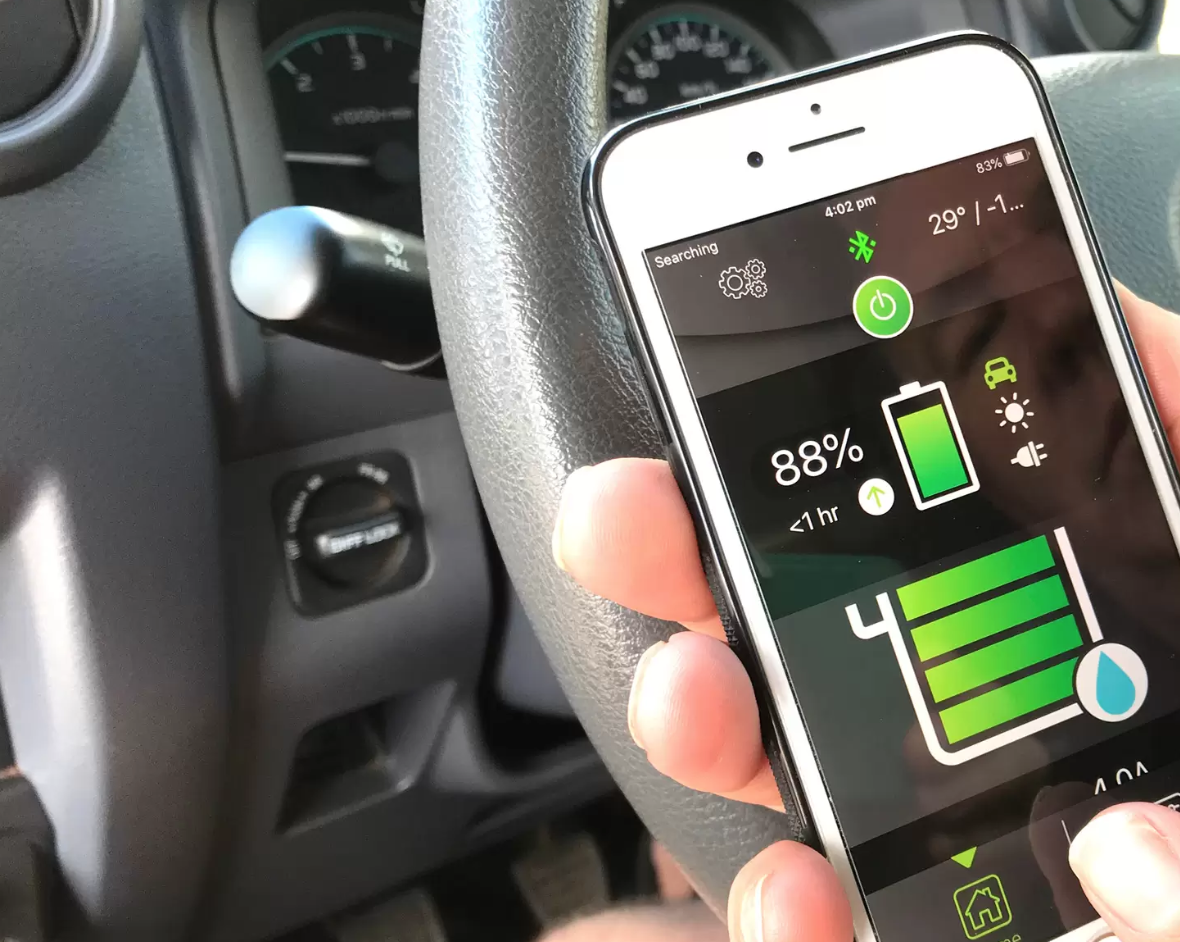 REDARC 2000W Inverter
We needed to be able to charge camera and computer batteries throughout our Foodie Trails adventures, as well as run our 240V coffee machine and food processor for our culinary exploits in the Ezytrail kitchen. That meant we needed a decent inverter, so we installed a REDARC 2000W Pure Sine Wave inverter. Basically, it allowed our 240V electrical devices to be used from our 12V batteries by converting 12V power to 240V power. This also allowed us to run our Dometic air-conditioners and our Ezytrail hot water services. There's nothing better than taking the comforts of home with you on the road, and our 2000W inverter allowed us to do just that.
This combination of REDARC gear is the ideal set-up if, like us, you're planning remote or self-sufficient caravan adventures.
foodie trails' extraordinary team
Major sponsors
Ezytrail

At Ezytrail Camper Trailers, our goal is to help our customers camp…

LEARN MORE

Ram

Ram Trucks Australia are the sole factory-authorised importer and distributor of Ram…

LEARN MORE