Reviewed: 12-volt portable fans to cool your next summer camping trip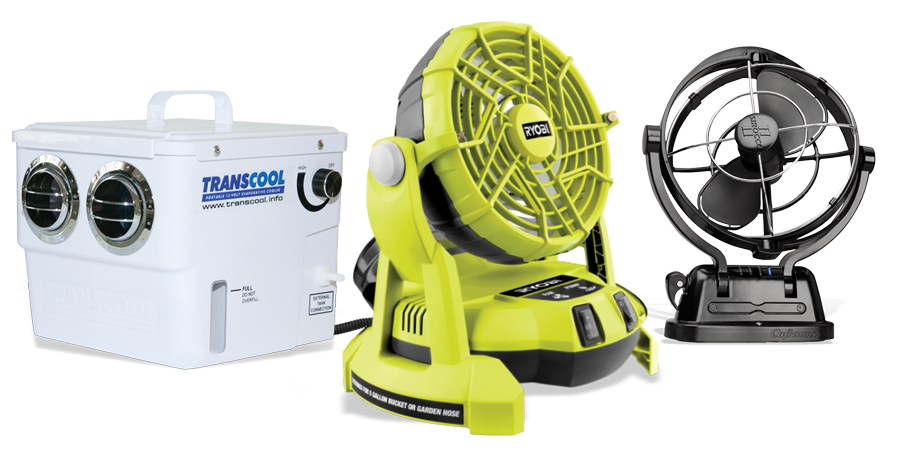 We've reviewed three brilliantly effective 12-volt portable fans to cool your next summer camping trip.
If you pull up at a caravan park, staying cool is usually as easy as turning on the air conditioner but, if you want to do a spot of free camping, unless you want to run a noisy generator 24 hours a day, that's not an option. Of course, not all caravans have an air conditioner. Most small campers don't have one and, if your accommodation is a camper trailer or a tent, things are going to get very warm, very quickly. Good news. All is not lost. As long as you have access to a 12-volt power source, there are many products available that provide effective, efficient and cost-effective cooling wherever you set up camp. Let's look at three options for brilliant 12-volt portable fans.
The basics
When looking for a fan or cooling device to use when free camping, it's important to know its power consumption or how much current it draws. This will typically be listed in the product specifications and described in Amps. When it comes to free camping, the lower the current draw, the better.
A fan that draws 1 amp (or 1 amp per hour) can be powered from a 100 amp hour battery for (theoretically) 100 hours. If that fan is left to run overnight for 10 hours, it will draw 10 amp hours from your battery or 10% of a 100 amp hour battery. That may not seem like a lot but, when you take into account the power consumption of all your other 12-volt devices, it adds up very quickly.
To give you somewhere to start, check out these three fans that are not only energy-efficient but they actually work and will make your free camping experience much more comfortable this summer.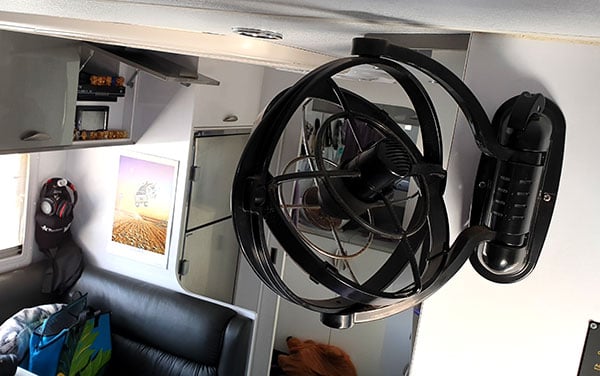 Caframo Sirocco RV cabin fan
This fan needs very little introduction to the Australian caravan and motorhome scene as it is pretty much the standard fan fitted by all the major RV manufacturers. It's also one of the most expensive 12V fans money can buy but there is very good reason for that. For a start, the Sirocco fan is very light, which is so important to caravanners these days. It is also extremely energy efficient. Depending on which of its three-speed settings you set it to, the power draw is between 0.13 and 0.36 amps. At those low levels, you can run two Sirocco fans at full speed all night and barely make a dent in your battery's power reserves.
The Sirocco fan also has a very convenient timer that switches the fan off after 2, 4, 6 or 8 hours. It can be permanently mounted inside a caravan or motorhome but it is equally usable as a stand-alone device. Mounting it to a small board can make it a little more stable.
The Sirocco fan is also very quiet when running, with sound levels not exceeding 45db on its highest speed setting. I wouldn't say it moves a huge volume of air but it's sufficient to feel like a gentle cool breeze and, at night, that's really all you need.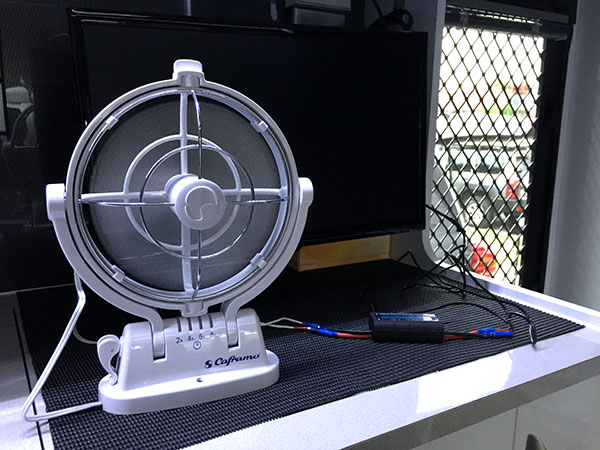 The Sirocco fan is available in two colours, either dark grey or white, for $249 RRP but, with a bit of shopping around, you should be able to pick one up for around $150.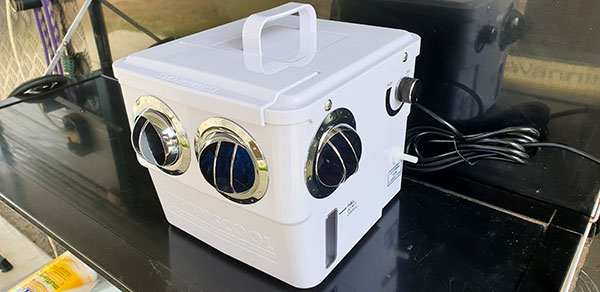 Transcool EC3 Portable Evaporative cooler
I may be showing my age here. I remember summers before we had air conditioners, and the only effective cooling was the evaporative cooler. The science is simple. You fill a tank in the cooler with cold water. The water is soaked into pads that the fan blows air across, cooling it down. Simple and very effective.
Today these evaporative coolers are making a comeback as they are very energy efficient. The Transcool EC3 is a great example of the technology miniaturised for RV use. The Transcool EC3 is a small plastic box with, what looks like, a large computer cooler fan on one side and four outlet vents on the other three. It comes supplied with a 12-volt cigarette lighter plug at the end of a long power cord and a 240 volt – 12-volt transformer.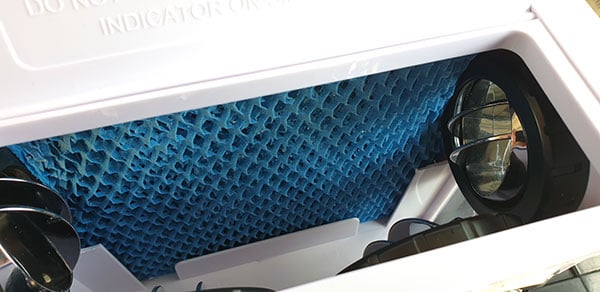 To operate the Transcool, fill the tank with water and turn it on to the desired speed using the switched dial control. For extended running times, the unit is supplied with an external auxiliary water tank that is plumbed in at the side.
The Transcool EC3 pushes out surprisingly huge volumes of air through its four vents and it's much cooler than a simple fan. The negative of this power is the fan is quite noisy. At full speed, sound levels approach 65db. Fortunately, you would rarely need to run it at this speed and the Transcool EC3 is less obtrusive at lower speeds.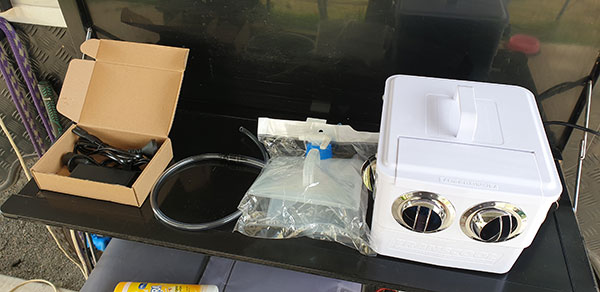 The Transcool EC3 is also very energy efficient requiring between 0.7 and 1.7 amps, and it features a low voltage cut-off to protect your valuable batteries. Transcool comes complete with 240-volt power supply and external water tank. At $329 RRP, it's not cheap but it's a quality product that is ideally suited to adventurous caravanners and campers.

Ryobi One+ portable misting fan
If you have a set of rechargeable battery-powered tools, there's a very good chance that you can purchase a portable fan that uses the same battery. These are excellent fans that are designed to be used in workshops which makes them quite suitable for caravanning and camping.
If you have the Ryobi One+ power tools, you're in for a real treat. The Ryobi Misting Fan is a brilliant piece of kit. It is designed to sit on top of a standard 20-litre bucket and it has a pump that draws water from either the bucket or from a hose connection and its sprays the water in a fine mist into the airflow from the fan, cooling the area down. The Ryobi Misting Fan is unbelievably effective and can cool the area under your awning even on the hottest day.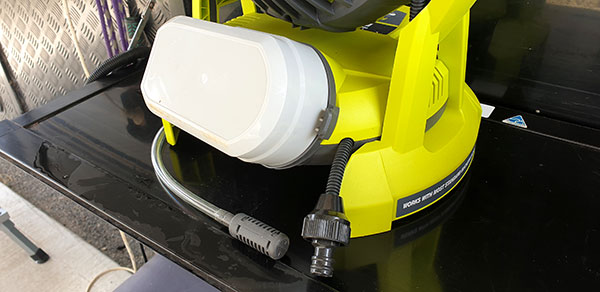 You need to be aware that the mist will render any items sitting within range of the fan rather damp so you need to keep electrical equipment out of the area. Thankfully, you can opt to switch off the water pump so you can use it as an indoor fan if you wish and, in this respect, it moves huge volumes of air. It's not too noisy either, with sound levels not exceeding 60db on the highest fan speed.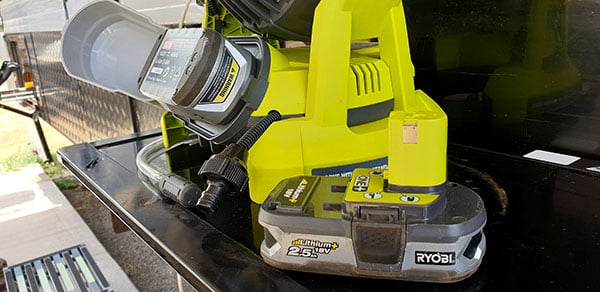 Depending on which battery you use and what speed you set it at, the Ryobi Misting fan can run for up to 16 hours. Ryobi also sells a 12-volt battery charger meaning you never need 240-volt mains power to recharge your batteries.
With a price tag of just $99 RRP, it's a bargain and when you consider all the other products that are powered by the same One+ battery that are suitable for camping, you really can't go wrong.

Conclusion
Nothing beats a proper air conditioner when it comes to staying cool in the hot Australian summer, but these three 12V portable fans are brilliantly effective. They are also extremely energy-efficient, making them a comfortable and realistic prospect for cooling your next summer camping trip.