After four months of abuse, we review the 15L Brass Monkey portable fridge to see if it has stood up to Wes' shenanigans as the best value, low-cost fridge on the market.
At RVDaily, we're all for giving the cheaper option a crack to see if they're just cheap and nasty, or actually a solid budget option. So it was with this in mind I went and grabbed a little 15L Brass Monkey fridge from Road Tech Marine (you can get them at Jaycar too!), just to sit on the backseat of Dusty the HiLux, and be the easy-access drinks fridge.
As always, I'm going to be honest with you, I didn't hold out much hope, especially for a 12-volt fridge that was as cheap as the Brass Monkey is; I mean, sub $200 for a 12-volt fridge? Even the cheapest of cheapies is near twice that, and you've got to have arguments about getting any kind of warranty from them (you know who I'm talking about). But enough about how cheap it is price-wise, how does it stand up to being rallied by Wes?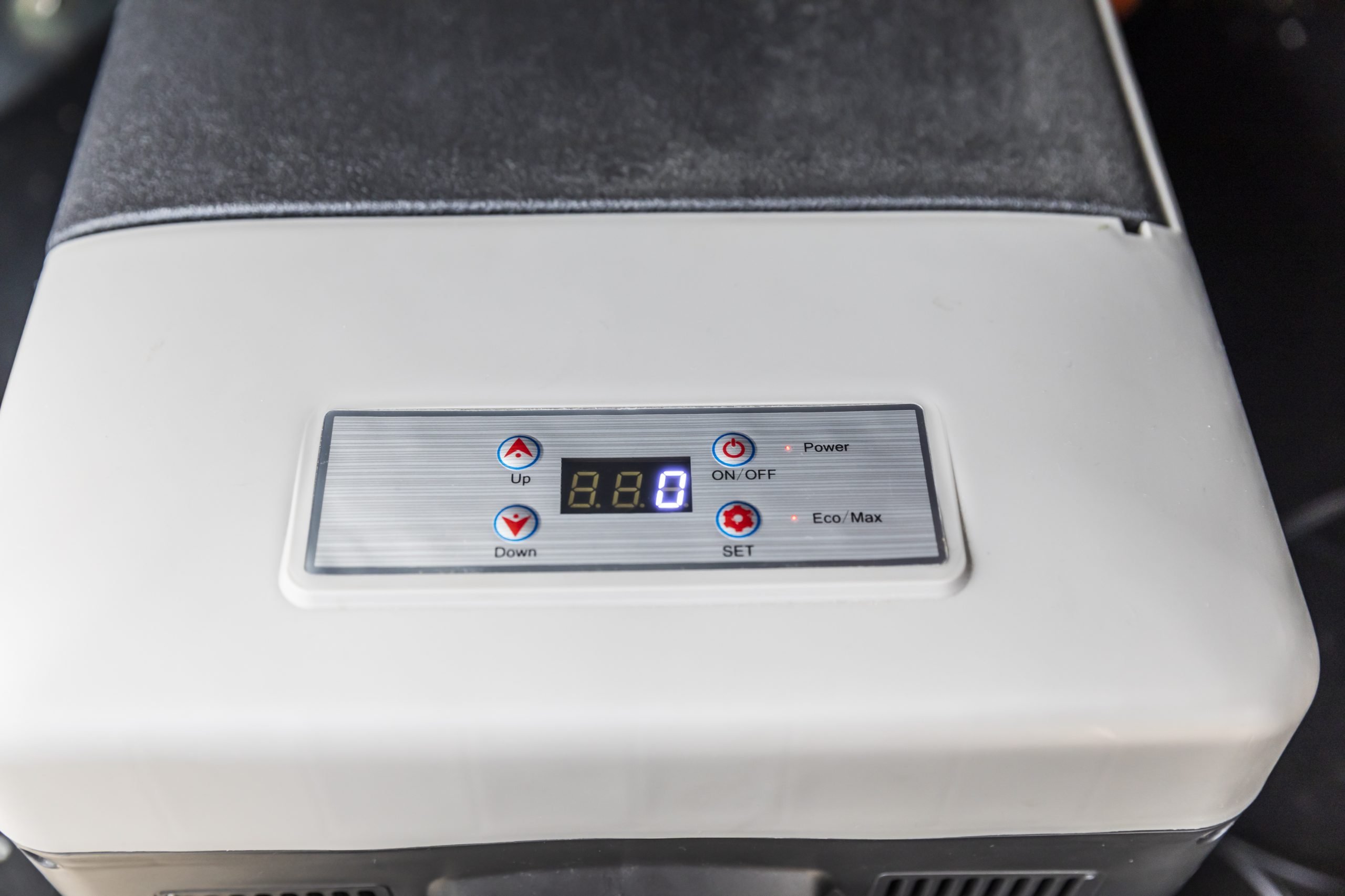 When it comes to my gear, I'm always careful and respectful with it; I look after my kit, and it looks after me. Except of course, when it's a piece of gear to be tested, it gets flogged from pillar to post and put through about as rough a time as it'll get. The big black dog you've probably seen in our videos also decided his 45kg of "I'll sit where I want" belonged perched on top of the fridge while it was on the back seat of the HiLux. That said, I went and bought this little jigger with my own beer tickets; because I wanted a drinks fridge for the back seat, and I figured it'd be a good bit of kit to put through the wringer.
So with that in mind, believe me when I tell you I've put that little fridge through about 12 months worth of standard use in the four months since I got it. It's sat in Dusty, on the back seat (and in the canopy from time to time), had the big black German Shephard drool, kick, and walk all over it, and it's run the whole time whether full of cans or empty. Even now, it's not missed a beat.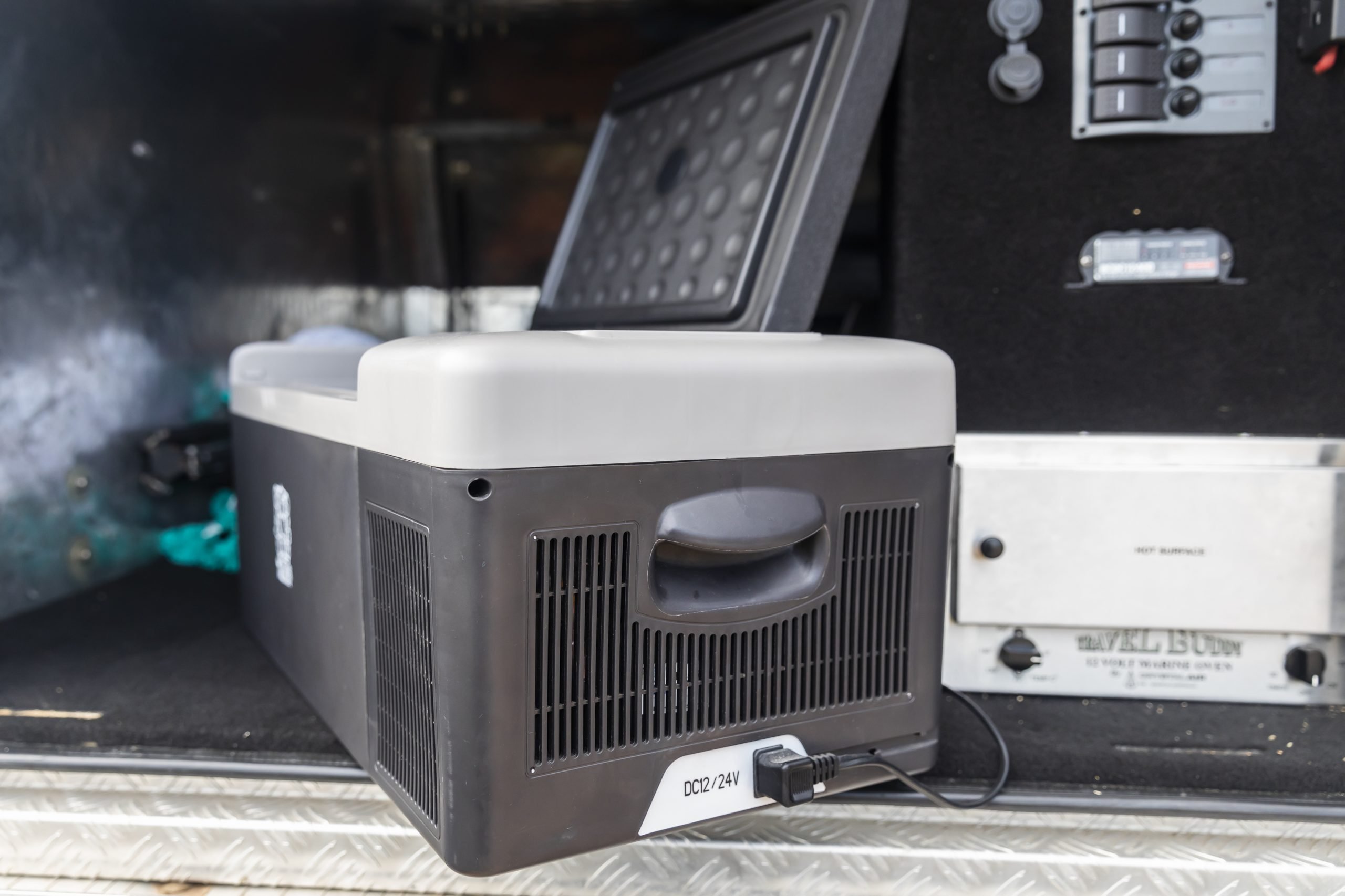 The fridge itself is a rather quality bit of kit, made from decentr mouldings and parts, including the LG branded compressor. It's got a three-stage voltage cutout system so it doesn't trash your batteries due to over-discharging. It has the standard digital temp gauge and controls, high-density foam insulation, and it will run down to a solid -20°C, so you can use it as a meat freezer in a pinch for a bit of extra storage.
As you'll notice from the name, it's got a 15-litre capacity, however last time I was at Road Tech Marine, I noticed that have a few little accessories for the fridge. Namely an insulated cover to keep the heat out and cold in, and an extension 'bubble' lid, that increases its capacity an extra 5-litres, so you can expand this up to 20-litres of storage and fridge space if you need to.
Something that really intrigued me is that with most big fridges I've used, you need to set them to around -2°C to get the beer *soft-drinks* at the bottom proper cold. With this one, I set it to -2°C and exploded a few cans, it actually froze them solid. So if you are going to get one of these, bear in mind that the temperature gauge is proper accurate, especially so due to its size and a minimal amount of air to lose cooling transmission from one side to the other. Speaking of *soft-drink* cans, it'll also hold 16-17 cans in the standard format, with an extra bunch, once you've attached the extra 5-litre lid on top. There's a pair of semi-recessed grab handles on the ends, a foam/rubber style seal around the lid, and it comes with the standard 12-volt ciggy socket plug on the end. Oh, and it's got a full 36-month warranty too!
Without cutting it open to have a look at the guts, it appears that the cooling plates go the whole way around the fridge too, instead of just being close to the compressor like some other cheaper small fridges, so you get pretty uniform cooling the whole fridge across.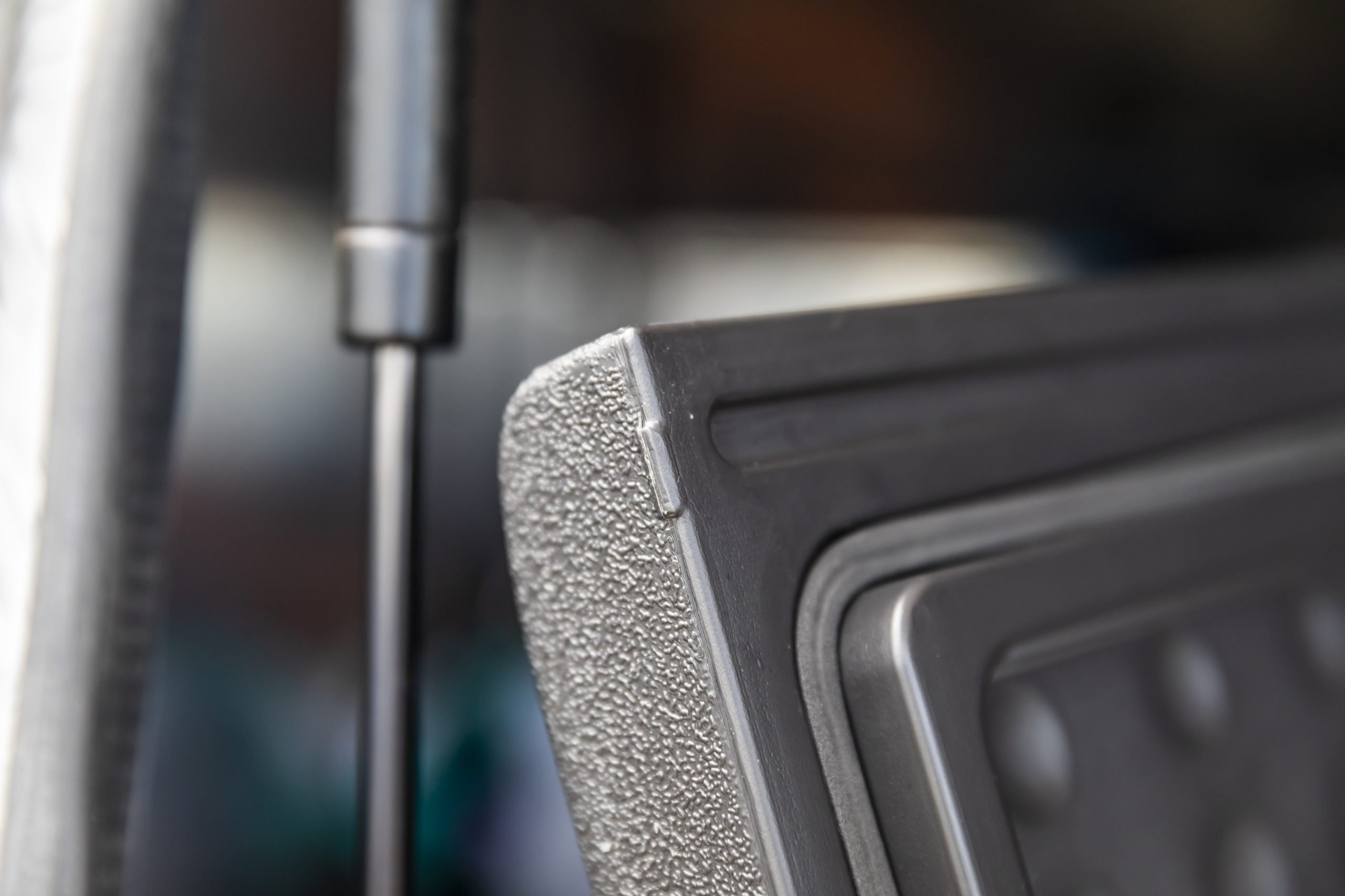 Will this specific fridge replace your full-size fridge? No, of course not, unless you're on the worlds angriest diet. Will it knock a lot of the smaller 'console' type fridges out of the water? You bet your backside it will. Especially seeing as how you're getting a proper compressor-driven fridge for the money, whereas you'd normally get a 'thermo-cooler' for nearly as much. Plus, the compressor-style of fridge is much more efficient in power usage, and cooling ability. Worth mentioning too is that if it's just you and the other half away for a night or two, it's plenty big enough for a bit of meat for dinner, some milk, and your salad stuff – so it'll work in a pinch if travelling light is a requirement, or you just want to lob it in the grocery getter for when you're not camping.
The only downfall of the 15L Brass Monkey portable fridge, is you lose a bit of the technology some have these days; there's no Bluetooth connectivity, there is no stand-alone/detachable temp gauge/controller, there's no light inside the fridge cavity, and it's a pretty rudimentary lid latching setup (it's just a little dimple that the plastic friction-locks into). That said, as it's being used on the backseat of Dusty, I don't need any of those things, and I'm more than happy not to have them, and save on the price for a little drink's fridge that's easy to get to, and takes up bugger all space.
All in all, I absolutely rate the fridge, and it has earnt a spot on the backseat of the HiLux, to be beat from pillar to puppy dog, keeping the drinks and snacks cold while we're out on the road.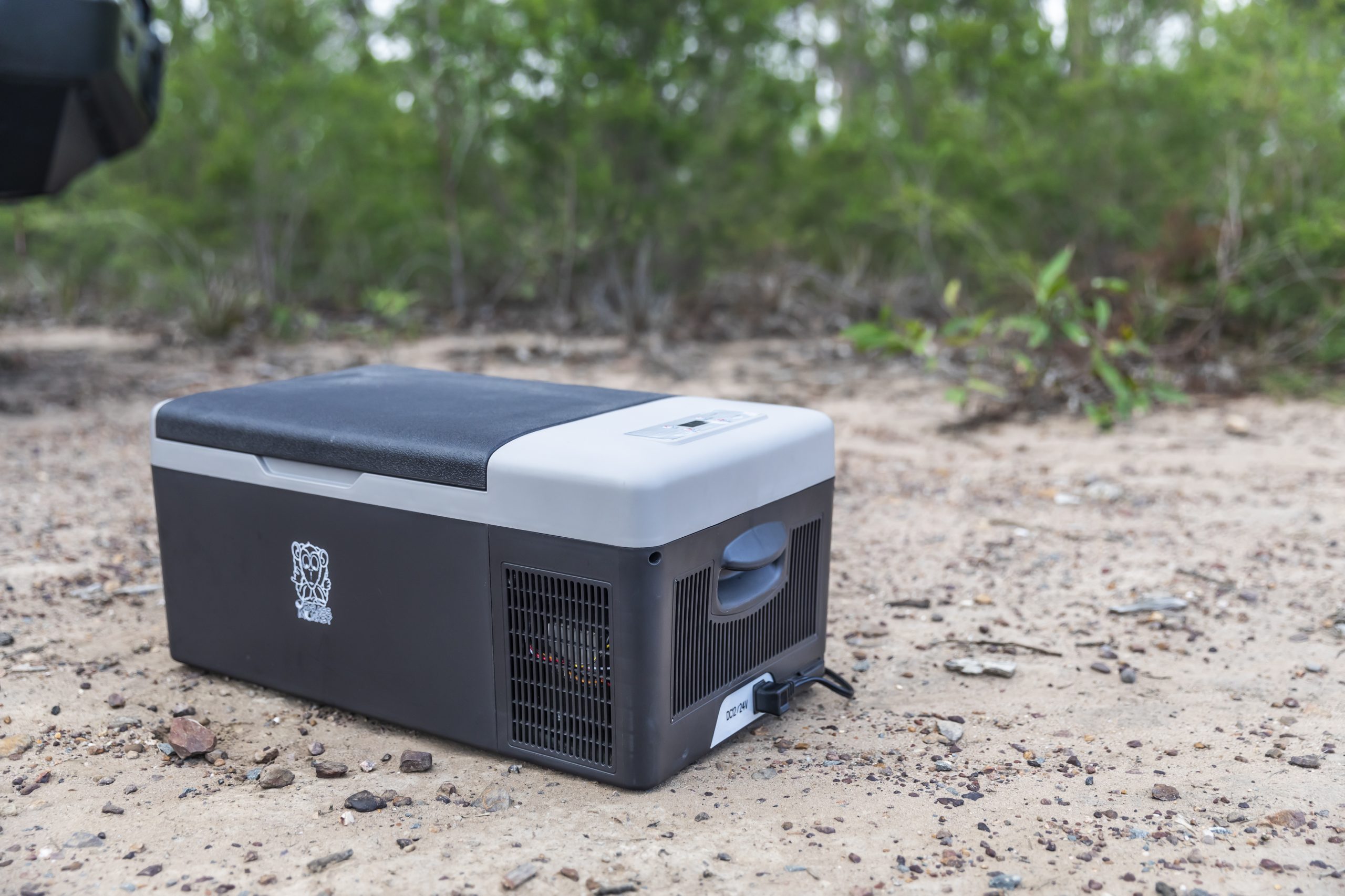 ***SPECS***
Size: 15-Litre
Internal dimensions: 246x168x350mm
External dimensions: 320x260x598mm
Max power draw: 3.75A
Voltage: 12-24V
Temp range: -12°C – +10°C
External Material: Plastic
Warranty: 36 months
For more information, check them out on Road Tech Marine's website, here.