I bought the Luci outdoor 2.0 inflatable solar light for a hiking trip to K'gari (Fraser Island) about a month ago. The benefit being that it's super lightweight, doesn't require batteries and folds down really flat. All perfect attributes for a hiking trip.
Then I forgot to pack it.
So although this inflatable light never made the hiking adventure, it has since gone on a few short camping overnighters, including one in the backyard. Nevertheless, the Luci Outdoor 2.0 inflatable solar light has now been thoroughly tested!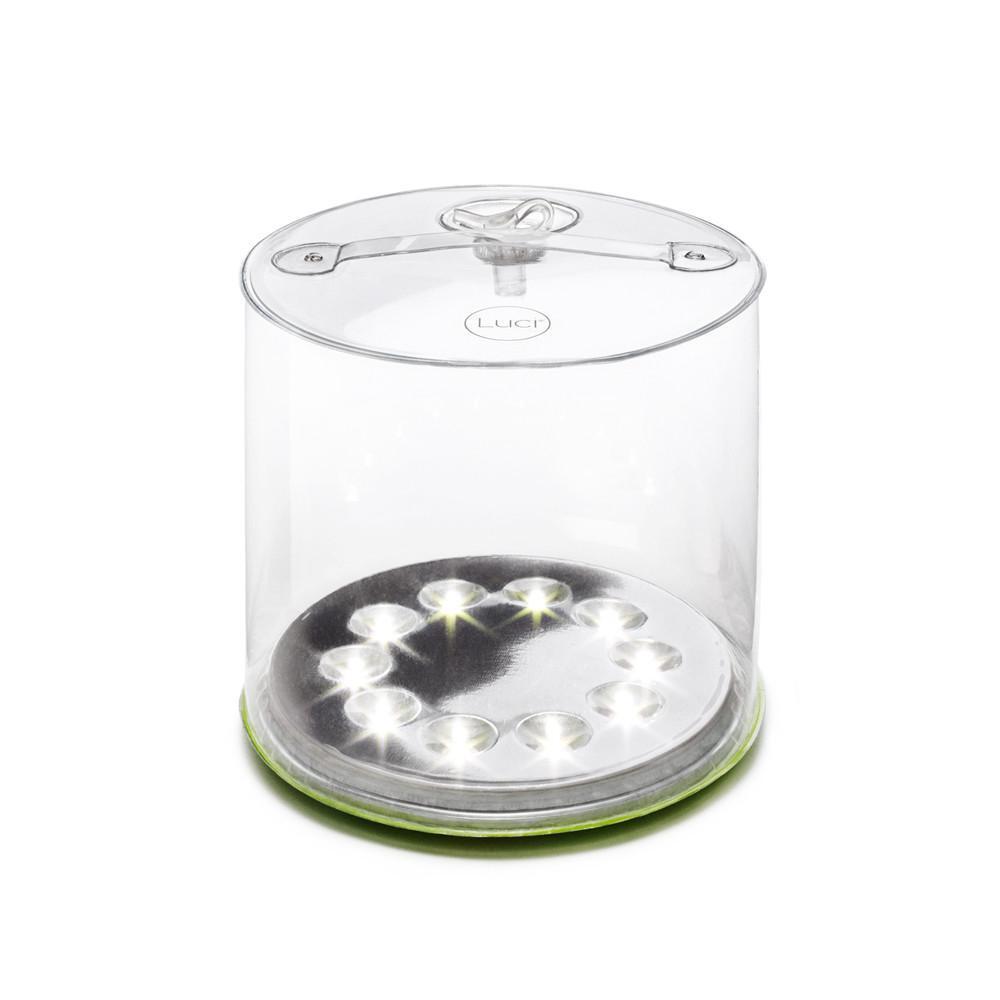 Features and specs of the Luci inflatable solar light
Features
The Luci inflatable solar light is charged completely by solar power and has a handy charge level indicator, so you shouldn't get any surprises if you keep an eye on it. There are four different light modes: low, medium, high and flashing. The light can reportedly run up to 24 hours on the lowest setting.
Some of the handiest features include its light weight, small footprint once collapsed, its ability to survive the rain and its two convenient hanging handles.
Specs
Inflated dimensions: 12.7cm x 12.7cm x 10.8cm
Folded dimensions: 12.7cm x 12.7cm x 2.5cm
Material: PVC
Waterproof rating: IP67
LED: 10 cool white
Lumen rating: Up to 75L
Battery: 1000mAh lithium ion polymer
Weight: 0.125kg
Warranty: 12 months manufacturer's warranty
How did it hold up?
The Luci inflatable solar light survived my kids and held up really well. It got rained on, thrown around the tent (although I don't recommend this), floated in the pool and the charge is yet to deplete. I think this is in part because it gets left outside on the table during the day and partially charges back up.
The light
The light it gives off is diffused and not a direct beam, making it perfect for lighting up a campsite or a tent softly without burning a hole in your eyes. The brightest setting gives off a decent amount of light but the lowest setting is great for ambience and a night light for kids.
Charging
It reportedly takes seven hours in the full sun to fully charge. When I first got it, I left it outside to charge and promptly forgot about it. When I came back about eight hours later it was most definitely fully charged. How do I know? There's a charging indicator on the top.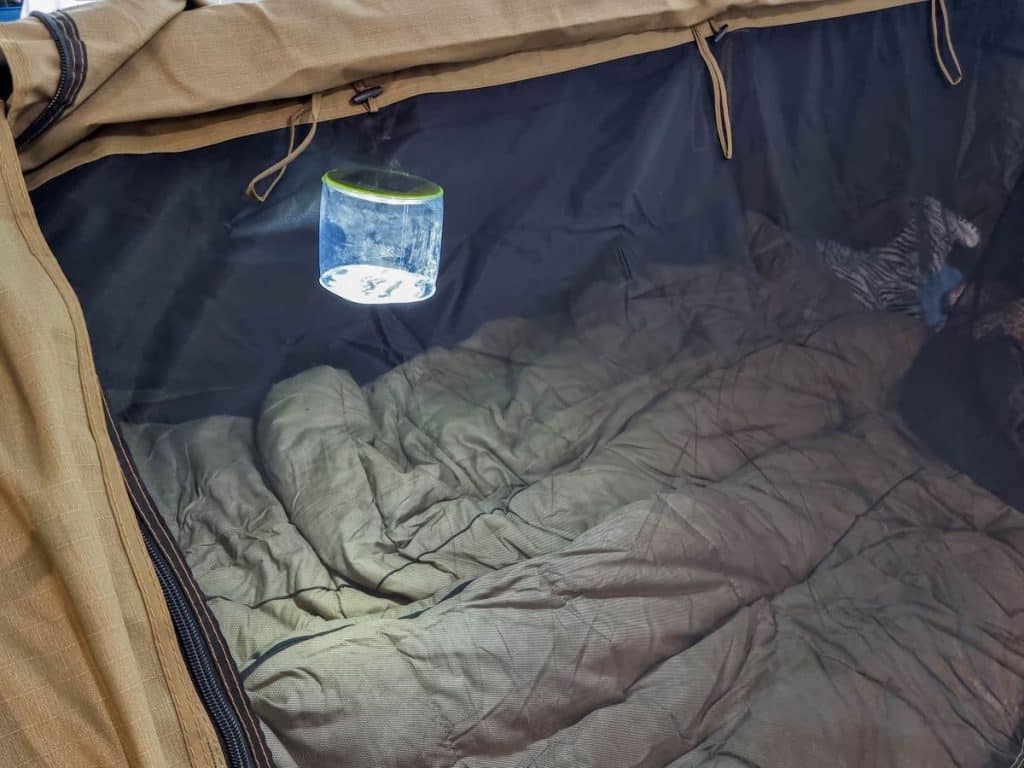 Ease of use
Once you get it blown up, the Luci inflatable solar light is super easy. Press the power button to turn it on and press it again to scroll through the different modes. It has a hanging hook on both ends so you can hang it anywhere.
I did find it a little hard to blow up as the bottom surface that contains the plug is hard plastic and not very flexible. Nevertheless, it can be done.
Durability
So far, the light appears to be incredibly durable. Once the kids had it in their swag, it didn't take long before it was being tossed between them. Because it's inflatable and everything in the tent is soft, it seemed to bounce around harmlessly.
Is it really waterproof?
Yes. It got rained on and it had a nice float on the surface of our pool.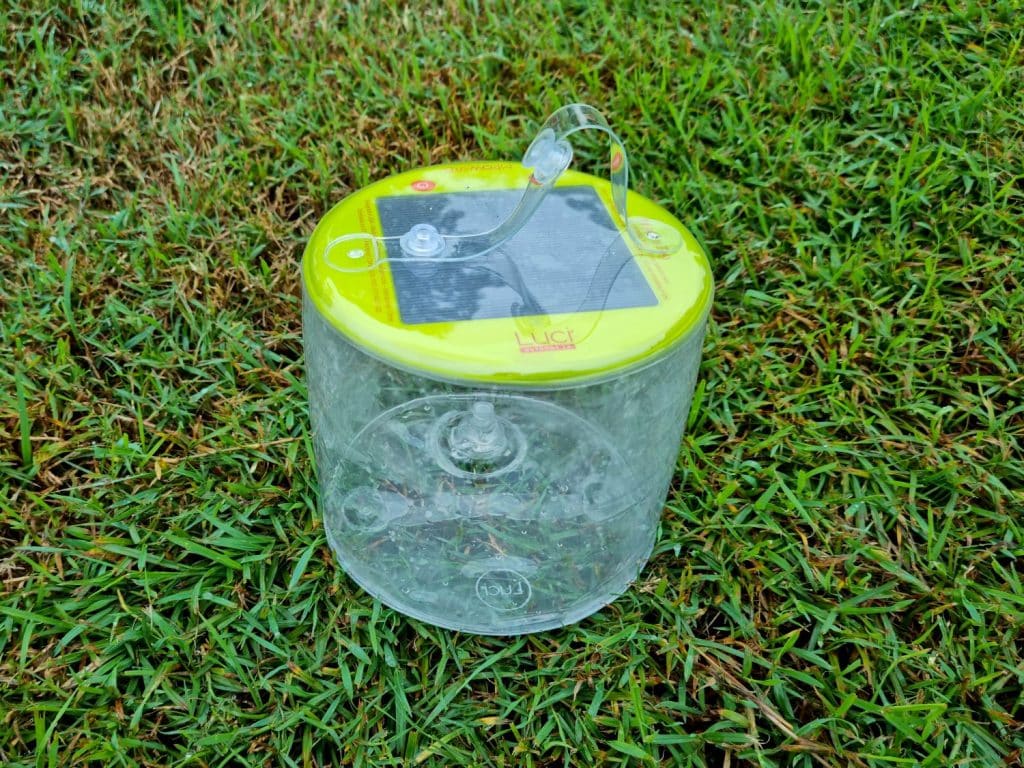 Pros and Cons
Pros
Lightweight
No single-use batteries required
Lasts a long time
Durable
Battery indicator
Cons
Charging time is long
A little hard to blow up due to the placement of the plug
As it's a blowup, kids and husbands have an urge to throw it around
The verdict
I actually really loved the Lucy Outdoors 2.0 inflatable solar light. Given its affordable price, I really wasn't expecting too much so I was pleasantly surprised. It ticks all the right boxes with solar, durability and performance, but it also puts out quite a nice soft light, particularly on the lowest setting.
I like it so much I'm going to buy another one. In fact, these would make a great gift!
How to purchase
Cost: $29.95
Where to purchase: Tentworld
This article contains affiliate links to products. We may receive a commission for purchases made through these links.