MAKE JIMMY'S BEACH YOUR BEACH. He won't mind!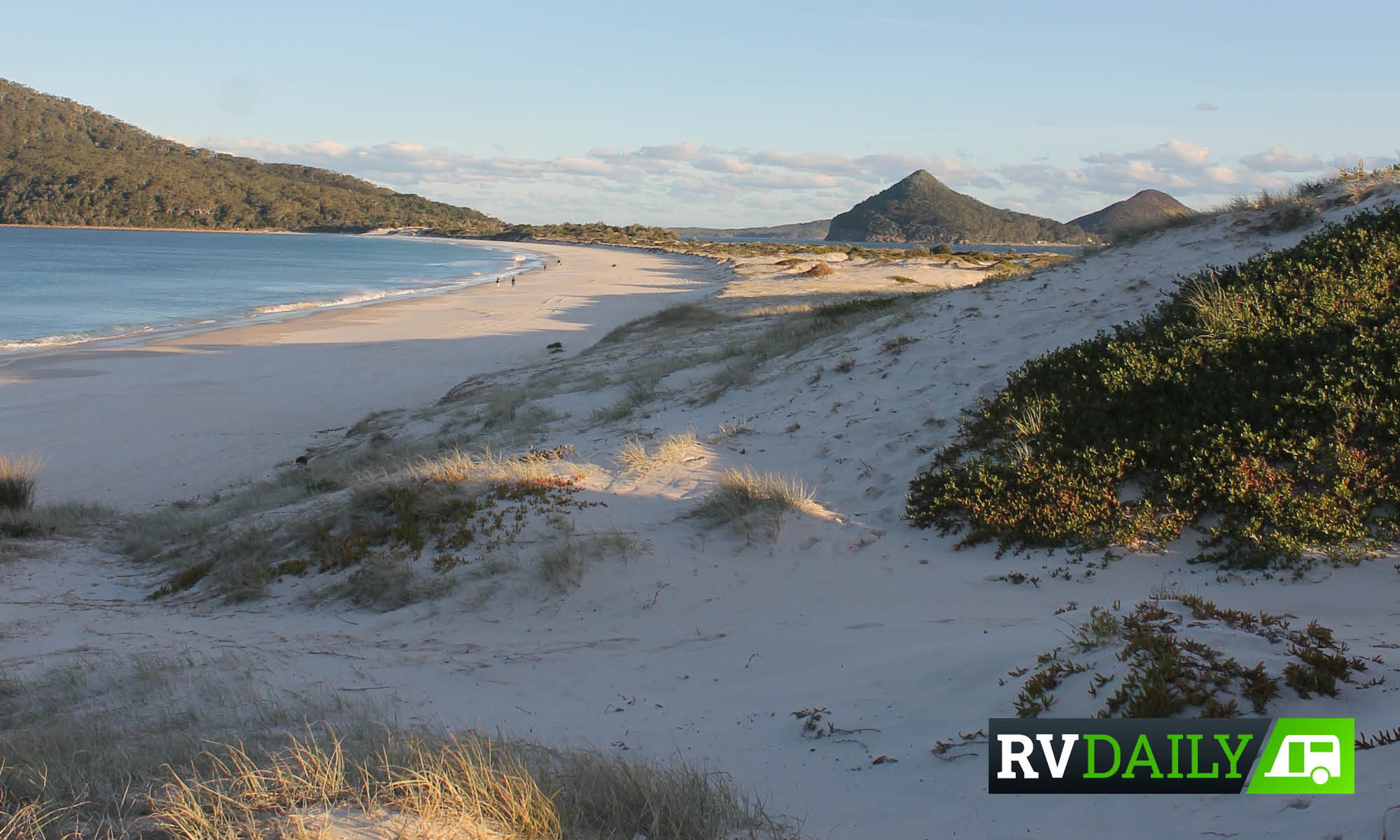 With pristine beaches and rugged headlands, Jimmy's Beach gives you the perfect break you need from the hustle and bustle of everyday life
WORDS SAM REES-JONES | IMAGES SAM REES-JONES & TIM SCOTT
Water babies delight – just two and half hours north of Sydney, nestled on the banks of the Karuah River, is Reflections Holiday Parks Jimmy's Beach, a caravan park that offers a bit of something for every travelling body.
With an early mid-week start, the RV Daily video team left the office in the Blue Mountains and headed up the coast to do some filming for the RV Daily Practical Guide to Modern Towing.
Even though it was a relatively short trip, it's still good to stop and check everything and get a much-needed stretch of the legs. A website I find very useful is the RMS interactive rest area map, which allows you to plan your rest stops well in advance.
The map brought up the Deerubbun Reserve rest stop that has ample space for large vehicles, and with five vehicles, two caravans and a camper-trailer, this is just what we needed.
We arrived at Jimmy's Beach around midday and we really had the pick of spots before the weekend crowds came in.
With an incredible assortment of camping sites, the choice is endless in this park… you can set up camp right on the peripheries of the park and hunker down away from everyone or pick a spot in the middle and park up on the concrete slabs. For those that are not like travelling snails and need to find a roof overhead, the park has stunning cabins and what they call 'beach tents' (or, as some call it, 'glamping' facilities). These beach tents are wonderful and make for a very different weekend away in a tent with everything you need and want and no struggles or arguments when putting up the tent!
As this visit to the park was a work trip, we stayed in the cabins so we could charge up all the batteries and have brainstorming meetings around the dinner table, while the vans were parked up on the concrete slabs nearby, staying in pristine condition ready for filming.
These cabins are perfect for a weekend or a week away – all you need to bring is your suitcase.
Once you arrive at Jimmy's Beach you can park your car up and forget about your keys until you leave. If you run out of bread and milk, the shops are just up the road so it's a gentle stroll to get what you need for that essential morning cup of java.
What I love about these coastal parks is the comings and goings of the diverse wildlife. Every meal time the bold and cheeky kookaburras would suddenly halt their hysterical giggling at our filming antics and quickly find a spot close enough to see what we had on offer but far enough to not intrude, cocking their heads politely as if asking for a titbit. It would take a lot more than that for us to forgive them for their raucous chuckles, which, on numerous occasions, meant that we had to do a retake when their volume seemingly exceeded safe decibels and drowned out the presenters' voices.
In the evenings, the shy dingoes hug the park's lengthening shadows as they forage through the park looking for any leftovers, being as silent and unobtrusive as they possibly can. During the day we made sure we steered clear of the bulky goannas soaking up the sun; we didn't want them to get a fright and mistake us for a tree and use their massive talons to climb over us.
Even though the days were filled with filming and little downtime, I was able to squeeze in a barefoot sunrise beach walk, spending that precious bit of time to totally disconnect. Just listening to the waves gently lapping on the shore is a wonderful way to start the day.
If you are in the area for a while and want to do a bit more exploring other than the beach, there is plenty for everyone to do in the area.
A few weeks before we started filming on this trip, we went to do a reconnaissance trip to the area and had some fun exploring. Within walking distance from the park, you can head up to Hawks Nest and hire a kayak to spend some time on the river exploring all the little nooks and crannies along the shoreline.
There is also the Nelson Head Heritage Lighthouse Cottage and Rescue Station Reserve that is situated on a headland 53 metres above sea level. The site for this lighthouse was picked for its extensive views of the port, making it a landscape photographer's hotspot. The historic lighthouse keeper's cottage is now a museum filled with local history.
Then there is the Port Stevens Ferry. The first ferry started operating in 1904, then closed down when WWII broke out but was restarted in 1987. It now operates all year round and has a variety of cruises on offer. You can do a round trip on the ferry link service which takes you from Nelson Bay, Hawks Nest and Tea Gardens; it has a daily departure from the Public Jetty Wharf at Nelson Bay, near the Game Fish Weigh Station, and from Tea Gardens Public Ferry Wharf opposite the hotel.
Or you can do the Tea Gardens lunch cruise, which takes you from Port Stephens up the Myall River. You stop off for lunch at the Tea Gardens Hotel and back again, watching the resident dolphins dance across the bow waves as the ferry moves across the river; it really is a hypnotic and relaxing experience.
We see kangaroos all over the country but how much do we really know about them? You can head up to the Nelson Bay Golf Course where there is a kangaroo sanctuary and Phil, who is a self-taught expert on kangaroos, makes his guided tours so much more than a simple 'see a kangaroo' tour. You learn so much about these furry bouncing beasts and it's very entertaining. There are a few koalas there as well, so you might be lucky enough to spot one. As it is a golf course, you could have a quick round of golf while you're there.
If your choice is camping or glamping, Jimmy's Beach offers something for everyone, whether you want an energetic few days or lazy weekend away. It really is the perfect spot to disconnect from the world and recharge your batteries, but book ahead if you are going in peak season as this park fills up fast.