Introducing urbanites to the world of camping looked so easy but then we were served a dose of camping karma at Conondale and Kenilworth!
Our friends had a 4WD although they were nervous even engaging it in a puddle at Saturday morning soccer! They wanted to give camping a go yet were concerned about the scarcity of skim milk cappuccinos. They owned hiking boots but were worried about getting them dirty. What to do with these outdoorsy virgins?
Fortunately for us, just 45 minutes behind our Sunshine Coast beaches, acai bowls and turmeric soy lattes is Kenilworth. This country town has more than an amazing bakery and cheese factory; just out of town you'll find the Conondale National Park and Imbil State Forest. Tucked away there are secret waterfalls and picturesque campgrounds, 2WD access and easy 4WD tracks; the perfect place for turning coiffed house dwellers into earthy camping types. For a whole menu on the region including RV Daily's visit to Kenilworth watch the Foodie Trails episode below.
There are a couple of campsites located in and around Conondale National Park but we felt that the most comfortable option for our soon-to-be campmates would be the Charlie Moreland Campground next door in the Imbil State Forest. Apart from being ridiculously pretty with large swimming holes and Little Yabba Creek flowing beside it, the facilities on offer are pretty new and rather than the more confronting drop toilets, these one are the non-stinky flush kind.
The campsites are enormous, if not slightly sloping and each one has a fire pit and some sort of log or rock feature to direct the kids to when they become annoying during set up or, in fact, any time of day. In short, Charlie Moreland is about as luxurious as national park camping gets.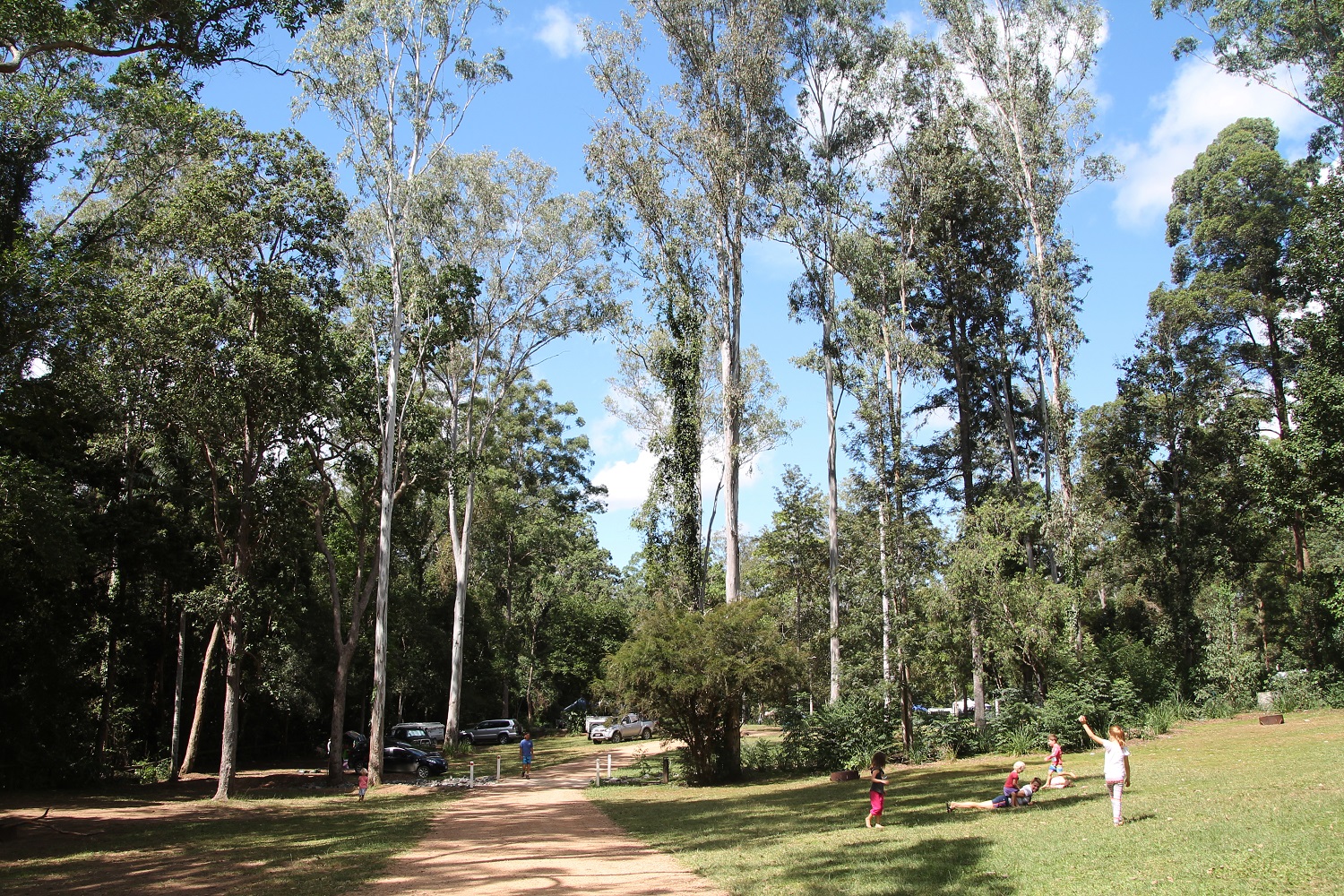 With my husband working, I'd decided to drive our seasoned Jayco Swan up from the Sunshine Coast earlier in the afternoon, set up our expert-level camping rig and be waiting around the fire with an ice-cold beer and gourmet potato chips when he'd finished work. I was ready to smirk on as the virgins would no doubt still be setting up their fresh-out-of-the-wrapper camping-related paraphernalia, such as a new fandangled pop-up gazebo. Imagine my surprise and disappointment to arrive a mere 60 minutes after them to a fully-functioning campsite.
Where was the obligatory first set-up fight? The wonky tent poles? The dash into town for some completely necessary, yet forgotten item? The only tension to be found was in the guide ropes of their expertly pitched tent. In fact, they looked positively relaxed as they waved me in and I realised the first of my own rookie errors when I saw their kids zooming around the campground happily on bikes; items I'd forgotten and was now being reminded of by the peanut gallery sitting in booster seats behind me.
Shrugging this off, we positioned our veritable mansion on wheels and I got on with setting it up. I felt like an intrepid explorer-goddess until a terrific bang signalled that something major had happened to one of the cables winching up the roof of the camper-trailer. One of the struts had failed and the roof would not be going up without some outside help. Suddenly it was I who was making a dash into town.
I managed to get a tomato stake from the helpful blokes at the Hardware Store in Kenilworth, assuring them I had a hacksaw with which to cut it to length back at camp. Nope. Forgot that too. Finally, with help from several different people and a borrowed tomahawk, we had the camper roof up. Rightful place at the top of the camping pyramid restored, yes? No. I couldn't get the gas to work, the door closed properly, the kids to stop whinging or the camper-trailer level. Looking over at the Virgins calmly feeding not only their own children but, by now, mine as well, it was almost time to admit defeat in who was at Expert Camping Level.
Our friends had clearly popped their camping cherry and the next morning after what they described as a "reasonable" night's sleep, this was confirmed. We explored the walks through hoop pine plantations, rainforests and creeks around Charlie Moreland and in the afternoon watched on in amusement as a swing hanging over the sizeable waterhole was used by adults and children alike. At night, we stoked the fire and gazed agog at the stars above.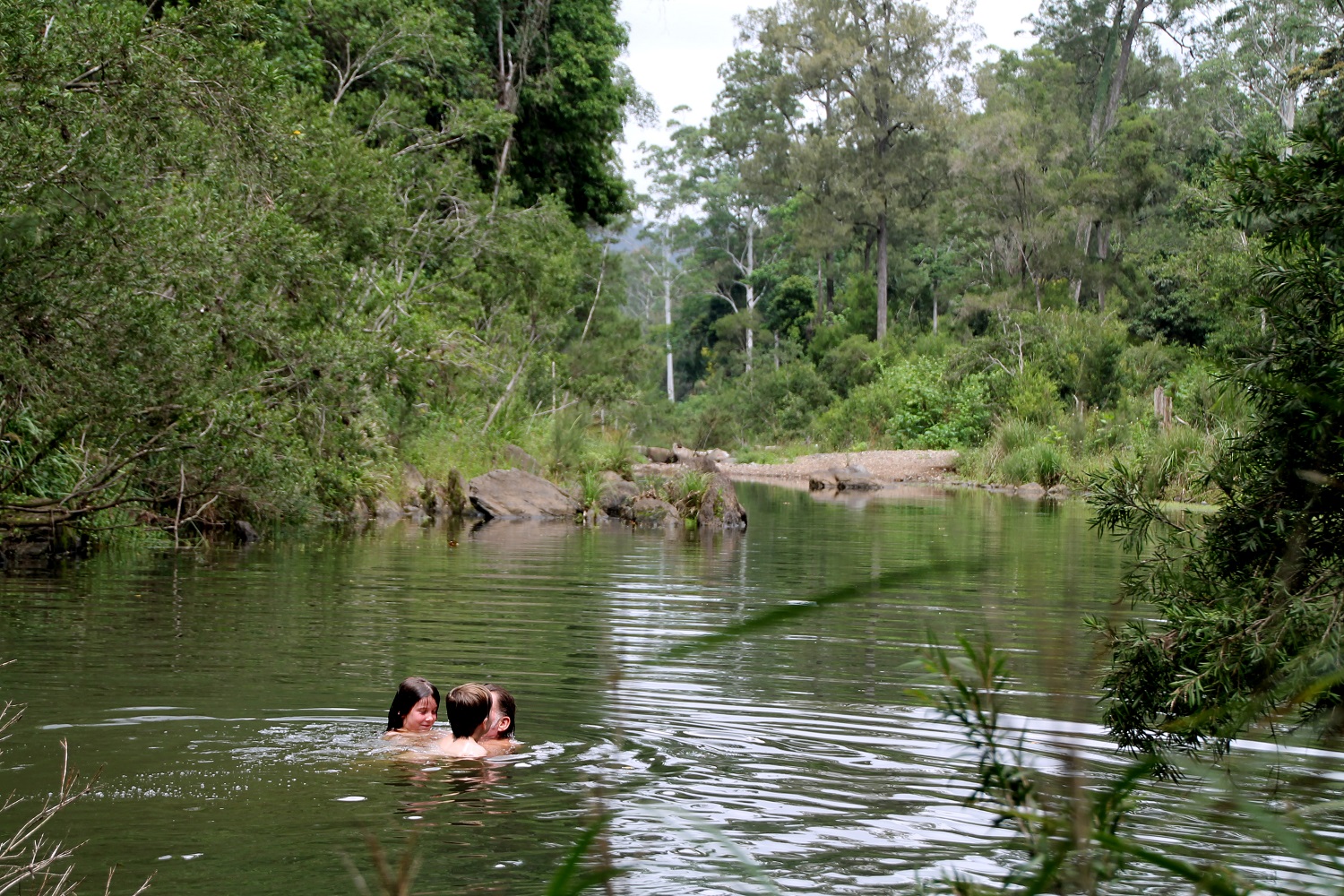 The next day's cooler weather and drizzle ensured swimming was out, so we hopped in the 4X4s, intent on driving the Sunday Creek Road around to Conondale National Park and perhaps go on a walk there. Our outdoorsy mojo continued to evade us though, as we led our convoy up the track, oblivious to, what we realised upon our return, was a very conspicuous sign stating that the road was closed. After 45 minutes of deep drainage lines and very steep, corrugated roads, we came across the Peters Creek Bridge and its permanent cement pylons indicating the road was most definitely closed. The short Peters Creek walk through the rainforest and along the pretty creek nearby at least provided the kids an opportunity to get out of the car and the justification that rattling around in a Toyota Prado was worth it for this brief commune with nature alone. We hadn't engaged low-range, but it had been a nice way to slowly introduce these guys to trickier than average dirt roads.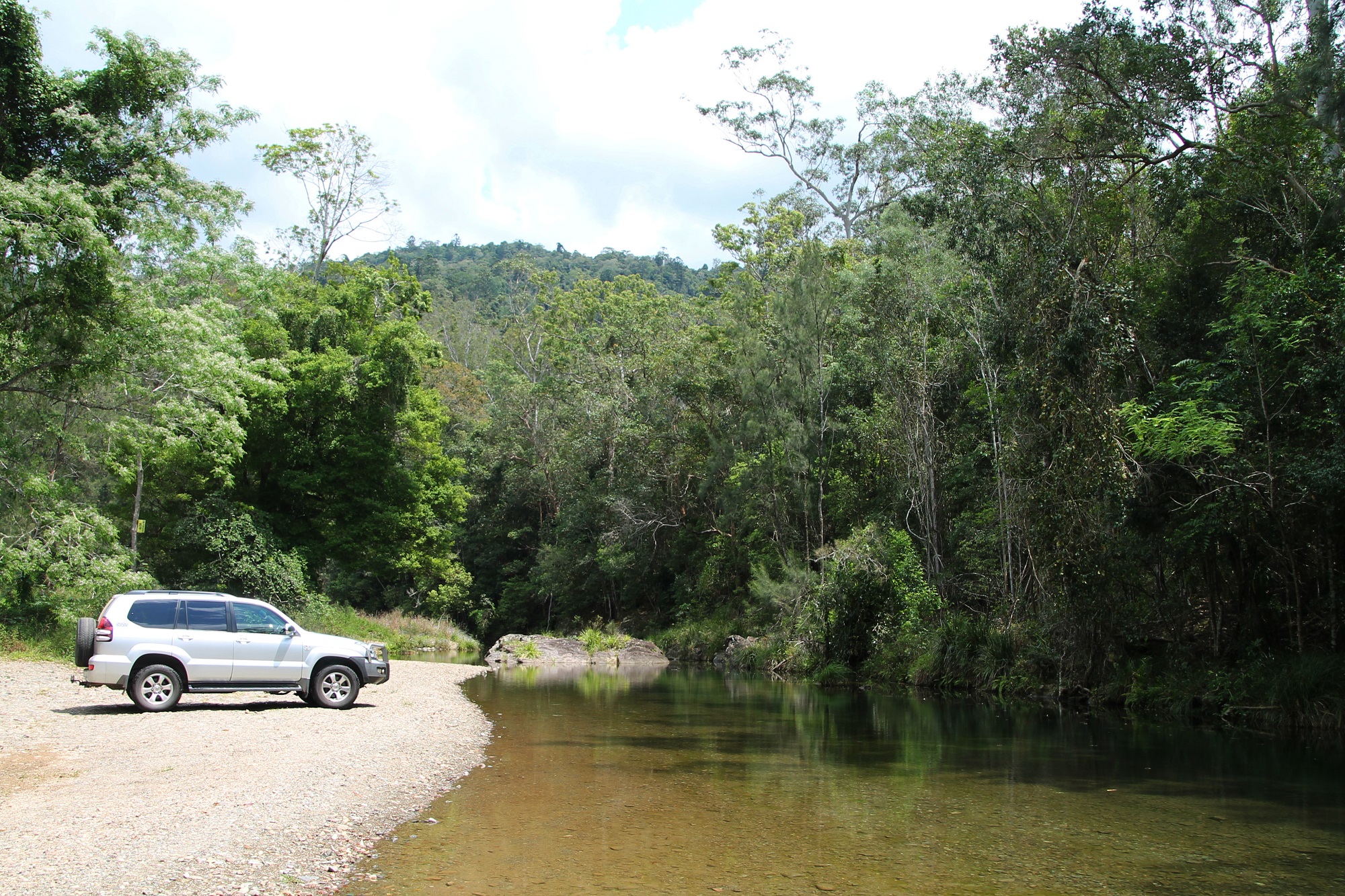 The wheels were finally locked when we travelled through shallow Booloumba Creek and into the camping and day-use area in the Conondale National Park. Driving up through similar terrain of eucalypt forests into Booloumba Falls and walking the fairly easy three-kilometre return track alongside the picturesque creek and cascades to the Breadknife Formation were well worth it; the rock formations and waterfalls at the end are spectacular.
The only thing left to pop was the bruised and almost rotten pack-up cherry. Again the Virgins trumped us with their outrageously simple pop-up gazebo, which proved to pop-down just as quickly while we laboriously grappled with awnings, flies and solar panels. They had their tent down and car packed before we managed to push our beds in and get the broken roof back down. What just happened? I do believe it's called karma of the camping kind.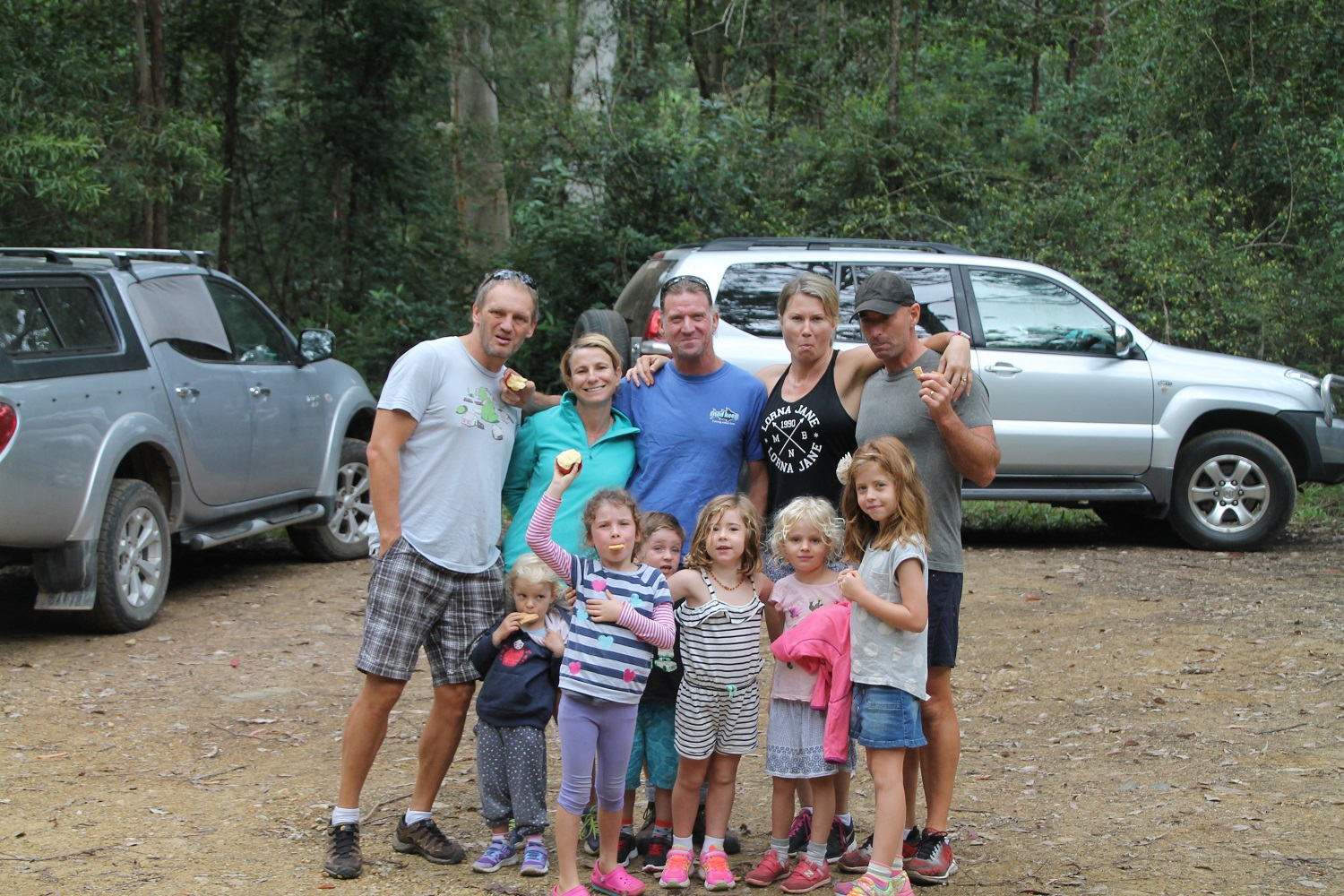 DESTINATION DETAILS
Getting there: Charlie Moreland campground, Imbil State Forest and Conondale National Park are 150 kilometres north of Brisbane and 7km south of Kenilworth.
Fees: Camping at Conondale and Charlie Moreland is $6.75 per person per night. Family rates are $27 per night. Children under 5 are free. Driving in the parks is free.
When to go: If it has rained recently, the creeks will be running and beautiful, but there may be leeches hanging about on some walks. Alternatively, drier weather presents more pleasant camping and less leeches, but the creeks may only be trickling.
Driving: For the experienced 4WDer, there are challenging tracks in behind the Charlie Moreland campground. Consult National Parks in regards to conditions and open tracks. A high-clearance 4WD is needed to get into the campgrounds at Booloumba Creek Camp area due to the creek crossing. Charlie Moreland is suitable for 2WD vehicles. Both are beautiful campsites.
For the cappuccino enthusiast: The bakery in Kenilworth is legendary.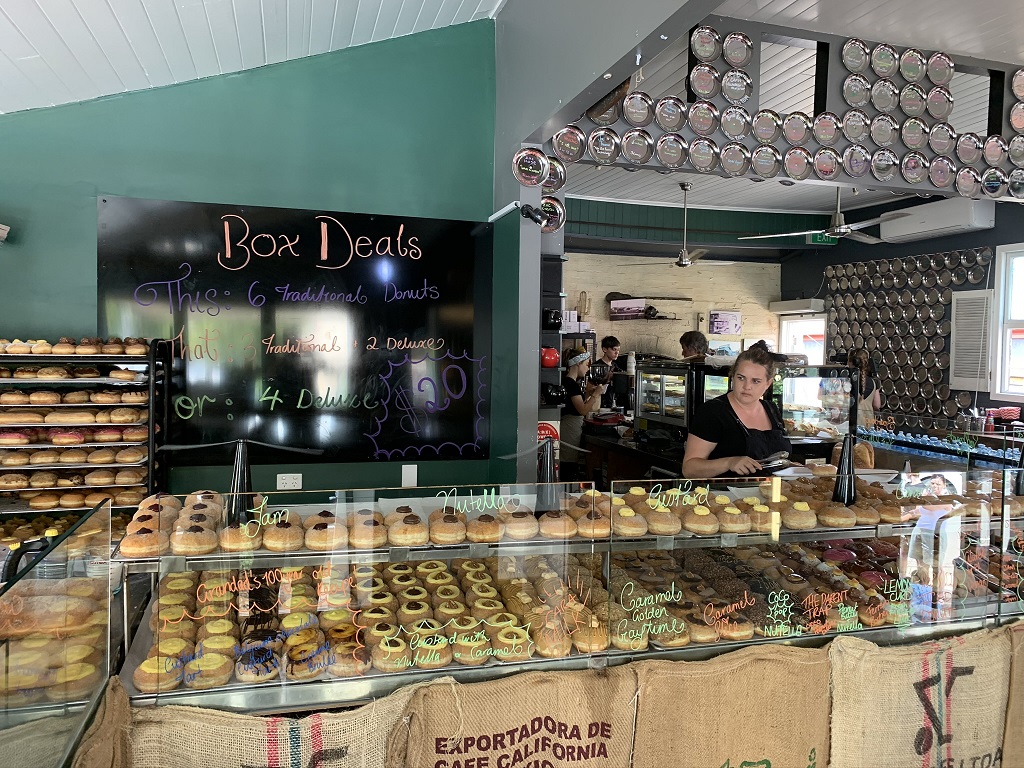 Words and images Melinda Uys.