Caravan Parks: Umina, Merry Beach, Nambucca, Lucky Bay, Wycliffe Well, Takarakka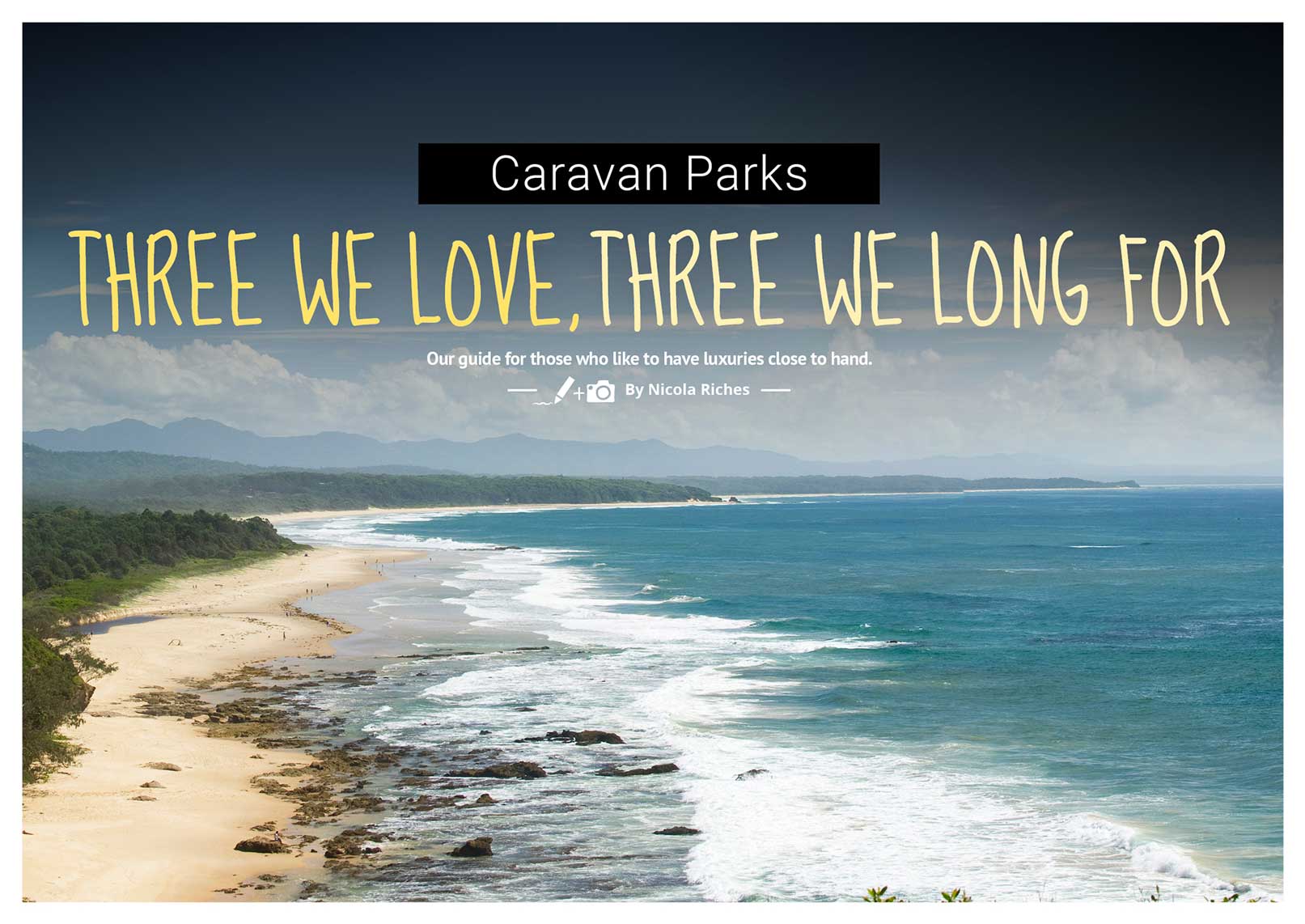 Three we love:
Ocean Beach Park – Umina, NSW
A spit from Sydney, this is a NSW stalwart, well-known to all campers in the region. Ocean Beach isn't a quiet escape and it's ensconced in what feels like a suburban annexe to Sydney's CBD, but for those living within a reasonable radius, it provides a perfect break for families with young kids or several generations in tow. There's a good balance between powered and non-powered sites, sites with en suite annexes and cabins – even safari tents for those who like to imagine they're out in the wild. Meanwhile, there's plenty to distract the kids: a fantastic water park, a veritable fleet of go-karts and a shallow, heated pool. Our overriding memory of this trip was a quick dash to the sumptuous Pearl Beach, a five-minute drive over the cliff, where we set-up tent in the rain and tucked into a picnic lunch.
Merry Beach Resort – Kioloa, NSW
Situated approximately 35 minutes north of Batemans Bay and 20 minutes south of Ulladulla, this resort is one of the few parks on the NSW coast offering absolute beachfront caravan and camping sites and for that reason, it trumps many other similar parks in the local area. We're also enamoured by the fact that, while camp fires are permitted in a brazier off the ground, the facilities elsewhere are pretty limited: no BBQs or Wi-Fi, meaning that there is a genuine feeling of escape and remoteness when you get here. Be warned too, there was barely a mobile signal either, so for those wishing to stay connected, this might not be the best stop. However, we loved it – the heated kids pool was safe and clean and staff couldn't have been more friendly. Boat launching facilities, a general store and restaurant are all located within walking distance too.
Nambucca Headland Park – Nambucca Heads, NSW
This park is located directly on the headland with spectacular ocean views to the north and south, with direct track access to the beach and wide waterways on which to paddle a canoe or sail a boat. That in itself makes Nambucca a perfect spot in its own right, but its proximity to Gordon Park Rainforest makes this park extra special. Set in a relatively built-up area, it is surprisingly peaceful and gives keen walkers the chance to spot birds such as the Eastern Yellow Robin – which we happily spotted on our visit. Nambucca is replete with all the facilities to make this a home away from home: BBQs in abundance, laundry, washing lines, dog-friendly and the caravan sites are slab, grass, powered and unpowered. We also loved the ease with which we could call in on Macksville producers market and Bellingen community market for our food and cook it up back at the camp kitchen.
Three We Long For:
Lucky Bay Campground – Esperance, WA
Lucky Bay is one of the parks that has been established on the back of the Parks for People plan put in place by WA in 2014, which will see the opening of 200 new sites across the region. Housing 22 individual sites and catering for vans, trailers and tents, it is pretty basic, but provides everything you need: a camp kitchen with a gas barbecue and burners, hot and cold running water (untreated) and a dishwashing sink. There are also hot and cold water showers. What particularly interested us was that the 17km Cape Le Grand coastal trail passes through the campground, while the 3km Lucky Bay to Thistle Cove and back apparently suitable for most ages and fitness levels. There is vehicle and trailer access from the campground to the sandy beach for launching small boats and while the beach is unpatrolled, we're assured that it is relatively safe because it is so sheltered.
Wycliffe Well Holiday Park – Davenport, NT
We yearn to visit this park for a couple of reasons. First up, despite being on the very eastern edge of the Tanami Desert, the park is unusually green and grassy all year round due to it being on top of a large underground water table. But more importantly, owners say that it is Australia's 'UFO-spotting capital', meaning of course that you'll have a high chance of witnessing some flying saucers. Facilities are endless, including fuel and car parts, a bar, as well as a shop and restaurant which are open until 8.30pm every day. It also has powered and unpowered sites, a camp kitchen, laundry, two amenity blocks and an indoor swimming pool. With the Davenport Range National Park just close by, this is definitely one we'd like to try.
Takarakka Resort  – Carnarvon National Park, QLD
Takarakka is set on 100 acres, surrounded by the Carnarvon Creek and is the only caravan site open all year round. It is the best way to explore Carnarvon Gorge National Park which is just minutes away – hence why it appears on this month's top three list. Reviews suggest that all sites are nicely spaced, natural grassy areas with a practical mix of shaded and sunny. However, if you have to find extra beds, the park also offers its famous Taka Safari Tents. Many reviews also boast that Takarakka has Australia's best presented camp kitchen and bathroom amenities, although that's one bold claim. There's a restaurant offering lunch and dinner on a covered verandah and a camp kitchen. Other amenities include free parking, a shop and laundry facilities.