Inland Queensland has some of the country's most stunning waterfront campsites! So escape the coastal crowds and get your feet wet without becoming shark bait!
Think sandy beaches, sparkling surf, sailing calm waters on the Whitsundays. Queensland has a magnificent coastline that attracts thousands of tourists. Just try to get a caravan site midwinter and you know what I mean – 20 footers everywhere. But, if it's waterfront camping that you are after, you don't need to do battle with the hordes, or spend a fortune. Tucked away in numerous nooks and crannies throughout the state are some absolutely magnificent stretches of water. Not surf, admittedly, but nevertheless very, very attractive, and no sharks or stingers. They are scattered all over the state.
Here is some of the best inland waterfront camping Queensland has to offer.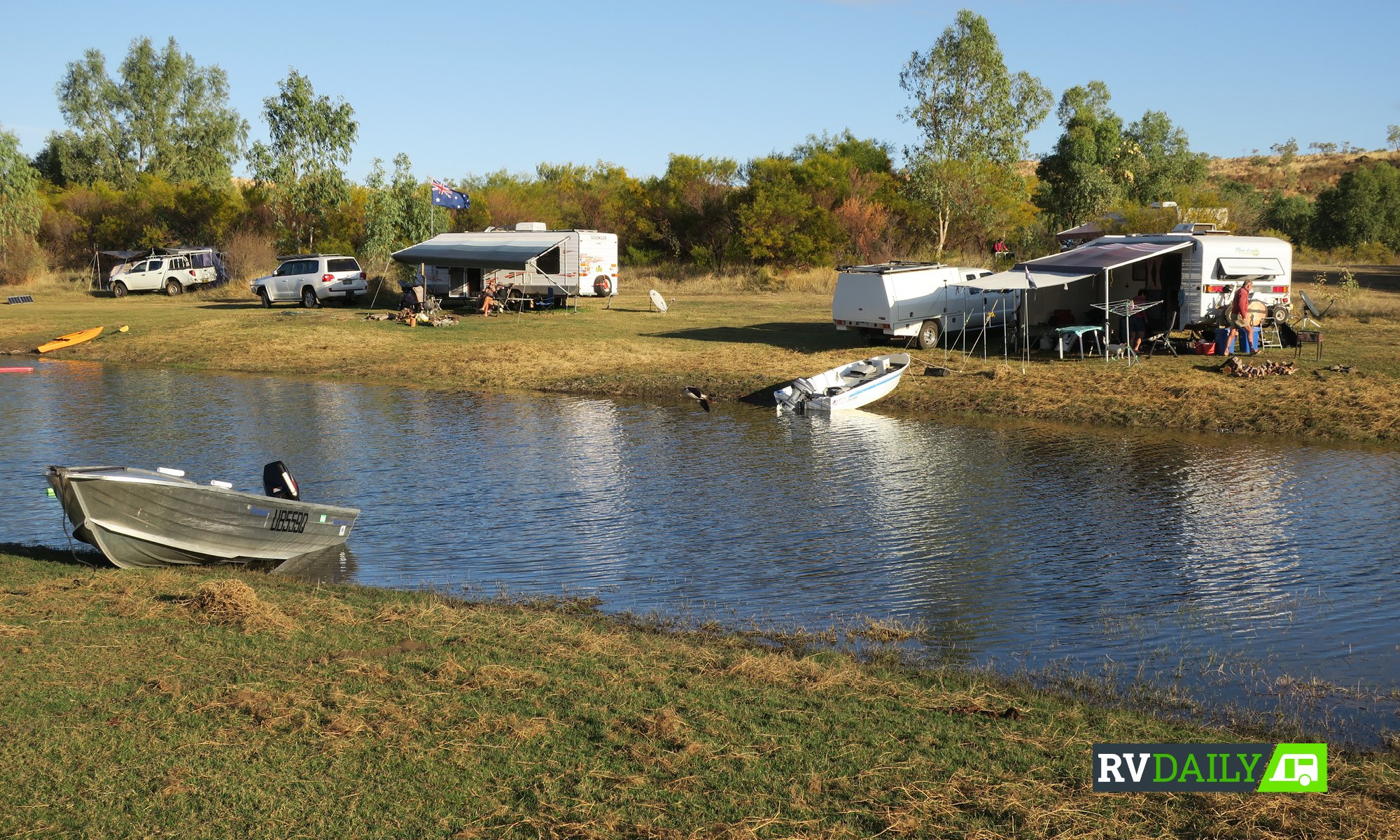 Lake Corella (AKA Corella Dam)
Roughly midway between Mt Isa and Cloncurry is Lake Corella. Take a sneaky little turn off the highway to the south, through an unlocked gate, down a short, unsealed road and the water opens up. The Clem Walton Dam was built in 1959 to provide water to the Mary Kathleen uranium mining township (which by the way is an excellent stopover – Google it).
This one is big. Your 36-foot, fifth-wheeler can get in here. There are heaps of campsites right on the waterfront, and even more scattered among the trees, and in the open if you're after solar. Some people make this a long-term 'residence', and it doesn't cost a cracker. There are no facilities, including dump points, so you may need to travel a bit for that choice job if you stay a few days. The water from the lake is pretty good quality. A lot of people get heavily into red-clawing and tinnies are quite easy to launch from the edge. Lots of canoes get a fair work out too. Fires are permitted, but wood is scarce. For me, a nice, quiet, relaxing spot for a few days or a few weeks.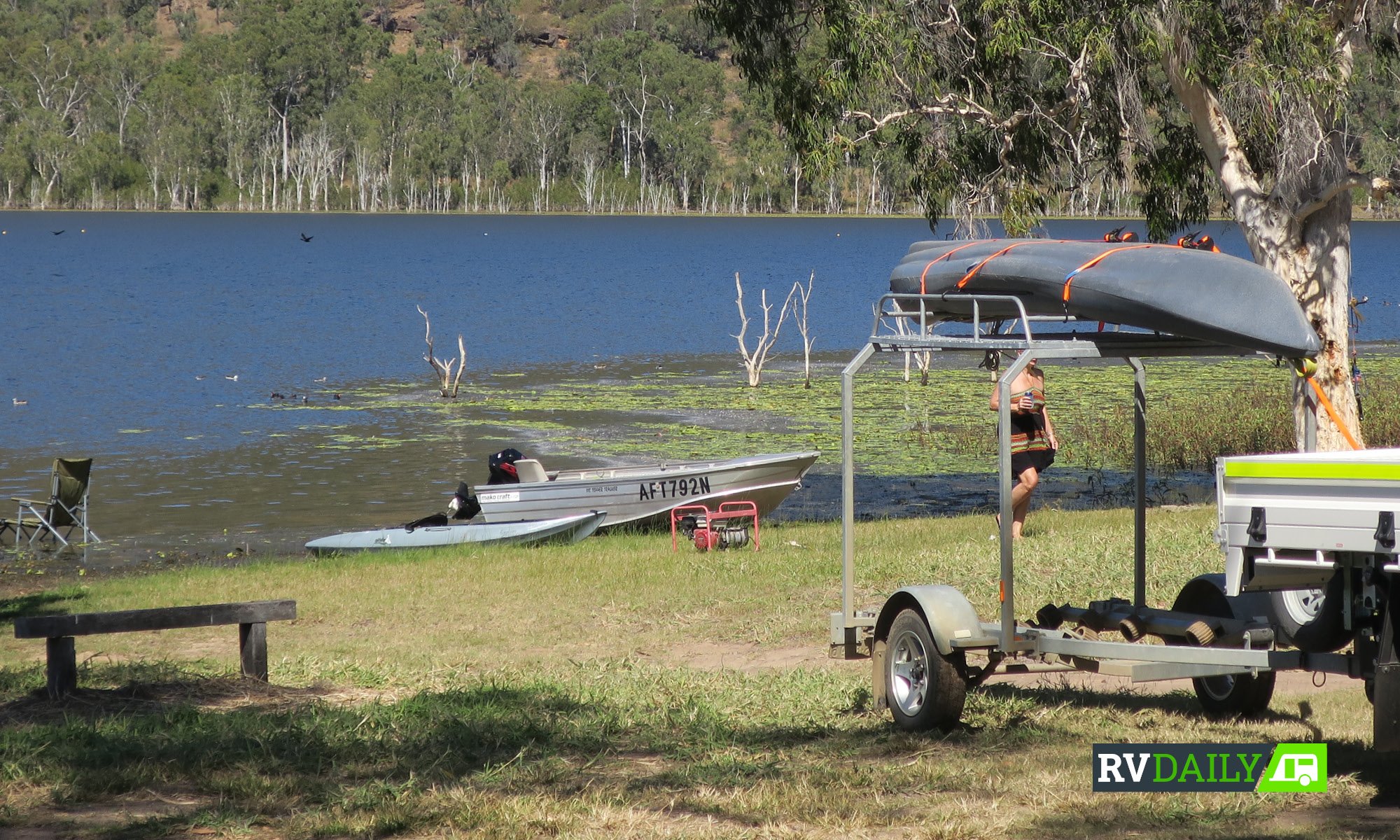 Lake Elphinstone
The lake is about 90km west of Mackay. It is easy access directly off a sealed road. This is top camping, and it's free.
There is a long stretch of absolute waterfront sites, and even more just back a little and up the slope. Camping is unstructured and when it is busy be prepared for someone to squeeze in next to you, or even in front of you. Not all the sites are dead level but they're pretty good. The lake is very popular with miners and their families, and it can get busy in peak times (for example, school holidays).
All the usual water activities are taken up here, notably canoeing and putt-putting around in tinnies. But sometimes the local lads bring their toys down, and the activities turn to power-boating and water skiing. There goes the ambience.
There is a relatively new amenities block comprising toilets and cold showers. Quite a few people use the water for drinking, so it seems to be okay?
Glenden is 25km away and has a good range of supplies. For me, longer-term possibilities.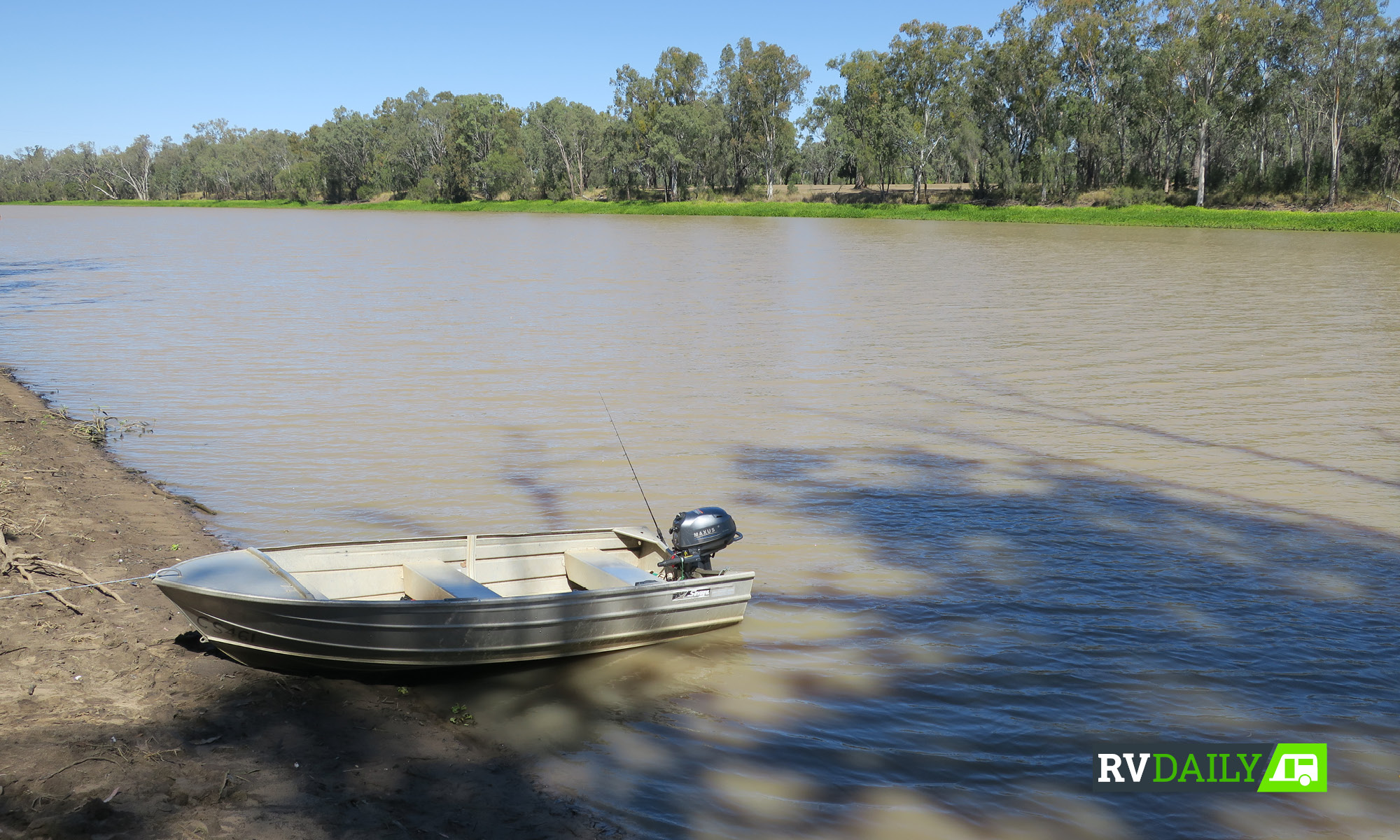 Baralaba Weir (AKA Neville Hewitt Weir)
Sneakily running behind the hospital at Baralaba is a narrow road that heads down to a nice little camping area on the Dawson River. It's a pretty spot, on a narrow stretch of river (no major expanses of water) with the main semi-structured camping spaces positioned around a central grassed area.
These main spots around the grass are pretty popular. I've even heard of people waiting up to three days to get their 'favourite' site. "Well, I come here every year and that's where I camp." Each to their own.
You could properly fit a dozen caravans around the grassed area, and maybe another 12 to 15 scattered through the trees a little further back. Nearly all sites are back from the river and look down on the water; that means you have to walk a short distance to take a peek. But it is quite picturesque with tall trees, grassy spots, barbecues, some picnic tables, a boat ramp, toilets. The hot showers will cost you one dollar. It's close to town which has got a small supermarket and a pub – the meals aren't too bad either.
For me, recommended as an overnighter or for a couple of nights.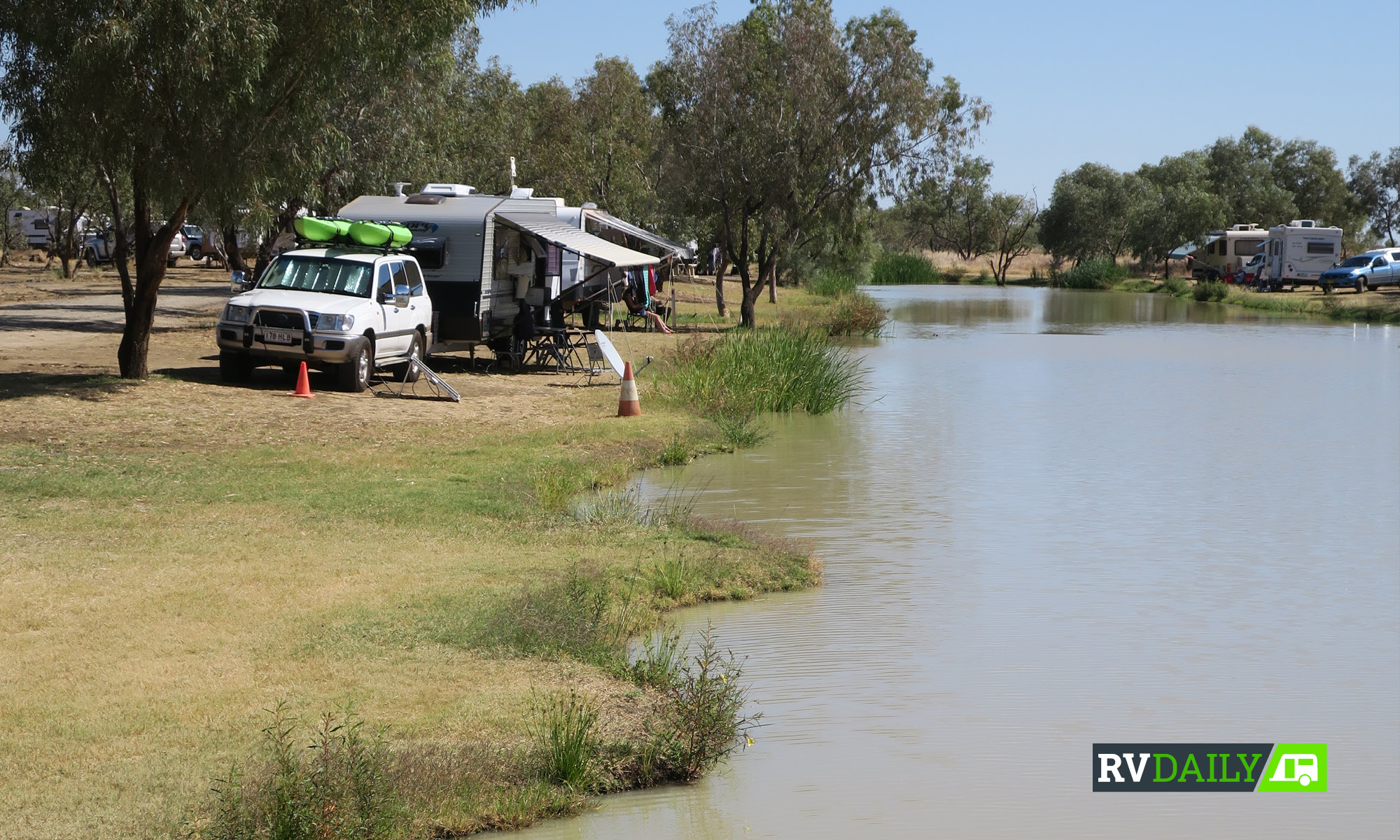 Julia Creek
Julia Creek is on the Flinders Highway between Cloncurry and Richmond. Just to the east of the town, on the creek, is a tidy little campsite managed by the local administration. Just off the highway and it's free.
This one's a little different. It's compact and a bit like an ornamental pool. The creek is only about 15m wide and maybe 70m long. It's nicely grassed up to the water with small amounts of shade. Spaces are limited and under the control of a friendly on-site host. This structure works pretty well as it cuts out any jostling for position or overcrowding. The host also provides interesting information about the area and what to do if you have some spare time; and they drum up a happy hour. There are no facilities and I certainly wouldn't trust the water to drink. This is definitely a "sitting only" stopover. For me, an overnighter. Maximum length of stay here is 96 hours.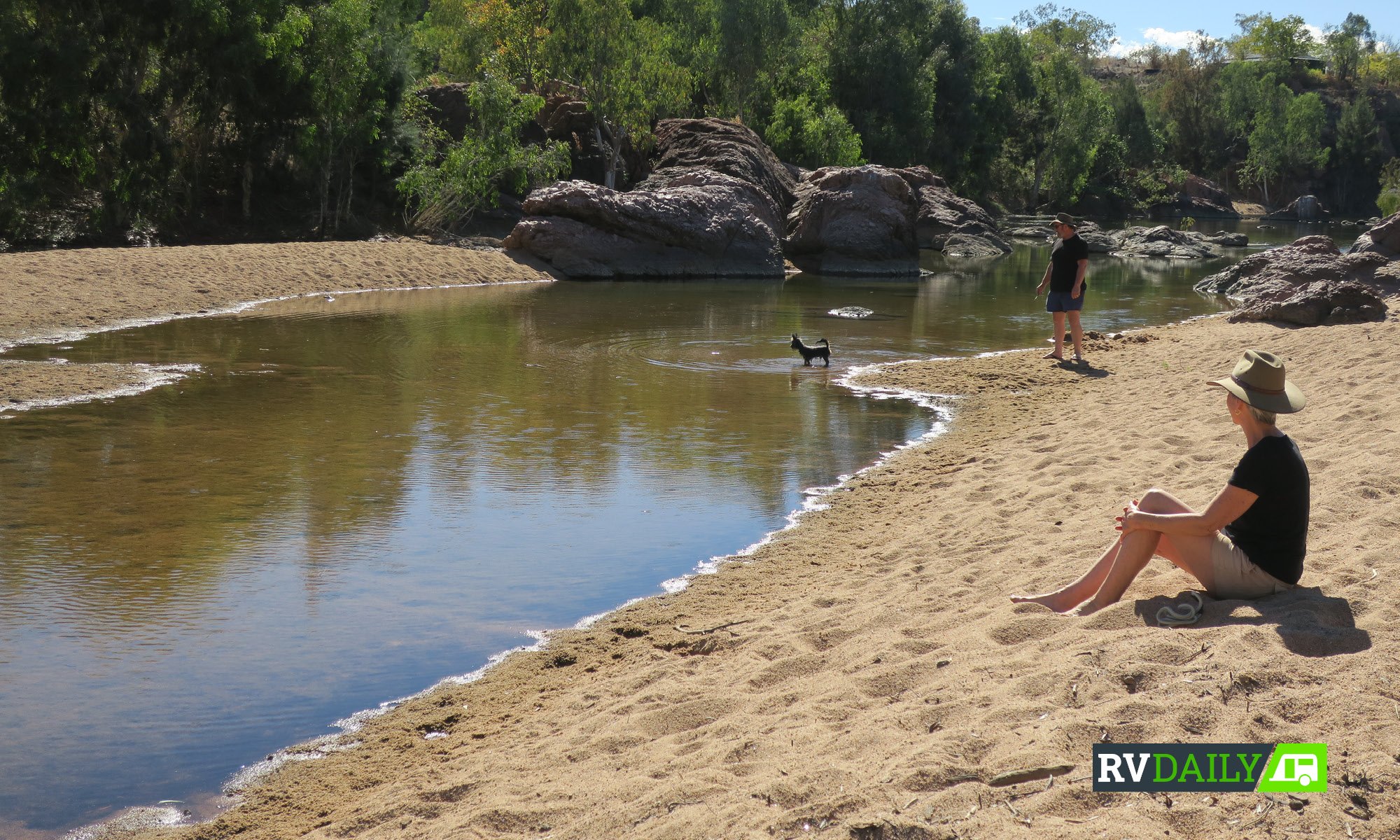 O'Briens Creek
About 33km north of Mount Surprise (on the Gulf Development Road, 230km east of Croydon) is the O'Briens Creek Gemfield. Here is where you'll find the O'Briens Creek waterfront camping area. The road in is unsealed and perhaps a little rough in places, but certainly not difficult.
This is quite an attractive area with tall trees, lots of flat space and ideal for all types of rigs. Just mooch around and pick a spot you like. The creek is actually fenced off from the camping area, to keep the cattle out, but there are plenty of gates and it's only a short walk to the water. It's more of a trickling brook than a raging torrent, but quite pretty and relaxing. It's a place to get your feet wet and soak up the bush. But of course, if you're a fossicker, and many do camp for long periods, it's a great place to set up a base while you make your fortune. There are showers and toilets, but no supplies. At $10 per person per night, it's quite reasonable.
Relax for a night or two (unless the gem-fields call).
More information
To my knowledge, there is no definitive guide to waterfront camping in Queensland. It's a matter of ferreting about and doing some research. Here are a few ideas to get you started. Start with the standard sources such as Camps Australia.
There are a few campsite directories, such as Find a Camp and the Full Range Camping Directory. Some of the popular internet forums can also be helpful, such as The Grey Nomads. Perhaps the best source is one of those long-term caravanners that you bump into from time to time who have spent 15 years travelling inland Queensland. They are an invaluable source of information.
Words and images Greg Cartan.