Just when you think camping around the Dampier Peninsula couldn't be more of an adventure, you soon discover there's another campground worth going the distance.
Pender Bay Escape is a diamond in the rough. The far-flung campground on Native Title land requires an epic off-road drive to its secluded location. So discreet, there is minimal signage off Cape Leveque Road (and off-road) to guide you to this part of the coast. Yes, it's an adventure in itself to arrive at this off-grid locale just 178km north of Broome. But once you do, you'll be glad you did, as what awaits is nothing short of spectacular.
Here we share with you what makes Pender Bay Escape worth the drive.
What to expect at Pender Bay Escape
The lure of Pender Bay Escape comes down to its natural assets. Indigo waters wrap the bay's rising red cliffs, numerous beached boulders, and native bushlands. It even has natural hide-outs – rock pools and caves – adding to its wilderness charm.
And just like its raw setting, so too are the campgrounds. Over 40 campsites spread across the bay, with most sites able to accommodate RVs or caravans. As for the campsite location, you couldn't fault it. Most campsites dot the cliffs with campers treated to uninterrupted ocean views and a personal campfire. Surrounding bushlands act as a natural barrier, making you feel even more off-grid without the constant sight of fellow campers. How's that for being spoilt?
The bushlands also come in handy for collecting dead wood for the campfire. Come sundown, the clifftop becomes illuminated by the sporadic burnt-orange glow of campfires along the cliffs. Sitting around a campfire to the soundtrack of gentle waves crashing couldn't feel more magical.
Things to do in Pender Bay
It's easy to be blown away by Pender Bay, and we don't blame you for wanting to stay longer. But if time is not on your side, here are some highlights on what to do around Pender Bay on top of the usual swimming and fishing routine (which, of course, is great too!).
Visit Love Heart Rock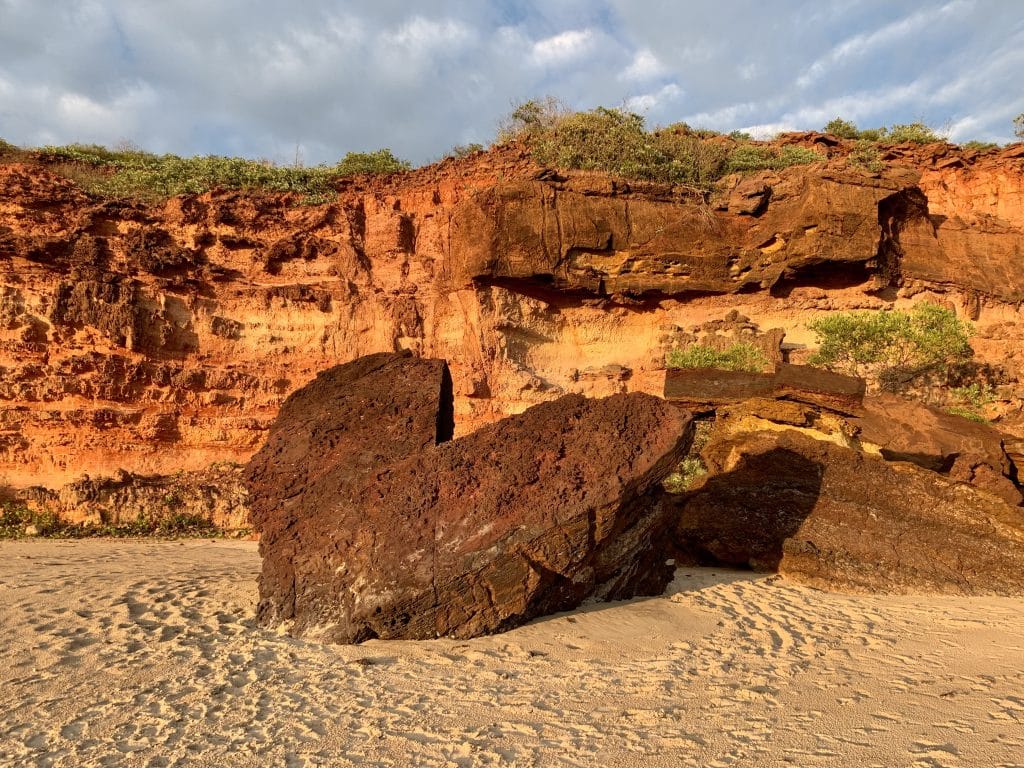 See a real-life emoji in the form of Love Heart Rock. The namesake rock is in the shape of, you guessed it, the symbol of love. Access the mega-rock along the right side of the coastline with a stroll along the beach. We advise you to check it out at sunrise to see it lit up from the sun's glow – a heartfelt moment.
Swim in the Rock Pool
Rock Pool is an Instagram favourite for a good reason. It's nature's version of an infinity pool, shaped by towering bluffs overlooking the beach.
It's a unique find as the pool can only be accessed at low tide around the headland. Start your coastal walk two hours before low tide to ensure you get enough wade time. The walk includes a bit of rock climbing and body contortion to enter the paradisal site. Time to bliss out.
Hike to Cliff Lookout
See the bay from a new perspective by embarking on a hike to Cliff Lookout. Its beach access is a little bit further from the rock pool, but you can also drive to the lookout if you are not feeling up to it. Easy.
Amenities
There is only one ablution block featuring flushing toilets, hot showers, and laundry available at the reception area – so expect to bump up the holiday step count.
Campers also must be self-sufficient as all campsites are unpowered and there is no convenience store.
Vehicle/boat beach access
Pender Bay has designated zones for vehicle and boat access.
Cost
No doubt this campground is in a five-star location. Better yet, you can enjoy it all at a rock bottom rate of $20 per person per night.
Before you go
Pender Bay Escape only accepts advance bookings and no walk-ins, so it's important to book ahead. Email penderbay@bigpond.com or phone 0429 845 707 to secure your slice of coastal paradise.