Don't Buy a Lemon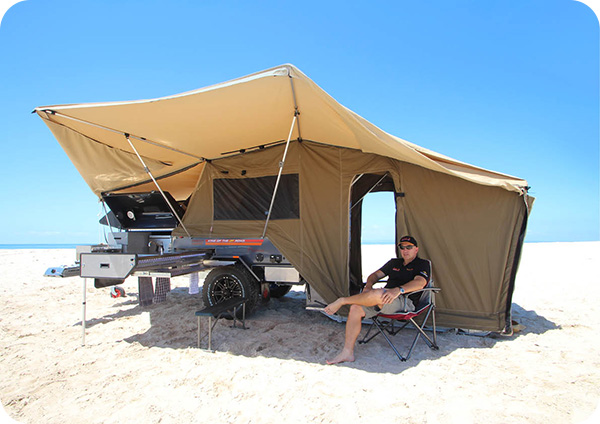 Buying second-hand can be fraught with danger. Here are 10 things you'll want to consider to avoid a world of citrus-tainted heartache.
By Anthony Kilner
Not everyone can afford a new product, so the second-hand market becomes a good place to start bringing your dream to life. With new sales of campers steadily moving higher, there is a vast pool of pre-loved units available, but how do we determine which one will suit?
For images, videos and the full RV Daily experience, read this in our online magazine.
There are so many questions to consider when looking into the massive second-hand camper market. Always look for campers that offer more than you might need so that you don't limit where you can go, and consider the following 10 points to work out what you want, what you need and how to get it right.
1 – Aussie vs Imported
This battle has raged long and hard. I would always suggest Australian products
over imported for quality, aftersales service and parts. Yes, imported vehicles can offer more bang for the buck upfront, however, quality issues have plagued the industry for years.
2 – Do Your Homework
I can't stress this point enough. Get out and about and look at as many campers as possible, both new and second-hand to work out what's good and what's not. Don't just buy the first one you see because it's cheap!
3 – Camper Specifics
Once you have decided on one or two camper models, work out what you want to do with it and where you want to go to ensure the camper will get you there and back again. There's no use buying a slipper spring box trailer if you want to knock over a three-week Cape York odyssey.
4 – Sleeping Arrangements
A basic camper might sleep two inside, however, it's good to consider variables. Kids might come into the equation or friends might join you on a trip and need a sleeping space under cover. Awnings and extra rooms are important.
5 – Mechanical Mania
A second-hand camper may have travelled squillions of kilometres before it's put up for re-housing. Ensure all the mechanicals are suitable for the job and are in good working order before purchasing. Ask about its travel history.
6 – Canvas Capers
If canvas is not maintained properly, it can leak, it can shrink, it can get flimsy, and it will often get mouldy and smell. Check out all the canvas thoroughly, inspecting for mould or weak spots. Leaky canvas is a very common problem with second-hand campers.
7 – Body Work
If a camper is widely travelled, then it will have seen some H2O. A rust inspection is a must! Check the chassis, the box section and inside storage lockers. Also check that the seals are in serviceable condition. Rust is not your friend.
8 – Upgrades & Accessories
When you find the right camper for you, check if there are any factory upgrades and accessories you can easily add to make your touring more comfortable and practical. The original manufacturer will answer this question easily.
9 – Roadworthy AND Rego
Ensure a second-hand camper will be roadworthy, and gas and electrically compliant for your state. This is critical if you're buying from interstate. It ensures that the van has been checked by a reputable authority and will also make getting insurance a little easier.
10 – Second Opinion
If you really like a camper-trailer then don't be afraid to ask the manufacturer about that model, any history it might have, and even take it to them or their agent is possible. Getting a second opinion is strongly advised to ensure you don't wind up with something that falls apart as soon as you take it on the road.