Getting the right barbecue stand is fairly essential when you think about it; some are great, some no so much, and such a simple bit of kit will absolutely make or break cooking. We go through a bunch of different barbecue stands to make sure you get the right one for you, the first time.
Late 2018 I was in my shed, hot and bothered while packing the car for our annual summer getaway. I had my Weber Q and the Weber Rolling Cart left to pack on top of my rear drawers and was failing miserably. Due to the wheels and length of the stand, there was no easy way to fit it in with the rest of my gear. In the end, it went on the roof and I swore it would be the last year I used the standard Weber Q stand, as I knew there had to be a better option out there.
So I did some research and found the two barbecues being mentioned regularly were the Weber Baby Q, which I used, and the Ziegler and Brown (commonly referred to as a Ziggy). In my search, I was mainly looking at Baby Q stands but some of the options suited each barbecue. Looking around online and on various forums, there were several off-the-shelf options regularly recommended. In a bid to work out which stand suited me best, I rounded up a few of these options and decided to put them through their paces on last year's summer holiday.
Read Next: BBQ Grudge Match. Weber vs Ziggy click here
Weber Q Rolling Cart
The Weber Rolling Cart was my initial purchase and not one I would make again if I had my time over. The cart folds flat but is quite long when folded down and the wheels are not small, so it sits quite high even when lying flat on a flat surface. It's not a standout as far as stability goes either and isn't easy to level on uneven ground due to the wheel and leg design. The main thing going for the rolling cart is its ability to hold either a Baby Q or a Q2000 Series if you happen to have both. RRP $159
For more info click here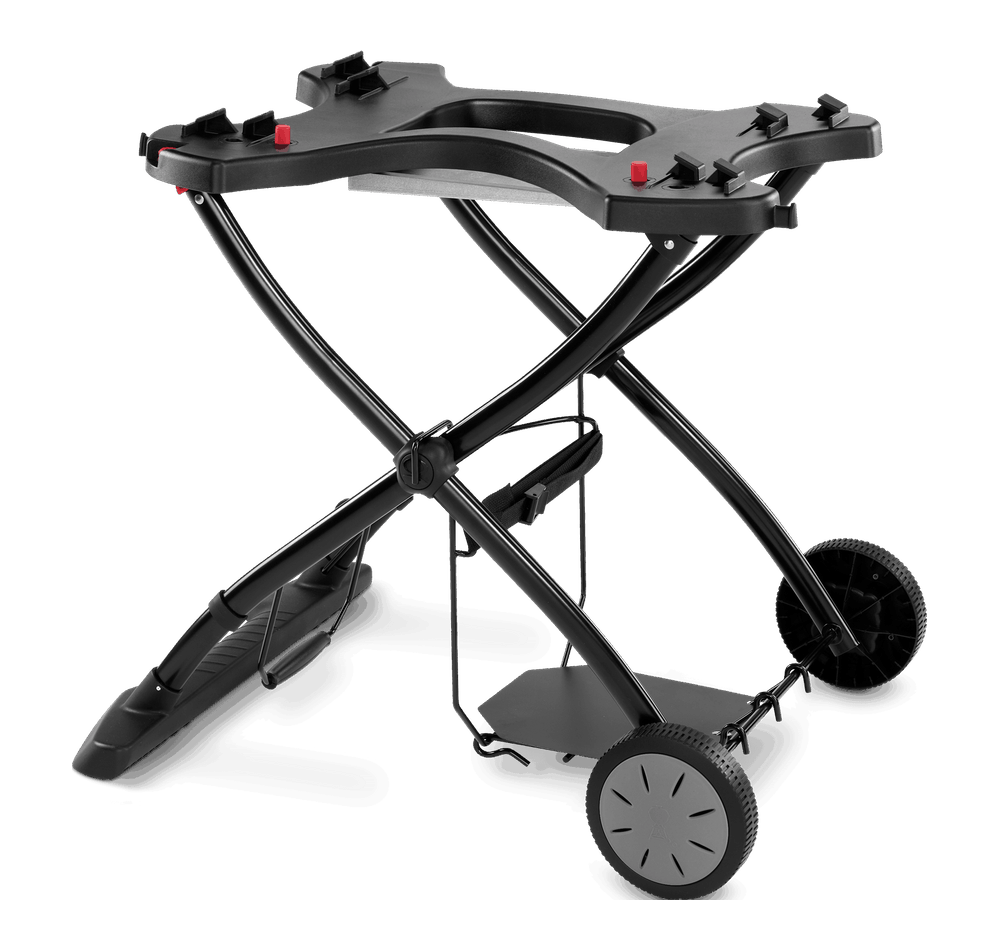 Roll-up Aluminium Table
The roll-up aluminium table is not a bad option and can be used as a table as well when not storing the barbecue. Most options have a 70cm x 70cm top when set up, making it big enough for a Weber Baby Q or Ziggy. The roll-up table isn't the sturdiest option once you put a bit of weight on it and if it's a cheaper non-adjustable leg version, it can be hard to level out without digging the legs into the ground. The roll-up table packs down long and quite skinny and is certainly better to pack than the rolling cart option. RRP $79.99
For more info click here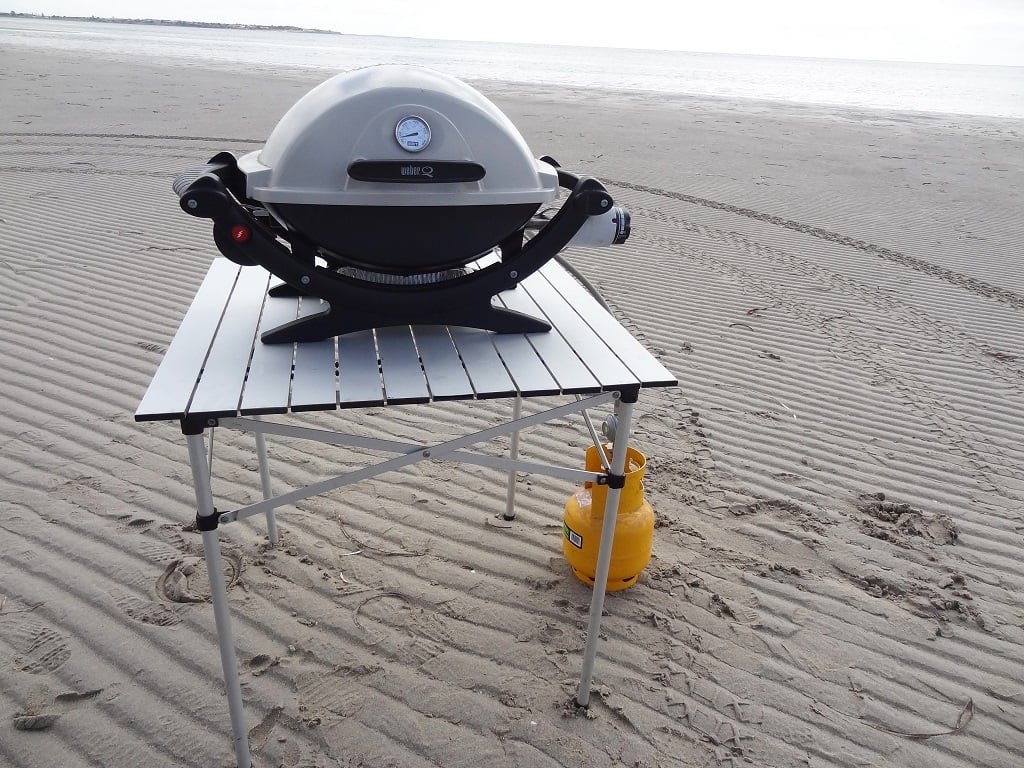 Lifetime Blow Mould Table
It's the cheapest of the bunch and one option that does seem to get used by plenty of people. The table is still quite long when folded at almost 700mm but does pack flatter than the Weber Rolling Cart as it doesn't have any wheels. This option is suitable for Weber Baby Q or Ziggy users, and can also be useful as a small table when not being used as one of our barbecue stands. It also has some height adjustment built-in. The stand is made of a high-density polyethylene top, which has potential to melt with enough heat. The steel legs make it reasonably strong but also add to the weight, which comes in at just under 5kg. The plastic table is reasonably sturdy when on flat ground but isn't easy to make stable on uneven ground due to the leg design. Overall, this is the cheapest option but still weighs quite a bit for its size and takes up a bit of room due to length when packed. RRP $24.90
For more info click here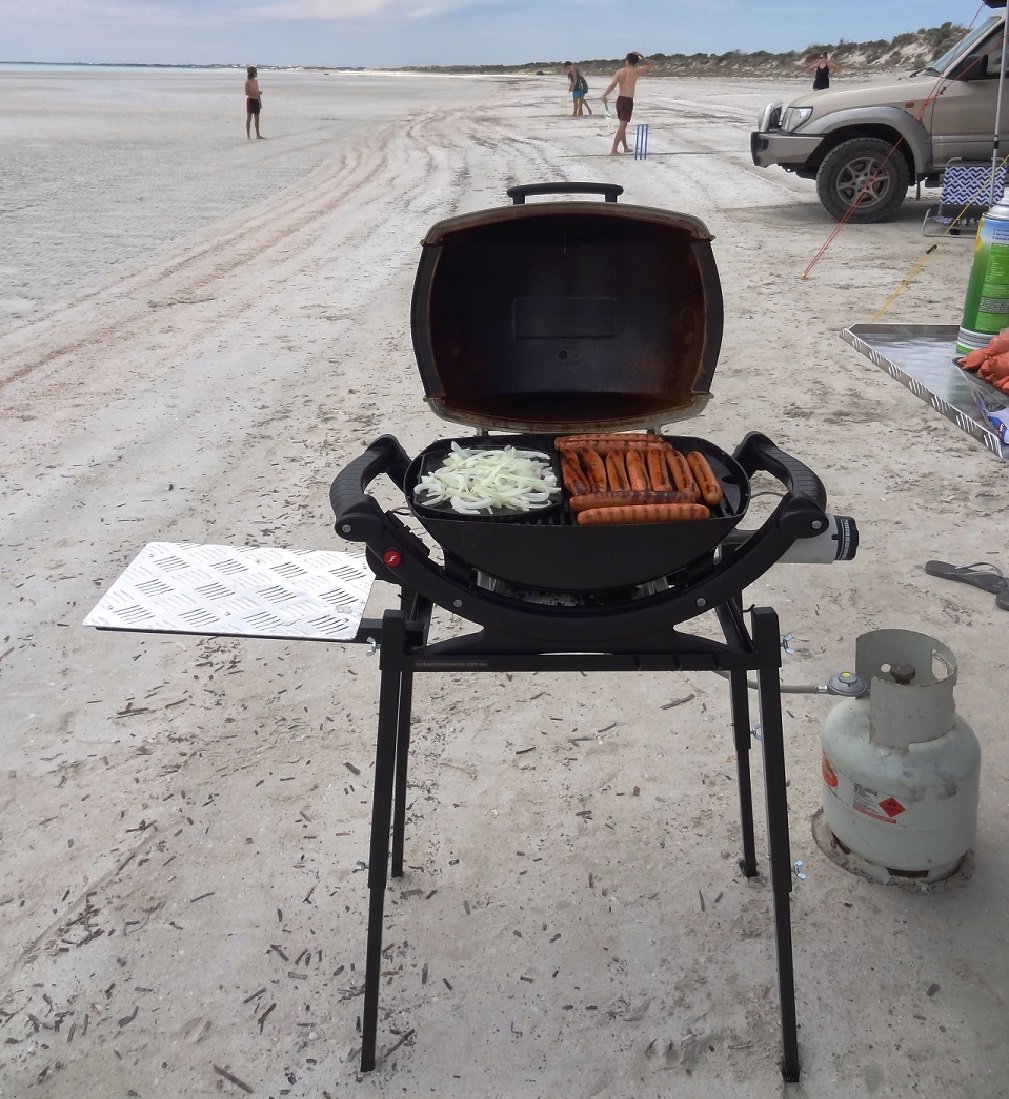 Outback BBQ Stand
The Outback BBQ Stand was designed by Adelaide local Torsten and is a high-quality, super-strong stand that's designed specifically for the Weber Baby Q (he's now made one for Ziggy users). There's a lot to like about the Outback BBQ Stand – it's definitely the strongest of the options I tested, and the four adjustable legs do a great job of catering for uneven ground. The stand packs down under the Weber Q, raising it only by 4mm, and fits in the standard Weber bag for storage.
The basic pack comes with a chequer-plate side table that clips on and off in seconds, and a second side table can also be purchased if required. There's no chance of melting this bad boy! The stand has several small hooks built-in for storing utensils, and a washtub or chopping board insert can also be added to make it a true multi-purpose product. Weight-wise it's a bit heavier than the other options at 7.5kg but in my opinion, the packability and features far outweigh the extra couple of kilograms.
It's also very portable so can be easily packed in the car and taken on any adventures away from the van. If you use a Weber, this would be my pick. RRP $192
For more info click here
BBQ Arm
The BBQ Arm was primarily designed to be used with a caravan and can accommodate Weber Qs, Ziggys or any other type of camp cooker that will fit on the tray. This makes the BBQ Arm a good all-rounder and one of our favourite barbecue stands.
There are several arm lengths to choose from and also two tray sizes – standard and large. The beauty of the BBQ Arm is the arm itself will securely fit in a jockey wheel holder, allowing you to move it around as you please. You can also use the supplied universal drawer bar mount, which simply slips over your drawbar and tightens in place with a couple of bolts. The BBQ Arm is stable when locked into the holder and places the barbecue at an ideal height for cooking. The tray could also be used as a table and the arm can safely be left in the holder for travel, making storage a lot easier. The standard tray easily fits into my front tunnel boot while the large tray sits perfectly upside-down on top of my car fridge secured with a cheap occy strap.
Something new in the works that I was lucky to test out was a tow bar mounting hitch for the BBQ Arm. This allows you to throw it in the car and use it away from the van in the same way you would use it on the van. It works just as well and makes the stand portable. The stand is really well made and nicely finished, and once the tow hitch attachment is available in packs it will make it a great all-rounder. After testing both sizes on my trip, my preference was the smaller arm and tray. RRP from $255
For more info click here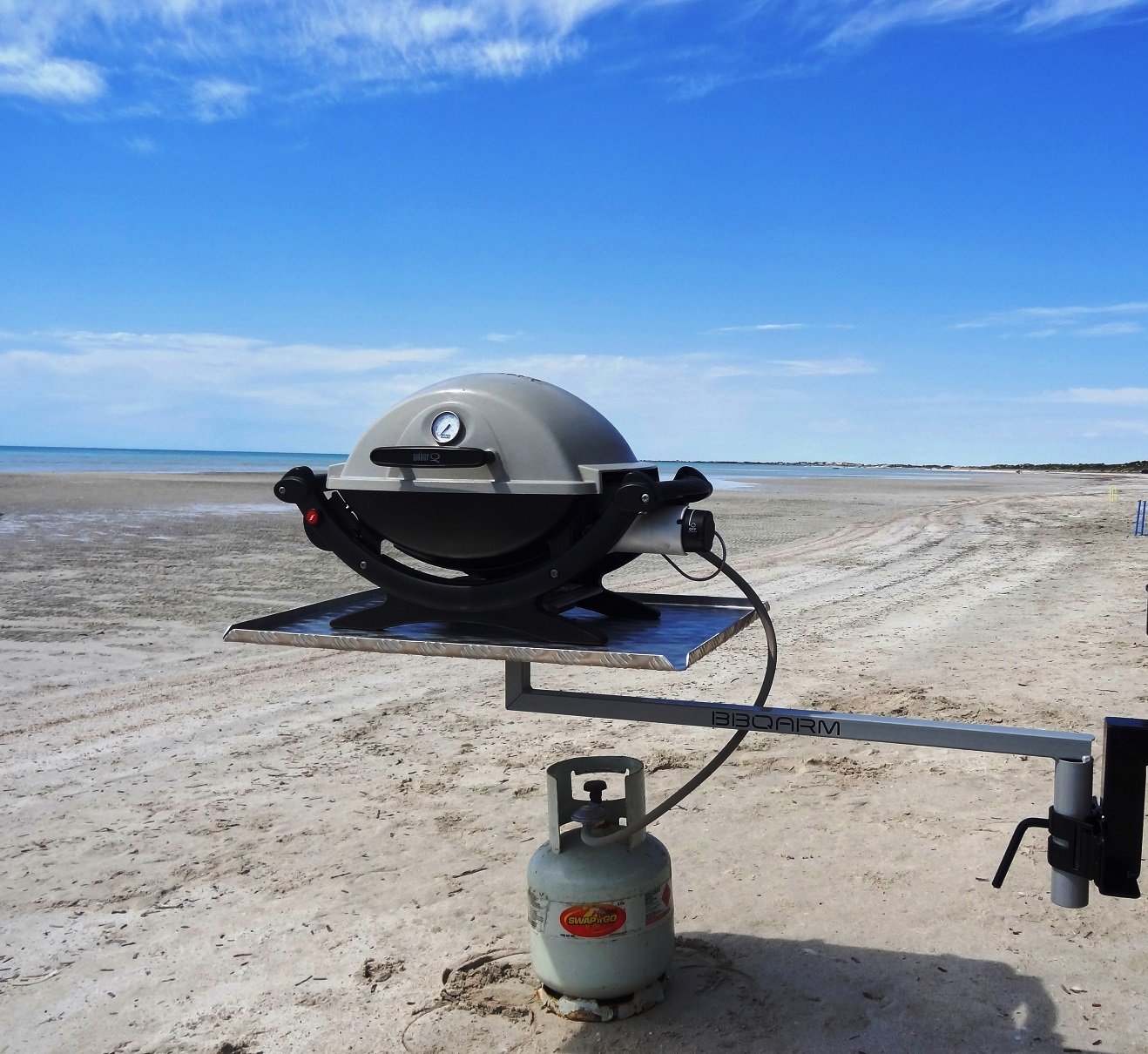 Conclusion
As expected, there were pros and cons to all the stands I tested. Some were appealing due to the lower price, while other stands were better to use design-wise, or easier to pack and store.
In my opinion, the Weber Rolling Cart would be my last pick as it's the biggest to pack, costs as much as four of the five other options, and isn't all that stable.
If you are after the cheapest, most basic option of barbecue stands– in other words, one that doesn't do much other than hold a barbecue on reasonably flat surfaces – the Lifetime Blow Mould Table will do the trick, as long as you can spare the storage room, given it's quite long.
While staying in the van at the caravan park, I mostly used the BBQ Arm. It was always on the drawbar out of the way, was the perfect place for my gas hose to reach and I was able to easily secure it to the drawbar when off adventuring. If you use a Ziggy or something other than a Baby Q, then the BBQ Arm would be the best option for you as it's a one-size-fits-all stand. Adding the tow hitch makes it portable as well if you like to venture away from base camp occasionally.
When we had to pack the car and head off to the beach or away from the van, I picked the Outback BBQ Stand as it sits under the Weber in the standard bag for travel, so it takes up no extra space than the Weber itself. It's also super-strong and the legs are easily adjustable, so stability isn't a problem. If you use a Weber Baby Q and spend as much time car-based as van-based, then the Outback BBQ Stand is a clear winner.
Let us know in the comments which of the barbecue stands you think is best; we're keen to hear your thoughts!
Words and images Mick Lawrence.