A Weekend Away From Brisbane: Teewah Beach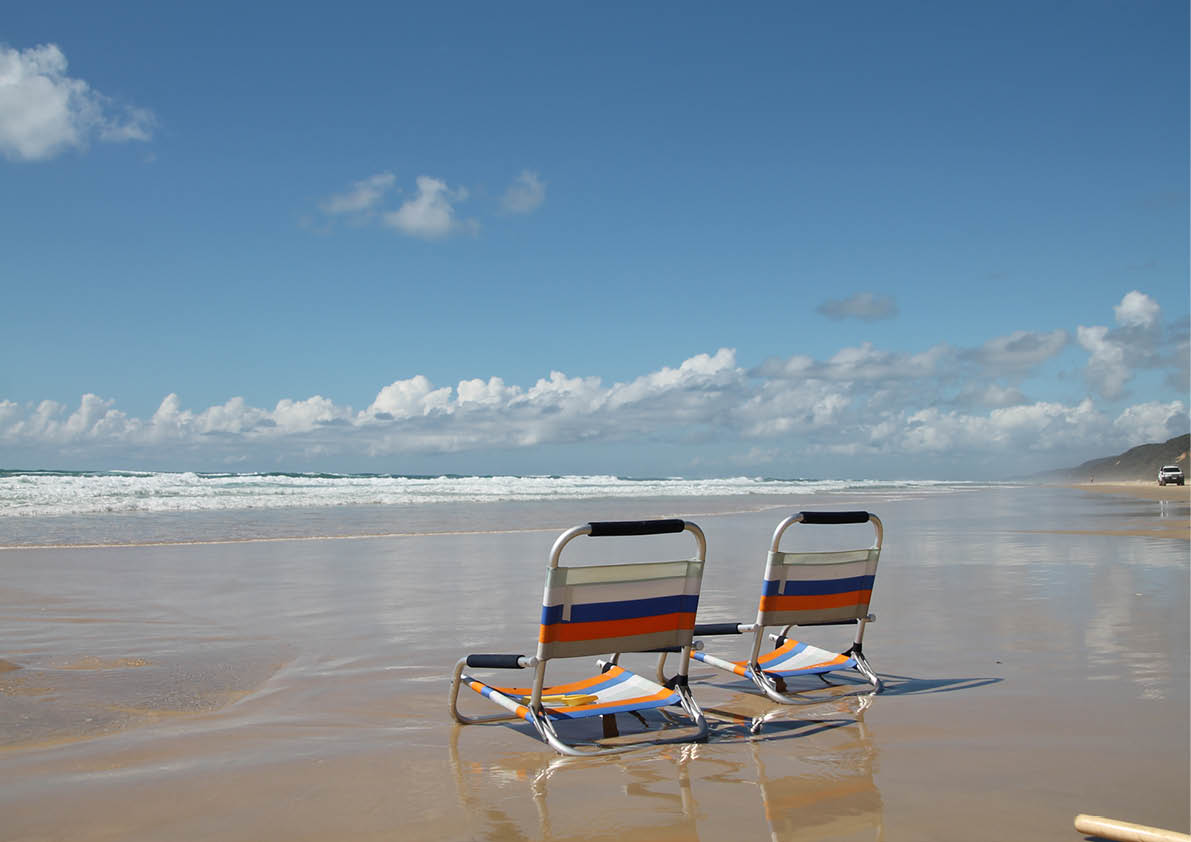 This magical stretch of beach close to Brisbane is known for its accessibility to anyone with a 4X4 – including nervous mums and Vespa-riding teens…
For images and the full RV Daily experience, read this in our online magazine.
We're all after that weekend of easy magic where getting away from it all doesn't actually mean going that far from home. Our cravings for nature, relaxation and adrenaline need to be satiated, but if the rain sets in, we want to be showered, clean clothed and in front of the Foxtel with a cup of tea, and a pizza on the way.
For all the reasons above, Teewah Beach is our go-to magic spot. It's an easy two-hour drive north of Brisbane up the Bruce Highway and once over the Noosa River Ferry, within minutes you're looking out over the southern end of Teewah and the beginnings of the Great Sandy National Park.
To the south you can see the bright umbrellas of Noosa's Main Beach, where punters are paying thousands of dollars for a luxury beachfront apartment holiday.
Behind us, our 2004 Toyota HiLux is towing our version of a luxury beachfront apartment – a Jayco Swan Outback camper-trailer. We've towed this thing around Australia and I've witnessed time and time again the adept four-wheel-driving capabilities of my husband, but the first battle through the boggy soft sand in low-range at Teewah still makes me white-knuckled and a little bit sweary under
my breath.
Of course, we battle through with ease and within 100 metres we stop on that hard beach of low tide. All four of us in that microcosm of car and toys and packets of chips, sink down into our seats, tension dropping away as the waves whip past and we spot pippis hunched in the sand and oystercatchers hunting the shallows in pairs.
Hundreds of families, couples, bucks' parties, surfers, revved-up teens and fishermen were all travelling along the beach highway, all descending on this 45-kilometre stretch of beach to do almost every manner of recreational activity. It's not a complete free-for-all though; it can't be, since on holidays and long weekends it's not surprising to find rows of tents and campers two or three deep along the dunes, with lines to get on to the ferry from Noosa stretching for more than a kilometre. There are speed limits, police conducting RBTs on the beach, permits to obtain and fees to be paid.
Anyway, today is the Thursday before a long weekend and despite hesitations about crowds and drunken idiots we are still pretty confident about finding a secluded spot.
On entering the beachfront camping zone it's already looking pretty full. We drive on and within a few kilometres the giant sand dunes stop their march into the sea and a gentle double dune develops at the bottom.
If we pitch ourselves up against the great dune, we'll have enough room for the kids to play safely, a small windbreak from sea breeze gusts and an excellent vantage point from which to sip on our drinks and watch the waves roll in and the bogans do donuts.
After claiming our patch of beach, the hardest part comes next: agreeing on exactly where to set it all up. My husband and I aren't one of those couples who can reverse a trailer without a fight. We love to disagree with gusto on the importance of where a temporary shelter should go, which way it should face – parallel to the sea or some other imaginary line – or whether one of us is completely deaf, blind and stupid and which way the other should go @#$% themselves.
A convoy makes a slow drive by, laden with the camping paraphernalia of the young whose backs are yet to be presented to a physiotherapist. Its occupants lean out of the windows judging whether this is the place to lay out the swags, set up the beer bong and blow up the inflatable couch. I counter attack by giving the kids marshmallows and tell them to play some noisy game in the vacant spot next to us, but the long weekend has gazumped us: the teens set up 30 metres from our camp. They have a Vespa-like scooter on the tray of one of their utes. There is indeed a beer bong and at a quick glance, seven eskies. The doof doof wafts into our camp over the screams of our children, slowly descending from their sugar high. What was that about easy magic?
It's fine, though. Better than fine: it's bloody entertaining. We watch as they carry on like the twits we all were in our early twenties. The relentless waves mask their noise and our attention eventually drifts from what we thought would be nightmarish neighbours back to the beach, the dunes, the sky and the water.
It's not all idyllic though. There are no toilets so there's always an unlucky soul who has to empty our small chemical toilet up at Freshwater Camp. Water needs to be carried along from home and is not easily replenished. The kids are yelled at frequently about crossing the road – I mean beach, safely.
But it is easy and it is magical. My husband fishes and gets to engage his HiLux in four-wheel drive, I read and take photos and deep breaths, the kids play and marvel at the little worlds living on our stretch of coastline. We stare at the ocean a
lot, mesmerised.
This particular trip we pack up in the rain, having enough time to wait for the clouds to pass and the tide to go out, eking out the last of our long weekend on Teewah Beach. But the clouds blacken and eventually we drive with a wet camper against the incoming tide to the white knuckles of the Third Cutting. Within the space of one Disney movie in the back seat, we are home. Back to hot showers, a rock solid roof and walls that don't move, a cup of tea in hand and a pizza on the way. Magic.
GETTING THERE:
Teewah Beach is located in the Great Sandy National Park, 160km north of Brisbane.
CAMPING:
There are two camps on Teewah:
Cooloola Recreation Area is an approximately 15km stretch of beach where camping is permitted. There are no facilities (although bins are provided at intervals) and you must be self-sufficient.
Freshwater Campground is set in the bush,
about 500m from the beach. There are formal camping sites, flush toilets and showers.
Water must be treated before being consumed.
DRIVING:
A high clearance 4X4 is essential for negotiating the access points to Teewah Beach. At most times, safe driving should be around two hours either side of low tide. Avoid driving close to high tide as driving can become treacherous. The beach access points at the Third Cutting, Freshwater Campground and the Leisha Track over to Double Island can be hazardous: use low-range. Always check conditions with national parks.
WHEN TO GO:
It's always pretty temperate on the Sunshine Coast, though winter provides those magical still days and excellent fishing. Avoid any kind of holiday if you don't like other people.