A Week Away: The Warrumbungles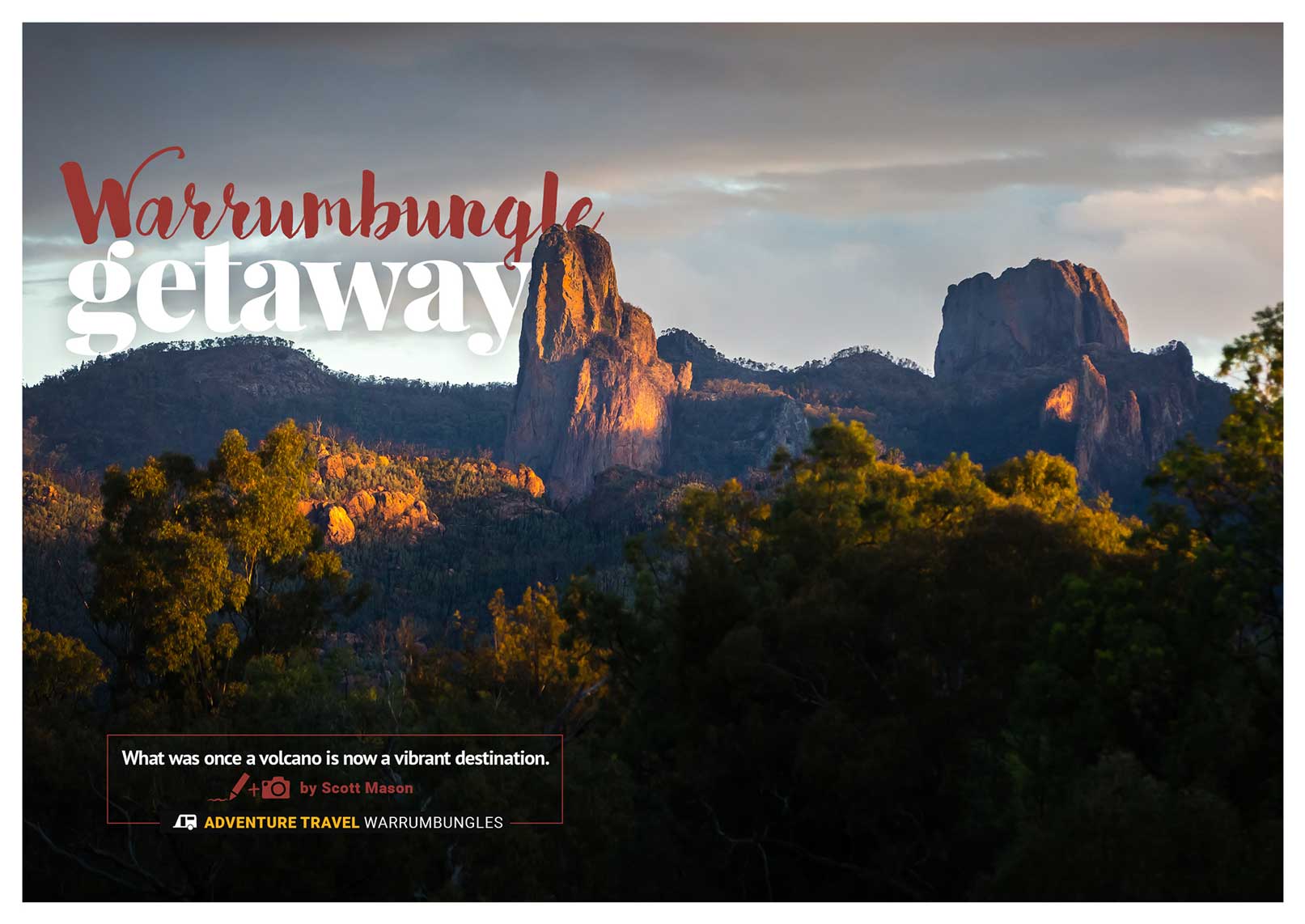 What was once a volcano is now a vibrant destination.
Ever fancied camping in a volcano? Well it is possible, and you won't need SPF 3000 either. 17 million years ago, a very large dome-shaped volcanic mountain once stood here. Magma rose through the Earth's crust and pushed upward eventually spilling out around this giant. For about four million years the volcano was quite active, but over time became dormant. Erosion wore away the weaker substrates, leaving only the toughest of the remains; the actual magma tubes and domes. This is what we see and know today as the Warrumbungle mountain range, and it is quite simply spectacular.
Located 33km from Coonabarrabran, NSW in Warrumbungle National Park this impressive relic of the past can easily be seen from afar, standing proud in what is otherwise flat country. Despite its appearance it is not 4WD country either. There is a tarmac road that winds roughly east/west through the range and delivers you to a choice of two campsites.
Having driven through here before I had a fair idea of what to expect, but still, it did not prepare me for the shock of seeing it again in all of its late afternoon glory. Golden rays of sunlight turned the already reddish hues of the imposing mountains into a vibrant display, perhaps reminiscent of its former, living version some 14 million years ago.
After a quick look at both campsites – Wambelong and Blackman – only separated by a few kms – I settled into camp Blackman which is the largest of the two. Being at the tail end of the school holidays it was reasonably busy, but far from capacity, so there was room to spare.
Each campsite features toilets, but Blackman also has showers. There is a choice of powered and unpowered, plus areas set aside for large groups who must book ahead. Fire-rings are abundant but you do need to bring your own wood. There are plenty of sellers in Coonabarabran and along the 33km drive to the park. In fact, I didn't even bother carting it in on my entry, instead I set up camp and then went for a quick scenic drive and grabbed some before nightfall. Perfect.
Over the next few days I really started to gain serious appreciation for this unique area. In January 2013 bushfires raged through the park but mother nature is doing a fine job in re-establishing a foothold; most trees were not completely destroyed and vegetation is plentiful. During those fires the NPWS visitor centre was razed to the ground, and now there is a temporary centre located at Blackman, which despite its temporary status, is quite good.
There are treats and some toys for the kids plus maps, books and information for those interested in exploring.  The planned centre actually promises to set new benchmarks – a fine excuse for a return trip!
Armed with local knowledge I set off over the next few days, exploring some of the closer bushwalks (I forgot my camera backpack, so humping 10kg of gear was difficult) and was impressed at how easy they were to navigate. The Warrumbungles is a mecca for bushwalkers and rock climbers. Tracks extend right throughout the park taking in some very impressive scenery, with dedicated 'on foot' camps along the way. I spent several early mornings and afternoons from higher vantage points capturing beautiful sunrises and sunsets. You could easily spend a week or more just exploring the trails here.
The man-made highlight of the park is the Siding Spring Observatory. With a visitor centre and offering guided tours, it is well worth checking out where some of the world's most exciting astronomical observations have taken place. This location was actually chosen due its elevation, high percentage of clear skies, low light pollution and proximity to a town.
Although there are a number of creeks and causeways, for the most part of the year they are devoid of water. It's only during large downpours or extended rain that they are transformed from dry creekbeds with scattered pools to fast flowing waters. Despite this, there is an abundance of wildlife. In fact the sulphur crested cockatoos create a very noisy chorus throughout the day. I managed to spot some turquoise parrots one afternoon but they were far too swift for me, unfortunately missing a nice photo.
The Warrumbungle National Park is one very pleasant and relaxing place to visit with plenty to see and do if you are prepared for a little, or a lot, of walking and exploring. Whether you are the adventurous type or just like to sit and take in some fantastic scenery from your campsite, it really has a charm to fall in love with. It would be easy to while away weeks making this a basecamp for daytrips into the surrounding hills and nearby areas (notably the Pilliga) also. It will certainly be a regular destination for me now.
Destination Details
Where: Warrumbungle National Park is located 33km west of Coonabarrabran, NSW. Access to the camps is all-weather, all year round. There are a choice of powered, unpowered and tent sites at Camp Blackman and unpowered bush camping at Wambelong. Both feature beautiful vistas of the surrounding hills.
Fees: Fees are $6 for unpowered and $11.50 for powered per night per person. Check NPWS website for current details.
Other things to see & do:
Take your hiking boots and backpacks and enjoy the amazing bushwalks.
Sadly there is mobile phone service here, so no getting away from the boss!