When it comes to purchasing accessories for your caravan, you can certainly spend a lot of money. I know my bank account has been drained several times over the years. The truth is you do not need to spend big bucks to get products that are not only essential to life in your RV but are incredible value for money as well? You never know when you might pick up a bargain.
Recently, I had a little spare time to kill (yes occasionally I get a bit of time to myself) and I spent it browsing through the local bargain shop not far from where we are living at the moment. It is amazing what you find in these stores and their prices are ridiculously cheap. Here are just 7 items I found that are ideal for use on your caravan or camper and they all cost just $2.50 each.
Dehumidifier buckets.
We have all had the issue of moisture building up inside our caravans and causing mould to develop under the bed or in the linen cupboards. It is an unfortunate side effect of us humans expiring humid air when we breathe into the confined spaces of our RVs. It can be worse if you're travelling in the tropical north. Fortunately, there is a simple and cheap solution. These dehumidifier buckets do an amazing job of absorbing moisture from the air inside the storage compartments of your RV. We use them all the time and have at least three going in our van. One under the bed, one in the linen cupboard and one sitting on the kitchen bench. They do a great job helping to keep the mould away. There are well-known brand name dehumidifier buckets available but they can be expensive. I found these cheap ones in our bargain shop for just $2.50 each. At that price, you can afford to stock up on a few for your next long term holiday.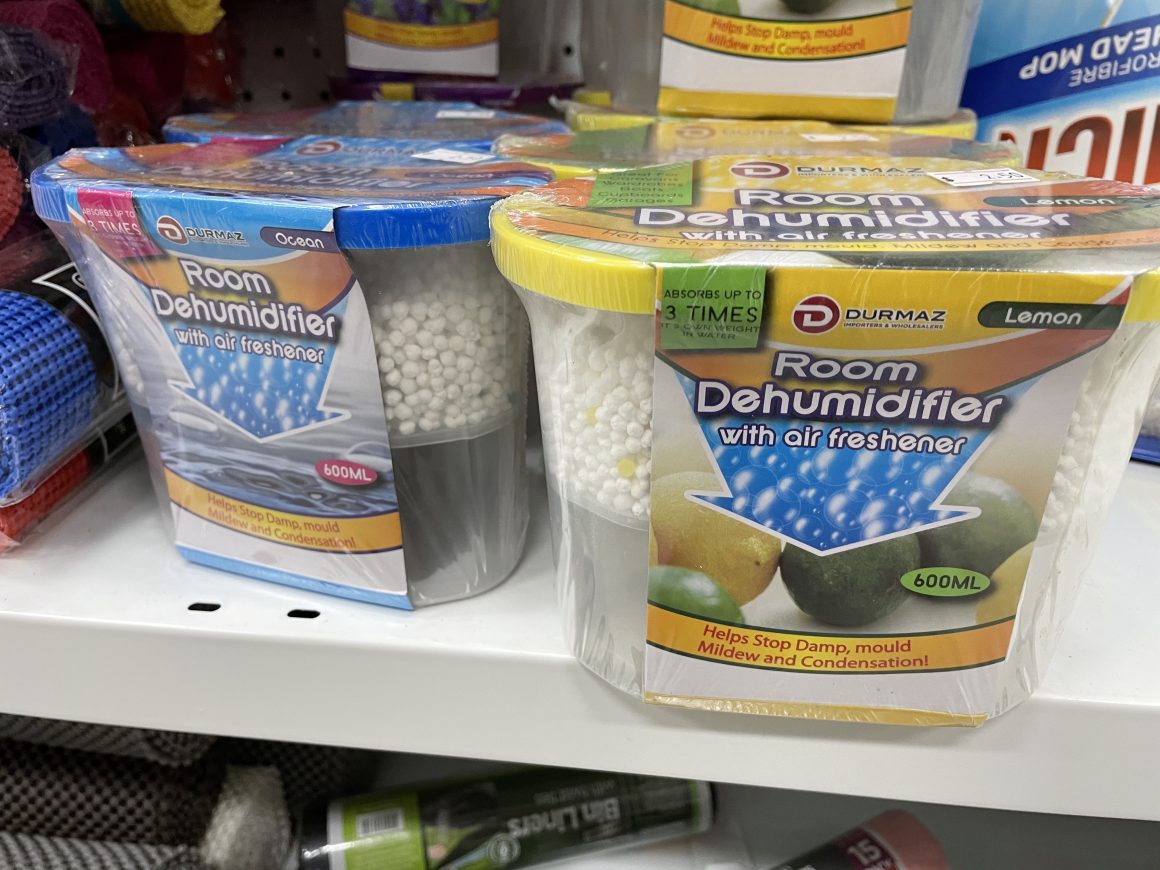 Anti-slip Drawer Liner
A common question that appears on caravanning Facebook groups is how do owners keep their drawers and cupboards from getting scratched and marked from the stuff stored in them. One easy solution is to line them with rubber matting. You can buy rolls of this stuff from just about anywhere and prices definitely vary. I was quite surprised to find rolls of the stuff at the local bargain shop for the princely sum of $2.50 per roll. Each roll is 30cm x 120cm which should be sufficient to line several drawers. They even have a variety of colours available so you can get lining to suit your RV's decor. How cool is that?
Magic Cleaning Sponge
Some time ago, we got put onto this magic cleaning sponge as a way to remove stubborn marks and stains from walls and other surfaces. We have also found them very useful around the caravan being able to remove stains left by insects, bird pooh or mould on the awning. They are very good and often you only need to use plain water rather than having to resort to harmful cleaning chemicals. They retail for around $10 but I found them at the bargain shop for just $2.50. Another opportunity to stack up on this great cleaning product for the van.
Plastic Pan Scraper
Continuing on the cleaning up theme, how often have you been doing the cleaning up at camp and needed to scrape off burnt or dried out food from your plates or cookware? It's a familiar problem. This little handheld scraper from the bargain shop is small enough to fit anywhere, has a nice foam grip and can be used for a multitude of situations. There was a choice of a few colours and at just $2.50, you could afford to buy two and keep one in your outdoor kitchen, if you have one of course.
BBQ Cleaner
Here's a product that I particularly like. I must have tried all sorts of BBQ cleaning brushes and scrapers over the years and I keep coming back to the basic wire brush with a metal scraper. They don't tend to last very long but they do a great job of cleaning our Weber BBQ especially the grill plate. The bargain shop had the exact same style of cleaner I like for just $2.50. That is so cheap, I bought two.
Spare Hose Clamps
If you're the type of caravanner who likes to be prepared for any emergency, you'll most likely have a spare parts kit on your van. I do and one of the most used items in it are these hose clamps. They are great for ensuring your plumbing hoses are secured and leak proof and can stop hoses from bursting off while you're away from your van. I have to admit I've probably used these more for other people than I have for myself so when the time comes that I do need one, I rarely have one available. If I do it's usually not the right size. For just $2.50, I bought this 12 pack of hose clamps at the bargain shop. It has five different sizes so I should be able to find the right size clamp for the next repair job. Got to be happy with that.
Single Shot Super Glue
Another item we should all have in our tool kit is super glue. It is great for fixing a multitude of gear, especially small plastic items. My wife loves to use it when her acrylic fingernails come loose. The problem with superglue is that you don't need it that often and, if you open a large tube of the stuff, it is often dried up the next time you come to use it. This pack of single-use tubes of super glue is perfect for the odd repair job that occurs from time to time. You only need to use a small amount and so with these single-use tubes, there's no waste. At $2.50, it's a no brainer to have one or two packets of these in your spare parts kit.
These are just seven of the best items I found while wandering through the bargain store. There was probably a heap more that could have made the list. If you've found a bargain product that you reckon other caravaners would find useful that doesn't cost the earth, we'd love to hear about it. Drop us a line at sayhello@rvdaily.com.au
Safe travels
Related: Dometic's new drink-ware is stylish and made to last